Table of contents: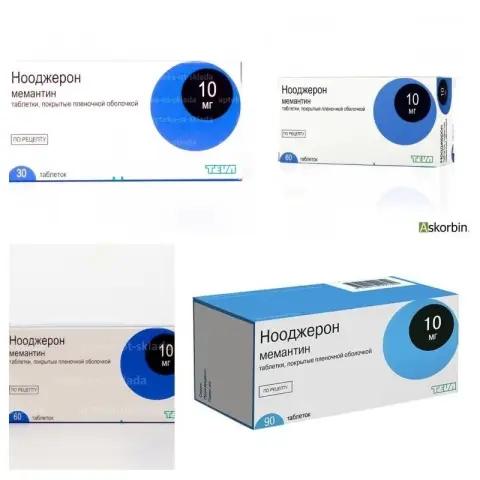 Video: Noodzheron - Instructions For Use, Price, Reviews, Analogs Of Tablets
Noodzheron
Noodzheron: instructions for use and reviews
1. Release form and composition
2. Pharmacological properties
3. Indications for use
4. Contraindications
5. Method of application and dosage
6. Side effects
7. Overdose
8. Special instructions
9. Application during pregnancy and lactation
10. Use in childhood
11. In case of impaired renal function
12. In case of impaired liver function
13. Use in the elderly
14. Drug interactions
15. Analogs
16. Terms and conditions of storage
17. Terms of dispensing from pharmacies
18. Reviews
19. Price in pharmacies
Latin name: Noojerone
ATX code: N06DX01
Active ingredient: memantine (memantinum)
Manufacturer: TEVA Operations Poland, Sp. z oo (Poland), PLIVA Hrvatska, doo (Croatia)
Description and photo update: 2018-21-11
Prices in pharmacies: from 1032 rubles.
Buy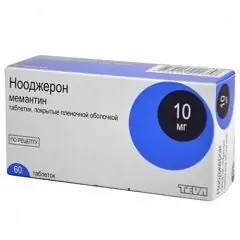 Noodzheron is a drug for the treatment of dementia.
Release form and composition
The dosage form of Noodzheron is film-coated tablets: oval, biconvex, gray on the outside, white or almost white on the cross section, engraved with "10" on one side and "MM" on the other, with risks between the symbols on both sides (10 tablets in a blister, in a cardboard box of 3, 6 or 9 blisters).
Composition of 1 tablet:
active substance: memantine - 8.31 mg (in the form of memantine hydrochloride - 10 mg);
auxiliary components: microcrystalline cellulose, calcium hydrogen phosphate, croscarmellose sodium, colloidal silicon dioxide, magnesium stearate;
film shell: opadry II gray 45F27505 (hypromellose-2910 / 15cP, polydextrose, titanium dioxide, macrogol-4000, black iron oxide dye).
Pharmacological properties
Pharmacodynamics
Memantine is an adamantane derivative, a non-competitive antagonist of N-methyl-D-aspartate (NMDA) receptors. The substance has a modeling effect on the glutamatergic system. Blocks calcium channels, regulates the transport of ions, normalizes the membrane potential, improves the transmission of nerve impulses.
Against the background of Noodzheron therapy, cognitive processes improve and the daily activity of patients increases.
Pharmacokinetics
Memantine is rapidly and completely absorbed, independent of food intake. The time to reach the maximum plasma concentration is 3–8 hours. In patients with normal renal function, the drug does not accumulate in the body.
The volume of distribution is 10 l / kg. Plasma protein binding is approximately 45%. Equilibrium plasma concentrations at a daily dose of 20 mg / day memantine are 70–150 ng / ml.
The main metabolites (N-3,5-dimethyl-gludantane, an isomeric mixture of 4- and 6-hydroxymemantine and 1-nitroso-3,5-dimethyladamantane) have no pharmacological activity.
The drug is eliminated by the kidneys. Up to 80% of memantine is excreted unchanged. The half-life in the terminal phase is 60–100 hours.
Indications for use
According to the instructions, Noodzheron is indicated for moderate to severe dementia of the Alheimer's type.
Contraindications
Absolute contraindications:
severe renal failure (class C on the Child-Turcot-Pugh scale);
age up to 18 years (due to the lack of data on the safety and effectiveness of the drug);
pregnancy and lactation;
increased sensitivity to any of the Noodzheron components.
Relative contraindications:
epilepsy;
predisposition to the development of seizures;
arterial hypertension (uncontrolled);
thyrotoxicosis;
heart failure of III-IV functional class according to NYHA classification;
myocardial infarction (history);
renal failure;
renal tubular acidosis;
liver failure;
factors that increase urine pH (change of diet, heavy intake of alkaline gastric buffers);
severe urinary tract infections caused by Proteus spp.
Instructions for use of Noodzheron: method and dosage
Noodzheron tablets are taken orally, regardless of the diet, once a day at the same time.
The dose of the drug is increased gradually, in order to reduce the risk of developing its undesirable effects, by 5 mg per week during the first 3 weeks of therapy.
The maximum daily dose is 20 mg.
Recommended dosage:
1 week: 5 mg / day;
2 week: 10 mg / day;
3 week: 15 mg / day;
4 weeks and beyond: 20 mg / day.
Side effects
psyche: drowsiness, confusion, hallucinations, psychotic reactions;
nervous system: headache, dizziness, imbalance and gait, convulsions;
infections and invasions: mycoses;
immune system: hypersensitivity reactions to the components of the drug;
cardiovascular system: increased blood pressure, venous thrombosis or thromboembolism, heart failure;
gastrointestinal tract: constipation, nausea, vomiting, pancreatitis;
liver and biliary tract: increased liver enzymes, hepatitis;
respiratory system, chest and mediastinal organs: shortness of breath;
general disorders: fatigue.
Post-marketing studies have identified the following side effects: agranulocytosis, leukopenia (including neutropenia), pancytopenia, thrombocytopenic purpura, acute renal failure, hepatitis, Stevens-Johnson syndrome.
Overdose
Symptoms that manifested themselves with an overdose of Noodzheron:
one-time intake of 200 mg of the drug, or intake for 3 days at 105 mg / day: fatigue, weakness, diarrhea;
a single dose of 140 mg or an unknown dose: confusion, hypersomnia, dizziness, drowsiness, agitation, aggression, gait disturbance, hallucinations, vomiting, diarrhea;
reception of 2000 mg: coma for 10 days, then diplopia and agitation. In this case, the patient survived without further complications.
There is no specific antidote. Recommended gastric lavage, the appointment of activated charcoal, acidification of urine, forced diuresis, symptomatic treatment.
special instructions
Noojeron treatment is carried out under the supervision of a physician experienced in the diagnosis and treatment of Alzheimer's disease. Noodzheron is prescribed only in the case when the person monitoring the patient monitors the drug intake.
Within three months after starting the use of the drug, tolerance and dose should be regularly assessed. Then systematic monitoring of the clinical effectiveness of therapy is needed. Supportive care is allowed to continue indefinitely. In the absence of a clinical effect or if the patient is intolerant of Noogeron, it should be canceled.
Influence on the ability to drive vehicles and complex mechanisms
During the period of therapy with Noodzheron, one should refrain from driving vehicles and other complex mechanisms that require the speed of psychomotor reactions.
Application during pregnancy and lactation
In studies conducted on animals, using doses similar to those in humans, it was found that the drug is capable of causing intrauterine growth retardation, and therefore Noodzheron is contraindicated in pregnancy.
Studies on the release of memantine in the milk of lactating women have not been carried out, however, given its lipophilicity, release is possible. If necessary, the use of the drug during lactation, breastfeeding should be discontinued.
Pediatric use
In pediatrics, the use of Noodzheron is contraindicated for the treatment of children and adolescents under 18 years of age.
With impaired renal function
Recommendations for adjusting the dose of the drug in patients with impaired renal function:
creatinine clearance (CC) 50–80 ml / min: dose adjustment is not required;
CC 30-49 ml / min: initial dose - 10 mg / day, provided that the drug is well tolerated, the dose may be increased within 7 days to 20 mg / day;
CC 5-29 ml / min: the dose of Noodzheron should not exceed 10 mg / day.
If liver function is impaired
In case of mild and moderate liver dysfunction, dose adjustment is not required. The drug is contraindicated in patients with severe hepatic impairment.
Use in the elderly
No dose adjustment is required for patients over 65 years of age.
Drug interactions
amantadine, ketamine, phenytoin, dextromethorphan: combined use is not recommended due to the risk of psychosis and other adverse reactions;
levodopa, dopamine receptor antagonists, m-anticholinergics: it is possible to enhance the effect of these drugs;
barbiturates, antipsychotics: a decrease in their effect is possible;
dantrolene, baclofen: individual dose selection is required, since their effect can both increase and decrease;
cimetidine, ranitidine, procainamide, quinidine, quinine, nicotine: the risk of increasing their concentration in blood plasma;
hydrochlorothiazide: a decrease in its level is possible, and an increase in excretion;
oral anticoagulants: risk of increased international normalized ratio;
antidepressants, selective serotonin reuptake inhibitors, monoamine oxidase inhibitors: the use of these drugs in combination with memantine should take place under the close supervision of a physician;
glibenclamide, metformin, donepezil, galantamine: no pharmacokinetic interaction.
Analogs
The analogues of Noodzheron are Akatinol Memantine, Memantine Canon, Memantal, etc.
Terms and conditions of storage
Store at a temperature not exceeding 25 ° C. Keep out of the reach of children.
Shelf life is 3 years.
Terms of dispensing from pharmacies
Dispensed by prescription.
Reviews about Noogeron
Reviews of Noodzheron on the network are few, but they mainly indicate the effectiveness of the drug in Alzheimer's disease. Relatives of patients note that with the help of therapy, patients manage to avoid complete helplessness and other manifestations of dementia. Also, among the pluses, a small number of undesirable effects of the drug are noted.
As disadvantages, everyone points to the high cost of Noojeron.
The price of Noodzheron in pharmacies
Estimated price for Noodzheron, 10 mg tablets, for 60 pcs. in the package is 2500 r.
Noodzheron: prices in online pharmacies
Drug name
Price
Pharmacy
Noodzheron 10 mg film-coated tablets 30 pcs.
1032 RUB
Buy
Noodzheron 10 mg film-coated tablets 60 pcs.
1275 RUB
Buy
Noodzheron pills p.p. 10mg 30 pcs.
1495 RUB
Buy
Noodzheron 10 mg film-coated tablets 90 pcs.
2276 RUB
Buy
Noodzheron pills p.p. 10mg 60 pcs.
2561 RUB
Buy
Noodzheron pills p.p. 10mg 90 pcs.
RUB 3110
Buy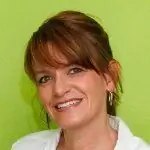 Maria Kulkes Medical journalist About the author
Education: First Moscow State Medical University named after I. M. Sechenov, specialty "General Medicine".
Information about the drug is generalized, provided for informational purposes only and does not replace the official instructions. Self-medication is hazardous to health!
Popular by topic