Table of contents: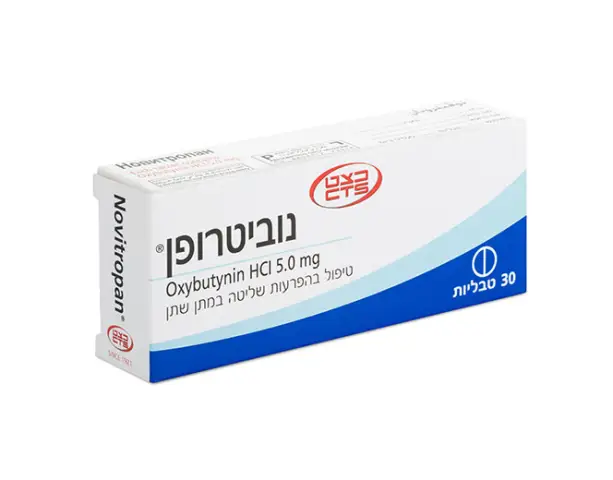 Video: Novitropan - Instructions For The Use Of Tablets, Price, Reviews, Analogues
Novitropane
Novitropan: instructions for use and reviews
1. Release form and composition
2. Pharmacological properties
3. Indications for use
4. Contraindications
5. Method of application and dosage
6. Side effects
7. Overdose
8. Special instructions
9. Application during pregnancy and lactation
10. Use in childhood
11. In case of impaired renal function
12. For violations of liver function
13. Use in the elderly
14. Drug interactions
15. Analogs
16. Terms and conditions of storage
17. Terms of dispensing from pharmacies
18. Reviews
19. Price in pharmacies
Latin name: Novitropan
ATX code: G04BD04
Active ingredient: oxybutynin (oxybutynin)
Manufacturer: CTS Chemical Industries, Ltd. (Israel), RUE "Belmedpreparaty" (Belarus)
Description and photo update: 2018-26-10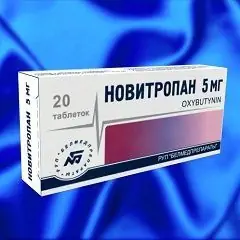 Novitropan is an antispasmodic drug that affects the frequency of urination and is effective in urinary incontinence.
Release form and composition
Dosage form of the drug Novitropan - tablets: biconvex, round, on one side there is a dividing risk; light blue, inclusions / marbling is allowed (10 pcs. in blisters / blisters, in a cardboard box 2 or 3 packages / blisters).
Composition for 1 tablet:
active substance: oxybutynin (in the form of oxybutynin chloride / hydrochloride) - 5 mg;
auxiliary ingredients: povidone, anhydrous lactose, corn starch, magnesium stearate, calcium carboxymethyl cellulose, indigo carmine FD&C blue No. 2 (E 132), purified water.
Pharmacological properties
Pharmacodynamics
The active component of Novitropan - oxybutynin - has antispasmodic efficacy, due to which it helps to eliminate spasms and reduce the tone of smooth muscles of the biliary tract, gastrointestinal tract (gastrointestinal tract), uterus and relaxation of the detrusor, providing a direct myotropic spasmolytic and m-anticholinergic blocking effect. The drug increases the throttle response of the bladder, reduces the frequency of involuntary detrusor contractions and restrains the urge to urinate.
Pharmacokinetics
The maximum concentration (C max) of oxybutynin in plasma occurs 1 hour after oral administration of the drug. Its bioavailability due to presystemic metabolism is 6%. The half-life (T 1/2) is approximately 2 hours. The substance passes into breast milk during lactation and passes through the blood-brain barrier.
Indications for use
According to the instructions, Novitropan is recommended for the treatment of urinary incontinence associated with the instability of the functioning of the bladder due to such pathologies of a neurogenic nature as hyperreflex of the muscle that contracts the bladder (detrusor), for example, with advanced sclerosis or spina bifida (Spina bifida), as well as with motor incontinence (idiopathic disorders of detrusor function).
For children over 5 years old, Novitropan can be prescribed for the treatment of nocturnal enuresis as part of complex therapy with other drugs or with non-drug methods if the previous therapeutic measures are ineffective.
Contraindications
Absolute:
open-angle and closed-angle glaucoma;
obstruction of the gastrointestinal tract, intestinal atony, paralytic intestinal obstruction, ulcerative colitis, expansion of the colon (including toxic etiology, complicated by ulcerative colitis);
obstructive uropathy;
myasthenia gravis (myasthenia gravis);
bleeding;
the period of pregnancy and breastfeeding (lactation);
children under 5 years old;
hypersensitivity to components.
Relative contraindications: Novitropan should be taken with caution in renal / hepatic failure, thyrotoxicosis, coronary artery disease (ischemic heart disease), CHF (chronic heart failure), arrhythmias, arterial hypertension, prostatic hyperplasia, hiatal hernia (intestinal obstruction) especially with ileo- or colostomy) and elderly patients.
Instructions for the use of Novitropan: method and dosage
Novitropan tablets are taken orally, before meals.
Recommended dosage for adult patients: 5 mg (1 tablet) 2-3 times a day. The maximum daily dose is 20 mg (1 tablet 4 times a day). The dose is increased until a clinical response is achieved (not exceeding the maximum), provided that there are no negative side reactions.
Recommended dosage for children over 5 years of age:
neurogenic bladder disorders: 2.5 mg 2 times a day; the dose can be increased to 5 mg 2-3 times a day until a therapeutic effect is achieved, but provided that there are no negative side reactions;
nocturnal enuresis: 2.5 mg 2 times a day; the dose can be increased to 5 mg 2-3 times a day until a clinical response is achieved, side effects are allowed. The evening dose should be given just before bedtime.
Novitropan tablets are not divided and are not intended for dose titration. If it is necessary to use them in a dose of less than 5 mg, it is recommended to use oxybutynin in medicines from other manufacturers that provide such a dosage.
Side effects
The frequency of undesirable adverse reactions due to the use of Novitropan (very often - less than 0.1; often - less than 0.01, but more than 0.1; infrequently - less than 0.001, but more than 0.01; rarely - less than 0.001, but more than 0.0001; extremely rare - less than 0.0001; frequency unknown - cannot be estimated based on available data):
infections / invasions: frequency unknown - urinary tract infections;
Gastrointestinal tract: very often - nausea, constipation, dry mouth; often vomiting / diarrhea; infrequently - dysphagia, abdominal discomfort, loss of appetite, anorexia; frequency unknown - GERD (gastroesophageal reflux disease), intestinal pseudo-obstruction in the presence of a potential risk (patients with constipation, elderly patients, concomitant therapy with drugs that reduce intestinal motility);
mental disorders: often - confusion; frequency unknown - anxiety, agitation, nightmares, hallucinations, paranoid disorders, cognitive impairment in old age, signs of depression, dependence on oxybutynin in patients with a history of drug or other substance abuse;
nervous system: very often - headache, dizziness, drowsiness; frequency unknown - seizures, cognitive impairment, disorientation;
cardiovascular system: frequency unknown - tachycardia, arrhythmia;
general disorders: frequency unknown - heatstroke;
sense organs: very often - visual impairment; often - a decrease in the production of tear fluid; frequency unknown - increased intraocular pressure, angle-closure glaucoma;
urinary system: often - urinary retention; frequency unknown - difficulty urinating;
skin: very often - dry skin; frequency unknown - rash, urticaria, Quincke's edema, anhidrosis, photosensitivity;
reproductive system: frequency is unknown - suppression of lactation, decreased potency;
immune system: frequency unknown - hypersensitivity.
Overdose
Symptoms of an oxybutynin overdose are: excitement of the central nervous system (tremor, anxiety, convulsions, irritability, hallucinations, delirium), fever, nausea / vomiting, decrease / increase in blood pressure, tachycardia, respiratory failure, paralysis, coma.
To treat the condition, first of all, gastric lavage should be performed, activated charcoal and saline laxative should be taken, and breathing is also required to be maintained. Further, in order to reduce the severity of the symptoms of anticholinergic intoxication, anticholinesterase drugs (physostigmine) are prescribed. In case of manifestation of hyperthermic syndrome, apply cold compresses (including with ice) and carry out alcohol rubdown.
special instructions
For children and elderly patients, as they are more sensitive to the action of the drug, oxybutynin is recommended to be used with caution. Also, precautions must be observed in case of autonomic neuropathy (Parkinson's disease), severe disorders of gastrointestinal motility, hepatic / renal failure.
In diseases of the gastrointestinal tract, taking anticholinergic drugs can weaken the motility of the digestive tract, which must be taken into account when treating patients with intestinal atony, obstructive lesions of the gastrointestinal tract, ulcerative colitis.
Oxybutynin is able to enhance tachycardia, and therefore caution should be exercised in hyperthyroidism, cardiac arrhythmias, congestive heart failure, coronary heart disease, hypertension. It also potentiates cognitive diseases and symptoms of prostatic hypertrophy.
Negative side effects from the central nervous system (CNS) were observed during therapy with anticholinergic drugs, such as hallucinations, agitation, confusion, drowsiness, therefore, for several months from the start of oxybutynin therapy, as well as if it is necessary to increase its dose, it is recommended to monitor the patient's condition. The development of such complications requires consideration of the issue of stopping the course or reducing the dose.
Taking Novitropan can cause angle-closure glaucoma. In case of a sudden deterioration in visual acuity, eye pain, you should immediately consult a specialist.
Oxybutynin is able to reduce the secretion of the salivary glands, as a result of which caries, periodontal disease or candidiasis of the oral cavity may develop.
Taking Novitropan at high temperatures can lead to the development of fever due to decreased sweating.
Since the tablets contain lactose, they are not recommended for patients with rare hereditary galactose intolerance, glucose-galactose malabsorption and Lapp lactase deficiency.
Influence on the ability to drive vehicles and complex mechanisms
It is not recommended to drive vehicles and engage in other potentially hazardous types of work during the treatment with Novitropan.
Application during pregnancy and lactation
Novitropane is contraindicated for pregnant and breastfeeding women.
Pediatric use
The use of oxybutynin in pediatrics:
children under 5 years of age: not recommended;
children over 5 years of age: use with caution due to the increased sensitivity of the child's body to the effects of the drug (the likelihood of adverse reactions from the central nervous system is increased).
There are limited data to support the use of oxybutynin for the treatment of children with nocturnal monosymptomatic enuresis not associated with detrusor overactivity.
With impaired renal function
Novitropan is used with caution to treat patients with renal failure.
For violations of liver function
Novitropan is used with caution to treat patients with hepatic impairment.
Use in the elderly
Anticholinergic drugs, including Novitropan, are recommended to be used with caution in elderly patients due to the increased likelihood of impaired cognitive functions.
The half-life of oxybutynin in elderly patients may increase, so the dosage must be selected individually, starting with a single dose of 2.5 mg twice a day. The final dosage depends on the patient's response to therapy, Novitropan's tolerance and side effects.
Drug interactions
other anticholinergic drugs, such as amantadine and other antiparkinsonian drugs (biperiden, levodopa), antihistamines, antipsychotics (phenothiazines and butyrophenones), quinidine, digitalis drugs, tricyclic antidepressants, atropine and atropine-like, spasmolycholytic drugs;
inhibitors of CYP3A4: due to the fact that oxybutynin is metabolized by cytochrome P 450 (isoenzyme CYP3A4), it is possible to slow down its metabolism and increase plasma concentration;
cholinesterase inhibitors: may decrease in their effectiveness;
alcohol: can increase drowsiness caused by anticholinergics, including oxybutynin; during therapy with Novitropan, ethanol-containing drugs and drinks should be excluded;
other medicinal substances / preparations: with reduced motor function of the stomach, oxybutynin can affect their absorption.
Analogs
The analogues of Novitropan are Driptan, Oxybutin, Cystrin.
Terms and conditions of storage
Store at temperatures up to 25 ° C in a place protected from moisture. Keep out of the reach of children.
The shelf life is 3 years.
Terms of dispensing from pharmacies
Dispensed by prescription.
Reviews about Novitropane
There are few reviews of Novitropane, at present it is difficult to purchase the drug, so its more affordable analogues are preferred.
The available responses are predominantly positive, Novitropan is effective provided that it is taken according to indications, in compliance with the recommendations of specialists.
Price for Novitropan in pharmacies
The price of Novitropan is currently unknown due to the lack of the drug on the market. The cost of its analogue, Driptan (5 mg tablets, 30 pcs. In a package), is about 673 rubles.
Analogs of the prescribed drugs should be used only in consultation with the attending physician.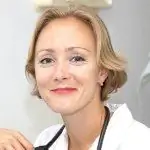 Anna Kozlova Medical journalist About the author
Education: Rostov State Medical University, specialty "General Medicine".
Information about the drug is generalized, provided for informational purposes only and does not replace the official instructions. Self-medication is hazardous to health!
Popular by topic