Table of contents: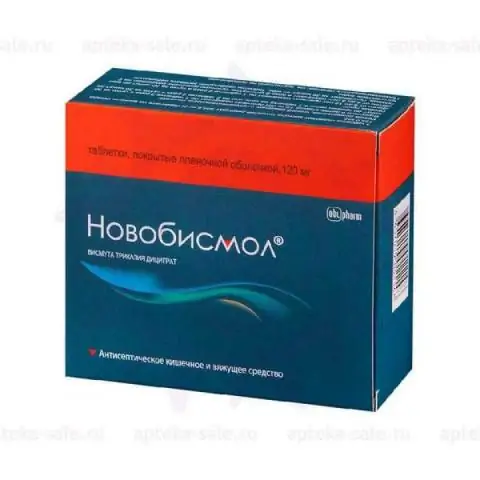 Video: Novobismol - Instructions For The Use Of Tablets, Price, Reviews, Analogues
Novobismol
Novobismol: instructions for use and reviews
1. Release form and composition
2. Pharmacological properties
3. Indications for use
4. Contraindications
5. Method of application and dosage
6. Side effects
7. Overdose
8. Special instructions
9. Application during pregnancy and lactation
10. Use in childhood
11. In case of impaired renal function
12. Drug interactions
13. Analogs
14. Terms and conditions of storage
15. Terms of dispensing from pharmacies
16. Reviews
17. Price in pharmacies
Latin name: Novobismol
ATX code: A02BX05
Active ingredient: bismuth tripotassium dicitrate (Bismuthate tripotassium dicitrate)
Manufacturer: Pharmproject (Russia)
Description and photo update: 2018-22-10
Prices in pharmacies: from 319 rubles.
Buy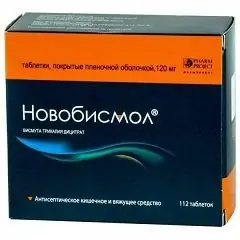 Novobismol is an antiulcer drug with bactericidal activity.
Release form and composition
Novobismol is produced in the form of film-coated tablets: round, white-cream color, biconvex, with a slight smell of ammonia or odorless (8, 10 or 20 pcs. In blisters, in a cardboard box 1-7 packs; 8 pcs. In blister packs, in a cardboard bundle 14 or 28 packs; 10 pcs. In blister packs, in a cardboard bundle 12 or 24 packs; 20 pcs. In blister packs, in a cardboard box 12 packs).
1 tablet contains:
active substance: bismuth tripotassium dicitrate - 304.6 mg, which is equivalent to the content of 120 mg of bismuth oxide (Bi 2 O 3);
auxiliary components: corn starch, potassium polyacrylate, povidone K30, magnesium stearate, macrogol 6000;
shell composition: opadry OY-S-7366 (hypromellose, macrogol 6000).
Pharmacological properties
Pharmacodynamics
Novobismol has an anti-ulcer, anti-inflammatory, astringent effect. Possesses bactericidal activity against Helicobacter pylori, the action of which is aimed at protecting the mucous membrane of the stomach and duodenum.
Entering the gastrointestinal tract, insoluble bismuth oxychloride and citrate are precipitated in the acidic environment of the stomach. As a result, a protective film is formed on the surface of ulcers and erosions in the form of chelated compounds with a protein substrate. Due to an increase in the synthesis of prostaglandin E, the formation of mucus and the secretion of bicarbonate, the stimulation of the activity of cytoprotective mechanisms, resistance to the effects of hydrochloric acid, pepsin, enzymes and bile salts of the gastrointestinal mucosa increases. The action of the drug promotes the accumulation of epidermal growth factor in the defect zone and a decrease in the activity of pepsin and pepsinogen.
Pharmacokinetics
Practically not absorbed from the gastrointestinal tract.
It is excreted from the body to a greater extent through the intestines; only a small part of bismuth, which enters the plasma, is excreted through the kidneys.
Indications for use
period of exacerbation of gastric ulcer and duodenal ulcer, including those associated with Helicobacter pylori;
the phase of exacerbation of chronic gastritis and gastroduodenitis, including those associated with Helicobacter pylori;
irritable bowel syndrome, which mainly occurs with symptoms of diarrhea.
functional dyspepsia, not associated with diseases of the gastrointestinal tract of an organic nature.
Contraindications
severe renal dysfunction;
period of pregnancy;
breast-feeding;
age up to 4 years;
individual intolerance to the components of the drug.
Instructions for the use of Novobismol: method and dosage
Novobismol tablets are taken orally, 0.5 hours before meals, with a little water.
Recommended dosage:
adults and children over 12 years old: 1 pc. 3 times a day and 1 pc. in the evening before going to bed or 2 pcs. 2 times a day;
children aged 8–12 years: 1 pc. 2 times a day;
children aged 4–8 years: at the rate of 8 mg per 1 kg of the child's weight per day. The daily dose is divided into 2 doses.
The duration of the course is 28–56 days.
Side effects
from the digestive system: possibly - nausea, vomiting, more frequent stools, constipation (transient conditions that do not require discontinuation of the drug);
allergic reactions: itching, rash.
others: against the background of long-term administration of high doses - encephalopathy.
In case of aggravation of these symptoms of undesirable effects or the appearance of other side effects, you should consult a doctor.
Overdose
Symptoms: typical for impaired renal function caused by taking high doses of the drug for a long time.
Treatment: stop taking Novobismol. When severe symptoms of poisoning appear, it is necessary to rinse the stomach, take activated charcoal and saline laxatives. If necessary, symptomatic therapy is prescribed.
In case of impaired renal function, confirmed by a high level of bismuth concentration in the blood plasma, the administration of complexing agents is indicated - dimercaptopropanesulfonic and dimercaptosuccinic acids. In severe condition, hemodialysis is possible.
special instructions
Do not exceed the established daily doses of Novobismol for adults and children and take tablets for more than 8 weeks.
During the period of treatment with Novobismol and within 8 weeks after its cancellation, you should not use other medicines containing bismuth.
For the eradication of Helicobacter pylori, it is advisable to simultaneously prescribe other antibacterial agents with anti-Helicobacter activity.
For 0.5 hours before and after taking the tablet, avoid eating food and liquids, including milk, fruits, or fruit juices.
When using Novobismol in recommended doses, the concentration of bismuth tripotassium dicitrate in the blood plasma after the completion of the course of therapy does not exceed 3-5.8 μg / l. Intoxication of the body can occur only when the concentration of the active substance is more than 100 μg / l.
Against the background of the use of bismuth, there may be a slight darkening of the tongue, staining of feces in a dark color due to the formation of its sulfide.
Influence on the ability to drive vehicles and complex mechanisms
Taking Novobismol tablets does not affect the patient's ability to drive vehicles and mechanisms.
Application during pregnancy and lactation
According to the instructions, Novobismol is contraindicated during pregnancy and lactation.
If it is necessary to prescribe the drug while breastfeeding, breastfeeding should be temporarily stopped.
Pediatric use
Cannot be used to treat children under 4 years of age.
With impaired renal function
The use of Novobismol is contraindicated in patients with severe renal impairment.
Drug interactions
With the simultaneous administration of other drugs, including antacids, the effectiveness of Novobismol decreases. Therefore, it is recommended not to use any oral medications for 0.5 hours before and after taking it.
Analogs
Analogues of Novobismol are De-Nol, Alsukral, Ankrusal, Ventrisol, Bismuth tripotassium dicitrate, Bismuth nitrate basic, Venter, Neointestopan, Ulgastran, Kaopektat, Sucralfat, Sukrat.
Terms and conditions of storage
Keep out of the reach of children.
Store at temperatures up to 25 ° C, protected from moisture and light.
Shelf life is 4 years.
Terms of dispensing from pharmacies
Available without a prescription.
Reviews about Novobismol
According to reviews, Novobismol has a tangible clinical effect in the treatment of diseases of the digestive system caused by Helicobacter pylori. There are often positive characteristics of the drug in relation to its administration for the treatment of gastritis. Heartburn, abdominal distention disappear in patients. They can afford to expand their diet after years of strict dieting. Good tolerability of the drug is also indicated.
Price for Novobismol in pharmacies
The price for Novobismol for a package containing 56 tablets is 328 rubles, 112 tablets - 599 rubles.
Novobismol: prices in online pharmacies
Drug name
Price
Pharmacy
Novobismol 120 mg film-coated tablets 56 pcs.
RUB 319
Buy
Novobismol tablets p.p. 120mg 56 Pcs.
362 r
Buy
Novobismol 120 mg film-coated tablets 112 pcs.
RUB 565
Buy
Novobismol tablets p.p. 120mg 112 Pcs.
RUB 612
Buy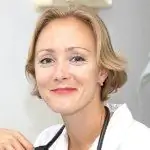 Anna Kozlova Medical journalist About the author
Education: Rostov State Medical University, specialty "General Medicine".
Information about the drug is generalized, provided for informational purposes only and does not replace the official instructions. Self-medication is hazardous to health!
Popular by topic