Table of contents: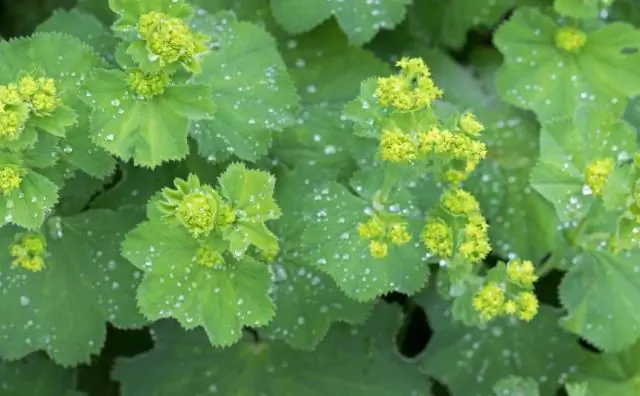 Video: Nefrosten - Instructions For Use, Reviews, Price, Analogs Of Tablets
Nefrosten
Nefrosten: instructions for use and reviews
1. Release form and composition
2. Pharmacological properties
3. Indications for use
4. Contraindications
5. Method of application and dosage
6. Side effects
7. Overdose
8. Special instructions
9. Application during pregnancy and lactation
10. In case of impaired renal function
11. Drug interactions
12. Analogs
13. Terms and conditions of storage
14. Terms of dispensing from pharmacies
15. Reviews
16. Price in pharmacies
Latin name: Nephrosten
Active ingredient: arbutin (arbutin), hydroquinone (hydroquinone) and other biologically active components
Manufacturer: CJSC "Evalar" (Russia)
Description and photo updated: 2018-23-11
Prices in pharmacies: from 167 rubles.
Buy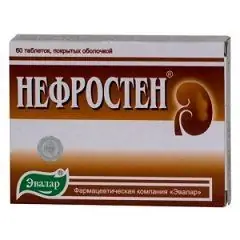 Nefrosten is a biologically active food additive (BAA), a source of arbutin.
Release form and composition
Nefrosten is available in the form of tablets: weight 250 mg, round, flat, brown (20 pcs. In a blister, 3 blisters in a cardboard box).
1 tablet contains:
active ingredients: lovage roots, centaury herb, rosemary leaves, "Fitoarbutin" (wintergreen herb, bearberry and lingonberry leaves);
excipients: microcrystalline cellulose, calcium stearate, aerosil.
Pharmacological properties
Nefrosten is a biologically active food supplement consisting of a herbal complex for the prevention and treatment of diseases of the urinary tract.
The action of the product is due to the following properties of its active ingredients:
centaury grass (Gentianaceae, Centaurium umbellatum) - a source of phenolic and cinnamic acids, tannins. Contains flavonoids, bitter glycosides, gentianine alkaloid, vitamin C. Contributing to the elimination of excess fluid, centaury exhibits a potassium-sparing effect, which allows not to disturb the ionic balance in the body;
lovage root (Levisticum officinale, Apiaceae) contains a complex essential oil, which helps to dilate the vessels of the kidneys and maintain normal blood supply to the renal epithelium. In addition, the root includes tannins, phthalides, furocoumarin bergapten, resins, angelic acid;
rosemary leaves (Lamiaceae, Rosmarinus officinale) - a source of rosemary and glycolic acids. Rosemary leaf extract contains tannins, flavonoids, essential oil, phenolic acids. The phenolic components extracted from rosemary have a strong antioxidant effect, contribute to the normal functioning of the kidneys and bladder;
Phytoarbutin is a herbal complex that promotes the elimination of excess fluid and counteracts the growth of bacteria. It includes wintergreen herb, lingonberry leaves, and bearberry. Wintergreen leaves contain phenols and their derivatives - arbutin, hydroquinone, lingonberry leaves - a source of arbutin glycoside (9%), bearberry leaves - a source of free hydroquinone (up to 1%).
Indications for use
According to the instructions, Nefrosten is indicated as a biologically active food supplement - a source of arbutin.
Contraindications
period of pregnancy;
breast-feeding;
individual intolerance to the components of the product.
Instructions for use of Nefrosten: method and dosage
The tablets are taken orally with meals.
The recommended dosage for adults: 2-4 pcs. in a day. The duration of the course of admission is 90 days. If necessary, the course can be extended.
Side effects
The development of allergic reactions is possible.
Overdose
Overdose symptoms have not been established.
special instructions
The use of tablets can be started only after prior consultation with a doctor.
Application during pregnancy and lactation
The use of Nefrosten is contraindicated during gestation and lactation.
If it is necessary to take the product during lactation, breastfeeding should be discontinued.
With impaired renal function
The product is designed to support kidney and bladder function.
Drug interactions
Nefrosten is not a drug.
Analogs
Analogues of Nefrosten are: Kanephron, Urological collection, Uroprost, Urotravenol, Uriflorin.
Terms and conditions of storage
Keep out of the reach of children.
Store at temperatures up to 25 ° C.
The shelf life is 3 years.
Terms of dispensing from pharmacies
Available without a prescription.
Reviews about Nefrosten
Reviews about Nefrosten are positive. Despite the fact that the product is not a drug, the authors of the reviews took it for such problems of the kidneys and urinary tract as cystitis, frequent urge to urinate, swelling and swelling on the face, feeling of pain when urinating. They indicate a high therapeutic efficacy of the herbal product, the absence of side effects, an affordable price, and ease of use.
Price for Nefrosten in pharmacies
The price of Nefrosten for a pack containing 60 tablets can range from 294 rubles.
Nefrosten: prices in online pharmacies
Drug name
Price
Pharmacy
Nefrosten Cranberry 0.47 g capsule 30 pcs.
167 r
Buy
Nefrosten tea herbal tea 1.5 g 20 pcs.
184 r
Buy
Nefrosten tablets p.p. 60 pcs.
260 RUB
Buy
Nefrosten 250 mg film-coated tablets 60 pcs.
260 RUB
Buy
Nefrosten oral solution 100 ml 1 pc.
308 RUB
Buy
Nefrosten oral solution in fl. 100 ml
RUB 318
Buy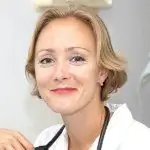 Anna Kozlova Medical journalist About the author
Education: Rostov State Medical University, specialty "General Medicine".
Information about the drug is generalized, provided for informational purposes only and does not replace the official instructions. Self-medication is hazardous to health!
Popular by topic