Table of contents: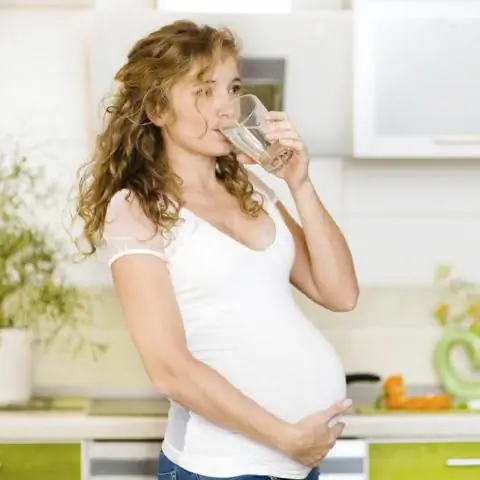 Video: NeoCytotect - Instructions For Use, Price, Reviews, Drug Analogues
NeoCyotect
NeoCitotect: instructions for use and reviews
1. Release form and composition
2. Pharmacological properties
3. Indications for use
4. Contraindications
5. Method of application and dosage
6. Side effects
7. Overdose
8. Special instructions
9. Application during pregnancy and lactation
10. In case of impaired renal function
11. Use in the elderly
12. Drug interactions
13. Analogs
14. Terms and conditions of storage
15. Terms of dispensing from pharmacies
16. Reviews
17. Price in pharmacies
Latin name: NeoCytotect
ATX code: J06BB09
Active ingredient: human anti-cytomegalovirus immunoglobulin (Cytomegalovirus Immunoglobulin)
Manufacturer: Biotest Pharma, GmbH (Germany)
Description and photo update: 09.10.2019
Prices in pharmacies: from 14,597 rubles.
Buy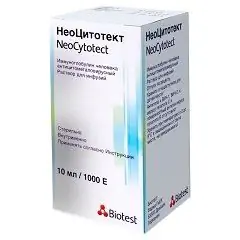 NeoCytotect is a medical immunobiological preparation (MIBP) of immunoglobulin, which has antiviral and immunomodulatory effects.
Release form and composition
The drug is produced in the form of a solution for infusion, which is a transparent light yellow or colorless, slightly opalescent liquid (10 ml or 50 ml each in colorless glass vials, sealed with a rubber stopper with an aluminum cap and equipped with polypropylene caps of the type with a crimped flip-off cap ", In a cardboard box 1 bottle and instructions for the use of NeoCitotect).
Composition for 1 ml of solution:
active substance: human plasma proteins - 50 mg (of which no more than 2 mg - immunoglobulin A, at least 96% - immunoglobulin G, at least 100 E * - antibodies against cytomegalovirus);
auxiliary components: glycine and water for injection.
* E - units of the reference drug of the Paul Ehrlich Institute.
Immunoglobulin G (IgG) is classified into subclasses roughly as follows:
IgGl - 65%;
IgG2 - 30%;
IgG3 - 3%;
IgG4 - 2%.
Pharmacological properties
Pharmacodynamics
NeoCytotect is an immunoglobulin preparation made from donor plasma with a high titer of antibodies against cytomegalovirus (human herpesvirus type 5). IgG subclasses are distributed similarly to plasma distribution in healthy donors.
Pharmacokinetics
When administered intravenously, the bioavailability of the drug is 100%.
The distribution of human anticytomegalovirus immunoglobulin between plasma and extravascular fluid is quite rapid. In 3-5 days after the injection of NeoCytotect, an equilibrium is achieved between the extravascular and intravascular spaces.
The average half-life is 24 days. IgG and IgG complexes are utilized by the cells of the macrophage system.
Indications for use
treatment of cytomegalovirus infection in patients with weakened immunity (in newborns, premature babies, patients with immunodeficiency due to taking medications or suppressed immunity due to AIDS or for other reasons);
prevention of CMV (cytomegalovirus) in patients with an immune system suppressed by medication, for example, after organ transplant;
preventing the manifestation of the disease after infection with the cytomegalovirus.
Contraindications
NeoCytotect is contraindicated in case of hypersensitivity to individual components, as well as hypersensitivity to human immunoglobulin (especially in the case of IgA deficiency in the blood and the presence of antibodies to it).
The drug is used with caution in the following diseases and conditions:
acquired / hereditary thrombophilic disorders;
severe hypovolemia;
high blood pressure;
history of thrombosis and vascular disease;
diabetes;
chronic diseases in which blood viscosity increases;
old age;
being in a stationary state (immobilization) for a long time.
NeoCitotect, instructions for use: method and dosage
NeoCytotect solution is intended for intravenous (intravenous) administration.
Before use, the drug must be checked visually. It should be transparent, slight opalescence is allowed. Do not use the solution if it is cloudy or contains sediment.
Before starting the infusion, the drug should be brought to room temperature. No prior dilution is required. The solution should not be mixed in the same bottle with other medicines.
The initial rate of intravenous infusion is 0.08 ml / kg of body weight per hour. If NeoCytotect is well tolerated, then after 10 minutes the rate of administration is gradually increased to a maximum of 0.8 ml / kg of body weight per hour. The maximum infusion rate is maintained until the end of the infusion.
An open bottle cannot be stored, it must be used immediately. If, after administration, any amount of solution remains unused, it should be discarded (as there is a risk of bacterial contamination).
Recommended doses of NeoCyotect:
CMV treatment: 1 ml / kg body weight every 48 hours until clinical signs of infection disappear;
prevention of CMV in patients with suppressed immunity: 1 ml / kg of body weight; in CMV-seropositive patients, prophylaxis of cytomegaly begins 10 days before the planned transplant; in CMV-sero-negative patients, administration of the drug begins 1 day before transplantation (with bone marrow transplant) or directly on the day of transplantation (with transplantation of other organs); in all groups, patients should be administered at least 6 single doses with an interval of 2-3 weeks.
Side effects
Some of the side effects of NeoCyotect are most common when a number of the following factors are present:
high speed of introduction;
partial or complete immunodeficiency (both in the absence and in the presence of IgA deficiency);
the first injection of normal human immunoglobulin;
transfer to another preparation of immunoglobulin (in rare cases);
immunoglobulin therapy after a very long break.
During the introduction of NeoCytotect, side reactions from the following systems and organs are possible:
digestive system: infrequently - vomiting, nausea;
cardiovascular system: infrequently - low blood pressure; very rarely - thromboembolic reactions (stroke, myocardial infarction, deep vein thrombosis, pulmonary embolism);
nervous system: infrequently - headache;
lymphatic system and blood: frequency unknown - hemolysis / reversible hemolytic anemia;
musculoskeletal system and connective tissue: infrequently - mild pain in the lower back, arthralgia;
urinary system: frequency unknown - acute renal failure and / or an increase in serum creatinine concentration;
immune system: infrequently - allergic reactions; rarely - hypersensitivity reactions, accompanied by a sudden drop in blood pressure, anaphylactic shock (in some cases, sometimes even in the absence of any reactions during the previous administration);
parasitic and infectious diseases: frequency unknown - reversible aseptic meningitis;
skin and subcutaneous fat: rarely - transient skin reactions;
other reactions: infrequently - fever, chills.
If symptoms appear, indicating NeoCytotect intolerance, the rate of administration of the drug should be reduced or the infusion should be suspended until the signs of intolerance disappear (the choice of one or another measure to prevent adverse reactions depends on their type and severity).
If NeoCytotect has a negative effect on renal function, discontinuation of treatment should be considered.
If shock occurs, it is necessary to adhere to the recommendations for the appropriate anti-shock therapy.
Overdose
In case of an overdose of NeoCytotect in patients at risk (especially patients with impaired renal function and the elderly), an increase in blood viscosity is possible.
special instructions
The introduction of NeoCytotect should be carried out strictly at the rate recommended in the section "Method of administration and dosage", since an increase in the rate of administration increases the risk of adverse reactions. It is necessary to carefully check the patient before starting treatment, and also monitor any uncharacteristic symptoms during drug administration.
True hypersensitivity reactions to NeoCytotect are very rare and only in those cases when there is no IgA in the patient's blood and antibodies are formed to it.
Potential complications can be prevented if you first make sure that there are no allergic reactions to very slow administration of the drug at a rate of 0.08 ml / kg / hour, and also carefully monitor the patient's condition throughout the infusion.
It is especially necessary to observe the administration of NeoCytotect, as well as within 1 hour after the end of the infusion for patients who have never received human immunoglobulins before, received them for a very long time or who were injected with other immunoglobulins. Patients outside the listed groups should remain under observation for at least 30 minutes after the end of the infusion.
In clinical practice, isolated cases of acute renal failure on the background of intravenous administration of immunoglobulins are described. This side effect is more often observed in patients with additional risk factors: diabetes mellitus, overweight, impaired renal function, reduced BCC (volume of circulating blood), concomitant use of drugs with nephrotoxic effects, advanced age (over 65 years).
All patients during treatment with NeoCytotect should drink a sufficient amount of liquid before starting the administration of the drug. In addition, it is necessary to control urine output, serum creatinine, and exclude diuretics.
Renal dysfunction and acute renal failure most often develop with the use of drugs that contain sucrose as a stabilizer. Therefore, patients who have any of the risk factors listed above are advised to administer immunoglobulins that do not contain sucrose (for example, NeoCytotect). Patients with the risk of thromboembolism or acute renal failure should be administered the drug at the lowest possible dose and at the lowest possible rate.
After the infusion of immunoglobulin in the blood, a temporary increase in the titer of various passively administered antibodies is likely, and this can lead to false positive results during serological tests.
Medicines obtained from human plasma or blood can become a source of some infectious diseases (this risk is very small, but it cannot be completely excluded, especially in relation to pathogens, the nature of which is still unknown). To reduce the risk of transmission of infectious agents, donors are selected according to strict criteria, donor plasma is tested and verified, and the plasma pool is monitored. The production process of NeoCytotect includes stages aimed at removing and / or inactivating pathogens.
For the manufacture of the drug, plasma is used only from healthy donors, in which antibodies to the hepatitis C virus, antibodies to HIV (types 1 and 2), surface antigen of the hepatitis B virus, and the activity of liver transaminases do not exceed the upper limit of the norm are not detected.
NeoCytotect is produced by cold ethanol fractionation. In order to remove and inactivate possible viruses, filtration and treatment with octanoic acid, tri-n-butyl phosphate (Tween 80) is carried out. Additionally, nanofiltration is carried out.
Influence on the ability to drive vehicles and complex mechanisms
It is unlikely that immunoglobulins can affect the patient's ability to drive vehicles and operate other potentially dangerous and complex machinery.
Application during pregnancy and lactation
During pregnancy and lactation, NeoCytotect should be prescribed with caution, despite the fact that during the long experience of using immunoglobulins in medicine, no negative effects on the course of pregnancy, development and growth of the fetus, or the newborn have been identified.
The injected immunoglobulins are secreted in breast milk and can transmit protective antibodies to the baby.
With impaired renal function
NeoCytotect is used with caution in patients with impaired renal function.
Use in the elderly
NeoCytotect should be used with caution in patients over the age of 65.
Drug interactions
When immunoglobulins are administered simultaneously with live attenuated viral vaccines (vaccines against rubella, measles, chickenpox and mumps), as well as in the period from 6 weeks to 3 months after their application, NeoCytotect may have a negative effect on these vaccines. Vaccination is carried out no earlier than 3 months after the administration of the drug (and in the case of measles, this interval may be increased to 1 year). Patients who received NeoCytotect should be tested for the presence of specific antibodies to the measles virus before being vaccinated against measles.
Analogs
The analogue of NeoCytotect is Cytotect.
Terms and conditions of storage
Store in a dark place, out of the reach of children, at a temperature of + 2 … + 8 ° C. The solution must not be frozen.
The shelf life of the drug is 3 years.
Terms of dispensing from pharmacies
Dispensed by prescription.
Reviews about NeoCyotect
According to reviews, NeoCytotect is an effective drug for the treatment of cytomegalovirus infection. He helps both newborns and adult patients.
The only drawback that patients point out is the high cost of the drug.
Price for NeoCytotect in pharmacies
The price of NeoCytotect in the form of a solution for infusion (in 10 ml vials) is 13,000-15,600 rubles.
NeoCytotect: prices in online pharmacies
Drug name
Price
Pharmacy
NeoCytotect 100 U / ml solution for infusion 10 ml 1 pc.
RUB 14597
Buy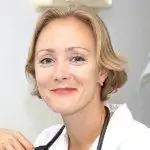 Anna Kozlova Medical journalist About the author
Education: Rostov State Medical University, specialty "General Medicine".
Information about the drug is generalized, provided for informational purposes only and does not replace the official instructions. Self-medication is hazardous to health!
Popular by topic