Table of contents: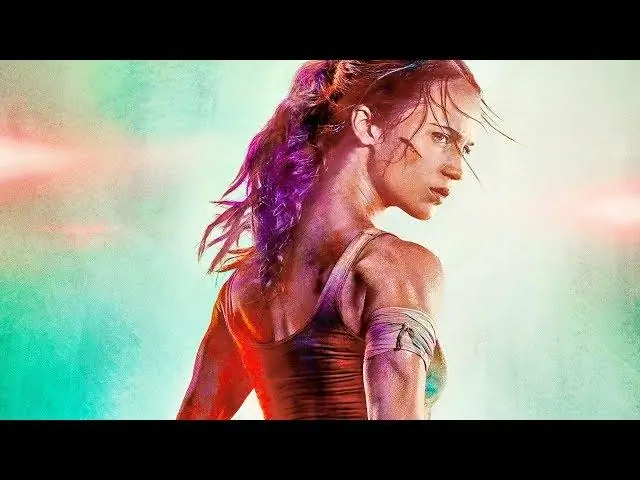 Video: Nalorius - Instructions For Use, Reviews, Price, Analogs Of Tablets
Nalorius
Nalorius: instructions for use and reviews
1. Release form and composition
2. Pharmacological properties
3. Indications for use
4. Contraindications
5. Method of application and dosage
6. Side effects
7. Overdose
8. Special instructions
9. Application during pregnancy and lactation
10. Use in childhood
11. In case of impaired renal function
12. Drug interactions
13. Analogs
14. Terms and conditions of storage
15. Terms of dispensing from pharmacies
16. Reviews
17. Prices in pharmacies
Latin name: Nalorius
ATX code: R06AX27
Active ingredient: desloratadine (desloratadine)
Producer: Biocom, CJSC (Russia)
Description and photo updated: 22.11.2018
Prices in pharmacies: from 319 rubles.
Buy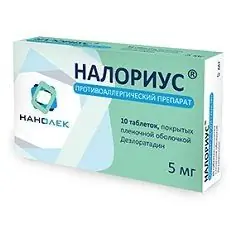 Nalorius is an anti-allergic drug.
Release form and composition
Dosage form of Nalorius - film-coated tablets: round, biconvex, slight surface roughness is allowed; the color of the shell of the tablets is blue, the cores are white with a yellowish tinge or white (in a cardboard box 1–3 or 5 blisters of 7 or 10 tablets).
Composition of 1 tablet:
active substance: desloratadine - 5 mg;
auxiliary components: croscarmellose sodium - 1.85 mg; microcrystalline cellulose - 14.8 mg; hypromellose - 3.7 mg; calcium hydrogen phosphate dihydrate - 145.4 mg; pregelatinized starch - 5.55 mg; colloidal silicon dioxide (aerosil) - 1.85 mg; magnesium stearate - 1.85 mg;
shell: simethicone emulsion - 0.033 mg; blue Opadry II (including brilliant blue - 0.38%; titanium dioxide - 23%; indigo carmine - 2.5%; lactose monohydrate - 36%; hypromellose - 28%; polyethylene glycol - 10%; yellow iron oxide - 0.12%) - 4.967 mg.
Pharmacological properties
Pharmacodynamics
Nalorius is a long-acting antihistamine with antipruritic and antiexudative efficacy.
Desloratadine is the primary active metabolite of loratadine. The substance inhibits the cascade of reactions of allergic inflammation. Thanks to its use, the following reactions are observed:
release of pro-inflammatory cytokines, including interleukin-4, -6, -8, -13, as well as pro-inflammatory chemokines;
production of superoxide anions by activated polymorphonuclear neutrophils;
adhesion and chemotaxis of eosinophils;
isolation of adhesion molecules, in particular P-selectin;
IgE-mediated release of histamine, leukotriene C4 and prostaglandin D2.
Thus, desloratadine prevents the occurrence of allergic reactions and facilitates their course, reduces capillary permeability, and prevents the occurrence of smooth muscle spasms and tissue edema.
Nalorius on the electrocardiogram does not cause prolongation of the QT interval, does not affect the central nervous system, practically does not lead to drowsiness (does not have a sedative effect) and does not affect the speed of psychomotor reactions.
The effect of the drug after taking a single dose develops within 30 minutes, its duration is 24 hours.
Pharmacokinetics
Being well absorbed in the gastrointestinal tract, desloratadine is determined in blood plasma after 30 minutes. The maximum concentration reaches an average of 3 hours.
Penetrates through the placental barrier and into breast milk; does not penetrate the blood-brain barrier.
The connection of desloratadine with plasma proteins is from 83 to 87%. When used in therapeutic doses for a course of 14 days, clinically significant cumulation of the drug does not occur.
Desloratadine is not an inhibitor of CYP3A4 and CYP2D6 isoenzymes and an inhibitor / substrate of P-glycoprotein. The simultaneous intake of Nalorius in a daily dose of 7.5 mg with food / grapefruit juice has no effect on the distribution of the substance.
Intensive metabolism occurs in the liver, by hydroxylation, followed by the formation of 3-OH-desloratadine combined with glucuronide.
Less than 2% of desloratadine taken is excreted by the kidneys, up to 7% (in the form of an unchanged substance) through the intestines. The average elimination half-life is 27 hours.
Indications for use
allergic rhinitis: Nalorius is prescribed to eliminate / relieve the main symptoms, including itchy palate, watery eyes, sneezing, nasal mucus, nasal congestion, itchy nose, redness / itching of the eyes;
urticaria: to reduce / eliminate the main symptoms, including skin itching, rash.
Contraindications
lactose intolerance, glucose-galactose malabsorption syndrome and lactase deficiency;
pregnancy and lactation;
age up to 12 years;
individual intolerance to the components of the drug, as well as loratadine.
According to the instructions, Nalorius in patients with severe renal insufficiency should be prescribed under medical supervision (a relative contraindication).
Instructions for use of Nalorius: method and dosage
Nalorius is taken orally with water, preferably regularly at the same time of the day, regardless of the meal time. Do not split / chew the tablet.
Scheme of taking Nalorius: 1 tablet once a day.
Patients with seasonal allergic rhinitis (with symptoms lasting up to 4 days a week or less than 4 weeks a year) should be evaluated for their disease. Reception of Nalorius after the disappearance of symptoms should be discontinued, resumption of therapy is possible when symptoms reappear.
With perennial allergic rhinitis (symptoms occur 4 days a week or longer than 4 weeks a year) Nalorius must be taken throughout the entire exposure period.
Side effects
Possible adverse reactions (> 10% - very common;> 1% and 0.1% and 0.01% and <0.1% - rarely; <0.01% - very rare):
digestive system: infrequently - xerostomia; very rarely - diarrhea, vomiting, abdominal pain, dyspepsia, nausea, increased activity of hepatic transaminases, hepatitis, increased concentration of bilirubin;
cardiovascular system: very rarely - palpitations, tachycardia;
nervous system: infrequently - headache; very rarely - drowsiness, dizziness, psychomotor hyperactivity, insomnia, hallucinations, convulsions;
musculoskeletal system: very rarely - myalgia;
immune system: very rarely - rash, including urticaria, pruritus, shortness of breath, anaphylactic shock, angioedema;
other reactions: often - increased fatigue.
Overdose
In clinical and pharmacological studies, when taking doses significantly higher than recommended, the development of serious adverse reactions was not observed.
Desloratadine is not excreted during hemodialysis, the effectiveness of peritoneal dialysis has not been established.
In cases of taking a large amount of Nalorius, you should immediately consult a doctor. Recommended measures: gastric lavage, intake of activated charcoal, symptomatic treatment.
special instructions
Influence on the ability to drive vehicles and complex mechanisms
The ability to drive vehicles during the period of Nalorius therapy is determined individually, based on the reaction to taking the drug, since it is possible to develop such disorders as dizziness, drowsiness, hallucinations.
Application during pregnancy and lactation
Nalorius is not prescribed during pregnancy / lactation.
Pediatric use
Nalorius therapy is contraindicated in patients under 12 years of age.
With impaired renal function
Nalorius therapy for severe renal failure should be performed under medical supervision.
Drug interactions
There were no changes in the concentration of desloratadine, which are of clinical importance, when used together with cimetidine, erythromycin, ketoconazole, fluoxetine and azithromycin.
Analogs
Nalorius's analogs are Ezlor, Elisey, Lordestin, Blogir-3, Erius, Desloratadin, Alestamine, Desal, etc.
Terms and conditions of storage
Store in a place protected from light at temperatures up to 25 ° C. Keep out of the reach of children.
Shelf life is 4 years.
Terms of dispensing from pharmacies
Available without a prescription.
Reviews about Nalorius
According to reviews, Nalorius effectively stops allergic reactions. The tablets are small, tasteless and odorless. Of the advantages, a convenient dosing regimen and a long shelf life of the drug are noted. In some cases, they indicate an insufficiently long therapeutic effect - 10-12 hours.
Price for Nalorius in pharmacies
The approximate price for Nalorius (10 tablets) is 238-499 rubles.
Nalorius: prices in online pharmacies
Drug name
Price
Pharmacy
Nalorius 5 mg film-coated tablets 10 pcs.
RUB 319
Buy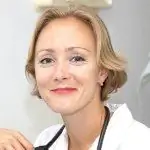 Anna Kozlova Medical journalist About the author
Education: Rostov State Medical University, specialty "General Medicine".
Information about the drug is generalized, provided for informational purposes only and does not replace the official instructions. Self-medication is hazardous to health!
Popular by topic