Table of contents: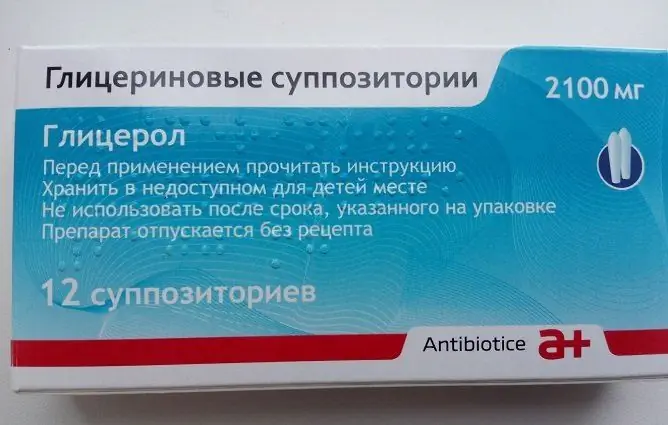 Video: Glycerin Suppositories For Constipation: Instructions For Use, Doctor's Advice
Glycerin suppositories for constipation
The content of the article:
Composition
Description
pharmachologic effect
Indications for use
Possibility of use during pregnancy
Contraindications
Method of administration and dosage
Side effect
Overdose
Interaction with other medicinal products
Application features
Release form
Storage conditions
Shelf life
Terms of dispensing from pharmacies
Video
Glycerin suppositories for constipation are an inexpensive, effective and safe remedy that allows you to gently and quickly solve a delicate problem with stool retention for patients of any age.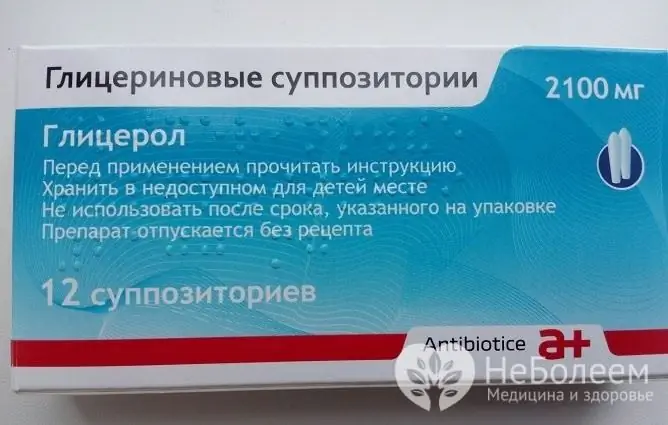 Glycerin suppositories are fast acting to relieve constipation
Composition
Each suppository with glycerin (rectal suppository) contains:
distilled glycerin (glycerol);
polyethylene oxide 400 (macroyear 400);
stearic acid;
sodium carbonate decahydrate (10-aqueous sodium carbonate).
Description
Glycerin candles are torpedo-shaped, hygroscopic, almost colorless (let's say a slight yellowish-brown tint), translucent. In the hands, under the influence of heat, their surface begins to soften and slightly smear. An air rod may be present in the center of the suppository.
pharmachologic effect
When injected into the rectum, glycerin begins to irritate its mucous membrane. As a result, there are reflex urges to empty the bowel (bowel movement). The drug works very quickly. Usually, the effect after using the suppository develops within 5–20 minutes.
The components of the suppositories are practically not absorbed from the ampoule of the rectum and do not enter the systemic circulation. Therefore, when using suppositories with glycerin for constipation, systemic side effects are not observed.
With prolonged constipation, a significant compaction of feces occurs. In this case, it is not always possible to achieve defecation only with the help of suppositories with glycerin. In addition, solid feces can injure the external sphincter of the rectum, which, in turn, can cause fissures and the development of paraproctitis.
Indications for use
According to the instructions for use, glycerin suppositories can be used to combat constipation in adults and children.
Due to its mild and fast laxative effect, glycerin suppositories can also be used to prevent constipation in patients with the following diseases:
acute myocardial infarction;
anorectal stenosis;
perianal abscess;
crack in the anus;
thrombosis of hemorrhoids.
Possibility of use during pregnancy
Due to the fact that the active ingredients do not penetrate the systemic circulation, this drug is approved for use during pregnancy and lactation (breastfeeding of a child).
Contraindications
Using candles with glycerin is contraindicated in the following cases:
individual intolerance to the components of suppositories;
paraproctitis;
proctitis;
exacerbation of hemorrhoids;
rectal tumors.
Method of administration and dosage
Adults are usually prescribed 1-2 suppositories once a day. It is advisable to use them 15-20 minutes after breakfast. For children, the dosage and frequency of administration is determined in each specific case by the attending physician.
To insert a candle, you must:
wash hands thoroughly with soap and gloves;
carefully remove the suppository from the package;
lie on your left side and pull your knees to your stomach;
take the suppository with your right hand and gently pass its tip through the anal sphincter;
after the tension of the sphincter muscles has weakened (usually after 5-15 seconds), push the entire suppository into the ampoule of the rectum;
stay in the supine position until the appearance of pronounced urge to empty the intestines.
Side effect
With prolonged use of glycerin suppositories, a person can develop a number of side effects:
weakening of the natural reflex to defecate;
irritation of the mucous membrane of the rectum and perianal region;
catarrhal paraproctitis.
With individual intolerance, after the first use of the drug, the patient develops local allergic reactions, the main symptoms of which are burning and itching.
If any side effects occur, further use of laxative suppositories should be discontinued and seek medical advice from your doctor.
Overdose
To date, there are no data on cases of overdose with this drug. With the correct use of suppositories, the occurrence of an overdose is excluded.
Interaction with other medicinal products
Since glycerol is not absorbed from the rectum and does not enter the systemic circulation, and in addition, it is rapidly excreted from the body, any clinically significant interactions with other drugs are unlikely.
Application features
When using suppositories with glycerin, it is important to consider the following factors:
| | |
| --- | --- |
| Feature | Explanation |
| Frequency of use | Suppositories should not be used more often or at a higher dose than the manufacturer recommends. Violation of this rule can lead to severe irritation of the rectal mucosa, causing catarrhal proctitis. |
| Duration | The course of treatment should be carried out as long as recommended by the attending physician. With prolonged systematic use of laxative suppositories, intestinal motility worsens, the natural reflex to defecate weakens. |
| Additional use of mineral oils | Do not use any mineral oils to facilitate the administration of suppositories. This can provoke irritation of the mucous membranes of the perianal region. |
| Effects on concentration | Candles with glycerin do not affect a person's ability to control mechanisms and drive vehicles, perform other work that requires a high concentration of attention. |
Release form
Rectal suppositories with glycerin are available in a weight of 2.11 grams. They are packed in a blister strip of aluminum-polyethylene double-sided film, 5 pieces each. In a cardboard box are placed two cell contour packages and instructions for use of the drug.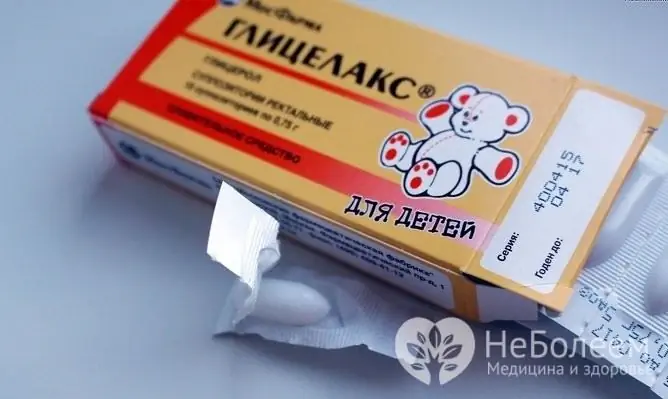 Suppositories with glycerin for constipation are also available in a special children's dosage
Storage conditions
Suppositories with glycerin for constipation should be stored in a dark, cool place (at a temperature not exceeding 25 ° C), out of the reach of children.
Shelf life
According to the manufacturer's official instructions, the drug should be stored for no more than two years from the date of manufacture. After the expiration date, further use is not allowed.
Terms of dispensing from pharmacies
The drug is sold in the pharmacy chain in the departments of non-prescription drugs. Despite this, before you start using it, you should consult your doctor.
It must be remembered that the treatment of constipation should be aimed at eliminating the cause that led to their occurrence. Patients should:
follow a diet;
to live an active lifestyle;
take medications as directed by a doctor that regulate intestinal motor function.
The use of any laxative drugs, including suppositories with glycerin, is allowed in short courses and only by agreement with the doctor.
Video
We offer for viewing a video on the topic of the article.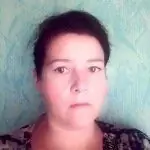 Elena Minkina Doctor anesthesiologist-resuscitator About the author
Education: graduated from the Tashkent State Medical Institute, specializing in general medicine in 1991. Repeatedly passed refresher courses.
Work experience: anesthesiologist-resuscitator of the city maternity complex, resuscitator of the hemodialysis department.
Found a mistake in the text? Select it and press Ctrl + Enter.
Popular by topic