Table of contents:
Video: LymphoTransit Evalar - Instructions For Use, Reviews, Price, Analogues
LymphoTransit Evalar
LymphoTransit Evalar: instructions for use and reviews
1. Release form and composition
2. Pharmacological properties
3. Indications for use
4. Contraindications
5. Method of application and dosage
6. Side effects
7. Overdose
8. Special instructions
9. Application during pregnancy and lactation
10. Use in childhood
11. Drug interactions
12. Analogs
13. Terms and conditions of storage
14. Terms of dispensing from pharmacies
15. Reviews
16. Price in pharmacies
Latin name: LimfoTranzit Evalar oxy-indole alkaloids
Active ingredient: biologically active components (bioflavonoids, tannins, indole alkaloids, aloin) [Biologically activa components (Bioflavonoids, Tannins, indole Alkaloids, Aloin)]
Manufacturer: CJSC Evalar (Russia)
Description and photo update: 2019-08-07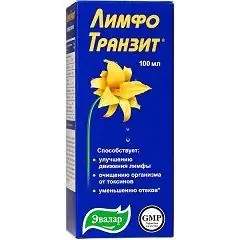 LymphoTransit Evalar is a biologically active food supplement (BAA), which is a source of tannins and contains anthraquinones, designed to remove toxins and toxins, and helps cleanse the lymph.
Release form and composition
The dietary supplement is produced in the form of a beverage concentrate (50, 100, 250, 500 or 1000 ml in vials, in a cardboard box 1 vial and instructions for the use of Lymphotransit Evalar).
20 ml (daily dose) of the product contains the following active ingredients:
aloe extract - 28 mg, including hydroxyanthracene derivatives in terms of aloin - not less than 1.2 mg (12%) *;
Uncaria bark extract - 44 mg;
extract of corn silk - 76 mg;
juice base "Grapefruit" - 100 mg;
powdered lemon juice - 100 mg;
green tea extract - 220 mg;
liquid extract of the stalk of cherry and stinging nettle leaves - 15 750 mg;
tannins from a complex of plants - not less than 60 mg (20%) *.
* -% of the adequate level (the recommended amount of daily consumption).
Additional components are represented by the following substances: citric acid (acidity regulator), vegetable glycerin (thickener), Chamomile flavor, sodium benzoate and potassium sorbate (preservatives), sucralose (sweetener), caramel color (dye).
Pharmacological properties
Pharmacodynamics
The lymphatic system plays an extremely important role in the life of the body, since it performs a drainage and detoxification function, carries out the transport of tissue fluid and the elimination of toxins and decay products from cells. Cleansing the lymph is a necessary procedure to keep the internal environment of the body clean.
BAA is a concentrated drink consisting of extracts of medicinal plants, designed to cleanse the lymph. The tool helps to improve lymph flow, excretion of fluid from the area of edema, activation of lymph formation, and also stimulates the elimination of toxins and toxins from the body, which leads to its purification.
The therapeutic effect of LymphoTransit Evalar is due to the properties of its active ingredients:
extracts of nettle and cherry stalks, citrus bioflavonoids from grapefruit and lemon juice, green tea extract: help detoxify and eliminate fluid from tissues;
Uncaria bark extract (cat's claw): provides strengthening of the body's defenses, which is necessary against the background of the lymph cleansing process;
aloe extract: includes biologically active substances that improve metabolic processes in tissues and contribute to increased resistance to adverse factors; has a mild laxative and diuretic effect;
extract of corn silk: demonstrates mild choleretic and diuretic effect.
Indications for use
LymphoTransit Evalar is recommended for use as a dietary supplement for food, a source of tannins containing anthraquinones, in order to help cleanse the body of toxins and toxins, improve lymph outflow, eliminate edema.
Contraindications
pregnancy and lactation;
hypersensitivity to any of the constituents of the product.
LymphoTransit Evalar, instructions for use: method and dosage
A drink made from a concentrate is taken orally.
Shake the contents of the vial immediately before using the drug. To prepare a drink, you need to dilute 5 ml (1 teaspoon) of the concentrate in 250 ml (1 glass) of water.
Adults are recommended to use the concentrate in a daily dose of 20 ml (4 teaspoons), which corresponds to 4 glasses of the prepared solution. You can also immediately dilute the daily dose of the concentrate in 1 liter of water and take it throughout the day.
The duration of admission is 10 days, the course requires 2 bottles of the drug. It is recommended to repeat courses every season - 4 times a year.
Side effects
No data.
Overdose
No data.
special instructions
LymphoTransit Evalar is not a drug. Before starting a course admission, you should consult a specialist.
The dietary supplement does not contain sugar, gluten, genetically modified organisms (GMOs) and animal products.
Application during pregnancy and lactation
Taking dietary supplements during pregnancy and breastfeeding is contraindicated.
Pediatric use
The use of LymphoTransit Evalar is not recommended in pediatrics.
Drug interactions
No data available.
Analogs
The analogues of Lymphotransit Evalar are Lymphomyosot, Kidney tea syrup, Licorice forte, etc.
Terms and conditions of storage
Store out of reach of children at temperatures from 0-25 ° С.
Shelf life is 2 years.
Terms of dispensing from pharmacies
Available without a prescription.
Reviews about LymphoTransit Evalar
Reviews of LymphoTransit Evalar on medical websites are mostly positive. Patients note the mild and effective action of the drug, its natural plant base, as well as the pleasant taste and smell of the prepared drink.
The dietary supplement quickly removes excess fluid from the body and eliminates edema, improves general condition, reduces body weight, gives lightness and energizes. The advantages of LymphoTransit Evalar also include its good tolerance and affordable price. Some patients complain about the lack of funds in pharmacies.
Price for LymphoTransit Evalar in pharmacies
The price of LymphoTransit Evalar, a beverage concentrate, can be 150–180 rubles. per bottle of 100 ml.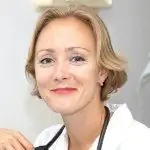 Anna Kozlova Medical journalist About the author
Education: Rostov State Medical University, specialty "General Medicine".
Information about the drug is generalized, provided for informational purposes only and does not replace the official instructions. Self-medication is hazardous to health!
Popular by topic