Table of contents: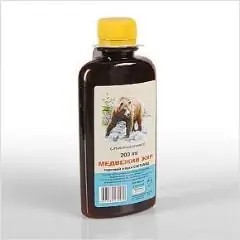 Video: Bear Fat - Instructions For Use, Indications, Doses
Bear fat
Instructions for use:
1. Release form and composition
2. Indications for use
3. Contraindications
4. Method of application and dosage
5. Side effects
6. Special instructions
7. Drug interactions
8. Terms and conditions of storage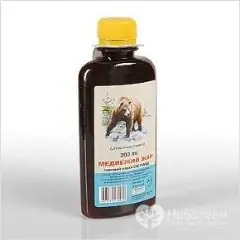 Bear fat is a natural biologically active additive (BAA) with anti-inflammatory and antimicrobial action; replenishes the deficiency of polyunsaturated fatty acids, trace elements, vitamins, and other biologically active substances; increases the body's resistance to infectious diseases, restores immunity, metabolism, increases skin turgor.
Release form and composition
Bear fat: 100% natural, melted (in plastic or glass bottles / jars of various capacities (depending on the manufacturer) in cardboard packs of 1 pc., Or without packaging);
Enriched bear fat: capsules 0.25 or 0.3 g (100 or 120 pcs. In a cardboard box).
Bear fat composition: vitamins B 1, B 2, B 4, B 12, polyunsaturated fatty acids Omega 3 and 6, micro and macro elements, fatty oils.
Composition of enriched bear fat (1 capsule): bear fat - 0.125 g; fish oil - 0.05 g; linseed oil - 0.037 g; wheat germ oil - 0.037 g.
Indications for use
Diseases of the bronchopulmonary system - colds, bronchitis, tuberculosis, pneumonia;
Diseases of the digestive system - colitis, gastritis, pancreatitis, gastric ulcer and duodenal ulcer;
General depletion of the body due to a long / serious illness, surgery or injury.
For prevention, Bear Fat is recommended for middle-aged and elderly patients in order to prevent the above diseases and with a decrease in immunity, general working capacity (conditions associated with metabolic disorders).
Contraindications
Diseases of the liver and biliary tract in the acute stage;
Pregnancy;
Breastfeeding period;
Individual intolerance.
Method of administration and dosage
Bear fat is taken orally with meals.
Recommended dosing regimen (for adults): 1 tablespoon (15 ml) 3 times a day. The duration of the course is 1 month. It is allowed to resume therapy with Bear Fat after a month's break.
Capsules Bear fat enriched: adults take 4-6 pieces with meals, 2 times a day. The duration of the course is 3-4 weeks.
Side effects
Allergic reactions are possible.
special instructions
Before using dietary supplements, you should consult with your doctor.
Drug interactions
There is no information on the interaction of Bear Fat with other medicinal substances / preparations.
Terms and conditions of storage
Keep out of the reach of children, in a dark and dry place, at temperatures up to 20 ° C, capsules - up to 25 ° C.
Shelf life is 2 years.
Information about the drug is generalized, provided for informational purposes only and does not replace the official instructions. Self-medication is hazardous to health!
Popular by topic