Table of contents: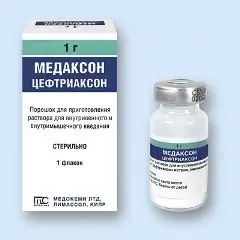 Video: Medaxon - Instructions For Use, Indications, Doses, Analogues
Medaxon
Instructions for use:
1. Release form and composition
2. Indications for use
3. Contraindications
4. Method of application and dosage
5. Side effects
6. Special instructions
7. Drug interactions
8. Analogs
9. Terms and conditions of storage
10. Terms of dispensing from pharmacies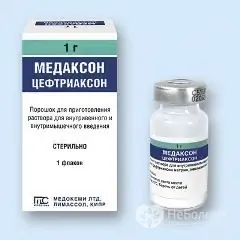 Medaxon is a third generation cephalosporin antibacterial drug.
Release form and composition
Dosage form - powder for the preparation of a solution for intravenous and intramuscular administration: slightly hygroscopic, from white to white with a yellowish tinge (in vials, 1 or 100 vials in a cardboard box).
Active ingredient: ceftriaxone (in the form of sodium salt), in 1 bottle - 0.5 or 1 g.
Indications for use
Medaxon is a drug for the treatment of infectious and inflammatory diseases caused by microorganisms susceptible to ceftriaxone:
ENT organs infections;
Respiratory tract infections (including pneumonia);
Urinary tract and kidney infections;
Skin and soft tissue infections;
Genital infections (including gonorrhea);
Joint and bone infections;
Abdominal infections (inflammatory diseases of the gastrointestinal tract, biliary tract, peritonitis).
In addition, the drug is used to treat meningitis, sepsis and infections in patients with reduced immunity, as well as to prevent infectious complications in the postoperative period.
Contraindications
I trimester of pregnancy;
Hypersensitivity to drug components or other cephalosporins, as well as penicillins.
Carefully:
Hyperbilirubinemia of newborns;
Prematurity;
Hepatic / renal impairment;
Nonspecific ulcerative colitis;
Colitis and enteritis associated with antibiotic use;
Pregnancy (II-III trimester);
Lactation period.
Method of administration and dosage
A solution is prepared from the powder, which is administered intravenously (i / v) or intramuscularly (i / m).
Rules for the preparation and administration of solutions:
Intravenous infusion: 2 g of the drug is diluted with 40 ml of a calcium-free solution, for example, in a solution of 0.9% sodium chloride, 5% or 10% dextrose, 5% fructose. Infused intravenously for at least 30 minutes;
Intravenous injection: 1 g of powder is diluted with 10 ml of sterile distilled water. Enter slowly intravenously for 2-4 minutes;
Intramuscular injection: 1 g of ceftriaxone is diluted with 3.5 ml of 1% lidocaine solution. Injected deep into the gluteus muscle. Intravenous administration of the drug with lidocaine is prohibited!
Recommended doses:
Adults and adolescents over 12 years old: 1-2 g once a day (at 24-hour intervals). In severe conditions and infections caused by moderately sensitive microbes, the dose may be increased to 4 g;
Children under 12 years of age weighing more than 50 kg: doses as for adults;
Infants (over 2 weeks old) and children under 12 years of age weighing less than 50 kg: 0.02-0.075 g / kg per day (while a daily dose of more than 0.05 g / kg should be administered intravenously for at least 30 minutes);
Newborn children under 2 weeks of age: 0.02-0.05 g / kg once a day.
The duration of therapy is determined individually, depending on the type and nature of the course of the disease.
With gonorrhea (including if it is caused by strains that form penicillinase), 0.25 g IM is prescribed once.
Treatment of bacterial meningitis in children (including newborns) begins with a dose of 0.1 g / kg once a day, but not more than 4 g / day. In the future, the dose is adjusted as soon as the pathogen is identified and its sensitivity to ceftriaxone is determined.
Duration of therapy depending on the type of pathogen:
Enterobacteriaceae (enterobacteria) - 10-14 days;
Streptococcus pneumoniae (pneumococcus) - 7 days;
Haemophilus influenzae (Afanasyev-Pfeiffer stick) - 6 days;
Neisseria meningitidis (meningococcus) - 4 days.
To prevent infections in the postoperative period, Medaxon is administered once in a dose of 1-2 g 30-90 minutes before the infected or presumably infected surgical intervention.
For patients with severe renal failure (if creatinine clearance does not exceed 10 ml / minute), the drug is prescribed in a dose of no more than 2 g / day.
Side effects
Local reactions: soreness along the vein, phlebitis, soreness and infiltration at the site of intramuscular injection;
Allergic reactions: fever / chills, rash, pruritus, urticaria; in rare cases - eosinophilia, serum sickness, bronchospasm, Quincke's edema, erythema multiforme exudative, anaphylactic shock;
Digestive system: diarrhea / constipation, nausea, vomiting, taste disturbance, abdominal pain, flatulence, inflammation of the tongue and oral mucosa, pseudomembranous enterocolitis, dysbiosis, liver dysfunction (increased activity of hepatic transaminases; rarely - intrahepatic cholestasis, increased bilirubin or alkaline phosphatase);
Hematopoietic system: granulocytopenia, thrombocytosis, neutropenia, thrombocytopenia, leukopenia, prolongation of prothrombin time, decrease in the concentration of plasma coagulation factors (II, VII, IX, X), hypocoagulation, lymphopenia, hemolytic anemia;
Central nervous system: headache, vertigo;
Urinary system: anuria, oliguria, renal dysfunction, manifested by an increase in blood urea, cylindruria, hypercreatininemia, azotemia, hematuria, glucosuria;
Others: candidiasis, epistaxis, superinfection.
special instructions
The concentration of ceftriaxone in the blood should be constantly monitored in patients with severe renal and hepatic impairment, as well as those on hemodialysis.
With long-term treatment, systematic monitoring of the state of peripheral blood, kidney and liver function is necessary.
In rare cases, an ultrasound examination of the gallbladder reveals darkening. This side effect goes away on its own after you stop taking the drug. Even patients in whom this phenomenon is accompanied by pain in the right hypochondrium, it is recommended to continue therapy with Medaxon, along with the simultaneous conduct of symptomatic therapy.
The development of anaphylactic shock is the most serious indication for emergency therapy, which implies intravenous administration of epinephrine, first of all, then glucocorticoids.
Weakened patients and the elderly may require concomitant vitamin K administration.
During the period of therapy, it is contraindicated to consume alcoholic beverages, because there is a likelihood of developing disulfiram-like effects, such as shortness of breath, lowering blood pressure, facial redness, headache, nausea, vomiting, tachycardia, stomach cramps.
Drug interactions
When using Medaxone in combination with non-steroidal anti-inflammatory drugs and other inhibitors of platelet aggregation, the risk of bleeding increases.
When used together with loop diuretics or any other drugs that can have a toxic effect on the liver, the likelihood of developing nephrotoxicity increases.
Ceftriaxone is incompatible with ethanol and solutions containing other antibiotics. You cannot mix it with other antibacterial agents in the same syringe / vial.
When ceftriaxone is used concomitantly with aminoglycosides, synergism is observed when exposed to many gram-negative bacteria. In most cases, they are recommended to be prescribed separately, but in severe cases and with life-threatening infections (for example, caused by Pseudomonas aeruginosa), their combined use is justified.
Analogs
Medaxon's analogs are: Axone, Azaran, Biotraxon, Lendacin, Megion, Betasporin, Longacef, Movigip, Lifaxon, Rocefin, Stericsef, Oframax, Torocef, Triaxon, Tercef, Chizon, Forcef, Cefatrin, Cefonsefogram, Cefaxon, Cefaxon., Ceftriaxone.
Terms and conditions of storage
Store in a dry, dark place, out of reach of children, at temperatures up to 25 ºС.
Shelf life is 2 years.
Terms of dispensing from pharmacies
Dispensed by prescription.
Information about the drug is generalized, provided for informational purposes only and does not replace the official instructions. Self-medication is hazardous to health!
Popular by topic