Table of contents: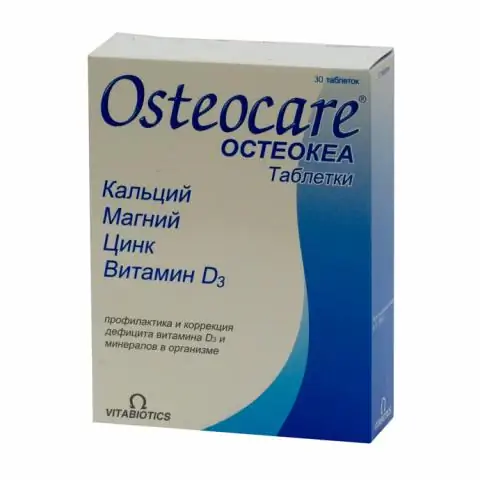 Video: Osteokea - Instructions For Use, Price, Reviews, Analogues, Tablets
Osteokea
Osteokea: instructions for use and reviews
1. Release form and composition
2. Pharmacological properties
3. Indications for use
4. Contraindications
5. Method of application and dosage
6. Side effects
7. Overdose
8. Special instructions
9. Application during pregnancy and lactation
10. Use in childhood
11. In case of impaired renal function
12. For violations of liver function
13. Use in the elderly
14. Drug interactions
15. Analogs
16. Terms and conditions of storage
17. Terms of dispensing from pharmacies
18. Reviews
19. Price in pharmacies
Latin name: Osteocare
ATX code: M05BX
Active ingredient: vitamin D (vitamin D) + calcium (calcium) + magnesium (magnesium) + zinc (zincum)
Manufacturer: Vitabiotics, Ltd. (Vitabiotics, Ltd.) (UK)
Description and photo update: 2019-02-09
Prices in pharmacies: from 351 rubles.
Buy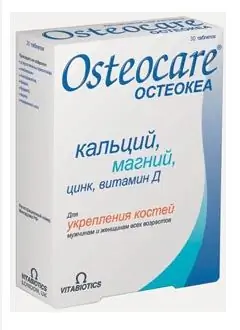 Osteokea is a combined vitamin-mineral complex that regulates phosphorus-calcium metabolism, accelerates bone mineralization and the formation of callus, maintains bone homeostasis and cardiac activity.
Release form and composition
Osteokea dosage forms:
Tablets: white, oval, flat, without a shell, with a double-sided bevel, the inscription "Osteocare" on one side, the inscription "W" on the other side - the company logo (15 pcs. In a polypropylene blister covered with aluminum foil, 2 blisters in a cardboard box);
Solution for oral administration (200 ml in vials, 1 bottle in a cardboard box).
Each pack also contains instructions for the use of Osteokea.
1 tablet contains:
Active ingredients: calcium carbonate - 1000 mg (calcium - 400 mg), magnesium hydroxide - 372 mg (magnesium - 150 mg), zinc sulfate 7H20 - 22 mg (zinc - 5 mg), colecalciferol - 0.0025 mg (vitamin D 3 - 100 ME);
Auxiliary components: sodium carmellose, corn starch, potato starch, magnesium silicate.
5 ml of solution contains active ingredients: calcium (in the form of calcium carbonate) - 150 mg, magnesium (in the form of magnesium hydroxide) - 75 mg, zinc (in the form of zinc gluconate) - 3 mg, vitamin D 3 (colecalciferol) - 0, 0019 mg.
Pharmacological properties
Pharmacodynamics
Osteokea belongs to the latest generation of calcium preparations. The combination of nutrients used in its composition eliminates the negative effect of the complex on intestinal function, reduces the risk of bone loss, helps to maintain the maximum bone mass, and increases the density of the skeleton.
Due to the unique composition of Osteokea, effective strengthening of bone tissue is ensured, as well as maximum therapeutic effect in the prevention and treatment of osteoporosis, caries and other diseases that occur when there is a lack of calcium in the body.
The main pharmacological properties of the active ingredients of Osteokea:
Vitamin D3 (cholecalciferol): promotes maximum absorption of calcium in the body;
Calcium: takes part in the formation and functioning of the musculoskeletal system, is necessary for the mineralization of teeth, supports the activity of the heart and other muscles, as well as nerve fibers;
Magnesium: takes part in the regulation of the natural balance of calcium, prevents dysfunction of the digestive system (the formation of constipation), prevents the formation of calcium oxalate stones in the kidneys;
Zinc: enhances calcium absorption, accelerates bone mineralization by stimulating DNA (deoxyribonucleic acid) synthesis.
Osteokea is a drug with clinically proven efficacy, which has been tested at the Center for the Study of Menopause Syndrome MONIIAG (Moscow Regional Research Institute of Obstetrics and Gynecology).
Indications for use
Osteocare taken for correction and prevention of mineral deficiency and vitamin D Z.
In addition, the indications for taking the drug are:
Convalescence period (for faster healing of fractures after injuries);
Elderly age;
Active sports;
Menopause and postmenopause (prevention and complex treatment of osteoporosis, strengthening of bone tissue, prevention of fractures, especially of the hip);
Other conditions accompanied by an increased need for calcium (pregnancy, lactation).
Contraindications
Pills
Absolute contraindications for taking pills:
Hypervitaminosis D;
Hypercalcemia;
Hypercalciuria;
Decalcifying neoplasms (myeloma, sarcoidosis, bone metastases);
Calcium nephrourolithiasis;
Osteoporosis due to immobilization;
Renal osteodystrophy, accompanied by hyperphosphatemia;
Thyrotoxicosis (increases the likelihood of allergic reactions);
Phenylketonuria (due to the aspartame content in the preparation);
Hypersensitivity to components.
Relative (tablets are taken with caution, as the risk of complications is increased):
Atherosclerosis;
Hyperphosphatemia;
Hypothyroidism;
Active pulmonary tuberculosis;
Diseases of the gastrointestinal tract (GIT), including stomach and duodenal ulcers;
Organic heart damage;
Heart failure;
Renal failure;
Phosphate nephrourolithiasis;
Chronic and acute kidney and liver diseases;
The period of pregnancy and breastfeeding (lactation).
Oral solution
Contraindications to the use of the solution are: hypercalcemia, diabetes mellitus, individual hypersensitivity to the components.
Before using the drug, you should consult your doctor.
Osteokea, instructions for use: method and dosage
Pills
Osteokea tablets are taken orally during meals or after meals, without chewing, with 200 ml of water.
The recommended dosage regimen for adults is 1 tablet 2 times a day. It is allowed to take a daily dose at one time. The course of treatment is 2-3 months.
Oral solution
Osteokea solution is taken orally with meals.
The recommended dosing regimen for adults is 1 teaspoon (5 ml) 2 times a day. The course of therapy is 2-3 weeks.
Side effects
Possible side effects of Osteokea: anorexia, myalgia, arthralgia, headache, hyperphosphatemia, hypercalciuria, hypercalcemia, constipation, stomach pain, diarrhea, arrhythmias, increased blood pressure, polyuria, renal failure, hypersensitivity reactions.
Overdose
In case of an overdose, disorders of the function of the gastrointestinal tract (GIT) are possible. Symptomatic therapy, discontinuation of the drug and consultation with a doctor are recommended.
special instructions
In the case of continuous intake of the vitamin-mineral complex for several months, it is periodically necessary to determine the concentration of calcium and phosphorus in the blood serum in order to exclude hyperphosphatemia and chronic hypervitaminosis D 3.
To prevent the development of hyperphosphatemia, Osteokea can be prescribed in combination with phosphate binders in patients with renal bone lesions.
During the period of therapy, the indicators of calcium excretion in the urine should be constantly monitored; when calciuria appears (if the amount of calcium excreted per day is ≥ 7.5 mmol (300 mg)), it is necessary to reduce the dose of the drug, or stop taking it.
Osteokea solution is a biologically active additive (BAA) to food, it is not a drug. Before using it, it is recommended to seek the advice of a specialist.
Influence on the ability to drive vehicles and complex mechanisms
The use of Osteokea does not affect the ability of patients to drive vehicles and perform other potentially dangerous types of work that require increased concentration of attention and speed of psychomotor reactions.
Application during pregnancy and lactation
During pregnancy, it is necessary to strictly adhere to the prescribed dosage regimen of Osteokea and control the dose of calcium received (including from other sources), since with hypercalcemia in the fetus, it is possible to form defects in physical and mental development.
Colecalciferol and its metabolites pass into breast milk during lactation, which should be taken into account during breastfeeding.
The maximum allowable daily intake during pregnancy: vitamin D 3 - 600 ME, calcium - 1500 mg.
Pediatric use
Osteokea is not prescribed for children.
With impaired renal function
Osteokea tablets are contraindicated in patients with renal osteodystrophy, accompanied by hyperphosphatemia; in patients with renal failure, chronic and acute kidney diseases, they are used with caution.
For violations of liver function
Osteokea tablets are used with caution in chronic and acute liver diseases.
Use in the elderly
It should be borne in mind that the daily requirement of the elderly for calcium is 1500 mg, for vitamin D 3 - 500-1000 IU.
Drug interactions
Antacids containing magnesium and aluminum - against the background of long-term therapy, their concentration in the blood increases and the risk of intoxication, especially in patients with chronic renal failure;
Barbiturates - increase the rate of biotransformation;
Vitamin A - reduces toxicity;
Colestipol, cholestyramine, mineral oils - reduce the absorption of fat-soluble vitamins in the gastrointestinal tract and require an increase in their dosage;
Calcitonin, plikamycin, glucocorticosteroids, derivatives of pamidronic and etidronic acids, gallium nitrate - reduce the effect of Osteokea;
Cardiac glycosides - their toxicity increases;
Thiazide diuretics - increase the risk of hypercalcemia;
Phenytoin - increases the rate of biotransformation, reducing efficiency;
Phosphorus-containing drugs - their absorption and the risk of hyperphosphatemia increase;
Other analogs of vitamin D 3 - the risk of developing hypervitaminosis increases.
It is required to observe the time interval if it is necessary to use it together: with sodium fluoride - ≥ 2 hours, with oral forms of tetracyclines - ≥ 3 hours.
Analogs
The analogues of Osteokea are: Osteogenon, Bivalos, Osteochel C, Forcal Plus, Prolia, Calcemin, Exjiva, Bonocal, Osteolat, Calcium-D3 Nycomed.
Terms and conditions of storage
Keep out of the reach of children, at a temperature not exceeding 25 ° C.
Shelf life: tablets - 4 years, oral solution - 2 years.
Terms of dispensing from pharmacies
Available without a prescription.
Reviews about Osteokea
Most patients leave positive reviews about Osteokea. It is noted for its effectiveness in accelerating the healing of broken bones, relieving joint pain, and maintaining dental health during pregnancy. A balanced composition, good digestibility, product quality, convenient packaging, proven effectiveness are the main advantages of Osteokea indicated in the reviews.
The cost of the drug is most often characterized as acceptable, but they argue that it is not easy to find it in pharmacies.
Price for Osteokea in pharmacies
Estimated price of Osteokea:
Tablets (30 pcs. In a package) - 375-470 rubles;
Solution (bottle 200 ml) - 378–403 rubles.
Osteokea: prices in online pharmacies
Drug name
Price
Pharmacy
Osteokea tablets 30 pcs.
351 r
Buy
Osteokea tablets 30 pcs.
399 RUB
Buy
Anna Kozlova Medical journalist About the author
Education: Rostov State Medical University, specialty "General Medicine".
Information about the drug is generalized, provided for informational purposes only and does not replace the official instructions. Self-medication is hazardous to health!
Popular by topic