Table of contents: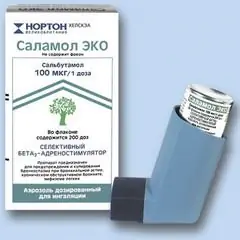 Video: Salamol Eco - Instructions For Use, Indications, Doses, Analogues
Salamol Eco
Instructions for use:
1. Release form and composition
2. Indications for use
3. Contraindications
4. Method of application and dosage
5. Side effects
6. Special instructions
7. Drug interactions
8. Analogs
9. Terms and conditions of storage
10. Terms of dispensing from pharmacies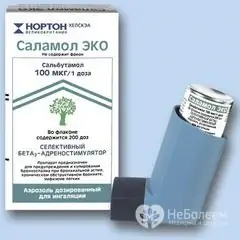 Salamol Eco is a drug with a bronchodilator effect.
Release form and composition
The dosage form of Salamol Eco is a metered dose aerosol for inhalation (0.1 mg / dose), activated by inhalation: a suspension that, when sprayed on glass, forms a white spot (in aluminum cylinders of 200 doses with a metering valve equipped with an inhalation device with a protective cap; 1 bottle in a cardboard box).
Composition of 1 dose of aerosol:
active substance: salbutamol - 0.1 mg (salbutamol sulfate - 0.124 mg);
auxiliary components: hydrofluoroalkane (HFA-134a) - 26.46 mg; 96% Ethanol - 3.42 mg
Indications for use
Salamol Eco is prescribed for the prevention / relief of bronchospasm in the following diseases:
bronchial asthma;
Chronical bronchitis;
chronic obstructive pulmonary disease (COPD);
emphysema of the lungs.
Contraindications
Absolute:
aortic stenosis;
decompensated diabetes mellitus;
cardiac ischemia;
thyrotoxicosis;
tachyarrhythmia;
myocarditis;
rhythm disturbances (polygonal ventricular premature beats, paroxysmal tachycardia);
epileptic seizures;
heart defects;
glaucoma;
hepatic / renal failure;
pyloroduodenal narrowing;
combined use with non-selective β-blockers;
age up to 2 years;
pregnancy;
hypersensitivity to the components of the drug;
Relative (Salamol Eco is prescribed with caution in the presence of the following diseases / conditions):
hyperthyroidism;
chronic heart failure;
pheochromocytoma;
arterial hypertension.
The appointment of Salamol Eco to nursing women is possible only after evaluating the balance of benefits with risks.
Method of administration and dosage
The recommended dosage regimen for Salamol Eco:
children 2-12 years old: relief of attacks of bronchial asthma; prevention of attacks of bronchial asthma, which are associated with exposure to an allergen or caused by physical activity - 1-2 doses;
children from 12 years old and adults: relief of asthma attacks - 1-2 inhalation doses; control of the course of mild asthma - 1-4 times a day, 1-2 doses; control of the course of moderate asthma - the same dose as in the mild course of the disease, in combination with other anti-asthma drugs; prevention of physical exertion asthma - 1-2 doses 20-30 minutes before the expected load.
The maximum daily dose is 8 inhalations (0.8 mg of salbutamol).
Side effects
During therapy, finger tremors may develop, which is a typical side effect for all β-2-adrenergic receptor agonists.
Other possible side reactions: hyperexcitability, anxiety, headache, dizziness, insomnia, sleep disturbance, peripheral vasodilation (facial flushing), increased blood pressure, a slight compensatory increase in heart rate, chest pain, muscle cramps, dyspeptic disorders, vomiting, nausea, hypersensitivity reactions (in the form of angioedema, urticaria, erythema, nasal congestion, bronchospasm, arterial hypotension, collapse), increased motor activity and agitation in children, arrhythmias (including atrial fibrillation, extrasystole and pancreatic tachycardia).
The use of Salamol Eco can lead to the development of paradoxical bronchospasm, cause cough, irritation of the mucous membrane of the pharyngeal cavity (pharyngitis) and mouth.
It is also likely that hypokalemia and reversible metabolic disturbances pose a serious danger to the patient.
special instructions
The use of Salamol Eco in severe / unstable bronchial asthma should not be the only or main method of treatment.
In cases where the effect of a standard dose becomes less effective, or its duration decreases (less than 3 hours), it is necessary to consult a specialist.
Between the doses of the next doses, breaks of several hours should be taken, since the frequent use of Salamol Eco can lead to increased bronchospasm and sudden death.
An increase in the need for the use of the drug in order to control the symptoms of bronchial asthma may indicate an exacerbation of the disease. In this case, it is necessary to revise the therapy plan and decide on the appointment or increase in the dose of systemic or inhaled glucocorticosteroids.
During the treatment period, hypokalemia may develop. It should be borne in mind that in the treatment of severe attacks of bronchial asthma, hypokalemia may increase due to the combined use of xanthine derivatives, diuretics, glucocorticosteroids, and also be associated with hypoxia (control of serum potassium levels is necessary).
At low temperatures, the drug may be less effective. It is recommended to warm the chilled canister before using Salamola Eco in your hands for several minutes.
Before the procedure, the can must be shaken vigorously up and down.
To inject the drug, you should exhale as deeply as possible (without tension), tightly clamp the outlet tube of the balloon with your lips and take a deep, slow breath while simultaneously pressing the valve of the balloon with your index finger. After removing the inhaler tube from your mouth, you must hold your breath for about 10 seconds.
The inhaler should be cleaned with warm water at least once every 7 days. Do not dip a metal can in water.
Drug interactions
With the combined use of Salamol Eco with certain drugs / substances, the following effects may develop:
theophylline and other xanthines: an increase in the likelihood of tachyarrhythmias;
levodopa, drugs for inhalation anesthesia: increased likelihood of severe ventricular arrhythmias;
non-selective β-adrenergic receptor blockers: development of interaction (the combination is not recommended);
tricyclic antidepressants, monoamine oxidase inhibitors: increased action of salbutamol, a sharp decrease in pressure;
stimulants of the central nervous system: enhancing their action;
antihypertensive drugs, nitrates: decrease in their effectiveness;
thyroid hormones, cardiac glycosides: increasing their side reactions;
anticholinergic drugs (including inhalation drugs): increased intraocular pressure;
xanthine derivatives, glucocorticosteroids, diuretics: increased hypokalemia.
Analogs
The analogues of Salamol Eco are: Salbutamol, Ventolin, Astalin, Ventolin Nebula, Salamol Steri-Neb, Salbutamol AB, Salbutamol-MHFP, Salbutamol-aeronativ, Salbutamol-nativ, Salbutamol-Teva, Saltos, Salbutamol, Tsalgim.
Terms and conditions of storage
Store in a place protected from direct sunlight, out of reach of children, at temperatures up to 30 ° C, do not freeze.
The shelf life is 3 years.
Terms of dispensing from pharmacies
Dispensed by prescription.
Information about the drug is generalized, provided for informational purposes only and does not replace the official instructions. Self-medication is hazardous to health!
Popular by topic