Table of contents: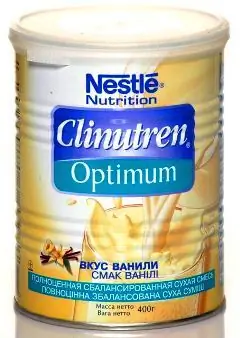 Video: Clinutren Optimum - Instructions For Use, Indications, Doses, Analogues
Clinutren Optimum
Instructions for use:
1. Release form and composition
2. Indications for use
3. Contraindications
4. Method of application and dosage
5. Side effects
6. Special instructions
7. Drug interactions
8. Analogs
9. Terms and conditions of storage
10. Terms of dispensing from pharmacies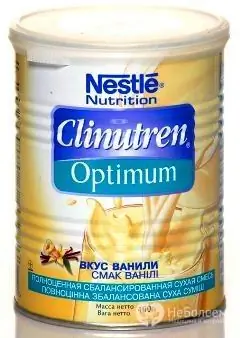 Clinutren Optimum is an isocaloric balanced nutritional formula for oral or enteral tube administration.
Release form and composition
The drug is available in the form of a dry powder mixture.
Nutrient content per 100 g of dry mix:
Retinol - 1,800 International Units (IU)
Tocopherol - 13 IU;
Colecalciferol - 130 IU;
Fat - 17,500 mg;
Carbohydrates - 58200 mg;
Protein - 18400 mg;
Ascorbic acid - 65 mg;
Menadione - 0.023 mg;
Riboflavin - 1.1 mg;
Thiamine - 0.92 mg;
Pantothenic acid - 6.5 mg;
Folic acid - 0.25 mg;
Pyridoxine - 1.8 mg;
Cyanocobalamin - 0.0037 mg;
Biotin - 0.18 mg;
Niacin - 13 mg
Choline - 210 mg;
Carnitine - 37 mg;
Taurine - 37 mg;
Sodium - 402 mg;
Chlorides - 551 mg;
Potassium - 573 mg;
Calcium - 307 mg;
Phosphorus - 307 mg;
Magnesium - 123 mg;
Iron - 5.5 mg;
Zinc - 6.5 mg;
Copper - 0.65 mg;
Manganese - 1239 mg;
Selenium - 0.018 mg;
Molybdenum - 0.055 mg;
Chromium - 0.018 mg;
Iodine - 0.046 mg.
Indications for use
The use of Clinutren Optimum is indicated for oral and enteral tube feeding:
Prevention and correction of hypotrophy in the preoperative period and after surgery, including patients with malignant neoplasms;
The inability to eat food for patients on their own, including with mental pathologies.
Contraindications
Intolerance to the components of the drug.
Method of administration and dosage
The finished mixture is taken orally.
Before use, the prescribed dose of the powder is dissolved in boiled clean water at room temperature, taken in appropriate proportions. By dipping the powder into water, the mixture must be continuously stirred until a homogeneous mass is obtained.
Side effects
Allergic reactions may develop against the background of the nutritional formula.
special instructions
The energy value of 100 g of the mixture is 461 kcal.
The use of the drug requires strict adherence to sanitary standards.
Drug interactions
Clinutren Optimum is not a drug.
Analogs
There is no information on analogues of the drug Clinutren Optimum.
Terms and conditions of storage
Storage conditions and expiration date should be found on the packaging.
Keep out of the reach of children.
Terms of dispensing from pharmacies
Available without a prescription.
Information about the drug is generalized, provided for informational purposes only and does not replace the official instructions. Self-medication is hazardous to health!
Popular by topic