Table of contents: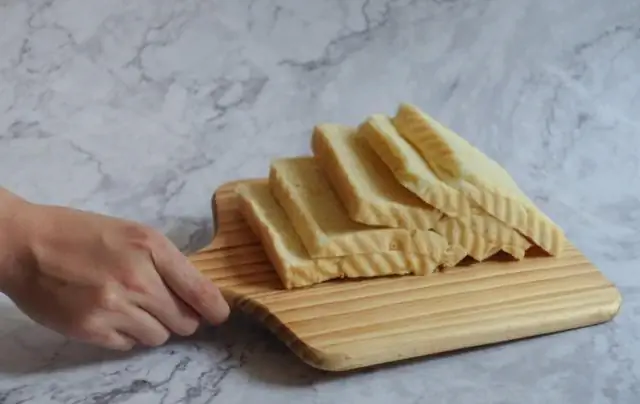 Video: Complivit Oftalmo - Instructions For Use, Price, Reviews, Composition
Complivit Ophthalmo
Complivit Oftalmo: instructions for use and reviews
1. Release form and composition
2. Pharmacological properties
3. Indications for use
4. Contraindications
5. Method of application and dosage
6. Side effects
7. Overdose
8. Special instructions
9. Application during pregnancy and lactation
10. Use in childhood
11. Drug interactions
12. Analogs
13. Terms and conditions of storage
14. Terms of dispensing from pharmacies
15. Reviews
16. Price in pharmacies
Latin name: Complivit Oftalmo
ATX code: A11AA04
Active ingredient: Polyvitamins with microelements (Polyvitamins with microelements)
Producer: PHARMSTANDART-UfaVITA, JSC (Russia)
Description and photo update: 19.10.2018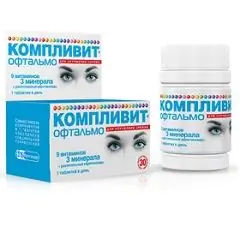 Complivit Ophthalmo is a complex preparation with vitamins, plant carotenoids and microelements, used for increased eye strain.
Release form and composition
The dosage form of the release is film-coated tablets: round, biconvex, from orange to pinkish-orange in color, have a characteristic odor (30, 60, 90, 100 or 120 pcs. In polymer cans, 1 can in a cardboard box).
Active substances in the composition of Complivit Ophthalmo (in 1 tablet):
lutein - 2.5 mg;
zeaxanthin - 1 mg;
retinol acetate (vitamin A) - 1 mg;
Rutoside (rutin) (vitamin P) - 25 mg;
ascorbic acid (vitamin C) - 50 mg;
α-tocopherol acetate (vitamin E) - 15 mg;
riboflavin (vitamin B 2) - 2 mg;
thiamine hydrochloride (vitamin B1) - 5 mg;
folic acid (vitamin B 9) - 0.4 mg;
pyridoxine hydrochloride (vitamin B 6) - 5 mg;
cyanocobalamin (vitamin B 12) - 0.003 mg;
copper (as sulfate pentahydrate) - 1 mg;
selenium (in the form of sodium selenite) - 0.025 mg;
zinc (as oxide) 5 mg
Auxiliary components:
core: sucrose, magnesium stearate, D-sorbitol, talc, potato starch, ludipress, citric acid, low molecular weight povidone, sodium carmellose;
shell: talc, hyprolose, low molecular weight povidone, macrogol, titanium dioxide (E171), sunset yellow dye (E110).
Pharmacological properties
Pharmacodynamics
Complivit Ophthalmo is one of the combined preparations containing a complex of vitamins, plant carotenoids and trace elements. Pharmacological activity is due to the properties of the active substances included in its composition:
zeaxanthin and lutein: carotenoids, natural organic pigments ranging from bright yellow to red or orange; necessary for the normal functioning of the retina. They are components of the retinal antioxidant system. Provides eye protection from damage caused by exposure to ultraviolet light. Zeaxanthin and lutein, located in the retina and lens, protect the photoreceptors of cells from oxygen radicals, which are formed under adverse effects of radiation of various origins on the eyes. With a low content of zeaxanthin and lutein in the tissues of the eye, its ability to resist unfavorable factors, computer radiation, prolonged visual stress is weakened;
thiamin (vitamin B 1): participates in the coordination of the functioning of the nervous, endocrine, cardiovascular systems, the processes of impulse transmission along the nerve fiber. Plays one of the key roles in ensuring the normal course of energy metabolism;
ascorbic acid (vitamin C): plays an important role in maintaining the elasticity of capillaries, regulates their permeability. It has a stimulating effect on the body as a whole, increases its adaptive capabilities, resistance to adverse influences and infections. Activates the activity of the endocrine glands, regulates tissue regeneration, blood clotting, collagen synthesis, the formation of steroid hormones;
Riboflavin (vitamin B 2) is necessary for carbohydrate, protein and fat metabolism, participates in the synthesis of erythropoietin and hemoglobin. Required to maintain normal visual function;
folic acid (vitamin B 9): antianemic. Required for various metabolic processes that are required for the synthesis of nucleic acids (as a coenzyme);
pyridoxine (vitamin B 6): participates in the metabolism of carbohydrates and amino acids (as a coenzyme). Contributes to the normal functioning of the central and peripheral nervous system;
cyanocobalamin (vitamin B 12): takes part in the synthesis of nucleotides, is one of the important factors of hematopoiesis and normal growth of epithelial cells; required for the synthesis of myelin and the metabolism of folic acid;
retinol (vitamin A): participates in the processes of regeneration of mucous membranes and skin. As an integral part of the visual pigment rhodopsin, it plays an important role in maintaining visual function, ensures the normal perception of light by the eye and the activity of the visual analyzer. It has an effect on hemeralopia ("night blindness"), diseases of the cornea and retina;
Rutoside (rutin, vitamin P): has an antioxidant effect. It is required for redox processes, promotes the deposition of ascorbic acid in tissues and prevents oxidation. Regulates capillary permeability, strengthening their walls, reduces inflammation and swelling;
α-tocopherol acetate (vitamin E): maintains the stability of erythrocytes, has antioxidant properties; has a positive effect on the functions of the gonads, muscle and nervous tissue. Helps to slow down the aging process of body tissues, takes part in the processes of tissue respiration, has a beneficial effect on the function of the endocrine glands;
Selenium: is a natural antioxidant. Promotes increased immunity. It has a pronounced antioxidant effect (in combination with vitamins A, E and C), improves the body's ability to adapt under the influence of adverse factors (smoking, stress, environmental pollution);
copper: participates in the process of melanin synthesis. It is a catalyst for many biochemical reactions. It has a significant effect on the formation of elastin and collagen, plays an important role in the process of hematopoiesis, is a necessary component of iron metabolism;
zinc: prevents the occurrence of hemeralopia, promotes the utilization of vitamin A by the retina. It is necessary for the synthesis of hormones of the sex glands, insulin, normal activity of lymphoid tissue. With a zinc deficiency, the development of blepharitis, retrobulbar neuritis, cataracts and a decrease in color perception are possible.
Complivit Oftalmo provides a balanced supply of components that are necessary to maintain optimal body functioning. Due to the complex effect of the substances included in Complivit Ophthalmo, it has an ophthalmic and antioxidant effect (protects the eye tissue from the effects of free radicals), improves vision with increased visual stress.
Complivit Ophthalmo can be taken while wearing contact lenses, since it contains components necessary for tissue regeneration, including the cornea, which in these cases is always damaged to some extent.
The compatibility of the components in the tablet is ensured by a special production technology.
Pharmacokinetics
Information on the pharmacokinetics of Complivit Ophthalmo is not provided.
Indications for use
visual fatigue syndrome (pain / fatigue in the eyes) when reading, wearing contact lenses, working on a computer;
twilight vision disorders;
prevention of deficiency of minerals and vitamins.
Contraindications
pregnancy and the period of breastfeeding;
age up to 18 years;
individual intolerance to the components of the drug.
Instructions for use of Complivit Ophthalmo: method and dosage
Complivit Ophthalmo is taken orally with a sufficient amount of liquid, preferably after meals, 1 tablet once a day.
The recommended duration of use is 3 months. On the recommendation of a doctor, repeated courses are possible.
Side effects
According to the instructions, Complivit Ophthalmo can cause allergic reactions.
Overdose
Overdose symptoms of the drug are: weakness, nausea, gastrointestinal upset.
Recommended measures for relief of the condition: oral intake of activated charcoal, gastric lavage; if necessary, symptomatic therapy.
In case of overdose, consult a doctor.
special instructions
Do not exceed the recommended dose in the instructions.
During the reception of Complivit Ophthalmo, due to the presence of riboflavin in its composition, urine may turn intense yellow, which has no clinical significance and is not dangerous for patients.
Application during pregnancy and lactation
Pregnancy and lactation are contraindications for taking Complivit Oftalmo.
Pediatric use
Patients under the age of 18 are contraindicated to take Complivit Ophthalmo.
Drug interactions
Simultaneous reception with other multivitamin complexes containing vitamins E, A and group B is not recommended.
Analogs
The analogues of Complivit Oftalmo are: Superjeks, Supradin, Triovit, Duovit, Kaltsinova, Complivit, Selmevit, Fenuls, Lavita, Vitrum, Pregnakea and others.
Terms and conditions of storage
Store in a place protected from light and moisture at temperatures up to 25 ° C. Keep out of the reach of children.
Shelf life is 2 years.
Terms of dispensing from pharmacies
Available without a prescription.
Reviews of Complivite Oftalmo
According to reviews, Complivit Ophthalmo relieves eye fatigue and irritation of the mucous membrane, improves overall well-being, and has a beneficial effect on the condition of nails and hair.
However, some patients report the lack of effect and the development of side reactions, usually in the form of dyspeptic disorders.
The price of Complivit Oftalmo in pharmacies
Approximate price for Complivit Oftalmo for 30 or 60 pcs. in the package is 250-290 or 355-405 rubles.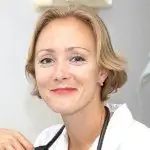 Anna Kozlova Medical journalist About the author
Education: Rostov State Medical University, specialty "General Medicine".
Information about the drug is generalized, provided for informational purposes only and does not replace the official instructions. Self-medication is hazardous to health!
Popular by topic