Table of contents: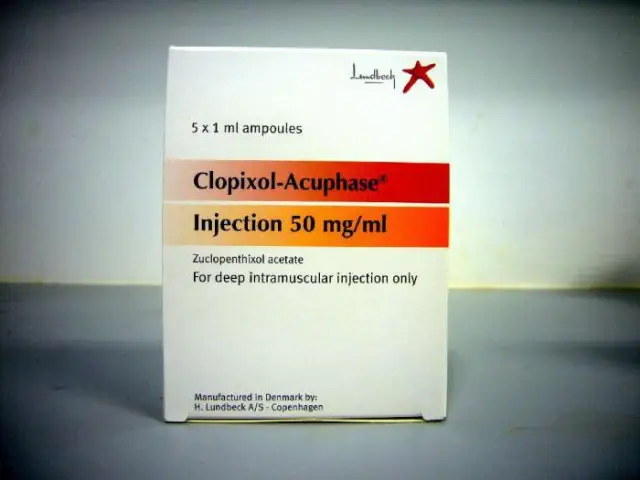 Video: Klopiksol-Akufaz - Instructions For Use, Price, Reviews, Analogues
Klopixol-Akufaz
Klopiksol-Akufaz: instructions for use and reviews
1. Release form and composition
2. Pharmacological properties
3. Indications for use
4. Contraindications
5. Method of application and dosage
6. Side effects
7. Overdose
8. Special instructions
9. Application during pregnancy and lactation
10. For violations of liver function
11. Drug interactions
12. Analogs
13. Terms and conditions of storage
14. Terms of dispensing from pharmacies
15. Reviews
16. Price in pharmacies
Latin name: Clopixol-Acuphase
ATX code: N05AF05
Active ingredient: zuclopenthixol (Zuclopenthixol)
Producer: H. Lundbeck A / S (Denmark)
Description and photo update: 2019-12-07
Prices in pharmacies: from 2388 rubles.
Buy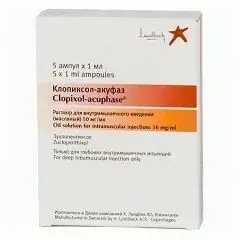 Clopixol-Akufaz is an antipsychotic drug (neuroleptic).
Release form and composition
Dosage form - solution for intramuscular (i / m) administration (oily): yellowish, transparent, practically free of particles (in a cardboard box with a tongue glued to the bottom for opening 5 ampoules of type 1 colorless glass containing 1 or 2 ml of solution and instructions for use of Klopiksol-Akufaz; ampoules have a red dot indicating the break point).
Composition of 1 ml solution:
active substance: zuclopenthixol acetate - 50 mg;
auxiliary components: triglycerides.
Pharmacological properties
Pharmacodynamics
Clopixol-Akufaz refers to antipsychotic drugs (neuroleptics) derived from thioxanthene. Usually, the antipsychotic effect of neuroleptics is associated with blockade of dopamine receptors, which presumably leads to a chain reaction, in which other mediator systems are also involved.
The drug has a pronounced antipsychotic and specific inhibitory effect. Its use can lead to transient, dose-dependent sedation. In acute and subacute psychoses, the rapid onset of sedation at the beginning of the solution (before the onset of the antipsychotic effect) is an advantage. After 2 hours, a nonspecific sedative effect appears, which reaches a maximum after about 8 hours. After that, it significantly decreases and remains weak with repeated administration of the drug.
The nonspecific sedative effect of Clopixol-Akufaz quickly induces tolerance. The specific inhibitory effect of the drug is especially beneficial against the background of aggressiveness, hostility and agitation.
The drug is prescribed for the initial treatment of acute and chronic psychosis in the exacerbation phase, as well as for manic conditions. A rapid and pronounced weakening of psychotic symptoms in patients is provided by a single injection of the solution. The duration of the therapeutic effect varies from 2 to 3 days. In most cases, 1-2 drug injections are sufficient. After that, the patient can be transferred to taking oral forms of drugs or depot forms.
The use of Klopixol-Akufaz is especially effective in the treatment of psychotic patients suffering from aggression, anxiety, hostility or agitation.
Pharmacokinetics
After i / m administration of zuclopenthixol acetate undergoes enzymatic cleavage into acetic acid and zuclopenthixol (active ingredient). The maximum concentration of the active component in the blood serum after injection is reached after 24–48 hours (in most cases, after 36 hours). After that, its concentration slowly decreases and after 3 days after administration reaches one third of the maximum.
Zuclopenthixol penetrates the placental barrier slightly, excreted in breast milk in small quantities. The metabolites lack neuroleptic activity, they are excreted mostly with feces, to a lesser extent with urine.
Indications for use
Clopixol-Akufaz is prescribed for the initial therapy of acute psychoses, including manic conditions, as well as against the background of exacerbation of chronic psychoses.
Contraindications
Absolute:
coma;
acute intoxication with opiates, barbiturates and alcohol;
pregnancy and lactation;
individual intolerance to the components of the drug.
Relative (Klopixol-Akufaz is prescribed under medical supervision):
pathology of the cardiovascular system;
chronic hepatitis;
convulsive syndrome.
Klopiksol-Akufaz, instructions for use: method and dosage
The solution is administered by deep intramuscular injection into the upper outer quadrant of the gluteal region. Local tolerance of Clopixol-Akufaz is good. The dosage of the solution is set by the doctor on an individual basis, depending on the patient's condition.
It is recommended to inject 1 to 3 ml (50 to 150 mg) of the drug intramuscularly. If there is a need for a second injection, it should be carried out after 2-3 days. In some cases, the solution can be added 24–48 hours after the first injection.
Maintenance treatment should be continued with Clopixol (oral administration) or Clopixol Depot (intramuscular injection). In this case, you must be guided by the following instructions:
switching to Klopixol: the drug is prescribed in a daily dose of 40 mg, which can be divided into several doses, after 2-3 days from the last injection of 100 mg of Klopixol-Akufaz. If necessary, the dose can be increased to 75 mg per day or more (increase by 10–20 mg every 2–3 days);
switching to Clopixol Depot: the drug is administered in a dose of 200 to 400 mg (1-2 ml) simultaneously with the last injection of 100 mg of Clopixol-Akufaz. Repeated injections of the solution are carried out every 14 days. The use of higher doses of the drug or shorter intervals (if necessary) is allowed. Both solutions can be mixed in one syringe and used as one combined injection. Further doses of Clopixol Depot and the intervals between its injections are set by the doctor on an individual basis, depending on the patient's condition.
Side effects
nervous system: extrapyramidal symptoms (especially at the initial stage of therapy), which in most cases are corrected by reducing the dose of the drug and / or using antiparkinsonian drugs. It should be borne in mind that regular preventive use of the latter is not recommended;
autonomic nervous system: accommodation disturbances, dry mouth; rarely - urination disorders;
cardiovascular system: tachycardia, orthostatic dizziness; rarely, orthostatic hypotension;
liver: rarely - minor transient changes in the level of alkaline phosphatase and liver enzymes.
Overdose
Main symptoms: convulsions, hypotension, hypothermia / hyperthermia, drowsiness, shock, coma.
Therapy: symptomatic and supportive treatment. Measures should be taken to maintain the cardiovascular and respiratory systems. Epinephrine (epinephrine) is not recommended because it can cause a subsequent drop in blood pressure. With the development of extrapyramidal symptoms, biperiden may be prescribed, seizures - diazepam.
special instructions
A rare, but possible complication of therapy with Clopixol-Akufaz is neuroleptic malignant syndrome. When using antipsychotics, it can be fatal. The development of the syndrome can be recognized by such manifestations as impaired consciousness in combination with dysfunction of the autonomic nervous system (increased sweating, tachycardia, labile blood pressure), muscle rigidity and hyperthermia. In such cases, immediate withdrawal of the drug, the use of general supportive measures and symptomatic therapy are required.
Influence on the ability to drive vehicles and complex mechanisms
In view of the possible effect of Clopixol-Akufaz on the ability to drive vehicles and conduct potentially hazardous activities, the patient should be careful at the beginning of treatment when performing such exercises until his response to the therapy is established.
Application during pregnancy and lactation
Clopixol-Akufaz is not prescribed during pregnancy / lactation.
For violations of liver function
Patients with chronic hepatitis should take the drug with caution.
Drug interactions
The effect of Klopiksol-Akufaz on other substances / drugs in combined use:
alcohol, barbiturates and other inhibitors of the central nervous system: may increase their sedative effect;
guanethidine and similarly acting drugs: can block their hypotensive effect (the use of such a combination is not recommended);
levodopa and other adrenergic drugs: may decrease their effectiveness;
metoclopramide, piperazine: increases the likelihood of extrapyramidal symptoms.
The drug can be mixed with Clopixol Depot solution, which contains the same Viscoleo oil.
Analogs
Klopiksol-Akufaz analogs are Klopiksol Depot, Klopiksol, etc.
Terms and conditions of storage
Store in a place protected from light and moisture at temperatures up to 30 ° C. Keep out of the reach of children.
Shelf life is 2 years.
Terms of dispensing from pharmacies
Dispensed by prescription.
Reviews about Klopiksol-Akufaz
Due to the specific use of the drug, there are practically no reviews about Klopiksol-Akufaz.
Price for Klopixol-Akufaz in pharmacies
The approximate price for Klopixol-Akufaz (5 ampoules in a cardboard box) is 1,857-2105 rubles.
Clopixol-Akufaz: prices in online pharmacies
Drug name
Price
Pharmacy
Clopixol-Akufaz 50 mg / ml solution for intramuscular administration (oil) 1 ml 5 pcs.
2388 RUB
Buy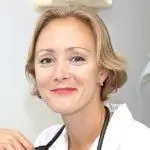 Anna Kozlova Medical journalist About the author
Education: Rostov State Medical University, specialty "General Medicine".
Information about the drug is generalized, provided for informational purposes only and does not replace the official instructions. Self-medication is hazardous to health!
Popular by topic