Table of contents: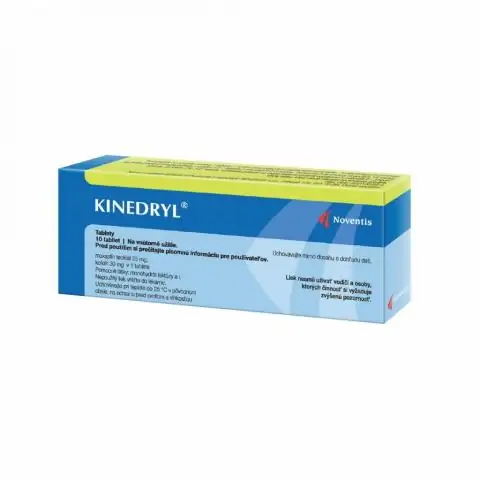 Video: Kinedril - Instructions For Use, Price, Reviews, Analogs Of Tablets
Kinedryl
Kinedril: instructions for use and reviews
1. Release form and composition
2. Pharmacological properties
3. Indications for use
4. Contraindications
5. Method of application and dosage
6. Side effects
7. Overdose
8. Special instructions
9. Application during pregnancy and lactation
10. Use in childhood
11. Drug interactions
12. Analogs
13. Terms and conditions of storage
14. Terms of dispensing from pharmacies
15. Reviews
16. Price in pharmacies
Latin name: Kinedryl
ATX code: A04AD
Active ingredients: moxastine (Moxastine) + caffeine (Caffeine)
Manufacturer: Noventis s.r.o. (Noventis sro) (Czech Republic)
Description and photo update: 2020-28-07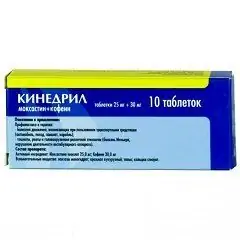 Kinedryl is an antiemetic drug with sedative and anticholinergic effects.
Release form and composition
The drug is produced in the form of tablets: white, round, flat, on one side there is a cross-shaped risk (10 pcs. In blisters, in a cardboard box 1 or 2 packs; 30 pcs. In polymer or glass jars, in a cardboard pack of 1 can. Each pack also contains instructions for the use of Kinedril).
1 tablet contains:
active ingredients: moxastine theoclate - 25 mg, caffeine - 30 mg;
auxiliary components: corn starch, lactose monohydrate, calcium stearate, talc.
Pharmacological properties
Pharmacodynamics
Kinedryl is a combined antiemetic drug, the pharmacological action of which is due to the following properties of its active substances:
moxastine theoclate: being a blocker of H 1 -histamine receptors, moxastine theoclate has an antiemetic and anticholinergic effect, has antihistamine and sedative effects, helps to reduce dizziness. The therapeutic effect of moxastine is due to a direct decrease in the excitability of the vomiting center and the chemoreceptor trigger zone. In people prone to motion sickness, moxastine reduces the body's sensitivity to impulses that cause acute disorders of autonomic functions, which are manifested by nausea and vomiting;
caffeine: psychostimulant of the central nervous system, phosphodiesterase inhibitor. The caffeine content in the preparation helps to reduce the sedative and hypnotic effects of moxastine.
After taking the tablet inside, the therapeutic effect of the drug is observed after 1/6 or 1/4 hour and lasts for the next 2 hours.
Pharmacokinetics
After oral administration, the active components are well and quickly absorbed from the gastrointestinal tract. Their maximum concentration in blood plasma is reached on average within 1 hour.
The relative bioavailability of moxastine theoclate is approximately 55%. It is rapidly distributed in all tissues and organs, including the central nervous system.
The distribution of caffeine to tissues and organs is fast; it easily crosses the blood-brain barrier and crosses the placenta. The binding of caffeine to plasma proteins is 25–36%. Its volume of distribution is 0.4-0.6 l / kg, in newborns - 0.78-0.92 l / kg.
Active substances are metabolized mainly in the liver.
Half-life: moxastine theoclate - 4-8 hours, caffeine - 3-7 hours.
Excreted through the kidneys mainly in the form of metabolites. The elimination rate of moxastine theoclate in adults is lower than in children.
Indications for use
prevention of nausea and vomiting in patients with motion sickness that occurs when using vehicles such as a car, plane, ship or train;
prevention and treatment of dizziness of various origins, including impaired activity of the vestibular apparatus, Meniere's disease.
Contraindications
hyperplasia of the prostate;
angle-closure glaucoma;
lactase deficiency, galactose intolerance, glucose-galactose malabsorption syndrome;
period of pregnancy and lactation;
age up to 3 years;
hypersensitivity to the components of the drug.
Kinedril, instructions for use: method and dosage
Kinedril tablets are taken orally.
Recommended dosage:
prevention of nausea and vomiting in adults: 1 pc. 1 hour before the departure of the transport; if the trip is long, after 2–3 hours you can take an additional 1 / 2–1 pcs. The maximum daily dose is 3 pcs.;
prevention and treatment of dizziness: children 3–6 years old - 1/4 each, from 6 to 12 years old - 1 / 4–1 / 2 each, at the age of 12 years and older - 1 / 2–1 each. 2-3 times a day.
Side effects
from the nervous system: weakness, impaired concentration, drowsiness, depressed mood, visual disturbances (violation of accommodation);
on the part of the cardiovascular system: lowering blood pressure, tachycardia;
from the gastrointestinal tract: dry mouth, abdominal pain, diarrhea, constipation;
allergic reactions: itching, rash, flushing of the skin.
Overdose
Symptoms: drowsiness, weakness, dizziness, loss of consciousness.
Treatment: immediate gastric lavage, after which activated charcoal is prescribed.
special instructions
It is not recommended to consume alcoholic beverages while using the drug.
Influence on the ability to drive vehicles and complex mechanisms
During the period of application of Kinedril, it is not recommended to engage in work that requires concentration of attention and a high speed of psychomotor reactions, including driving vehicles and complex mechanisms.
Application during pregnancy and lactation
The use of Kinedryl tablets during pregnancy and breastfeeding is contraindicated.
Pediatric use
The use of Kinedril is contraindicated in children under the age of 3 years.
Drug interactions
monoamine oxidase and acetylcholinesterase inhibitors: against the background of concomitant therapy with the above drugs, the effectiveness of Kinedril increases;
barbiturates, pyrazolone derivatives: reduce the activity of moxastine theoclate and caffeine;
antipsychotics, hypnotics, antispasmodics, anxiolytics, sympatholytics, ethanol: the effect of each of these drugs is enhanced;
indirect anticoagulants, oral hypoglycemic agents, phenytoin, glucocorticosteroids, hormonal contraceptives: the therapeutic effect of these drugs decreases.
Analogs
The analogues of Kinedril are Avioplant, Aviamarin, Dramina, Emend, Emend B / B, etc.
Terms and conditions of storage
Keep out of the reach of children.
Store at temperatures up to 25 ° C, protected from moisture and light.
Shelf life is 4 years.
Terms of dispensing from pharmacies
Dispensed by prescription.
Reviews about Kinedril
There are no reviews about Kinedril.
The price of Kinedryl in pharmacies
Due to the lack of the drug in the pharmacy chain, the price of Kinedryl is unknown.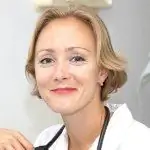 Anna Kozlova Medical journalist About the author
Education: Rostov State Medical University, specialty "General Medicine".
Information about the drug is generalized, provided for informational purposes only and does not replace the official instructions. Self-medication is hazardous to health!
Popular by topic