Table of contents: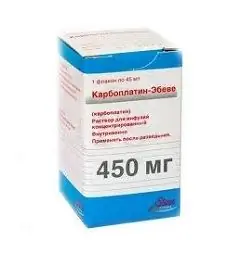 Video: Carboplatin-Ebeve - Instructions For Use, Indications, Doses, Analogues
Carboplatin-Ebeve
Instructions for use:
1. Release form and composition
2. Indications for use
3. Contraindications
4. Method of application and dosage
5. Side effects
6. Special instructions
7. Drug interactions
8. Analogs
9. Terms and conditions of storage
10. Terms of dispensing from pharmacies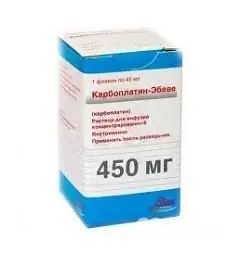 Carboplatin-Ebeve is a drug with an antitumor effect.
Release form and composition
Carboplatin-Ebeve is produced in the form of a concentrate for the preparation of a solution for infusion: transparent, colorless or almost colorless (in brown glass bottles of 5, 15, 45, 60 or 100 ml, 1 bottle in a cardboard box).
The composition of 1 ml of concentrate for the preparation of solution for infusion includes:
Active ingredient: carboplatin - 10 mg;
Auxiliary components: sodium hydroxide, anhydrous sodium dihydrogen phosphate, water for injection.
Indications for use
Germ cell tumors in women and men;
Ovarian cancer;
Cervical cancer;
Lung cancer;
Transitional cell carcinoma of the bladder;
Malignant tumors of the neck and head.
Contraindications
Severe functional renal impairment (with creatinine clearance ≤15 ml per minute);
Profuse bleeding;
Severe myelosuppression;
Pregnancy and lactation;
Hypersensitivity to the components of the drug, as well as to other platinum-containing compounds.
Method of administration and dosage
Carboplatin-Ebeve can be used as monotherapy or concurrently with other anticancer drugs. The doctor sets the dosage regimen individually. The drug is administered intravenously in the following dosage regimens:
300-400 mg / m² intravenously for 15-60 minutes or as a 24-hour infusion;
100 mg / m² intravenously for 15-60 minutes daily for 5 days.
The administration of the drug must be repeated at intervals of at least 4 weeks with neutrophil counts of at least 2000 cells / mm³ of blood and platelets of at least 100,000 cells / mm³ of blood. Before or after the use of the drug, the introduction of fluid and forced diuresis is not required.
The therapeutic dose of Carboplatin-Ebeve, depending on renal function or bone marrow condition, can be corrected as follows:
Patients with risk factors (for example, after carrying out myelosuppressive therapy or with low functional status): the initial dose should be reduced by 20-25%;
Patients with functional impairment of the kidneys (with creatinine clearance less than 60 ml per minute): due to the increased risk of developing severe myelosuppression, the dose of the drug must be reduced (with creatinine clearance 41-59 ml per minute - up to 250 mg / m2, with creatinine clearance 16- 40 ml per minute - up to 200 mg / m²);
Patients with symptoms of severe or moderate hematological toxicity (with the number of platelets and neutrophils less than 50,000 and 500 / mm³, respectively): a dose reduction by 25% may be required (with monotherapy and combined treatment regimen);
Patients over 65 years of age: adjustment of the initial and subsequent doses may be required.
These dosing recommendations refer to the initial course of treatment. In the future, the dose must be adjusted depending on the tolerance of Carboplatin-Ebeve and the development of myelosuppression.
The initial dose of the drug in mg can be determined using the Calvert formula, which describes the dependence of the glomerular filtration rate (GFR in ml / min) and the desired concentration of Carboplatin-Ebeve on time (AUC in mg / ml × min):
Total Dose (mg) = AUC x (GF + 25)
Desired AUC:
5-7 mg / ml × min: when conducting monotherapy in previously untreated patients;
4-6 mg / ml × min: when conducting monotherapy in previously treated patients or when conducting combined treatment (with cyclophosphamide) in previously untreated patients.
Before administration, Carboplatin-Ebeve should be diluted to a concentration of 0.5 mg / ml with 0.9% sodium chloride solution or 5% dextrose solution.
The diluted solution of the drug remains stable for 8 hours at a temperature of 25 ° C and for 24 hours when stored in a refrigerator at 4 ° C.
Side effects
During the use of Carboplatin-Ebeve, the following side effects may develop:
Hematopoietic organs: the main toxic factor limiting the dose of carboplatin is the suppression of the function of bone marrow hematopoiesis. Myelosuppression is dose-dependent. As a rule, the lowest possible level of platelets and granulocytes / leukocytes is achieved 2-3 weeks after the start of the use of Carboplatin-Ebeve, while thrombocytopenia is more common. It usually takes at least four weeks to recover to the level needed for the next dose of the drug. A fairly large number of patients may also show signs of anemia (hemoglobin level less than 11 g / dL). Its intensity depends on the total dose of the drug. In some cases, transfusion therapy may be required, especially in patients who use the drug for a long time (for example, more than 6 cycles). There is also a possibility of developing such clinical complications as: infectious diseases, fever, bleeding, septic shock / sepsis;
Gastrointestinal tract: In the first 6-12 hours after the administration of Carboplatin-Ebeve, there is a possibility of vomiting and / or nausea (mild to moderate), which can last up to 24 hours or more. The risk of emetic can be reduced with the use of antiemetics, continuous intravenous infusion of carboplatin for 24 hours, or divided doses of the prescribed dose for 5 consecutive days. In some cases, there may also occur: diarrhea, inflammation of the oral mucosa, abdominal pain, constipation;
Central and peripheral nervous system: there is a risk of developing peripheral neuropathies, manifested mainly as paresthesias and decreased deep tendon reflexes (most likely for patients over 65 years of age with prolonged or previous treatment with cisplatin). Signs of central nervous system dysfunction may also appear. Long-term use of the drug can lead to cumulative neurotoxicity;
Hearing organ: ototoxicity (tinnitus and hearing impairment);
Organ of vision: there is a risk of temporary deterioration or complete loss of vision (possible loss of the ability to see light and distinguish colors), as well as other visual impairments. Typically, complete recovery and / or improvement in vision occurs within a few weeks after stopping therapy. Patients with functional impairment of the kidneys may develop cortical blindness;
Kidney: may develop a mild and temporary increase in serum urea and creatinine concentrations. Acute kidney damage is rare. The risk of nephrotoxicity on the background of the use of carboplatin (decrease in creatinine clearance) increases with an increase in the dose of the drug, as well as in patients who have previously received cisplatin treatment;
Liver: Possibly mild and usually transient increases in serum concentrations of aspartate aminotransferase, alkaline phosphatase and bilirubin. Significant liver dysfunction may occur in patients receiving high doses of the drug with autologous bone marrow transplantation;
Electrolyte balance: possible hypocalcemia, hypokalemia, hypomagnesemia and / or hyponatremia;
Allergic reactions: fever, erythematous rash, pruritus, bronchospasm, urticaria, anaphylactic reactions, arterial hypotension. These reactions can be observed within a few minutes after drug administration. In rare cases, exfoliative dermatitis may develop;
Others: alopecia, taste changes, asthenia, flu-like symptoms (fever, fever), hemolytic uremic syndrome, arthralgia / myalgia, cerebrovascular disorders, heart failure and allergic reactions directly at the injection site.
special instructions
The introduction of Carboplatin-Ebeve should be carried out by a physician experienced in the use of cytotoxic drugs. During therapy, it is necessary to constantly monitor the development of possible toxic effects, especially when using high doses.
During the use of Carboplatin-Ebeve, men and women need to use reliable methods of contraception.
Syringes, needles, infusion systems and catheters containing aluminum should not be used for the preparation and administration of the solution, since it may react with the active substance, leading to a loss of its activity or the formation of a precipitate.
Once a week, it is necessary to monitor the uniform elements of peripheral blood and indicators of liver and kidney function (the most sensitive indicators include creatinine clearance).
Periodic neurological examinations are also recommended, especially in patients over 65 and in patients who have previously received cisplatin therapy.
Since carboplatin can lead to the development of cumulative ototoxic effects, it is recommended that patients undergo audio-graphic studies before and during treatment. In case of clinically significant hearing impairment, it may be necessary to discontinue therapy or change the dose of the drug.
During therapy, all the usual instructions for the use of cytotoxic drugs must be followed.
Drug interactions
With the simultaneous use of Carboplatin-Ebeve with some drugs, undesirable effects may occur:
Other myelosuppressive drugs or radiation therapy: increased risk of developing hematologic toxicity;
Aminoglycosides and other nephrotoxic drugs: increased risk of ototoxic and / or nephrotoxic effects.
Analogs
Carboplatin-ebeve analogs are: Paract, Paraplatin, Carboplatin-LENS, Carboplatin VM.
Terms and conditions of storage
Store in a dark, dry place out of reach of children at temperatures up to 25 ° C.
The shelf life is 3 years.
Terms of dispensing from pharmacies
Dispensed by prescription.
Information about the drug is generalized, provided for informational purposes only and does not replace the official instructions. Self-medication is hazardous to health!
Popular by topic