Table of contents: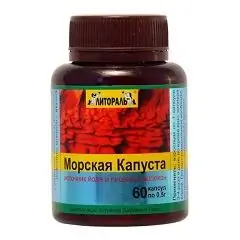 Video: Sea Cabbage - Instructions For Use, Indications, Doses
Sea cabbage
Instructions for use:
1. Release form and composition
2. Indications for use
3. Contraindications
4. Method of application and dosage
5. Side effects
6. Special instructions
7. Drug interactions
8. Terms and conditions of storage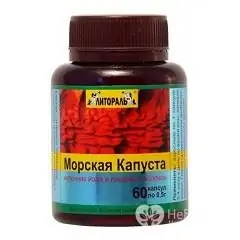 Sea cabbage is a fortifying dietary supplement used to normalize the functions of the gastrointestinal tract and prevent iodine deficiency.
Release form and composition
Sea cabbage is produced in the form of 500 mg capsules (60 capsules per package).
The active ingredient of the supplement is kelp (seaweed).
1 capsule contains:
Iodine - not less than 0.06 mg;
Dietary fiber - not less than 180 mg.
Indications for use
Iodine prophylaxis;
Diseases of the gastrointestinal tract (hemorrhoids, constipation, chronic colitis, proctitis in remission);
Hypothyroidism;
Liver damage (biliary dyskinesia, cirrhosis);
Chronic fatigue syndrome, increased fatigue, insomnia, irritability;
Avitaminosis, anemia (to stimulate hematopoiesis);
Atherosclerosis, overweight, aging, cancer (prevention).
Also, sea cabbage is shown to people who live in epidemiologically unfavorable areas.
Contraindications
Pregnancy and lactation;
Hypersensitivity to the components of the supplement.
Method of administration and dosage
Sea cabbage is taken orally with water, preferably with meals.
Single dose - 1 capsule, frequency of administration - 3-4 times a day.
Side effects
Possible undesirable effects when using dietary supplements are not described in the instructions.
special instructions
It is not recommended to exceed the prescribed dose.
Before you start taking Sea cabbage, as well as in cases of development of uncharacteristic symptoms, you should consult a doctor.
Drug interactions
There is no information on the interaction of sea cabbage with other dietary supplements and medicines.
Terms and conditions of storage
Store in a dry place out of reach of children at temperatures up to 25 ° C.
The shelf life is 3 years.
Information about the drug is generalized, provided for informational purposes only and does not replace the official instructions. Self-medication is hazardous to health!
Popular by topic