Table of contents: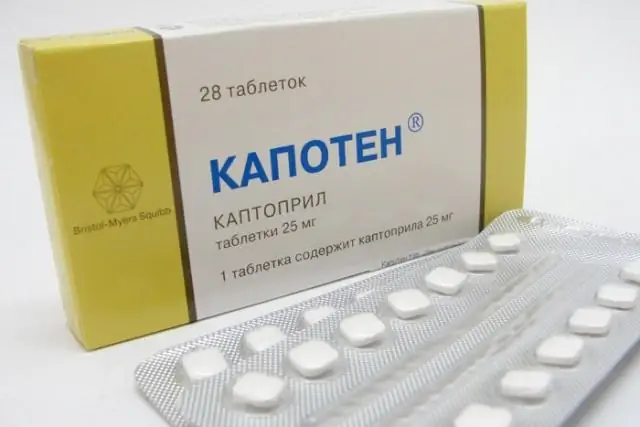 Video: Kapoten - Instructions For Use, Price, Reviews, Analogs Of Tablets
Kapoten
Kapoten: instructions for use and reviews
1. Release form and composition
2. Pharmacological properties
3. Indications for use
4. Contraindications
5. Method of application and dosage
6. Side effects
7. Overdose
8. Special instructions
9. Application during pregnancy and lactation
10. Use in childhood
11. In case of impaired renal function
12. For violations of liver function
13. Use in the elderly
14. Drug interactions
15. Analogs
16. Terms and conditions of storage
17. Terms of dispensing from pharmacies
18. Reviews
19. Price in pharmacies
Latin name: Capoten
ATX code: C09AA01
Active ingredient: captopril (Captopril)
Manufacturer: Akrikhin, JSC (Russia)
Description and photo update: 2019-20-08
Prices in pharmacies: from 149 rubles.
Buy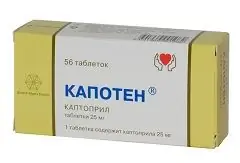 Kapoten is a drug with an antihypertensive effect.
Release form and composition
Capoten is produced in the form of tablets: square with rounded edges, from white with a cream shade to white, biconvex with a cruciform notch on one side, on the other - with the number "452" and the embossed word "SQUIBB", with a characteristic odor; slight marbling is permissible (in bottles of 40 pcs., 1 bottle in a cardboard box; in blisters of 10, 14, 15 pcs., 1-4 blisters in a cardboard box).
The composition of 1 tablet includes:
Active ingredient: captopril - 25 or 50 mg;
Auxiliary components: microcrystalline cellulose, stearic acid, corn starch, lactose.
Pharmacological properties
Pharmacodynamics
Captopril - the active substance of Capoten, is an ACE (angiotensin-converting enzyme) inhibitor. As a result of therapy, the formation of angiotensin II is suppressed and its vasoconstrictor effect on the venous and arterial vascular systems is eliminated.
The main effects of Kapoten:
decrease in preload, decrease in pressure in the right atrium and pulmonary circulation;
decrease in OPSS (total peripheral vascular resistance), afterload, decrease in blood pressure;
a decrease in the release of aldosterone in the adrenal glands.
The development of the maximum hypotensive effect is observed within 60-90 minutes after oral administration. The decrease in blood pressure is equally pronounced in the standing and lying positions.
In children, the effectiveness / safety of captopril therapy has not been established. Children, especially newborns, may be more susceptible to the appearance of hemodynamic adverse reactions. There is evidence of cases of excessive, unpredictable and prolonged increases in blood pressure, as well as complications associated with it, including convulsions and oliguria.
Pharmacokinetics
When taken orally, captopril is rapidly absorbed from the gastrointestinal tract. C max (maximum concentration) in blood plasma is reached in about 60 minutes. The bioavailability of captopril is from 60 to 70%. Simultaneous intake with food slows down the absorption of the drug by 30-40%.
The binding of captopril to blood proteins is 25-30%.
T 1/2 (half-life) ranges from 2 to 3 hours. Excretion is carried out mainly in the urine; a smaller part (up to 50%) - unchanged, a large part - in the form of metabolites.
Indications for use
Arterial hypertension, including renovascular;
Left ventricular dysfunction after myocardial infarction (in clinically stable patients);
Chronic heart failure (along with other drugs);
Diabetic nephropathy in patients with type 1 diabetes mellitus (with albuminuria> 30 mg per day).
Contraindications
Severe functional disorders of the liver and kidneys;
Hyperkalemia;
Quincke's edema (hereditary or associated with the use of angiotensin-converting enzyme inhibitors in history);
Stenosis of an artery of a solitary kidney with progressive azotemia or bilateral stenosis of the renal arteries;
Conditions after kidney transplantation, aortic stenosis and other obstructive changes that impede the outflow of blood;
Pregnancy and lactation;
Hypersensitivity to the components of the drug (currently or in history, including to other angiotensin-converting enzyme inhibitors).
The safety and effectiveness of Kapoten's use in children have not been studied.
Instructions for use of Kapoten: method and dosage
Capoten tablets are taken orally.
The dosage regimen is determined by the indications.
With arterial hypertension, the doctor selects the dose of Kapoten individually. The drug should be taken in the minimum effective dose.
The initial dose for mild to moderate hypertension is 12.5 mg 2 times a day, the maintenance dose is 25 mg 2 times a day. If necessary, the dose can be increased every 2-4 weeks. The usual effective therapeutic dose is 50 mg 2 times a day.
The starting dose for severe hypertension is 12.5 mg 2 times a day. Gradually, the daily dose is increased to a maximum of 150 mg (3 times a day, 50 mg). With the simultaneous use of Kapoten with other antihypertensive drugs, it is recommended to select the dose individually.
Treatment of heart failure should be started under medical supervision. As a rule, an initial dose of 6.25 mg 3 times a day can minimize the effect of transient hypotension. The maintenance dose is usually 25 mg 2–3 times daily. If necessary, the dose is increased every 2 weeks (maximum - 150 mg).
After suffering myocardial infarction, the use of Kapoten can be started after 3 days. The drug is prescribed in an initial dose of 6.25 mg 3 times a day with a gradual (over several weeks) increase in a single dose to 25 mg. If necessary, the dose can be gradually increased to a maximum of 50 mg 3 times a day.
With the development of symptomatic hypotension, a dose reduction may be required. According to indications, Capoten can be used simultaneously with other drugs, for example, thrombolytics, beta-blockers and acetylsalicylic acid.
The recommended daily dose for diabetic nephropathy is 75-100 mg 2-3 times a day. Patients with insulin-dependent diabetes with microalbuminuria (with the release of albumin 30-300 mg per day) Kapoten is prescribed 50 mg 2 times a day. With a total protein clearance of more than 500 mg per day, the drug should be taken at 25 mg 3 times a day. If necessary, it is possible to use it simultaneously with other antihypertensive drugs: beta-blockers, diuretics, vasodilators or centrally acting drugs.
The daily dose of Kapoten with moderate or mild renal dysfunction (with creatinine clearance of at least 30 ml / min / 1.73 m²) is 75-100 mg 2-3 times a day. The initial daily dose for severe renal impairment (with creatinine clearance less than 30 ml / min / 1.73 m²) is no more than 25 mg (12.5 mg 2 times a day). If the drug is not effective enough, the dose is slowly increased every 7-14 days until the onset of the therapeutic effect, but it should be lower than the maximum daily dose (by reducing the single dose or increasing the interval between doses of the drug). If necessary, additional loop diuretics (not thiazide-type diuretics) should be used.
For elderly patients, the dose of Kapoten is selected individually. It is recommended to start therapy with a minimum therapeutic dose, which should not be further increased.
Side effects
During the use of Kapoten, side effects may occur that develop with different frequencies:
Nervous system and sensory organs: dizziness, headache, paresthesia, ataxia, visual disturbances, drowsiness;
Organs of the gastrointestinal tract: taste disturbance (reversible, goes away on its own), aphthous stomatitis, dry mouth, increased activity of liver enzymes; rarely - hepatitis, abdominal pain, gingival hyperplasia, diarrhea, hyperbilirubinemia, an increase in the level of hepatic transaminases in the blood plasma;
Cardiovascular system and blood (hemostasis, hematopoiesis): tachycardia, orthostatic hypotension, peripheral edema;
Respiratory system: bronchospasm, dry cough, pulmonary edema;
Hematopoietic system: in rare cases - agranulocytosis, anemia, thrombocytopenia, neutropenia (in patients with normal renal function (with creatinine clearance <1.6 mg / dl) in the absence of other complicating factors, the development of neutropenia was observed only in 0.02% of cases); positive test for antibodies to nuclear antigen;
Skin: rash (maculopapular, mild, disappears within a few days after lowering the dose), usually accompanied by itching and, in rare cases, an increase in body temperature; flushing of the face, bullous and vesicular eruptions, photosensitivity, erythema (including Stevens-Johnson syndrome);
Water and electrolyte balance: hyponatremia (most often develops with a salt-free diet with simultaneous use of diuretics), hyperkalemia (most likely in patients with renal failure), proteinuria, acidosis, increased blood urea nitrogen and creatinine;
Allergic reactions: angioedema of the mucous membranes, limbs, lips, face, tongue, larynx or pharynx.
Overdose
The main symptoms: renal failure, disturbances in the water and electrolyte balance, a sharp decrease in blood pressure, stupor, shock, bradycardia.
Therapy: gastric lavage, the use of adsorbents and sodium sulfate for 30 minutes after taking Kapoten, the introduction of 0.9% sodium chloride solution or other plasma-substituting drugs (the patient must first be transferred to a horizontal position with a low headboard, then measures are taken to replenish the volume circulating blood), hemodialysis. With severe vagal reactions or bradycardia, atropine is administered. An artificial pacemaker can be used. Peritoneal dialysis is ineffective for removing captopril from the body.
special instructions
Before starting therapy, as well as regularly in the process of taking Capoten, it is necessary to monitor kidney function. In patients with chronic heart failure, the drug should be used under close medical supervision.
With long-term treatment, there may be an increase in serum creatinine and urea.
In patients with arterial hypertension, when using Kapoten, severe arterial hypotension is observed only in some cases; the likelihood of developing this condition increases with excessive loss of salts and fluids (for example, after intensive diuretic therapy), in patients on dialysis, or in patients with heart failure.
The possibility of a sharp decrease in blood pressure can be minimized if diuretics are discontinued in 4-7 days or the intake of sodium chloride is increased in advance (7 days). This can also be achieved by prescribing low doses of Kapoten at the beginning of treatment (6.25-12.5 mg per day).
In the first 3 months of treatment, it is necessary to monitor the number of blood leukocytes on a monthly basis, in the future - once every 3 months. Patients with autoimmune diseases in the first 3 months of treatment, the number of leukocytes should be monitored every 14 days, then every 2 months. If the number of leukocytes is less than 4000 / μl, a general blood test is indicated, less than 1000 / μl - therapy should be interrupted.
The risk of developing hyperkalemia with Capoten is increased in patients with renal failure and diabetes mellitus, as well as in patients taking potassium supplements, potassium-sparing diuretics or other drugs that increase the concentration of potassium in the blood (eg, heparin). The simultaneous use of potassium preparations and potassium-sparing diuretics with Kapoten should be avoided.
When performing hemodialysis, it is recommended to avoid the use of dialysis membranes with high permeability (for example, AN69), which is associated with an increased risk of developing anaphylactoid reactions.
With the development of angioedema, Capoten should be canceled and careful medical supervision should be carried out. In the case of localized edema on the face, as a rule, special therapy is not carried out (antihistamines may be prescribed to reduce the severity of symptoms). If edema spreads to the tongue, larynx, or pharynx, there is a risk of airway obstruction. In this case, the immediate introduction of 0.5 ml of 0.1% solution of adrenaline (epinephrine) may be required.
Capoten tablets should be taken with caution in patients who follow a salt-free or low-salt diet, since in this case the risk of arterial hypotension increases.
With the development of symptomatic arterial hypotension after taking Kapoten, the patient needs to take a horizontal position and raise his legs.
During therapy, there may be a false positive reaction in urine analysis for acetone.
Influence on the ability to drive vehicles and complex mechanisms
Patients taking Kapoten should refrain from driving and performing other potentially hazardous activities that require increased concentration of attention and rapid psychomotor reactions (due to the likelihood of dizziness, especially after taking the initial dose).
Application during pregnancy and lactation
According to the instructions, Kapoten is not prescribed during pregnancy / lactation.
Epidemiological data that indicate the risk of teratogenicity after exposure to ACE inhibitors in the first trimester of pregnancy are not convincing, but a slight increase in the likelihood cannot be ruled out. If therapy with ACE inhibitors is considered necessary, patients planning a pregnancy should be switched to an alternative antihypertensive drug with an established safety profile for use during pregnancy.
It was found that the effect of long-term therapy with ACE inhibitors on the fetus in the II-III trimesters of pregnancy can cause impairment of its development (in the form of a decrease in renal function, oligohydramnios, slowing of ossification of the skull bones) and the appearance of complications in a newborn (including renal failure, arterial hypotension, hyperkalemia). In cases where the patient took Kapoten during this period, an ultrasound examination is indicated to assess the state of the fetal kidney and skull bones.
The use of ACE inhibitors during pregnancy can cause developmental disorders (including arterial hypotension, neonatal hypoplasia of the skull bones, anuria, reversible / irreversible renal failure) and fetal death. If the fact of pregnancy is established, Kapoten is canceled.
About 1% of the taken captopril dose passes into breast milk. Given the risk of serious side effects in the baby, breastfeeding should be stopped or the mother should not take Capoten during this period.
Pediatric use
Therapy with Kapoten is contraindicated in patients under 18 years of age (experience of use is limited).
With impaired renal function
severe renal dysfunction: Kapoten is contraindicated;
renal failure: therapy should be carried out under medical supervision.
For violations of liver function
severe liver dysfunction: Kapoten is contraindicated;
liver failure: therapy should be carried out under medical supervision.
Use in the elderly
Kapoten therapy in elderly patients should be carried out under medical supervision (correction of the application regimen is necessary).
Drug interactions
With the simultaneous use of Kapoten with some drugs, undesirable effects may occur:
Ganglion blockers, diuretics, adrenergic blockers: increased hypotensive action of Capoten;
Potassium-sparing diuretics (spironolactone, amiloride, triamterene) or potassium dietary supplements: a marked increase in serum potassium concentration;
Clonidine, indomethacin and other non-steroidal anti-inflammatory drugs: decrease in the antihypertensive effect of Capoten;
Procainamide, allopurinol: development of neutropenia and / or Stevens-Johnson syndrome (the causal relationship is not clear);
Immunosuppressants (cyclophosphamide, azathioprine): increased risk of hematological disorders;
Probenecid: reduced excretion of captopril through the kidneys;
Lithium salts: an increase in the concentration of lithium in the blood serum, while the risk of developing toxic and side effects of lithium preparations increases.
Analogs
Capoten's analogues are: Captopril, Captopril-STI, Captopril-AKOS, Captopril Sandoz, Caposid, Accupro, Berlipril, Diroton, Zokardis, Lisinokol.
Terms and conditions of storage
Store in a dry place out of reach of children at temperatures up to 25 ° C.
The shelf life is 5 years.
Terms of dispensing from pharmacies
Dispensed by prescription.
Reviews about Kapoten
According to reviews, Kapoten quickly reduces high blood pressure. It is often recommended for use as an ambulance drug for a sharp increase in pressure. However, with long-term use, many indicate the development of adverse reactions, in particular, in the form of headaches and dry mouth. The tablets are noted to have a convenient dividing risk. The cost of the drug is estimated to be affordable.
Price for Kapoten in pharmacies
The approximate price for Kapoten, 25 mg tablets, is per package:
14 pcs. - 133-135 rubles;
28 pcs. - 133-176 rubles;
56 pcs. - 277-316 rubles.
Kapoten: prices in online pharmacies
Drug name
Price
Pharmacy
Kapoten tablets 25mg 28 pcs.
149 r
Buy
Kapoten 25 mg tablets 28 pcs.
149 r
Buy
Kapoten tablets 25mg 40 pcs.
212 r
Buy
Kapoten 25 mg tablets 40 pcs.
212 r
Buy
Kapoten tablets 25mg 56 pcs.
267 r
Buy
Kapoten 25 mg tablets 56 pcs.
267 r
Buy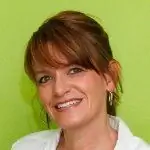 Maria Kulkes Medical journalist About the author
Education: First Moscow State Medical University named after I. M. Sechenov, specialty "General Medicine".
Information about the drug is generalized, provided for informational purposes only and does not replace the official instructions. Self-medication is hazardous to health!
Popular by topic