Table of contents: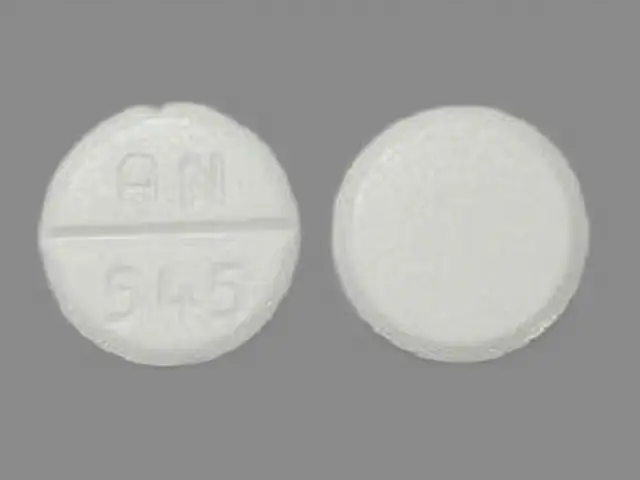 Video: Mirapex - Instructions For Use, Price, Reviews, Analogs Of Tablets
Mirapex
Mirapex: instructions for use and reviews
1. Release form and composition
2. Pharmacological properties
3. Indications for use
4. Contraindications
5. Method of application and dosage
6. Side effects
7. Overdose
8. Special instructions
9. Application during pregnancy and lactation
10. Use in childhood
11. In case of impaired renal function
12. Drug interactions
13. Analogs
14. Terms and conditions of storage
15. Terms of dispensing from pharmacies
16. Reviews
17. Price in pharmacies
Latin name: Mirapex
ATX code: N04BC05
Active ingredient: pramipexole (Pramipexole)
Producer: Boehringer Ingelheim Pharma (Germany)
Description and photo update: 2019-26-08
Prices in pharmacies: from 83 rubles.
Buy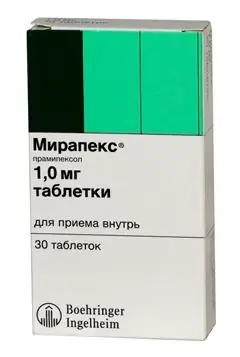 Mirapex is a drug for the symptomatic treatment of severe idiopathic lesions of the central nervous system.
Release form and composition
Dosage forms of Mirapex:
0.25 mg tablets: oval, with a beveled edge, flat on both sides, white; on one side, on both sides of the deep risks, the marking "P7", on the other - on both sides, the risks marking the company logo - "BI" (10 tablets in a PA / Aluminum / PVC blister, 3 blisters in a cardboard box);
Tablets 1 mg: round, with a beveled edge, flat on both sides, white; on one of the sides, on both sides of the deep, there are marks "P9", on the other, on both sides, there are marks on the company logo - "BI" (10 tablets in a PA / Aluminum / PVC blister, 3 blisters in a cardboard box).
Composition of 1 tablet:
Active ingredient: pramipexole dihydrochloride monohydrate 0.25 mg or 1 mg (corresponds to the content of pramipexole base - 0.18 or 0.7 mg);
Auxiliary components: corn starch, mannitol, colloidal silicon dioxide, magnesium stearate, povidone.
Pharmacological properties
Pharmacodynamics
The active substance of Mirapex, pramipexole, is an agonist of dopamine receptors. With high specificity and selectivity, it binds to dopamine receptors of the D2 subgroup, the most pronounced affinity is noted for D3 receptors.
Due to the stimulation of dopamine receptors in the striatum, in Parkinson's disease there is a decrease in the deficit in motor activity. Pramipexole inhibits the synthesis, release, and metabolism of dopamine. The substance provides protection to dopamine neurons from degeneration that occurs in response to methamphetamine neurotoxicity or ischemia.
In the treatment of restless legs syndrome, the exact mechanism of action of pramipexole has not been established. Despite the fact that the pathophysiology of restless legs syndrome is not fully understood, there is neuropharmacological evidence that the primary process affects the dopaminergic system. As a result of studies, it was established that moderate presynaptic dopaminergic dysfunction in the striatum is probably involved in the pathogenesis of restless legs syndrome.
Pramipexole helps protect neurons from the neurotoxic effects of levodopa. Dose-dependently reduces the secretion of prolactin.
During a long course of therapy (more than 3 years) for Parkinson's disease, no signs of a decrease in efficacy were found. When using Mirapex in patients with restless legs syndrome, its effectiveness was maintained for one year.
Pharmacokinetics
After oral administration of Mirapex, pramipexole is rapidly and fully absorbed. Absolute bioavailability is more than 90%, C max (maximum concentration) in plasma is achieved in 1-3 hours. When taken simultaneously with food, the absorption rate decreases, but food intake has no effect on the total absorption volume. Pramipexole is characterized by relatively small variability in concentrations between patients and linear kinetics.
The substance binds to proteins to a very insignificant extent (up to 20%), has a large Vd (volume of distribution) - 400 liters. It undergoes metabolism only to a small extent.
Approximately 90% of the dose is excreted through the kidneys (unchanged - 80%), less than 2% is found in the feces. Total substance clearance is approximately 500 ml / min, renal clearance is approximately 400 ml / min. T 1/2 (half-life) ranges from 8 to 12 hours (in young and elderly patients, respectively).
Indications for use
Parkinsonism (Parkinson's disease) - for symptomatic monotherapy or as part of complex treatment with levodopa;
Idiopathic Restless Legs Syndrome - for symptomatic therapy.
Contraindications
Absolute:
Lactation (breastfeeding period);
Children and adolescents up to 18 years old;
Hypersensitivity to pramipexole, other components of the drug.
Relative (Mirapex tablets are taken with caution, due to the increased likelihood of side effects):
Renal failure;
Arterial hypotension;
Pregnancy (the drug is used in case of a significant excess of the expected benefit to the mother over the potential risk to the fetus).
Instructions for the use of Mirapex: method and dosage
Mirapex tablets are taken orally, regardless of food intake, washed down with water.
The daily dose should be evenly divided into 3 doses.
At the beginning of therapy, a daily dose of 0.375 mg is recommended, it is gradually increased every 5-7 days until the maximum therapeutic effect is achieved.
The following scheme for increasing the dose of Mirapex must be observed:
I week: 0.375 mg per day, divided into 3 doses of 0.125 mg;
II week: 0.75 mg per day, divided into 3 doses of 0.25 mg;
III week: 1.5 mg per day, divided into 3 doses of 0.5 mg.
If a further increase in the daily dose is recommended, 0.75 mg should be added every week until the maximum allowable value is reached - 4.5 mg per day.
For maintenance therapy, the individual daily dose ranges from 0.375 to 4.5 mg. Regardless of the stage of the disease, the effectiveness of Mirapex was noted at a daily dose of 1.5 mg, while it is possible that in some cases, taking more than 1.5 mg of the drug per day may have an additional therapeutic effect, especially in the later stages of the disease, when the doses levodopa is shown to decrease.
Termination of treatment with pramipexole is required to be carried out gradually, over several days.
For patients using Mirapex as part of a combination therapy with levodopa, during a maintenance course, as well as with an increase in the dose of pramipexole, the dose of levodopa must be reduced in order to avoid increased dopaminergic stimulation.
Initial therapy in patients with renal insufficiency with CC ≥ 50 ml / min does not require a decrease in the daily dose. If the CC is from 20 to 50 ml / min, then the intake begins with a daily dose of 0.25 mg, divided by 2 times by 0.125 mg. With CC ≤ 20 ml / min, treatment begins with 0.125 mg once a day.
When renal function deteriorates during maintenance therapy, the daily dose of pramipexole should be reduced by the same percentage that the CC decreases (for example, CC is less than 30%, therefore, the daily dose of pramipexole should be reduced by 30%).
With CC from 20 to 50 ml / min, the daily dose of Mirapex can be divided into two doses, and if CC is ≤ 20 ml / min, it can be taken at a time.
No dose adjustment of Mirapex is required for patients with hepatic impairment.
Side effects
Constipation (constipation) and drowsiness are recorded as the most frequent adverse reactions during therapy with Mirapex in the early stages of the disease. In the later stages of the disease, when pramipexole is taken in combination with levodopa, hallucinations and dyskinesia are more common. These undesirable effects decrease with continued treatment, and nausea, constipation and dyskinesia tend to disappear.
Other side reactions of Mirapex from systems and organs:
Nervous system: ZNS - neuroleptic malignant syndrome (akathisia, muscle rigidity, hyperthermia, impaired consciousness, impaired thinking, autonomic lability), confusion, insomnia, dizziness, extrapyramidal syndrome, delirium, amnesia, asthenia, ataxia, hypoesthesia, dystonia, tremor depression, myoclonus, anxiety, hypokinesia, suicidal tendencies;
Musculoskeletal system: leg muscle cramps, muscle hypertonicity, muscle twitching, bursitis, arthritis, myasthenia gravis, neck pain, chest pain, pain in the lumbar and sacral spine;
Digestive system: decreased appetite, dyspepsia, dysphagia, abdominal pain, diarrhea, flatulence, vomiting, dry mouth;
Respiratory system: sinusitis, pharyngitis, rhinitis, shortness of breath, flu-like syndrome, voice change, increased cough;
Genitourinary system: urinary tract infections, frequent urination;
Cardiovascular system: arrhythmias, tachycardia, angina pectoris, orthostatic hypotension, increased activity of the CPK enzyme (creatine phosphokinase);
Sense organs: accommodation paralysis, conjunctivitis, diplopia, increased intraocular pressure, cataracts, hearing impairment;
Allergic reactions, other: retroperitoneal fibrosis, hyperthermia, pleural effusion, pulmonary infiltration, weight loss, hyperhidrosis, peripheral edema, decreased or increased libido.
There are described episodes of pathological craving for gambling while taking pramipexole, especially in high doses, which took place after the drug was discontinued.
The development of arterial hypotension in the case of taking Mirapex was noted no more often than from the use of a placebo. The occurrence of arterial hypotension was observed in some patients at the beginning of therapy, especially in the case of a too rapid increase in the dose of the drug.
Overdose
There is no evidence of severe overdose.
Possible symptoms: vomiting, nausea, hallucinations, hyperkinesia, decreased blood pressure, agitation (disorders characteristic of the pharmacodynamic profile of dopamine receptor agonists).
Therapy: gastric lavage, symptomatic treatment, dynamic observation.
There is no antidote for Mirapex. The effectiveness of hemodialysis has not been established. When signs of excitation of the central nervous system appear, antipsychotics may be prescribed.
special instructions
The most common side effects of dopamine agonist therapy and levodopa are confusion and hallucinations. It is noted that the combination of levodopa with Mirapex in the later stages of the disease more often caused hallucinations than monotherapy with pramipexole in the early stages.
Patients and caregivers should be advised that dopaminergic drug therapy can induce abnormal behavior with symptoms of compulsive and impulsive actions: hyperphagia (tendency to overeat), pathological shopping (compulsive buying), hypersexuality, and pathological cravings for gambling. If such effects appear, a decision should be made to reduce the dose of Mirapex or to gradually discontinue therapy.
In psychotic disorders, prescribing dopamine agonists with pramipexole is allowed only after a comprehensive preliminary assessment of the risk / benefit ratio. The concomitant use of antipsychotics with pramipexole should be avoided.
After a certain time from the start of admission or immediately after the appointment of Mirapex (in case of visual impairments), you should be checked by an ophthalmologist.
In severe cardiovascular pathologies, caution is required when taking Mirapex, since there is a possibility of orthostatic hypotension due to the use of dopaminergic drugs. Blood pressure (BP) control is recommended, especially at the beginning of the course of therapy.
It is necessary to take into account the likelihood of the sedative effect of Mirapex, which can be observed at any time during the treatment process. There is reliable evidence of patients falling asleep during daily activities, which became the cause of accidents.
As a result of epidemiological studies, it was revealed that with Parkinson's disease, the risk of developing melanoma is 2-6 times higher. It is not known for certain whether this increased likelihood is a consequence of the disease itself, or it is associated with the intake of drugs that are used to treat parkinsonism. Patients and their caregivers should be educated about the increased risk of developing melanoma.
With parkinsonism, in case of abrupt termination of treatment, a symptom complex is observed, similar to the manifestations of neuroleptic malignant syndrome.
Therapy of restless legs syndrome with dopaminergic drugs can cause its intensification, which is characterized by an earlier manifestation of symptoms in time (early evening or even the afternoon), as well as an increase in this symptomatology and the spread of effects to other limbs. However, according to the results of a special study, there was no significant difference in the enhancement of the clinical picture between patients taking pramipexole and the placebo group.
Influence on the ability to drive vehicles and complex mechanisms
The attending physician is obliged to inform patients about the likelihood of hallucinations, mainly visual, and the development of sedative effects, incl. drowsiness and falling asleep during daily activities, which can affect driving. In this regard, it is not recommended to work with complex mechanisms and drive vehicles before gaining sufficient experience in the treatment of Mirapex, which makes it possible to assess its effect on intellectual and / or motor activity. In cases of increased drowsiness or spontaneous falling asleep in everyday activities, for example, during communication, eating, etc., activities that require increased concentration of attention and speed of psychomotor reactions should be abandoned and a doctor should be consulted.
Application during pregnancy and lactation
pregnancy: Mirapex should be used under medical supervision;
lactation period: therapy is contraindicated.
Pediatric use
Mirapex therapy is contraindicated for patients under 18 years of age.
With impaired renal function
Mirapex with renal failure should be used with caution.
Drug interactions
Pramipexole insignificantly (<20%) binds to plasma proteins and is biotransformed, as a result of which its interaction with other substances / drugs that affect excretion through biotransformation or binding to proteins is unlikely.
It is possible to interact with pramipexole of inhibitors of active secretion of cationic drugs through the renal tubules (cimetidine), or substances excreted by active secretion through the renal tubules, which is expressed in a decrease in the clearance of one or both drugs. With the simultaneous use of Mirapex with such drugs (including amantadine), it is recommended to monitor the symptoms of excessive dopamine stimulation: agitation, dyskinesia or hallucinations. In such cases, the dose should be reduced.
Levodopa and selegiline have no effect on the pharmacokinetics of pramipexole, which, in turn, does not affect the absorption or elimination of levodopa.
The drug interaction between anticholinergics and amantadine has not been studied, but it is assumed that it is possible, since the drugs have a similar mechanism of elimination. Since anticholinergic drugs are mainly metabolized, their interaction with pramipexole is unlikely.
In the case of an increase in the dose of pramipexole, it is necessary to reduce the dose of levodopa, but other antiparkinsonian drugs are taken at the same dosage.
Due to the possible cumulative effects, it is recommended to exercise caution while taking ethanol, other psycholeptics, as well as drugs that increase the plasma concentration of pramipexole (cimetidine), in combination with Mirapex.
It is necessary to avoid taking pramipexole at the same time as antipsychotic substances / drugs, for example, in the case of expected antagonism.
Analogs
Mirapex analogues are: Mirapex PD, Abergin, Parlodel, Pramipexole, Pramipexol-Teva, Bromocriptine, Rolprina SR, Pronoran, Bromergon, Requip Modutab, Nyupro, Oprimeya.
Terms and conditions of storage
Keep out of the reach of children, in a dry, dark place at temperatures up to 30 ° C.
The shelf life is 3 years.
Terms of dispensing from pharmacies
Dispensed by prescription.
Reviews about Mirapex
Reviews of Mirapex indicate its high efficiency and better tolerance in comparison with analogues. However, it is noted that the drug is addictive; during a long course, the effectiveness of the drug gradually decreases, which requires its cancellation.
Price for Mirapex in pharmacies
Approximate price for Mirapex tablets 30 pcs. in the package: dosage 0.25 mg - 251-302 rubles; dosage of 1 mg - 898-1048 rubles.
Mirapex: prices in online pharmacies
Drug name
Price
Pharmacy
Mirapex PD 0.375 mg extended-release tablets 10 pcs.
83 rbl.
Buy
Mirapex PD prolonged action tablets 0.375mg 10 pcs.
141 r
Buy
Mirapex 0.25 mg tablets 30 pcs.
237 r
Buy
Mirapex tablets 0.25mg 30 pcs.
281 r
Buy
Mirapex 1 mg tablets 30 pcs.
932 RUB
Buy
Mirapex PD 1.5 mg prolonged-release tablets 30 pcs.
1364 RUB
Buy
Mirapex PD prolonged action tablets 1.5mg 30 pcs.
1552 RUB
Buy
Mirapex PD 3 mg prolonged release tablets 30 pcs.
2641 RUB
Buy
Mirapex PD prolonged action tablets 3mg 30 pcs.
RUB 3103
Buy
See all offers from pharmacies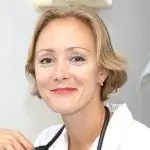 Anna Kozlova Medical journalist About the author
Education: Rostov State Medical University, specialty "General Medicine".
Information about the drug is generalized, provided for informational purposes only and does not replace the official instructions. Self-medication is hazardous to health!
Popular by topic