Table of contents: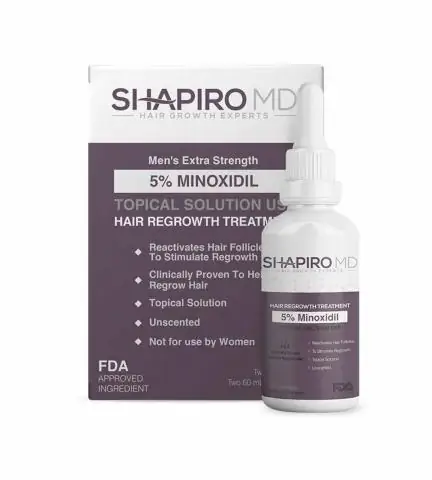 Video: Minoxidil - Instructions For Use For Hair, Price, Reviews, Analogues
Minoxidil
Minoxidil: instructions for use and reviews
1. Release form and composition
2. Pharmacological properties
3. Indications for use
4. Contraindications
5. Method of application and dosage
6. Side effects
7. Overdose
8. Special instructions
9. Application during pregnancy and lactation
10. Use in childhood
11. Drug interactions
12. Analogs
13. Terms and conditions of storage
14. Terms of dispensing from pharmacies
15. Reviews
16. Price in pharmacies
Latin name: Minoxidil
ATX code: D11AX01
Active ingredient: minoxidil (Minoxidil)
Manufacturer: Kirkland Signature (USA); Pharmacia & upjohn company (USA); Alpharma USPD Inc. (USA)
Description and photo update: 2019-21-08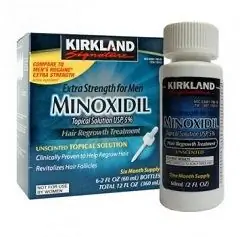 Minoxidil is an external drug that stimulates hair growth in androgenetic alopecia.
Release form and composition
Dosage form - solution for external use 2% and 5% (60 ml each in polyethylene bottles, equipped with a measuring pump and a spray nozzle, in a cardboard box 1 bottle).
The active ingredient is minoxidil.
Pharmacological properties
Pharmacodynamics
Minoxidil is a baldness treatment. Stimulates hair growth in women and men with androgenic alopecia (male pattern baldness).
The first signs of hair growth usually appear after 4 months or more of daily therapy 2 times a day. The onset of the effect and the degree of its severity depend on individual characteristics. The growth of new hair after discontinuation of the drug stops, and after 3-4 months it is possible to return to the original appearance.
The exact mechanism of action of minoxidil is unknown.
With systemic use, the drug has a vasodilating effect. In the course of controlled clinical studies after its external use in patients with normal and high blood pressure, the development of systemic adverse reactions associated with systemic absorption of the substance was not observed.
Pharmacokinetics
When applied externally, Minoxidil is poorly absorbed through normal intact skin; on average, 1.4% (in the range of 0.3–4.5%) of the total applied dose enters the systemic circulation.
The serum concentration of minoxidil when applied topically is determined by the rate of its absorption through the skin. After discontinuation of therapy, approximately 95% of the substance that has undergone systemic absorption is excreted within 4 days.
Indications for use
According to the instructions, Minoxidil is intended for the treatment of androgenic alopecia (male pattern baldness) in both men and women.
Contraindications
Infection, inflammation, redness, and soreness of the scalp, incl. due to sunburn;
Age under 18;
Pregnancy;
Lactation;
Hypersensitivity to drug components.
Instructions for use of Minoxidil: method and dosage
The solution is shown to be applied to the scalp twice a day - in the morning and in the evening.
Signs of hair growth are noted after at least 4 months of regular use of the drug. The degree and onset of the effect may vary from patient to patient.
Side effects
The drug can cause the following dermatological reactions:
Often: itching, flaking, redness of the scalp;
In rare cases: hypertrichosis (unwanted hair growth on the body, including in women on the face).
Some patients experience hypotension.
In addition, hair loss may temporarily increase. This phenomenon can be observed during the transition of hair from the resting phase to the growth phase (2-6 weeks after the start of treatment) and stops on its own within 2 weeks.
Overdose
There is no information.
special instructions
In some cases, the drug causes changes in hair color and structure.
In case of development of systemic reactions (heart palpitations, lowering blood pressure, chest pain, swelling of the arms and / or legs, weight gain, dizziness), as well as if irritation or redness appears at the site of application of the drug, discontinue treatment and consult a doctor for appropriate therapy.
Application during pregnancy and lactation
The use of Minoxidil for hair during pregnancy / lactation is contraindicated.
Pediatric use
Drug therapy for patients under 18 years of age is contraindicated.
Drug interactions
Drugs that contain anthralin (dithranol) or tretinoin can alter the protective function of the skin, which may increase the absorption of minoxidil.
Analogs
Analogues of Minoxidil are: Regaine, Dualgen 15%, Spectral DNS.
Terms and conditions of storage
Store at a temperature not exceeding 25 ° C.
The shelf life is 3 years.
Terms of dispensing from pharmacies
Available without a prescription.
Reviews about Minoxidil
Reviews of Minoxidil for hair are quite diverse. Some patients note that the drug was effective, but hair growth stops after its withdrawal. In other cases, indicate the complete absence of the claimed action.
Price for Minoxidil in pharmacies
The approximate price for Minoxidil (6 bottles of 60 ml) is 1190 rubles.
Anna Kozlova Medical journalist About the author
Education: Rostov State Medical University, specialty "General Medicine".
Information about the drug is generalized, provided for informational purposes only and does not replace the official instructions. Self-medication is hazardous to health!
Popular by topic