Table of contents: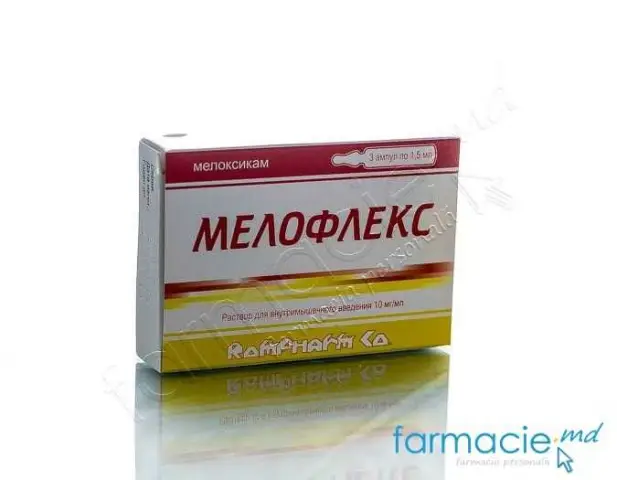 Video: Meloflex Rompharm - Instructions For Use, Price, Analogues, Reviews
Meloflex Rompharm
Meloflex Rompharm: instructions for use and reviews
1. Release form and composition
2. Pharmacological properties
3. Indications for use
4. Contraindications
5. Method of application and dosage
6. Side effects
7. Overdose
8. Special instructions
9. Application during pregnancy and lactation
10. Use in childhood
11. In case of impaired renal function
12. For violations of liver function
13. Use in the elderly
14. Drug interactions
15. Analogs
16. Terms and conditions of storage
17. Terms of dispensing from pharmacies
18. Reviews
19. Price in pharmacies
Latin name: Meloflex rompharm
ATX code: M01AC06
Active ingredient: Meloxicam (Meloxicam)
Producer: SC ROMPHARM Company SRL (Romania)
Description and photo update: 19.10.2018
Prices in pharmacies: from 179 rubles.
Buy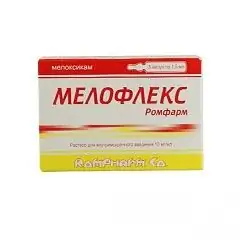 Meloflex Rompharm is a non-steroidal anti-inflammatory drug (NSAID).
Release form and composition
The dosage form is a transparent yellow with a greenish tinge of color solution for intramuscular administration (1.5 ml in glass colorless ampoules with a break ring of 2 ml, packed in a cardboard box of 3 or 5 pcs.).
Composition of the preparation:
active substance: meloxicam, 1 ml - 10 mg;
additional components: poloxamer 188, 1M sodium hydroxide solution, glycine, glycofurfural, meglumine, sodium chloride, water for injection.
Pharmacological properties
Pharmacodynamics
Meloxicam is a substance from the group of non-steroidal anti-inflammatory drugs, which belongs to the derivatives of enolic acid and, apart from being anti-inflammatory in all standard models of inflammation, also has antipyretic and analgesic effects.
The mechanism of action of Meloflex Rompharm is due to the ability of meloxicam to inhibit the synthesis of known inflammatory mediators - prostaglandins. In in vivo studies, it was found that at the site of inflammation, meloxicam inhibits prostaglandin synthesis more than in the kidneys or gastric mucosa, which is associated with a more selective inhibition of the COX-2 isoenzyme (cyclooxygenase-2) than COX-1. It is believed that the therapeutic effect of NSAIDs provides inhibition of COX-2, while suppression of the persistent COX-1 often leads to the development of adverse events from the kidneys and stomach.
In clinical studies on the occurrence of side effects from the digestive system, it was noted that reactions when taking meloxicam at a dose of 7.5 and 15 mg occur less often than when using other NSAIDs that were used in comparative tests. This difference is mainly due to the absence of such adverse reactions as pain in the abdominal region, nausea, dyspepsia and vomiting during treatment with meloxicam. Ulcers, perforation of the upper gastrointestinal tract and bleeding associated with meloxicam are rare, their frequency depends on the dose of the drug.
The selectivity of the drug for the COX-2 isoenzyme has been confirmed by various in vitro and ex vivo test systems.
In ex vivo studies, it was found that at recommended doses, meloxicam does not affect platelet aggregation (adhesion) and bleeding time.
Pharmacokinetics
After intramuscular (i / m) administration, the drug is completely absorbed. With this method of administration, its relative bioavailability is almost 100% compared to oral administration, therefore, when a patient is transferred from an injectable form of meloxicam to an oral dose adjustment, no dose adjustment is required. The maximum plasma concentration after intramuscular injection of one ampoule (15 mg) is reached in about 60–90 minutes and is 1.6–1.8 μg / ml.
The drug is characterized by high (99%) binding to plasma proteins, especially albumin.
Meloxicam penetrates into the synovial fluid, where its concentration is approximately half of that in plasma. The volume of distribution is about 11 liters. Individual differences can range from 7 to 20%.
The active substance of Meloflex Rompharm is almost completely metabolized in the liver, as a result of which 4 pharmacologically inactive metabolites are formed. The main one - 5-carboxymeloxicam - makes up 60% of the dose, is formed by oxidation of the intermediate metabolite 5'-hydroxymethylmeloxicam, which is also released, but to a lesser extent - no more than 9% of the dose.
According to in vitro studies, the CYP2C9 isoenzyme plays an important role in the described metabolic conversion. The isoenzyme CYP3A4 is also important. In the formation of two more metabolites (their release is 4% and 16% of the dose), peroxidase is involved, the activity of which varies individually.
The T½ (half-life) period is from 13 to 25 hours. The drug is excreted mainly in the form of metabolites through the intestines and kidneys equally. It is excreted unchanged with feces less than 5% of the administered daily dose. The drug is found in urine unchanged, but only in trace amounts.
Plasma clearance of meloxicam after a single injection is 7–12 ml / minute. At doses from 7.5 to 15 mg, the drug demonstrates linear pharmacokinetics, both when administered intramuscularly and when taken orally.
Hepatic, mild and moderate renal failure do not significantly affect the pharmacokinetics of meloxicam. In patients with moderate renal impairment, the rate of elimination of meloxicam is significantly higher. In patients with end-stage renal failure, meloxicam binds worse to plasma proteins, an increase in the volume of distribution in this case can lead to an increase in the concentration of free meloxicam, and therefore the dose of Meloflex Rompharm should not exceed 7.5 mg.
In elderly patients, pharmacokinetic parameters are similar to those in young patients. During the equilibrium state of pharmacokinetics, the average plasma clearance in the elderly is slightly lower than in the young. Older women have a higher area under the concentration-time curve and a longer elimination half-life compared to younger patients of both sexes.
Indications for use
According to the instructions, Meloflex Rompharm is used for short-term symptomatic treatment and initial therapy of the following diseases:
osteoarthritis (degenerative joint diseases and arthrosis);
rheumatoid arthritis;
ankylosing spondylitis;
other degenerative and inflammatory diseases of the musculoskeletal system, accompanied by pain, such as arthropathies and dorsopathies (for example, pain in the lower back, sciatica, shoulder periarthritis).
Contraindications
Absolute (conditions / diseases in which the drug is strictly prohibited):
active liver disease;

severe liver failure;

severe renal failure (if hemodialysis is not performed: creatinine clearance less than 30 ml / min, as well as confirmed hyperkalemia);
severe heart failure;
active gastrointestinal bleeding, an established diagnosis of diseases of the blood coagulation system, recent cerebrovascular bleeding;
acute inflammatory bowel diseases such as Crohn's disease and ulcerative colitis;
recently transferred or in a stage of exacerbation erosive and ulcerative lesions of the stomach and duodenum;
therapy of perioperative pain during coronary artery bypass grafting;
age up to 18 years;
the period of pregnancy and breastfeeding;
complete or incomplete combination of bronchial asthma, recurrent polyposis of the nasal mucosa and paranasal sinuses with intolerance to acetylsalicylic acid or other NSAIDs (including a history);
hypersensitivity to meloxicam, any auxiliary component of the drug or other NSAIDs.
Relative (conditions / diseases requiring risk and benefit assessment before prescribing meloxicam):
renal failure (creatinine clearance 30-60 ml / min);
peripheral arterial disease;
dyslipidemia / hyperlipidemia;
cerebrovascular diseases;
chronic heart failure;
cardiac ischemia;
a history of diseases of the gastrointestinal tract (presence of Helicobacter pylori infection);
diabetes;
frequent alcohol consumption;
smoking;
elderly age;
long-term use of NSAIDs;
simultaneous use of selective serotonin reuptake inhibitors, glucocorticosteroids, oral anticoagulants, antiplatelet agents.
Instructions for the use of Meloflex Rompharm: method and dosage
The solution is injected deeply intramuscularly.
Dosage of the drug depending on the indications:
rheumatoid arthritis and ankylosing spondylitis: 15 mg / day, if necessary, the dose is reduced to 7.5 mg;
osteoarthritis with pain syndrome: 7.5 mg / day.
Patients with severe renal failure on hemodialysis and patients with an increased risk of side effects (history of gastrointestinal tract diseases or risk factors for cardiovascular diseases) are recommended to start therapy with a daily dose of 7.5 mg.
Since the types and frequency of side effects of the drug depend on the dose used and the duration of treatment, it is necessary to prescribe Meloflex Rompharm in the minimum effective dose for the shortest possible course.
Meloxicam should not be used concomitantly with other NSAIDs.
Do not exceed the daily dose of meloxicam 15 mg, even if it is used in different dosage forms in combination.
Intramuscular administration of the drug is indicated only during the first few days of treatment, further therapy is continued with the use of oral dosage forms of meloxicam.
Do not mix the drug with other drugs in the same syringe.
Do not administer intravenously!
Side effects
Distribution of side effects by frequency of occurrence: very often - ≥ 1/10, often - from ≥ 1/100 to <1/10, infrequently - from ≥ 1/1000 to <1/100, rarely - from ≥ 1/10000 to < 1/1000, very rarely - <1/10000, unknown - according to the known data, it is not possible to establish the approximate frequency of the development of reactions.
Adverse reactions that may occur in patients undergoing meloxicam therapy:
on the part of the blood and lymphatic system: infrequently - anemia; rarely - changes in the number of blood cells (including a change in the leukocyte formula), thrombocytopenia, leukopenia;
from the nervous system and psyche: often - headache; rarely - mood changes *; infrequently - drowsiness, dizziness; unknown - disorientation *, confusion *;
from the immune system: infrequently - immediate type hypersensitivity reactions *; unknown - anaphylactoid reactions *, anaphylactic shock *;
on the part of the heart and blood vessels: infrequently - a feeling of blood rush to the face, increased blood pressure; rarely - palpitations;
from the gastrointestinal tract: often - dyspeptic disorders, abdominal pain, nausea, vomiting, diarrhea; infrequently - stomatitis, bloating, constipation, latent or overt gastrointestinal bleeding, belching *, gastritis *; rarely - esophagitis, colitis, gastroduodenal ulcers; very rarely - perforation of the gastrointestinal tract;
from the liver and biliary tract: infrequently - transient changes in hepatic function indicators (for example, increased activity of bilirubin or liver enzymes); very rarely - hepatitis *;
from the respiratory system: rarely - bronchial asthma in patients with allergy to acetylsalicylic acid and other NSAIDs;
on the part of the kidneys and urinary tract: infrequently - urination disorders (including acute urinary retention) *, changes in renal function indicators (increased concentration of creatinine and / or urea in the blood serum); very rarely - acute renal failure *;
from the skin and subcutaneous tissues: infrequently - skin rash, pruritus, angioedema *; rarely - urticaria, Stevens-Johnson syndrome *, toxic epidermal necrolysis *; very rarely - erythema multiforme *, bullous dermatitis *; unknown - photosensitivity;
on the part of the organs of sight and hearing: infrequently - vertigo; rarely - tinnitus, visual impairment (including blurred vision) *, conjunctivitis *;
from the genitals and mammary glands: infrequently - late ovulation *; unknown - infertility in women *;
local reactions: often - pain and swelling at the injection site; infrequently - edema.
* Side effects were reported in a post-marketing study, their relationship with the use of meloxicam has not been established, but is considered possible.
Ulceration, perforation, and gastrointestinal bleeding can be fatal.
As with the use of other NSAIDs, the risk of developing nephrotic syndrome, glomerulonephritis, interstitial nephritis, and renal medullary necrosis is not excluded.
Patients who are simultaneously shown to use drugs that depress the bone marrow (methotrexate, for example) may develop cytopenia.
Overdose
The known data on cases of overdose are not enough to assess the likely adverse reactions. It is assumed that if the recommended dose is significantly exceeded, symptoms characteristic of a severe NSAID overdose will occur: impaired consciousness, drowsiness, changes in blood pressure, asystole, epigastric pain, nausea, vomiting, acute renal failure, gastrointestinal bleeding, respiratory arrest.
The antidote to meloxicam is unknown. Alkalization of urine, forced diuresis and hemodialysis are ineffective, since meloxicam is significantly associated with plasma proteins. Overdose therapy is symptomatic. It is known that cholestyramine helps to speed up the elimination of the drug.
special instructions
Patients with diseases of the digestive system should be under special supervision during the period of therapy. The drug should be discontinued immediately in case of ulcerative lesions or bleeding from the gastrointestinal tract.
By inhibiting COX / prostaglandin synthesis, meloxicam can affect fertility, therefore, it is not recommended to prescribe the drug to women who are planning a pregnancy or have difficulty conceiving.
Meloflex Rompharm can cause serious reactions such as toxic epidermal necrolysis, exfoliative dermatitis and Stevens-Johnson syndrome. In this regard, patients should pay special attention to the appearance in them of any phenomena from the skin and mucous membranes and the development of hypersensitivity reactions, especially in cases where such reactions have occurred during the previous treatment. When a rash appears on the skin, the first signs of changes in the mucous membranes, or any other symptoms of hypersensitivity, which is usually observed in the first month of therapy, it is necessary to consider the feasibility of discontinuing the drug.
Cases of development of serious cardiovascular thrombosis, angina attack, myocardial infarction are known. These complications can be fatal. The risk increases in patients with a predisposition to similar diseases and a history of these diseases, as well as with prolonged use of Meloflex Rompharm.
Like other NSAIDs, meloxicam inhibits the synthesis of prostaglandins involved in the maintenance of renal perfusion in the kidneys. Administration of the drug to patients with reduced circulating blood volume or reduced renal blood flow is fraught with decompensation of latent renal failure. After discontinuation of therapy, renal function is usually restored to its original level. The risk of developing this reaction is most susceptible to elderly patients with chronic heart failure, dehydration, acute renal dysfunction, nephrotic syndrome, liver cirrhosis, as well as patients after extensive surgical interventions leading to hypovolemia, and patients who simultaneously receive diuretics, receptor antagonists angiotensin II or angiotensin-converting enzyme (ACE) inhibitors. Such patients at the beginning of the use of Meloflex Rompharm need careful monitoring of renal function and urine output.
In the case of the concomitant use of diuretics, their natriuretic effect may decrease, as well as water, potassium and sodium retention, as a result of which signs of arterial hypertension or heart failure may increase in predisposed patients. For this reason, patients need to examine kidney function before starting treatment, and during therapy, maintain adequate hydration and monitor the condition. If meloxicam is used in combination with other drugs, monitoring of kidney function is also necessary during treatment.
In case of significant changes in liver function parameters (including the activity of hepatic transaminases), the drug should be discontinued and the identified laboratory changes should be monitored.
In emaciated and debilitated people, side effects are usually less tolerated, so patients should be closely monitored.
Meloxicam can mask the symptoms of an underlying infectious disease.
Influence on the ability to drive vehicles and complex mechanisms
The effect of meloxicam on the reaction rate and the ability to concentrate has not been studied in special clinical studies. In the post-marketing period, it was found that the drug can cause undesirable reactions from the central nervous system, for example, dizziness, drowsiness and visual impairment, and therefore patients are advised to be careful when driving a car and engaging in potentially hazardous activities.
Application during pregnancy and lactation
Meloflex Rompharm is contraindicated during pregnancy, since inhibition of prostaglandin synthesis can adversely affect the course of pregnancy and fetal development. For the same reason, this NSAID should not be used by women planning a pregnancy.
NSAIDs penetrate into breast milk, therefore, meloxicam is contraindicated during lactation. If the prescription of the drug is justified, the doctor insists on stopping breastfeeding.
Meloxicam can cause a delay in ovulation, and therefore women who have problems with conception and undergo appropriate examinations in this regard should cancel the drug therapy.
Pediatric use
For the treatment of children and adolescents under 18 years of age, the drug is not used.
With impaired renal function
With mild and moderate renal failure (creatinine clearance more than 30 ml / min), dose adjustment is not required.
The drug is contraindicated in progressive kidney disease and chronic renal failure (creatinine clearance less than 30 ml / min) in patients not undergoing dialysis.
For violations of liver function
No dose adjustment is required in patients with compensated liver cirrhosis.
The drug is contraindicated in active liver diseases and severe liver failure.
Use in the elderly
With long-term therapy of ankylosing spondylitis and rheumatoid arthritis, the daily dose for elderly patients should not exceed 7.5 mg.
Drug interactions
oral anticoagulants, serotonin reuptake inhibitors, antiplatelet drugs: the risk of bleeding increases (careful monitoring of the blood coagulation system is required);
pemetrexed: the risk of developing myelosuppression and side effects from the gastrointestinal tract (patients with creatinine clearance of 45–79 ml / min should discontinue meloxicam 5 days before prescribing pemetrexed and resume taking no earlier than 2 days after its cancellation, and during treatment, carry out careful monitoring of the condition; for persons with creatinine clearance of more than 45 ml / min, the use of meloxicam simultaneously with pemetrexed is not recommended);
methotrexate: its secretion by the kidneys decreases and the concentration in the blood plasma increases (it is necessary to carefully monitor renal function and blood count; with such a combination, it is not recommended to use methotrexate at a dose of more than 15 mg per week); its hematological toxicity may increase, especially in patients with impaired renal function;
cyclosporine: its nephrotoxicity increases;
ACE inhibitors, angiotensin II receptor antagonists: the decrease in glomerular filtration increases, as a result of which acute renal failure may develop, especially in persons with impaired renal function;
intrauterine contraceptives: their effectiveness may decrease (however, this information has not been reliably established);
antihypertensive drugs (diuretics, ACE inhibitors, beta-blockers): their effectiveness decreases; taking diuretics for dehydration contributes to the development of acute renal failure;
cholestyramine: accelerates the elimination of meloxicam;
other inhibitors of prostaglandin synthesis, including salicylates and glucocorticosteroids: the likelihood of ulceration in the gastrointestinal tract and the development of bleeding increases (this combination is not recommended);
lithium preparations: their level in the blood plasma increases (careful monitoring of the plasma concentration of lithium is shown);
oral antidiabetic agents (sulfonylurea preparations, nateglinide): a mutual increase in the concentration of drugs in the blood is possible, the development of hypoglycemia (it is necessary to constantly monitor the sugar level).
The likelihood of pharmacokinetic interaction reactions must be taken into account with the simultaneous use of drugs with Meloflex Rompharm that are metabolized with the participation of CYP3A4 and / or CYP2C9 enzymes, or have a known ability to inhibit them (for example, probenecid or sulfonylurea derivatives).
There was no significant pharmacokinetic interaction of meloxicam with antacids, digoxin, furosemide, cimetidine.
Analogs
Meloflex Rompharm analogues are: Movalis, Meloxicam, Artrozan, Amelotex.
Terms and conditions of storage
Shelf life is 4 years.
Storage conditions - place protected from light, temperature no more than 25 ° С.
Terms of dispensing from pharmacies
Dispensed by prescription.
Reviews about Meloflex Rompharm
Reviews of Meloflex Rompharm confirm the high effectiveness of the drug when used according to indications.
Price for Meloflex Rompharm in pharmacies
The price for Meloflex Rompharm is 200–325 rubles for a pack of 3 ampoules, 270–375 rubles for a pack containing 5 ampoules.
Meloflex Rompharm: prices in online pharmacies
Drug name
Price
Pharmacy
Meloflex Rompharm 10 mg / ml solution for intramuscular administration 1.5 ml 3 pcs.
179 r
Buy
Meloflex Rompharm 10 mg / ml solution for intramuscular injection 1.5 ml 5 pcs.
289 r
Buy
Meloflex rompharm solution for intramuscular injection 10mg / ml 1.5ml 3 pcs.
367 r
Buy
Meloflex rompharm solution for intramuscular injection 10mg / ml 1.5ml 5 pcs.
446 r
Buy
Maria Kulkes Medical journalist About the author
Education: First Moscow State Medical University named after I. M. Sechenov, specialty "General Medicine".
Information about the drug is generalized, provided for informational purposes only and does not replace the official instructions. Self-medication is hazardous to health!
Popular by topic