Table of contents: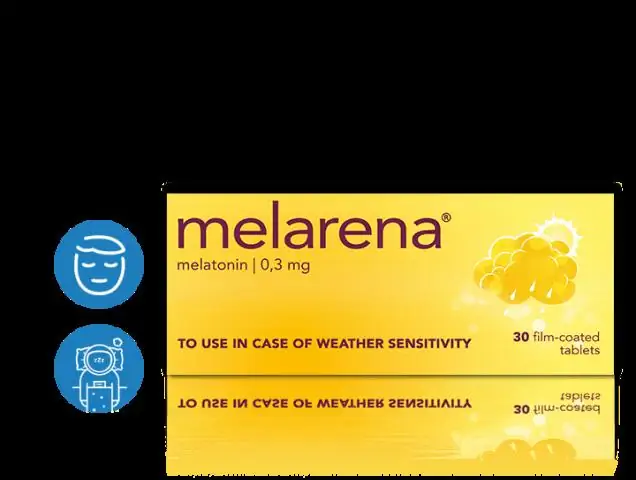 Video: Melarena - Instructions For The Use Of Tablets, Reviews, Price, Analogues
Melarena
Melarena: instructions for use and reviews
1. Release form and composition
2. Pharmacological properties
3. Indications for use
4. Contraindications
5. Method of application and dosage
6. Side effects
7. Overdose
8. Special instructions
9. Application during pregnancy and lactation
10. Use in childhood
11. In case of impaired renal function
12. Drug interactions
13. Analogs
14. Terms and conditions of storage
15. Terms of dispensing from pharmacies
16. Reviews
17. Price in pharmacies
Latin name: Milarena
ATX code: N05CH01
Active ingredient: melatonin (melatonin)
Producer: MAKIZ-PHARMA (Russia), Hemofarm, LLC (Russia)
Description and photo update: 2018-21-11
Prices in pharmacies: from 200 rubles.
Buy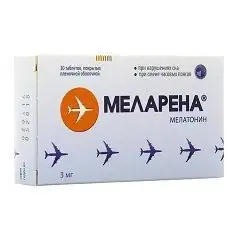 Melarena is a drug with adaptogenic, sedative, hypnotic, and normalizing circadian rhythms action.
Release form and composition
Dosage form Melarena - film-coated tablets: round biconvex; 0.3 mg each - from almost white to white; 3 mg each - blue (10 pcs. in blisters, 1 or 3 packs in a cardboard box).
Composition for 1 tablet:
active substance: melatonin - 0.3 or 3 mg;
auxiliary components (0.3 / 3 mg): talc - 1/1 mg; calcium stearate - 0.5 / 0.5 mg; calcium hydrogen phosphate dihydrate - 67.37 / 64.67 mg; colloidal silicon dioxide - 0.5 / 0.5 mg; microcrystalline cellulose - 25/25 mg; croscarmellose sodium - 2/2 mg; povidone K25 - 3.33 / 3.33 mg;
shell (0.3 mg): (triethyl citrate - 12.5%; hypromellose - 62.5%; titanium dioxide - 25%) - 3 mg;
shell (3 mg): (yellow quinoline varnish - 0.02%; macrogol 400 - 12.5%; hypromellose - 62.5%; titanium dioxide - 24.21%; FD&C blue No. 2 aluminum varnish - 0.28%; aluminum varnish FD&C blue No. 1 - 0.48%; dye iron oxide black - 0.01%) - 3 mg.
Pharmacological properties
Pharmacodynamics
Melarena is a synthetic analogue of the pineal hormone (pineal gland) melatonin. Normalizes circadian rhythms, has a sedative, adaptogenic, hypnotic effect.
The main properties of the drug:
an increase in the concentration of GABA (gamma-aminobutyric acid) and serotonin in the hypothalamus and midbrain, changes in the activity of pyridoxal kinase, which is involved in the synthesis of GABA, serotonin and dopamine;
regulation of the sleep-wake cycle, daily changes in locomotor activity and body temperature;
a positive effect on the emotional and personal sphere, intellectual and mnestic functions of the brain;
normalization of night sleep and improvement of the organization of the biological rhythm;
improving the quality of sleep - accelerating falling asleep, reducing the number of night awakenings, improving well-being after waking up in the morning (no feeling of lethargy, fatigue and weakness). Melarena makes dreams more emotionally rich and vivid;
decrease in the frequency of attacks of dizziness, headaches;
reduction of stress reactions;
regulation of neuroendocrine functions;
manifestation of immunostimulating and antioxidant properties;
inhibition of the secretion of gonadotropins, to a lesser extent - other hormones of the adenohypophysis (corticotropin, growth hormone, thyroid-stimulating hormone);
improved mood.
Melarena does not cause addiction and addiction. Facilitates adaptation to rapid change of time zones, changes in weather conditions (in weather-sensitive patients).
Pharmacokinetics
When taken orally, Melaren is fully and quickly absorbed, it easily passes histohematogenous barriers, including the blood-brain. T 1/2 (half-life) of melatonin is short.
Indications for use
desynchronosis (violation of the normal circadian rhythm) associated with rapid movement between the time zones of the Earth, violations of the light regime, including in patients engaged in shift / shift work;
sleep disorders.
Additional indications for 0.3 mg tablets:
depressive syndrome;
fatigue;
meteosensitivity.
Contraindications
autoimmune / allergic diseases;
epilepsy;
lymphogranulomatosis, lymphoma, leukemia, myeloma;
diabetes;
chronic renal failure;
renal dysfunction in severe course (for 3 mg tablets);
age up to 18 years;
pregnancy and lactation;
individual intolerance to the components of the drug.
Instructions for use of Melarena: method and dosage
Melaren tablets are taken orally 30-40 minutes before bedtime.
Recommended dosage regimen:
dosage 0.3 mg: 1 tablet; the duration of use is determined by the doctor individually (6-8 weeks); repeated courses are possible;
dosage of 3 mg: sleep disorders, desynchronosis - 1 tablet each; as an adaptogen when changing time zones - 1 tablet one day before the flight and over the next 2–5 days.
The maximum dose is 6 mg per day.
Side effects
Disorders that can develop during therapy: morning sleepiness, headache, allergic reactions, diarrhea, nausea, vomiting, edema (in most cases, in the first week of taking the drug).
Overdose
There are no reports of overdose cases.
The main possible symptoms are: increased dose-related adverse reactions.
Therapy: symptomatic, gastric lavage.
special instructions
It is recommended to avoid exposure to bright light while taking Melarena.
The drug has a weak contraceptive effect, which should be taken into account by women planning a pregnancy.
Influence on the ability to drive vehicles and complex mechanisms
During therapy with Melarena, care must be taken when driving.
Application during pregnancy and lactation
According to the instructions, it is contraindicated to use Melaren during pregnancy / lactation.
Pediatric use
Melaren tablets are contraindicated in patients under 18 years of age.
With impaired renal function
It is contraindicated to take Melarena in case of chronic renal failure; tablets in a dosage of 3 mg are also not prescribed for impaired renal function in severe course.
Drug interactions
Simultaneous administration with non-steroidal anti-inflammatory drugs and hormonal drugs is not recommended.
With the combined use of Melarena with beta-blockers and drugs that depress the central nervous system, their effect is enhanced.
The drug is incompatible with glucocorticosteroids, monoamine oxidase inhibitors, cyclosporine.
Analogs
Melarena analogues are: Melaxen Balance, Circadin, Sonnovan, Melaxen, Melarithm.
Terms and conditions of storage
Store in a place protected from light and moisture at temperatures up to 25 ° C. Keep out of the reach of children.
Shelf life is 2 years.
Terms of dispensing from pharmacies
Available without a prescription.
Reviews about Melaren
According to reviews, Melarena is an effective drug that normalizes sleep. But some patients note that the drug does not have at all or has insufficient therapeutic effect.
The price of Malarena in pharmacies
Approximate price for Malarena, tablets 30 pcs. in the package is: for a dosage of 0.3 mg - 294 rubles; for a dosage of 3 mg - 359 rubles.
Malarena: prices in online pharmacies
Drug name
Price
Pharmacy
Melarena 3 mg film-coated tablets 30 pcs.
RUB 200
Buy
Melarena 3 mg film-coated tablets 10 pcs.
268 r
Buy
Melarena 0.3 mg film-coated tablets 30 pcs.
272 r
Buy
Melarena tablets p.p. 3mg 10 pcs.
325 RUB
Buy
Melarena tablets p.p. 0.3mg 30 pcs.
333 r
Buy
Melarena tablets p.p. 3mg 30 pcs.
434 r
Buy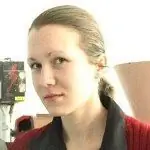 Anna Aksenova Medical journalist About the author
Education: 2004-2007 "First Kiev Medical College" specialty "Laboratory Diagnostics".
Information about the drug is generalized, provided for informational purposes only and does not replace the official instructions. Self-medication is hazardous to health!
Popular by topic