Table of contents:
Video: Managra - Instructions For The Use Of Tablets, Reviews, Price, Analogues
Managra
Managra: instructions for use and reviews
1. Release form and composition
2. Pharmacological properties
3. Indications for use
4. Contraindications
5. Method of application and dosage
6. Side effects
7. Overdose
8. Special instructions
9. Application during pregnancy and lactation
10. Use in childhood
11. In case of impaired renal function
12. For violations of liver function
13. Use in the elderly
14. Drug interactions
15. Analogs
16. Terms and conditions of storage
17. Terms of dispensing from pharmacies
18. Reviews
19. Price in pharmacies
Latin name: Managra
ATX code: G04BE03
Active ingredient: sildenafil (Sildenafil)
Manufacturer: JSC "Borisov Plant of Medical Products" (JSC "BZMP") (Republic of Belarus)
Description and photo update: 2019-09-07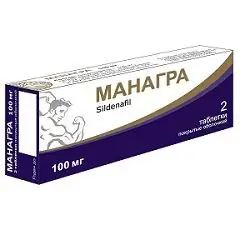 Managra is a drug used to treat erectile dysfunction.
Release form and composition
The drug is produced in the form of coated tablets: biconvex, round, blue (2 pieces in a blister, in a cardboard box 1 or 2 packages; 10 pieces in a blister, in a cardboard box 1 package and instructions for application of Managra).
1 tablet contains:
active substance: sildenafil in the form of sildenafil citrate - 50 or 100 mg;
additional components: croscarmellose sodium, microcrystalline cellulose, calcium hydrogen phosphate anhydrous, magnesium stearate, Opadrai [macrogol 3350, polyvinyl alcohol, partially hydrolyzed, soy lecithin, talc, aluminum varnish based on indigo carmine (E132), iron oxide2), yellow titanium (E17 (E171)].
Pharmacological properties
Pharmacodynamics
Sildenafil is a selective inhibitor of cyclic guanosine monophosphate (cGMP) specific phosphodiesterase type 5 (PDE5), which is responsible for the breakdown of cGMP in the corpus cavernosum of the penis. The active ingredient greatly enhances the relaxing effect of nitric oxide on smooth muscles and increases blood flow in the penis.
Against the background of the activation of the NO-cGMP chain, which occurs during sexual arousal, as a result of the suppression of PDE-5, the level of cGMP in the cavernous body increases. To achieve a pharmacological effect, a prerequisite is the presence of sexual stimulation. The observed activity of sildenafil in relation to PDE-5 exceeds that in relation to other PDE isoforms (1, 2, 3, 4, 6) by 10–4000 times.
Pharmacokinetics
After oral administration of Managra on an empty stomach, the period of reaching the maximum concentration (C max) of the active substance in the serum is 0.5–2 hours, the bioavailability of the agent is 25–60%. When taken together with food rich in fats, C max decreases by 20–40% and is observed after 1.5–3 hours. The volume of distribution of a substance in an equilibrium state is approximately 105 liters. Sildenafil binds to plasma proteins by 96%. Metabolic transformation of the drug proceeds predominantly in the liver with the participation of microsomal isoenzymes CYP3A7, CYP3A5, CYP3A4 (main path) and CYP2C9 (secondary path) with the formation of metabolites.
The main active circulating metabolite of sildenafil is N-desmethyl metabolite. The activity of the active substance is approximately 2 times higher than the activity of its main metabolite. The total clearance is 41 l / h, the half-life (T 1/2) of sildenafil and N-desmethylmetabolite is 3-5 hours.
The agent is excreted in the form of inactive metabolites by the kidneys (15%) and with feces (80%).
Indications for use
The drug is recommended for the treatment of erectile dysfunction, characterized by an inability to achieve / maintain an erection of the penis, sufficient for sexual intercourse.
The effect of Managra is noted only when there is sexual stimulation.
Contraindications
Absolute:
severe liver failure;
arterial hypotension [blood pressure (BP) <90/50 mm Hg. Art.];
recent myocardial infarction or stroke;
hereditary degenerative disorders of the retina, including retinitis pigmentosa (since a small proportion of these patients have genetic disorders of retinal phosphodiesterase);
loss of vision in one eye associated with anterior ischemic optic neuropathy, not caused by arteritis (NAION), regardless of the relationship of vision loss with previous use of PDE5 inhibitors;
combined intake with donors of nitric oxide or nitrates in any form;
severe heart failure, unstable angina and other severe cardiovascular diseases, as well as other conditions in which sexual activity is not recommended;
hypersensitivity to any of the constituents of the drug.
Relative (use Managra tablets with extreme caution):
anatomical deformity of the penis;
heart disease;
leukemia;
multiple myeloma;
sickle cell anemia.
Managra, instructions for use: method and dosage
Managra tablets are intended for oral administration.
The recommended single dose for the majority of patients is 50 mg. The drug should be used as needed approximately 1 hour before the start of sexual activity. Given the efficacy and tolerability of sildenafil in a particular patient, the dose can be increased to 100 mg or reduced to 25 mg. The maximum recommended daily dose of Managra is 100 mg taken once a day.
Tablets at a dosage of 50 and 100 mg cannot be divided into parts. If you need to take sildenafil at a dose of 25 mg, it is recommended to use another drug.
Side effects
immune system: infrequently - hypersensitivity;
organ of hearing and balance: infrequently - tinnitus, dizziness; rarely - deafness;
organ of vision: often - impaired / blurred vision, impaired color perception; infrequently - conjunctivitis, impaired lacrimation, other eye pathology, pain in the eye area; rarely - eye swelling / irritation, eyelid edema, eye edema, unusual sensation in the eye, discoloration of the sclera, conjunctival hyperemia, presence of rainbow circles around light sources in the field of view, decreased visual acuity, asthenopia, mydriasis, iris lesion, myopia, floating opacity of the vitreous body, diplopia, visual field defects, glaucoma, retinal damage, arteriosclerotic retinopathy, retinal vascular occlusion, NAION (anterior ischemic neuropathy of the optic nerve). In case of a sudden appearance of visual impairment, it is required to stop taking Managra and urgently consult a doctor;
nervous system: very often - headache; often - dizziness; infrequently - hypesthesia, drowsiness; rarely - fainting, seizures, recurrent seizures, transient ischemic attack, acute cerebrovascular accident;
cardiovascular system: often - hot flashes, flushing of the skin; infrequently - palpitations, tachycardia, arterial hypertension / hypotension; rarely - unstable angina, atrial fibrillation, ventricular arrhythmia, myocardial infarction, sudden coronary death;
musculoskeletal system and connective tissue: infrequently - pain in the limb, myalgia;
respiratory system and chest organs: often - nasal congestion; infrequently - congestion of the paranasal sinuses, nosebleeds; rarely - dryness / swelling of the nasal mucosa, a feeling of tightness in the throat;
infectious and parasitic diseases: infrequently - rhinitis;
genitals and mammary gland: rarely - increased erection, hematospermia, priapism, bleeding from the penis;
kidneys and urinary tract: infrequently - hematuria;
skin and subcutaneous tissue: infrequently - rash; rarely - toxic epidermal necrolysis, Stevens-Johnson syndrome;
gastrointestinal tract (GIT): often - dyspepsia, nausea; infrequently - dry mouth, pain in the upper abdomen, vomiting, gastroesophageal reflux disease; rarely oral hypesthesia;
the results of instrumental and laboratory studies: infrequently - an increase in heart rate;
general disorders: infrequently - increased fatigue, a feeling of heat, pain in the chest; rarely - irritability.
Overdose
When using Managra at a dose of 200 mg, there was no increase in efficacy, but an increase in the frequency of adverse reactions was observed.
Overdose symptoms can be: nasal congestion, hot flashes, dizziness, headache, dyspepsia, blurred vision.
In this condition, standard supportive care is indicated. Hemodialysis is ineffective, since sildenafil is characterized by a high degree of binding to plasma proteins and is not excreted in the urine.
special instructions
Cases of hearing impairment have been reported in patients taking Managra. If, against the background of taking the drug, there is a sharp decrease in hearing or a complete loss of hearing suddenly occurs, it is necessary to urgently stop taking the drug and consult a specialist.
Before starting treatment, in order to diagnose erectile dysfunction and identify possible causes of their occurrence, it is required to carry out a physical examination and collect a complete medical history of the patient. Before admission, the attending physician needs to assess the state of the patient's cardiovascular system, since sexual activity is accompanied by a certain risk on her part.
Managra exhibits a vasodilating effect, which can result in a mild to moderate decrease in blood pressure. As a result, the doctor should carefully consider the risks associated with a possible decrease in blood pressure, especially against the background of sexual activity. Careful attention should be paid to patients with hypersensitivity to vasodilators (including the presence of obstruction of blood flow from the left ventricle - hypertrophic obstructive cardiomyopathy, aortic stenosis), or with severe impairment of autonomic blood pressure regulation.
There are no data to support the safety of using sildenafil in patients with acute peptic ulcers or bleeding disorders. Such patients can take Managra only after a careful assessment of the benefits and risks of therapy.
During the post-registration follow-up, there were reports of cases of development of serious cardiovascular complications in patients temporarily associated with the use of sildenafil, such as arterial hypertension / hypotension, unstable angina pectoris, myocardial infarction, ventricular arrhythmia, transient ischemic attack, hemorrhagic stroke, sudden coronary death … Most of these patients had risk factors for cardiovascular complications. The presence of a direct connection between the occurrence of such undesirable phenomena and the indicated risk factors cannot be determined, since many complications were noted shortly after intercourse, and some even after using Managra without sexual activity.
With the post-registration use of Managra, there have also been reports of priapism and prolonged erection. It is required to immediately seek medical help if an erection persists for more than 4 hours. With untimely treatment of priapism, the threat of irreversible loss of potency and damage to the tissues of the penis is aggravated.
The efficacy and safety of the combined use of sildenafil with other PDE-5 inhibitors or other drugs for the treatment of erectile dysfunction, as well as drugs for the treatment of pulmonary arterial hypertension, including sildenafil (Revacio), have not been studied, therefore such combinations are not recommended.
Influence on the ability to drive vehicles and complex mechanisms
Since against the background of taking Managra, visual impairment and dizziness may occur, patients who drive a car or other moving complex mechanisms should be careful.
Application during pregnancy and lactation
Managra is not intended for use in women.
Pediatric use
Managra is not recommended for use in patients under 18 years of age.
With impaired renal function
In the presence of impaired renal function of mild / moderate severity with creatinine clearance (CC) - 30–80 ml / min, adjusting the dose of Managra is not required.
Patients with severe renal impairment with CC <30 ml / min (due to reduced sildenafil clearance) are recommended to start taking the drug with a dose of 25 mg.
For violations of liver function
In patients with impaired hepatic function (including liver cirrhosis), the clearance of sildenafil is reduced. In the presence of severe hepatic insufficiency, taking Managra is contraindicated. In the case of mild / moderate hepatic impairment, the initial dose of the drug should not exceed 25 mg.
Use in the elderly
For persons over 65, it is recommended to start taking Managra with a dose of 25 mg.
Drug interactions
The effect of the combined drugs / agents used with sildenafil:
inhibitors of cytochrome isoenzymes CYP3A4 and CYP2C9: able to reduce the clearance of sildenafil;
erythromycin, ketoconazole, cimetidine and other inhibitors of the cytochrome CYP3A4 isoenzyme: the clearance of sildenafil decreases, but the occurrence of side effects does not increase; with this combination, the recommended starting dose of sildenafil is 25 mg;
ritonavir, a protease inhibitor of the human immunodeficiency virus (HIV), a potent inhibitor of cytochrome P 450 (at a dose of 500 mg 2 times a day): increases the C max of sildenafil by 300% and AUC (area under the pharmacokinetic curve) by 1000% (11 times) with a single dose of 100 mg; the pharmacokinetics of ritonavir are not affected by sildenafil; this combination is contraindicated;
saquinavir (HIV protease inhibitor); itraconazole, ketoconazole (strong CYP3A4 inhibitors): increases C max and AUC of sildenafil by 140 and 210%, respectively, when used at a dose of 100 mg 1 time per day in combination with saquinavir at a dose of 1200 mg 3 times a day; itraconazole and ketoconazole may have a stronger effect on the pharmacokinetics of sildenafil, the initial dose of the latter when combined with these agents is 25 mg; sildenafil does not affect the pharmacokinetics of saquinavir;
erythromycin, a specific inhibitor of CYP3A4 (500 mg 2 times a day): AUC of sildenafil increases by 182% when used at 100 mg 1 time a day, the recommended initial dose of the latter is 25 mg;
azithromycin (in a daily dose of 500 mg): no changes in C max, AUC, T Cmax and T 1/2 of sildenafil or its main circulating metabolite have been established;
cimetidine (800 mg): the plasma concentration of sildenafil increases by 56%;
antacids (magnesium / aluminum hydroxide): when using a single dose of these agents, the bioavailability of sildenafil does not change;
grapefruit juice (weak inhibitor of CYP3A4): the plasma level of the drug increases slightly;
phenytoin, warfarin, tolbutamide (CYP2C9 inhibitors); selective serotonin reuptake inhibitors (SSRIs), tricyclic antidepressants (CYP2D6 inhibitors); potassium-sparing diuretics, thiazide diuretics, calcium channel blockers, angiotensin-converting enzyme inhibitors (ACE inhibitors), β-adrenergic receptor antagonists; barbiturates, rifampicin (inducers of CYP450 metabolism): no effect of these drugs on the pharmacokinetics of sildenafil was revealed;
nicorandil: a significant interaction of this drug, which has a nitrate-like effect and properties of a potassium channel activator, with sildenafil is possible;
bosentan, an endothelin receptor antagonist (2 times a day, 125 mg): C max and AUC of sildenafil decreased by 55.4 and 62.6%, respectively.
The effect of sildenafil on concurrently taken substances / drugs:
dipyridamole, theophylline and other non-specific PDE inhibitors: no data on interaction;
organic nitrates, nitric oxide donors, organic nitrites: the hypotensive effect of nitrates is enhanced, therefore these combinations are contraindicated;
α-blockers: the risk of developing symptomatic arterial hypotension in some patients with increased sensitivity is aggravated; patients should be in a stable condition before starting sildenafil therapy with α-blockers; the initial dose of sildenafil for this combination should be 25 mg;
acetylsalicylic acid (at a dose of 150 mg): there is no increase in the bleeding period caused by this substance;
tolbutamide (250 mg), warfarin (40 mg): no interaction with sildenafil was recorded;
diuretics, ACE inhibitors, β-blockers, angiotensin II antagonists, calcium channel blockers, antihypertensive agents (vasodilators and central action), α-adrenergic blockers: no differences in the profile of undesirable effects were found in persons taking sildenafil alone or in combination with these drugs providing antihypertensive the effect;
ethanol: there is no increase in its hypotensive effect with a maximum blood level of an average of 0.08% (80 mg / dl) when using sildenafil (50 mg);
amlodipine: in the presence of arterial hypertension, an additional decrease in systolic blood pressure in the supine position was 8 mm Hg. Art., diastolic - 7 mm Hg. Art.
Analogs
The analogues of Managra are Dynamo, Viasil, Viagra, Maxigra, Sildenafil-SZ, Sildenafil Vertex, Sildenafil, Sealex Sildenafil, etc.
Terms and conditions of storage
Store at a temperature not exceeding 25 ° C, in a place protected from light and moisture and out of reach of children.
Shelf life is 2 years.
Terms of dispensing from pharmacies
Dispensed by prescription.
Reviews about Managra
According to reviews, Managra is an effective treatment for erectile dysfunction. Patients note that the drug helps to maintain a strong erection for a long time, and also helps to shorten the period between sexual intercourse. It allows men to lead an active sex life, improves their psycho-emotional state.
The disadvantages of Managra include the presence of side effects, primarily such as headaches, nasal congestion, dizziness, vision changes. It is recommended to use it with extreme caution in the presence of cardiac pathology and arterial hypotension.
Price for Managra in pharmacies
Since the drug is not available for sale, the price of Managra is unknown.
The approximate cost of analogs:
Maxigra, film-coated tablets: dosage 100 mg, 1 pc. in the package - 321-400 rubles., 4 pcs. in the package - 716–461 rubles; dosage 50 mg, 1 pc. in the package - 293-312 rubles, 4 pcs. in the package - 581–649 rubles;
Dinamiko, film-coated tablets: dosage 100 mg, 1 pc. in the package - 439-508 rubles, 4 pcs. in the package - 779-900 rubles; dosage 50 mg, 4 pcs. in the package - 633-753 rubles.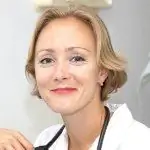 Anna Kozlova Medical journalist About the author
Education: Rostov State Medical University, specialty "General Medicine".
Information about the drug is generalized, provided for informational purposes only and does not replace the official instructions. Self-medication is hazardous to health!
Popular by topic