Table of contents: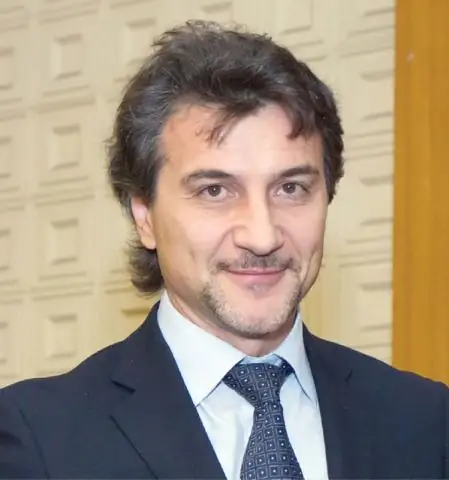 Video: Maxilak - Instructions For Use, Price, Reviews, Analogues
Maxilak
Maxilac: instructions for use and reviews
1. Release form and composition
2. Pharmacological properties
3. Indications for use
4. Contraindications
5. Method of application and dosage
6. Side effects
7. Overdose
8. Special instructions
9. Use in childhood
10. Drug interactions
11. Analogs
12. Terms and conditions of storage
13. Terms of dispensing from pharmacies
14. Reviews
15. Price in pharmacies
Latin name: Maxilac
Active ingredient: lyophilizate of probiotic bacteria and prebiotic oligofructose
Manufacturer: Genexo Sp. zoo (Poland)
Description and photo updated: 2018-23-11
Prices in pharmacies: from 300 rubles.
Buy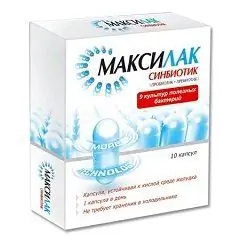 Maksilak is a biologically active food supplement (BAA) that stimulates intestinal motility, improves digestion and has a bacteriostatic effect; a source of probiotic (lactobacilli, bifidobacteria) and lactic acid (mesophilic lactococci, thermophilic streptococci) microorganisms.
Release form and composition
Maxilac is produced in the form of capsules: the contents of the capsules are a freeze-dried mass of light or dark cream color, the presence of darker, black or brown shades is allowed; the capsule shell consists of vegetable gelatin (10 pcs. in a blister, 1 blister in a cardboard box).
Composition of 1 capsule:
active ingredients: lyophilisate of probiotic bacteria - 4.5 × 10 9 CFU (colony-forming unit - an indicator of the number of viable microorganisms); oligofructose (prebiotic component) - 63 mg;
additional components: gelatinized corn starch, corn starch, hydroxypropyl methylcellulose (E464), titanium dioxide (E171), shellac (E904), magnesium stearate (E470B), alginic acid (E400), ascorbic acid (E300), triethyl citrate (E1505), oil olive, locust bean gum (E410).
The lyophilisate of probiotic bacteria includes the following microorganisms:
lactobacilli: Lactobacillus casei - 2.25 × 10 8 CFU; Lactobacillus plantarum - 2.25 × 10 8 CFU; Lactobacillus rhamnosus - 4.5 × 10 8 CFU; Lactobacillus helveticus - 9 × 10 8 CFU;
bifidobacteria: Bifidobacterium bifidum - 2.25 × 10 8 CFU; Bifidobacterium breve - 4.5 × 10 8 CFU; Bifidobacterium longum - 6.75 × 10 8 CFU;
lactic acid microorganisms: Streptococcus thermophilus - 4.5 × 10 8 CFU; Lactococcus lactis - 9 × 10 8 CFU.
Pharmacological properties
Pharmacodynamics
Maxilac is a synbiotic (probiotic + prebiotic) - a complex that includes probiotic (9 cultures of beneficial bacteria at a concentration of 4.5 × 10 9 CFU in 1 capsule) and prebiotic (oligofructose) components for correcting disorders of the gastrointestinal tract (GIT), in including those caused by taking medications.
Probiotics are living microorganisms that have a beneficial effect on human health by improving the composition or enhancing the activity of normal intestinal microflora.
Prebiotics are food components that have a positive effect on the body due to selective stimulation of growth and / or an increase in the biological activity of beneficial bacteria in the intestine.
Synbiotics are ingredients that are a combination of pro- and prebiotics that mutually enhance the effect on metabolism in the human body.
The drug, by normalizing the qualitative and / or quantitative composition of the intestinal microflora, helps to eliminate its functional disorders, such as diarrhea, constipation, indigestion, vomiting, flatulence, nausea, belching, and others. The effect of Maksilak is due to the action of beneficial microorganisms and active substances that make up its composition:
bifidobacteria: ensure the normal processes of parietal digestion, prevent the growth and activity of pathogenic microflora, help to strengthen the immune system, help to reduce the pH of the food mass;
lactobacilli: inhibit the growth of pathogenic microorganisms, are involved in the processing of lactose into simple sugars, which is especially important for people suffering from lactase deficiency, milk and dairy products intolerance;
oligofructose: activates the reproduction of microbes beneficial to the body and inhibits the growth of pathogenic bacteria of external origin, helps to improve intestinal function and reduce its pollution with toxins, enhances peristalsis, removes toxins, helps prevent diarrhea, constipation.
Thanks to the use of the innovative production technology MURE (Multi Resistant Encapsulation), the bacteria contained in the capsule are protected from contact with acidic stomach contents, bile salts and digestive enzymes. The predominant part of probiotic bacteria Maksilak is not destroyed in the stomach, but enters the intestine, which ensures the restoration of the gastrointestinal microflora.
Indications for use
According to the instructions, Maxilak is recommended for intake as a dietary supplement for food, a source of probiotic and lactic acid microorganisms, especially in the presence of the following diseases and conditions:
functional bowel disorders, including disorders such as belching, diarrhea, nausea, dyspepsia, vomiting, constipation, flatulence (bloating), abdominal pain (as an adjuvant);
intestinal disorders arising against the background of climate change, place of stay (for prevention purposes);
carrying out therapy with drugs that can cause a change in the qualitative / quantitative composition of the microflora of the gastrointestinal tract, as well as the period after their intake (as an aid);
a period characterized by an increased tendency to infectious diseases.
Contraindications
Taking dietary supplements is contraindicated in case of individual intolerance to any of its components.
Instructions for use of Maksilak: method and dosage
Maxilac is taken orally.
Children over 3 years old and adults take 1 capsule 1 time per day with meals (preferably in the evening). For children under 5 years of age, immediately before taking the contents of the capsule, it is recommended to pour the contents of the capsule into water or milk with a temperature not exceeding 40 ° C, stir and give to drink immediately.
The course is 1 month, if necessary, it is possible to repeat the appointment 2-3 times a year.
Side effects
In some cases, against the background of using Maxilac, allergic reactions may occur.
Overdose
Data not specified.
special instructions
Maxilac is not a drug, you should consult a specialist before taking it.
The dietary supplement can be used by persons with lactose intolerance. Since Maxilac does not contain casein and preservatives, it can also be taken by people who are allergic to this group of foods.
Pediatric use
Maxilac is recommended for children from three years of age.
When taking dietary supplements to children, parents need to make sure that the child can swallow the capsule. Children under 14 years old should take Maxilac only on the recommendation of a pediatrician.
Drug interactions
Data not specified.
Analogs
Analogues of Maxilak are (for a similar therapeutic effect): Bactisubtil, Acylact, Bactisporin, Acipol, Biosporin, Bifilong, Bifiform, Flonivin BS, Sporobacterin, Bifidumbacterin, Probifor, Biobacton, Lactobacterin, Linistifinteks, Boformteks …
Terms and conditions of storage
Store in a place protected from light and moisture, out of the reach of children, at a temperature not exceeding 25 ° C, in an unopened package. Does not require refrigeration.
Shelf life is 2 years.
Terms of dispensing from pharmacies
Available without a prescription.
Reviews about Maxilak
According to many reviews, Maxilac is an effective and easy-to-use agent used in the treatment of intestinal dysbiosis, mild intestinal disorders, and thrush. According to most patients, the drug prevents the development of dysbiosis during antibiotic therapy, restores normal bowel activity, and helps to cope with stomach discomfort, diarrhea or constipation.
There are practically no complaints about the development of side effects, however, in rare cases, there are reports in which they indicate a lack of effect after taking a synbiotic.
Price for Maxilac in pharmacies
The approximate price for Maxilac (10 capsules per package) is 380–470 rubles.
Maxilak: prices in online pharmacies
Drug name
Price
Pharmacy
Maxilac Baby powder for oral administration 1.5 g 10 pcs.
RUB 300
Buy
Reviews Maxilac Baby synbiotic (probiotic + prebiotic)
RUB 300
Buy
Maxilac capsules 10 pcs.
326 RUB
Buy
Maxilac Baby powder 1.5g sachet 10 pcs
418 RUB
Buy
Maxilac Synbiotic capsules 10 pcs.
RUB 488
Buy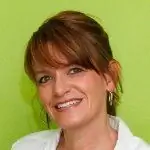 Maria Kulkes Medical journalist About the author
Education: First Moscow State Medical University named after I. M. Sechenov, specialty "General Medicine".
Information about the drug is generalized, provided for informational purposes only and does not replace the official instructions. Self-medication is hazardous to health!
Popular by topic