Table of contents: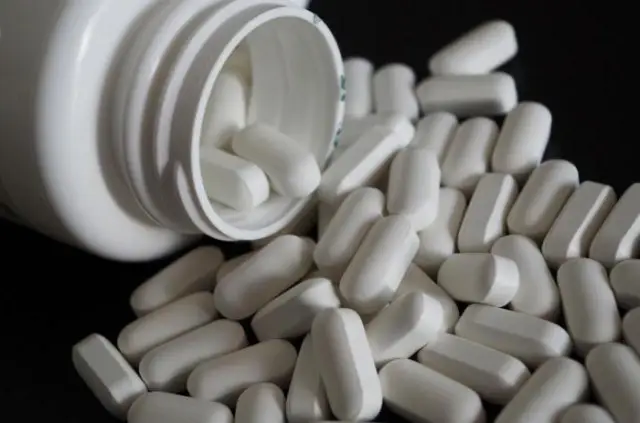 Video: Magnistad - Instructions For The Use Of Tablets, Price, Reviews, Analogues
Magnistad
Magnistad: instructions for use and reviews
1. Release form and composition
2. Pharmacological properties
3. Indications for use
4. Contraindications
5. Method of application and dosage
6. Side effects
7. Overdose
8. Special instructions
9. Application during pregnancy and lactation
10. Use in childhood
11. In case of impaired renal function
12. Drug interactions
13. Analogs
14. Terms and conditions of storage
15. Terms of dispensing from pharmacies
16. Reviews
17. Price in pharmacies
Latin name: Magnistad
ATX code: A02AA
Active ingredient: Magnesium lactate + Pyridoxine (Magnesium lactate + Pyridoxine)
Manufacturer: Stada-VN Joint Venture Co. Ltd (Vietnam)
Description and photo update: 2018-24-10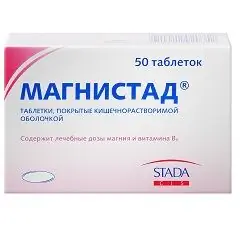 Magnistad is a combined drug that helps to replenish magnesium deficiency in the body.
Release form and composition
The dosage form of Magnistad is enteric-coated tablets: white, biconvex, oval (in a cardboard box there are 5 blisters of 10 tablets each).
Active ingredients in 1 tablet:
magnesium - 48 mg (magnesium lactate dihydrate - 470 mg);
vitamin B 6 (pyridoxine hydrochloride) - 5 mg.
Auxiliary components:
core: croscarmellose sodium - 20 mg; wheat starch - 40 mg; magnesium stearate - 15 mg; lactose monohydrate - 60 mg; microcrystalline cellulose - 25 mg; stearic acid - 15 mg; povidone K90 - 15 mg;
shell: titanium dioxide - 4.583 mg; copolymer of methyl methacrylate and methacrylic acid [1: 1] (eudragit L 100) - 22.5 mg; talc - 7.5 mg; triethyl acetate - 4.5 mg.
Pharmacological properties
Pharmacodynamics
Magnistad is one of the combined preparations containing therapeutic doses of magnesium lactate and pyridoxine hydrochloride, which improves the absorption of magnesium in the intestine, its transport from the blood, as well as the intercellular fluid inside the cells.
Properties of active ingredients:
magnesium: a vital element. It ensures the entry of glycolysis products into the Krebs cycle, participates in the synthesis / breakdown of nucleic acids, the synthesis of lipids, fatty acids and proteins, and is also necessary for the synthesis of enzymes that provide energy reactions. Magnesium is required for the mineralization of bones, the implementation of neuromuscular transmission, the implementation of the effect of parathyroid hormone. Magnesium ions are physiological antagonists of calcium ions. Magnesium forms sites in the structure of a number of receptors (NMDA-, AMPA-receptors for dopamine, norepinephrine and acetylcholine), it is important for the normal metabolism of neurotransmitters (serotonin, norepinephrine, y-aminobutyric acid, dopamine, catecholamines, tyrosine). By activating tyrosine kinase, magnesium promotes the induction of insulin-dependent glucose uptake and a decrease in tissue insulin resistance;
pyridoxine hydrochloride: participates in metabolic processes (as a coenzyme), it is required for the normal functioning of the nervous system. It is phosphorylated upon ingestion and converted to pyridoxal-5-phosphate; is a part of enzymes that carry out transamination and decarboxylation of amino acids. Takes part in the metabolism of methionine, cysteine, tryptophan, glutamine and other amino acids, carbohydrate and lipid metabolism.
Pharmacokinetics
Magnesium lactate is absorbed slowly in the gastrointestinal tract, not more than 50% of the oral dose. Approximately 25-30% of the absorbed magnesium circulates in a state associated with proteins. The absorbed magnesium is excreted by the kidneys, the non-absorbed part through the intestines. In small amounts, magnesium passes into breast milk; overcomes the placental barrier.
Pyridoxine hydrochloride is well absorbed in the gastrointestinal tract, after which it is metabolized in the liver with the further formation of pharmacologically active metabolites - pyridoxamine phosphate and pyridoxal phosphate. The plasma concentration of pyridoxine is normally between 30 and 80 ng / ml. The largest amount of pyridoxine is found in the liver, then in the brain tissue and muscles. The total content of pyridoxine in the body is 167 mg. Pyridoxal phosphate binds to plasma proteins by 90%. The half-life is in the range of 15-20 days. It is excreted by the kidneys. Pyridoxal phosphate crosses the placental barrier. It is excreted during hemodialysis.
Indications for use
According to the instructions, Magnistad is prescribed with an established magnesium deficiency (isolated or associated with other deficiency conditions), which is accompanied by the following symptoms:
increased fatigue and irritability;
gastrointestinal cramps;
minor sleep disturbances;
cardiopalmus;
tingling sensation;
muscle pain / spasms.
Contraindications
Absolute:
severe renal failure (in patients with creatinine clearance <30 ml / min);
lactase deficiency, lactose intolerance and glucose-galactose malabsorption;
phenylketonuria;
age up to 6 years;
lactation period;
individual intolerance to any component of the drug.
Relative (Magnistad is prescribed under medical supervision):
moderate renal failure;
pregnancy.
Instructions for the use of Magnistad: method and dosage
Magnistad is taken orally with a glass of water, preferably with meals.
Recommended daily dose (frequency of application - 2-3 times a day):
adults: 6-8 tablets;
children from 6 years old weighing more than 20 kg: 4–6 tablets.
The average duration of the course is 30 days. Immediately after normalization of blood levels of magnesium Magnistad is canceled.
Side effects
Possible side reactions: disturbances from the digestive system (in the form of abdominal pain, nausea, diarrhea, vomiting, flatulence), allergic reactions.
Overdose
In patients with normal renal function, ingestion of magnesium by mouth does not lead to the development of toxic reactions. With renal failure, magnesium overdose may occur.
The main symptoms: blurred vision and diplopia, shortness of breath, bradycardia, asystole, inhibition of the central nervous system, hypotension (fainting), muscle paralysis, or polyuria, coma.
Therapy: abolition of Magnistad; if the level of magnesium in the blood is above 10 mmol / l, 1-2 injections of 10 ml of 10% solution of calcium gluconate are prescribed (specific treatment); with a less pronounced overdose, rehydration measures and forced diuresis (non-specific treatment) are indicated. Peritoneal dialysis or hemodialysis is prescribed for patients with renal failure.
special instructions
Due to the likelihood of developing diarrhea, Magnistad should not be taken on an empty stomach.
Application during pregnancy and lactation
pregnancy: Magnistad can only be used after a medical appointment;
lactation period: therapy is contraindicated.
Pediatric use
Patients under the age of 6 years are not prescribed therapy.
With impaired renal function
severe renal failure (in patients with creatinine clearance <30 ml / min): therapy is contraindicated;
moderate renal failure: the use of Magnistad requires caution (associated with the risk of hypermagnesemia).
Drug interactions
Possible interactions:
medicines containing phosphates or calcium salts: a significant decrease in the absorption of magnesium in the gastrointestinal tract; between the use of drugs, a break of at least 1 hour should be observed;
tetracycline: decrease in its absorption (due to magnesium); between the use of drugs, a break of at least 3 hours should be observed;
oral thrombolytic agents: weakening their action (due to magnesium);
iron: a decrease in its absorption (due to magnesium);
levodopa: decreased effectiveness (due to pyridoxine).
Analogs
The analogs of Magnistad are: Magvit B 6, Magnesium B 6 Evalar, Magnikum, Magnelis B 6, Beres Magnesium plus B 6, Magnefar B 6.
Terms and conditions of storage
Store in a place protected from moisture and light at temperatures up to 25 ° C. Keep out of the reach of children.
The shelf life is 3 years.
Terms of dispensing from pharmacies
Dispensed by prescription.
Reviews about Magnistad
According to reviews, Magnistad is an effective drug that is used for symptoms characteristic of a deficiency of magnesium and vitamins of group B. It is noted that it normalizes blood pressure (when used as part of complex therapy), improves mood, has a beneficial effect on the nervous system, improves condition with increased irritability and fatigue. Of the shortcomings, they indicate the likelihood of side effects (as a rule, if the recommended dosage regimen is not followed) and a high exchange rate.
The price of Magnistad in pharmacies
The approximate price for Magnistad (50 tablets per pack) is 300-420 rubles.
Anna Kozlova Medical journalist About the author
Education: Rostov State Medical University, specialty "General Medicine".
Information about the drug is generalized, provided for informational purposes only and does not replace the official instructions. Self-medication is hazardous to health!
Popular by topic