Table of contents: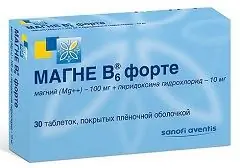 Video: Magne B6 - Instructions For Use, Indications, Doses, Reviews
Magne B6
Instructions for use:
1. Pharmacological action
2. Indications for use
3. Contraindications
4. Instructions for use
5. Side effects
6. Additional information
Prices in online pharmacies:
from 405 rub.
Buy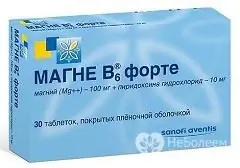 Magne B6 is a drug designed to replenish magnesium deficiency in the body, as well as to eliminate disorders resulting from a lack of this microelement.
pharmachologic effect
Magne B6 is a combined preparation containing magnesium and pyridoxine.
Magnesium is involved in many metabolic processes, in particular in reactions associated with muscle contraction and the transmission of nerve impulses. Since this inorganic element enters the body with food, diet, malnutrition, poor intestinal absorption, and excessive excretion by the kidneys can lead to its deficiency. Also, the body may experience an increased need for magnesium during stress, increased mental and physical exertion, during the use of diuretics, during pregnancy.
In addition to magnesium, Magne B6 also contains vitamin B 6 (pyridoxine), which is also involved in many metabolic reactions, including metabolic processes in the nervous system. Vitamin B 6 improves the absorption of magnesium in the digestive tract, and also promotes its penetration and retention in cells.
Half of the dose of Magne B6 taken in the digestive tract is absorbed.
Indications for use of Magne B6
The instruction recommends using Magne B6 to prevent or replenish the lack of magnesium in the body, as well as in case of violations provoked by a lack of this element:
sleep disorders;
increased fatigue, mental and physical fatigue, asthenia;
irritability, increased nervous excitability;
tingling sensation;
gastrointestinal cramps, pain and muscle spasms;
manifestations of anxiety attacks, which are accompanied by intense breathing;
heart palpitations.
Magne B6 during pregnancy is usually prescribed with increased uterine tone, threat of miscarriage, and convulsions.
Contraindications
Magne B6 is not prescribed for:
severe renal failure;
intolerance to fructose, sucrose-isomaltose deficiency, impaired absorption of galactose or glucose;
phenylketonuria (violation of the metabolism of amino acids, in particular phenylalanine);
hypersensitivity to the components of Magne B6.
The drug is contraindicated in children under 1 year of age and in women during breastfeeding.
To use Magne B6 with caution, the instruction recommends with moderate renal failure.
Instructions for use Magne B6
One tablet of the drug contains 470 mg of magnesium lactate dihydrate and 5 mg of pyridoxine hydrochloride. One tablet of Magne B6 forte contains 618.43 mg of magnesium citrate and 10 mg of pyridoxine hydrochloride. The drug is also available in the form of a solution for oral administration, one ampoule of which contains 186 mg of sodium lactate dihydrate, 936 mg of magnesium pidolate and 10 mg of pyridoxine hydrochloride.
The instruction recommends taking Magne B6 with meals, washing down the tablets with a glass of water, and dissolving the contents of the ampoules in 100-150 g of water. The daily dose of the drug is usually divided into 2-3 doses.
Adults and children over 12 years old with a pronounced magnesium deficiency are prescribed 3-4 ampoules or 6-8 tablets per day, and with spasmophilia - 2-3 ampoules or 4-6 tablets. Children 6-12 years old Magne B6 are recommended to take 1-3 ampoules or 2-6 tablets per day, children 1-6 years old are prescribed the drug in the form of a solution - 10-30 mg of magnesium per kilogram of body weight per day. The drug should be taken until the normal level of magnesium in the body is restored.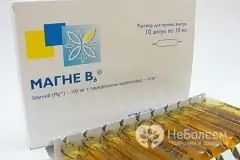 As evidenced by reviews, Magne B6 usually exhibits and consolidates a therapeutic effect within one month.
Magne B6 during pregnancy, if the attending physician has not prescribed another regimen, are used 3 times a day, 2 tablets.
Magne B6 forte is prescribed for adults in a dose of 3-4 tablets per day, and for children over 6 years old - 2-4 tablets per day, the frequency of receptions is 2-3 times a day.
Side effects
Magne B6, reviews confirm, is well tolerated, only in rare cases the patients had abdominal pain, flatulence, vomiting, nausea, diarrhea, constipation, allergic reactions.
Long-term use of Magne B6 in large doses can provoke peripheral neuropathy (damage to the peripheral nervous system) and paresthesia (sensory disorder in the form of tingling, numbness and creeping sensations).
Additional Information
Storage of Magne B6 at room temperature in a dry and dark place will ensure the shelf life of the drug for two years.
Magne B6: prices in online pharmacies
Drug name
Price
Pharmacy
Magne B6 solution for internal approx. 10ml 10 pcs.
405 RUB
Buy
Information about the drug is generalized, provided for informational purposes only and does not replace the official instructions. Self-medication is hazardous to health!
Popular by topic