Table of contents: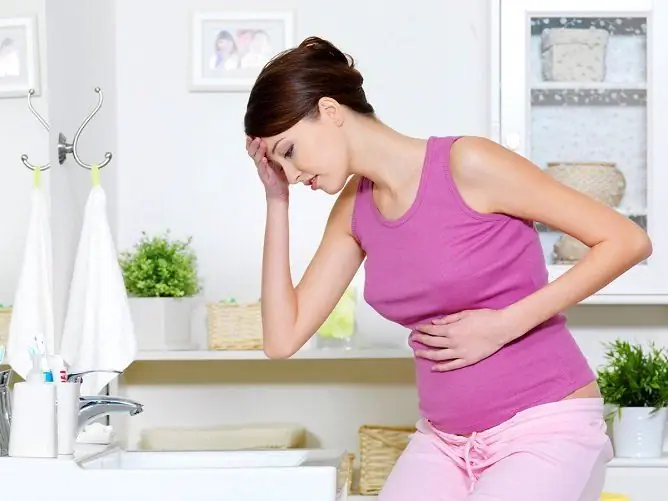 Video: High Blood Pressure During Early And Late Pregnancy, The Norm
High blood pressure during pregnancy
The content of the article:
What should be the normal pressure
Why is high blood pressure dangerous in pregnant women?
Why blood pressure rises during pregnancy
Symptoms of hypertension in pregnant women
What to do if blood pressure rises during pregnancy
Folk remedies for lowering blood pressure in pregnant women
Diet for hypertension of pregnant women
Video
Pressure during pregnancy is an important indicator that requires monitoring. A slight increase may be a variant of the norm associated with physiological changes in the body. Prolonged and severe hypertension can be dangerous.
During pregnancy, certain changes occur in the female body, caused by changes in the hormonal background, the pressure of the growing fetus on the internal organs, and the restructuring of the body. Among other things, during this period, women often have high blood pressure.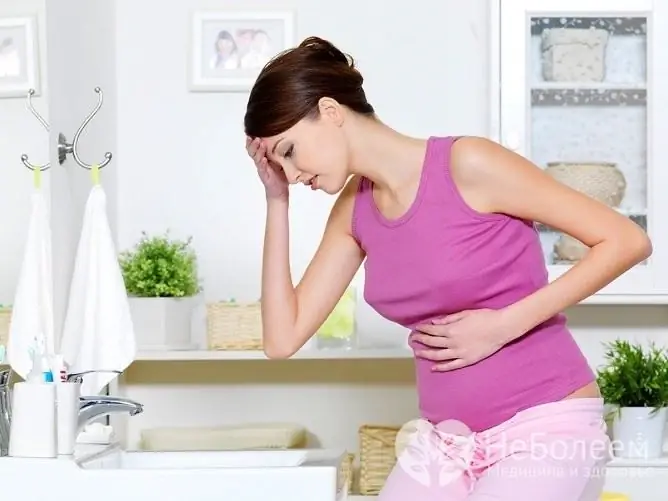 Early high blood pressure can lead to miscarriage
What should be the normal pressure
It should be understood that a certain range of values is accepted as the medical norm for blood pressure. In fact, the norm for each person is individual, and it is important to know it so that you can assess hypertension and its degree. For example, for a woman with a working pressure of 110/60 mm Hg. Art. an indicator of 130/80 will be high, while for another it may be the norm.
The table shows the blood pressure rates in pregnant women from the first trimester to the end of gestation.
| | |
| --- | --- |
| Optimal blood pressure | ≤120 / 80mmHg Art. |
| Normal blood pressure | 120-129 / 80-84 mm Hg. Art. |
| Allowable blood pressure | 130-139 / 85-89 mm Hg. Art. |
| High blood pressure | ≥140 / 90 mmHg Art. |
It is recommended to measure pressure regularly at the same time, preferably in the morning. Do not drink strong tea or coffee prior to measurement, as the results may be distorted. Blood pressure rises with stress, physical exertion, changes in the weather, which should be taken into account when controlling pressure in a pregnant woman.
Why is high blood pressure dangerous in pregnant women?
An increase in blood pressure in early pregnancy (in the 1st trimester) can cause fetal hypoxia, which has adverse consequences for the child. Severely high blood pressure can cause miscarriage.
In the second trimester of pregnancy and at a later date, high blood pressure threatens the development of placental insufficiency, premature placental abruption, bleeding, chronic hypoxia and even fetal death.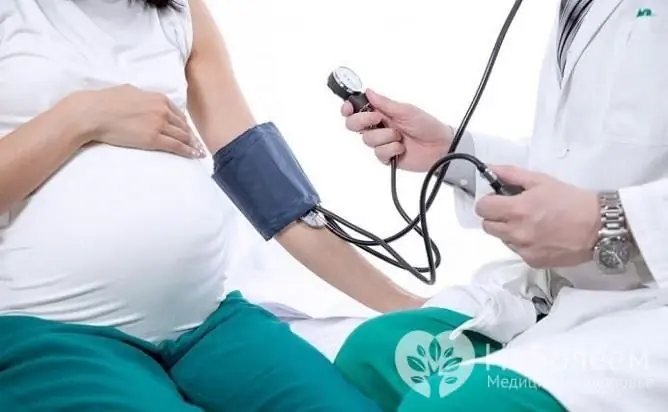 An increase in pressure in the third trimester may indicate the development of preeclampsia.
A persistent increase in blood pressure during the third trimester in the absence of other pathologies is usually a sign of gestosis (it can begin in the 2nd trimester, but this happens much less often than in the 3rd trimester). Gestosis is a complication of pregnancy, which poses a considerable danger to both the woman and the fetus due to the risk of dysfunctions of vital organs, primarily the cardiovascular system. This is a major factor in maternal mortality. The reasons for its occurrence have not been established.
The main symptom of gestosis is an increase in blood pressure. Its consequences are impaired renal and hepatic function, placenta, nervous system, retinal detachment may occur. The fetus develops chronic hypoxia and growth retardation syndrome.
Why blood pressure rises during pregnancy
The reasons that can lead to an increase in blood pressure in women during pregnancy include hypertension, which is often exacerbated in pregnant women, disorders of the thyroid gland, kidneys, adrenal glands, hormonal disorders, metabolic disorders.
Symptoms of hypertension in pregnant women
High blood pressure in pregnant women is manifested by a deterioration in general well-being, headache, reddening of the skin on the face and chest, flashing flies before the eyes.
You should seek medical help as soon as possible in case of frequent dizziness and headaches, a feeling of heaviness in the head, tinnitus, high pulse rate (tachycardia), edema, disturbances on the part of the visual analyzer, since these symptoms may indicate the occurrence of preeclampsia in the patient. Eclampsia can be considered as the initial stage of gestosis (there are 4 of them - dropsy, nephropathy, preeclampsia, eclampsia).
With the development of eclampsia, in addition to an increase in blood pressure in a pregnant woman, there is a rapid increase in body weight (0.5 kg or more per week), edema of the limbs and face, nausea and severe vomiting, fever, proteinuria, increasing weakness, convulsions.
Against the background of a decrease in blood circulation between a pregnant woman and a fetus, placental insufficiency occurs. With severe fetal hypoxia, intrauterine growth retardation occurs.
High blood pressure during pregnancy can cause congenital fetal anomalies and cause uterine bleeding. With constant surges in blood pressure in a pregnant woman (up to 140 to 90 mm Hg and above), there is a danger of premature placental abruption.
What to do if blood pressure rises during pregnancy
If a woman has a slight increase in blood pressure in late pregnancy, expectant management is usually chosen. In this case, a pregnant woman should carefully monitor her condition, and in case of deterioration in health, immediately consult a doctor.
In the absence of complications, treatment is carried out at home under medical supervision.
Antihypertensive drugs are prescribed that have a minimal effect on the developing fetus. Sedatives based on motherwort, valerian, peony can be prescribed. In the second and third trimester of pregnancy, calcium channel blockers, beta-blockers can be used.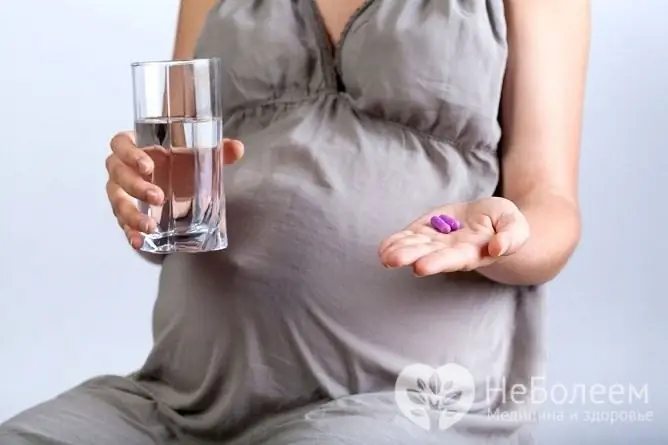 Drug therapy is prescribed and corrected by a doctor, self-medication is unacceptable
It is not recommended to stop taking prescribed medications if the woman believes that she does not feel signs of high blood pressure, this can adversely affect both the pregnant woman herself and the fetus. Any changes in therapy should only be made by a doctor.
With the ineffectiveness of outpatient treatment and the progression of hypertension, the pregnant woman is hospitalized in a hospital. An indication for hospitalization may be a blood pressure indicator above 140/90 mm Hg. Art., the concentration of protein in the urine is more than 0.033 g / l, edema of the lower extremities (above the knees), frequent dizziness, fainting, convulsions.
The main tasks of the treatment of preeclampsia include the normalization of blood pressure, improvement of microcirculation, and prevention of seizures. This is achieved by conducting infusion, antihypertensive and anticonvulsant therapy. The patient is shown bed rest.
In especially severe cases, with the ineffectiveness of active antihypertensive therapy, they resort to early resolution of pregnancy. Doctors try to do this at 38 weeks of gestation, childbirth at an earlier stage is indicated only if there is an immediate threat to the life of the mother and / or fetus.
Folk remedies for lowering blood pressure in pregnant women
Folk remedies can be used to reduce blood pressure in pregnant women only with the approval of the pregnancy doctor. It should be understood that they cannot replace drug therapy in the event that it is necessary, therefore, they are usually used as an addition to it or as a prophylactic agent in case of a woman's tendency to arterial hypertension.
An infusion of viburnum fruits has a mild antihypertensive effect. To prepare it, knead two tablespoons of berries into gruel, pour a glass of boiling water and leave for 15-20 minutes, after which they drink in small sips. You can add sugar or honey to the infusion.
Another popular remedy is a pumpkin pulp decoction. To prepare it, 200 g of pumpkin pulp is cut into 1 x 1 cm pieces, a glass of water is added, boiled over low heat until mushy, and then filtered. Take the broth twice a day. If desired, you can use this tool not in the form of a decoction, but in the form of a puree, in this case, they do without straining. You can add sugar or honey to the finished product to taste.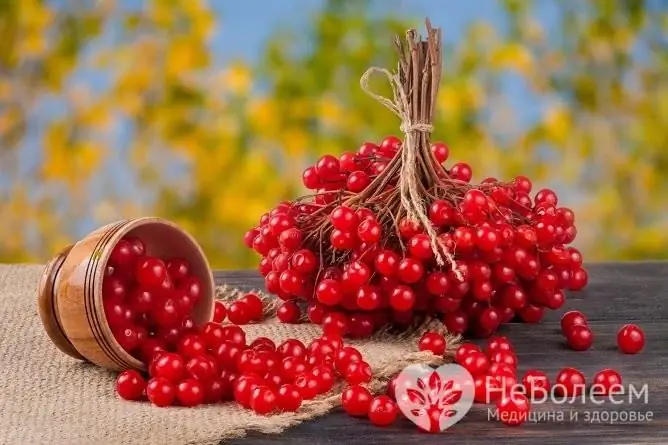 Viburnum infusion is a mild remedy for lowering blood pressure
Diet for hypertension of pregnant women
By adjusting the diet, you can improve your general condition and eliminate some of the prerequisites for an increase in blood pressure. It should be borne in mind that the diet of a pregnant woman must be completely balanced, provide the body with all the necessary substances.
First of all, they refuse products that can affect blood pressure. It is recommended to exclude from the diet fatty meat and meat products, concentrated meat and fish broths, smoked meats, marinades and pickles, canned food, hot snacks, spices, industrially prepared sauces (mayonnaise, ketchup, etc.), fried foods, alcoholic beverages, strong tea, black coffee, tonics, sweet carbonated water. Limit confectionery, especially those containing a large amount of fat, and table salt. You should also limit the use of white cabbage, beans (green beans can be used without restrictions), radish.
Since spices with a tendency to hypertension are contraindicated, they can be replaced with fresh herbs - dill, parsley, cilantro, etc., which also help lower blood pressure. It is useful to drink tea from rose hips, jelly from wheat bran with the addition of honey.
The daily menu recommends soups based on weak meat or vegetable broth, fruit and berry compotes and fruit drinks, cereals, fresh and cooked vegetables, lean meats and fish, milk and dairy products. Butter can be used butter and vegetable. Eggs are limited to 1-2 pieces per week.
It is recommended to include in the diet apricots, peaches, plums, apples and pears, strawberries, strawberries, lingonberries, currants, cranberries, viburnum, gooseberries, raspberries, sea buckthorn, chokeberry (most berries have a diuretic, and therefore, a pressure-lowering effect). To prepare berry fruit drink, juice is squeezed out of 1/3 cup of berries. The remaining mass is poured with a glass of boiling water, brought to a boil and cooked for 1-3 minutes over low heat. The broth is cooled, squeezed juice is added to it, if desired, you can add a little honey to the fruit drink.
In the absence of allergies and problems with the digestive tract, freshly squeezed juices of beets, carrots and berries are recommended. They are taken ¼-½ glasses twice a day before meals. If a pregnant woman has heartburn, freshly squeezed berry juices and fruit drinks should not be taken, they are replaced with berry compote or jelly. Birch sap also has a hypotensive effect, which is advised to drink in the morning.
The diet is also important. It is recommended to take food at the same time, at least 5 times a day, observing equal intervals between meals. The portions should be small and not cause a feeling of fullness in the stomach. Last meal no later than three hours before bedtime.
It is necessary to observe the drinking regime, which should be consulted with a doctor, since in some cases (with a tendency of a pregnant woman to edema) the amount of liquid is limited, in others, on the contrary, it is recommended to drink at least one and a half liters per day.
Video
We offer for viewing a video on the topic of the article.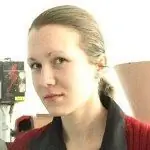 Anna Aksenova Medical journalist About the author
Education: 2004-2007 "First Kiev Medical College" specialty "Laboratory Diagnostics".
Found a mistake in the text? Select it and press Ctrl + Enter.
Recommended: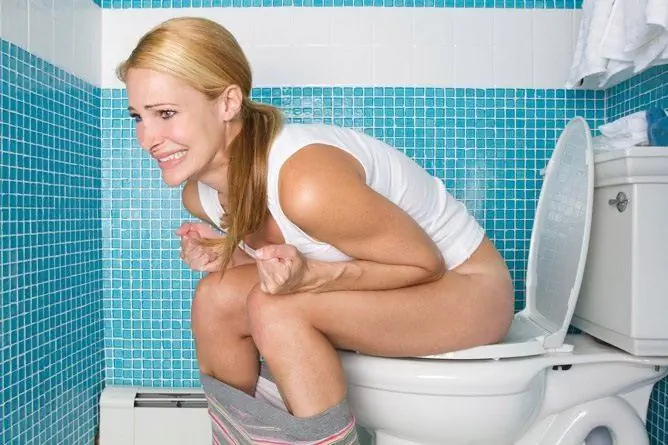 Constipation is a shortened, difficult, or incomplete bowel movement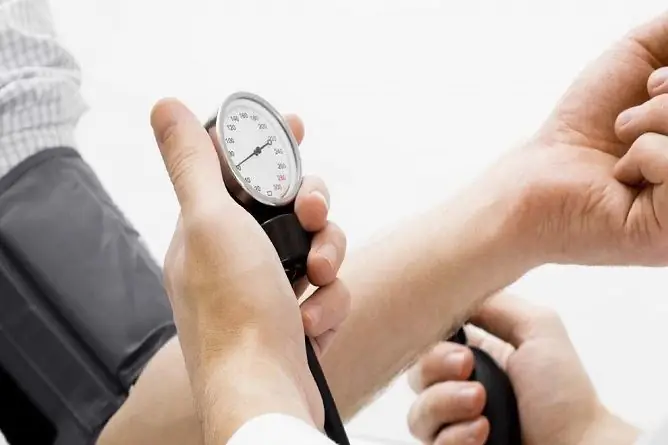 There are many reasons for low blood pressure. It may be due to the peculiarities of the functioning of the body or be a manifestation of a disease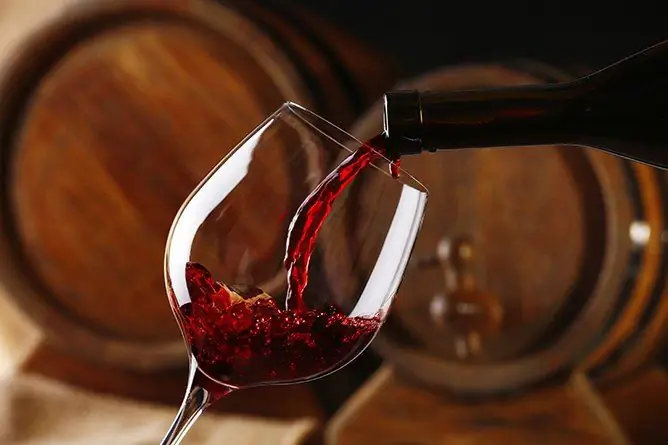 When drawing up a diet for a patient with hyper- or hypotension, the decision on whether to include wine in the diet depends on whether the wine variety raises pressure or lowers it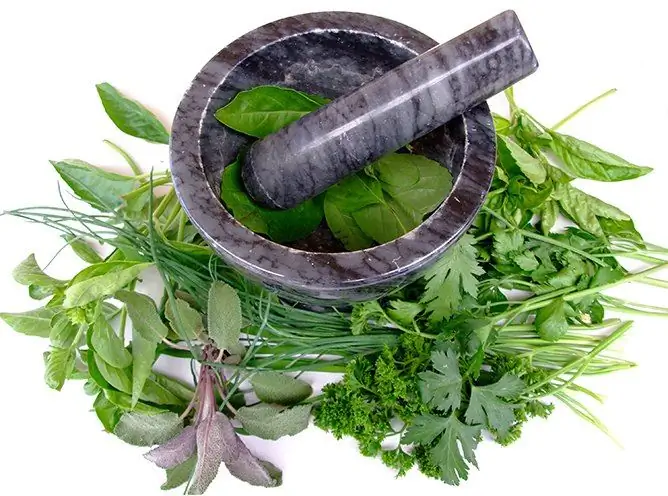 Medicinal herbs for high blood pressure can be included in antihypertensive therapy, and in some cases they can replace pharmaceutical drugs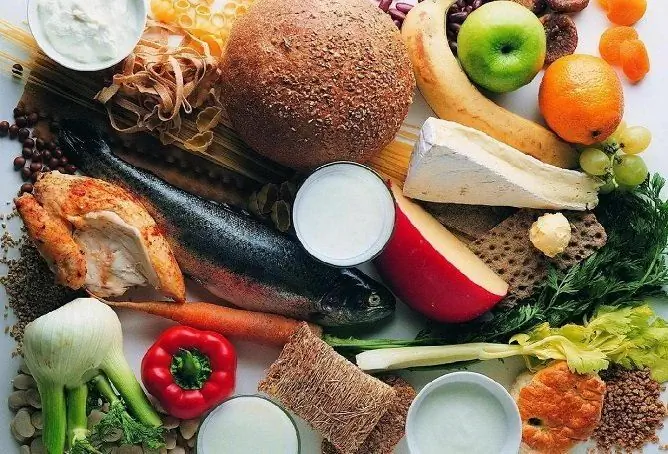 Despite the abundance of foods prohibited for hypertension, there are many tasty and healthy foods that can be eaten with high blood pressure