Table of contents: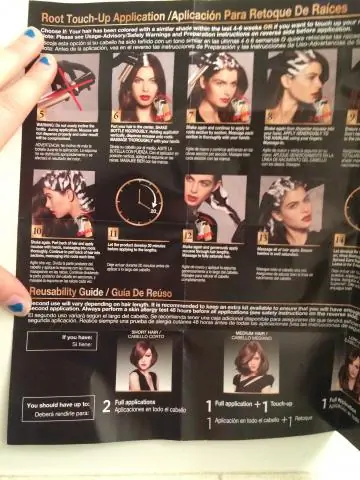 Video: Loragexal - Instructions For Use, Reviews, Price, Analogs Of Tablets
Loragexal
Loragexal: instructions for use and reviews
1. Release form and composition
2. Pharmacological properties
3. Indications for use
4. Contraindications
5. Method of application and dosage
6. Side effects
7. Overdose
8. Special instructions
9. Application during pregnancy and lactation
10. Use in childhood
11. Drug interactions
12. Analogs
13. Terms and conditions of storage
14. Terms of dispensing from pharmacies
15. Reviews
16. Price in pharmacies
Latin name: LoraHEXAL
ATX code: R06AX13
Active ingredient: loratadine (loratadine)
Manufacturer: Salutas Pharma GmbH (Germany); Hexal AG (Germany)
Description and photo update: 2019-20-08
Prices in pharmacies: from 42 rubles.
Buy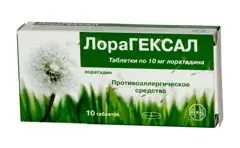 LoraHEXAL is a drug with antipruritic, antiallergic action.
Release form and composition
The dosage form of LoraHEXAL - tablets: oval, white, on one of the sides - risk and engraving «LT | 10 (in blisters of 7 or 10 pcs., 1-3 or 5 blisters in a cardboard box).
The composition of 1 tablet includes:
Active ingredient: loratadine - 10 mg;
Additional components: corn starch - 18 mg, lactose monohydrate - 69.175 mg, magnesium stearate - 1 mg, anhydrous colloidal silicon dioxide - 1.825 mg.
Pharmacological properties
Pharmacodynamics
Loratadine is a prolonged-acting H 1 -histamine receptor blocker, which does not have a central and anticholinergic effect. It interferes with the release of leukotriene C 4 and histamine from mast cells.
The drug prevents the occurrence and facilitates the course of allergic reactions, and also has anti-exudative, antipruritic and anti-allergic effects. Loratadine reduces capillary permeability, eliminates smooth muscle spasms, and prevents the development of tissue edema. The antiallergic effect is recorded half an hour after taking LoraHEXAL, reaches peak values after 8-12 hours and lasts 24 hours. The drug does not affect the central nervous system (CNS) and is not addictive due to the inability to penetrate the blood-brain barrier.
Pharmacokinetics
When taken orally, loratadine is rapidly and almost 100% absorbed in the gastrointestinal tract (GIT). Its absorption is independent of food intake. The maximum concentration of the substance is reached in 1.3–2.5 hours, food intake slows down the time to reach it by about 1 hour. In elderly patients, the maximum concentration increases by 50%, and in alcoholic liver damage, it increases with an increase in the severity of the disease.
Loratadine binds to blood plasma proteins by about 97%. Metabolic processes are carried out in the liver with the participation of cytochrome isoenzymes CYP3A4 and, to a lesser extent, CYP2D6. In this case, the pharmacologically active metabolite, descarboethoxyloratadine, is formed. The equilibrium concentration of the active substance LoraHEXAL and its metabolite in the blood plasma is recorded 5 days after its entry into the body. Loratadine does not cross the blood-brain barrier. Its half-life ranges from 3 to 20 hours (mean 8.4 hours), and the half-life of descarboethoxyloratadine ranges from 8.8 to 92 hours (mean 28 hours).
In elderly patients, this indicator can vary from 6.7 to 37 hours (on average 18.2 hours) for loratadine and from 11 to 38 hours (on average 17.5 hours) for descarboethoxyloratadine. In alcoholic liver damage, the half-life increases in direct proportion to the severity of the disease. Loratadine is excreted in the bile and in the urine. In patients suffering from chronic renal failure or undergoing hemodialysis, no clinically significant changes in pharmacokinetic parameters are observed.
Indications for use
Angioneurotic edema (Quincke's edema);
Hay fever (seasonal and perennial), seasonal allergic rhinoconjunctivitis, inflammation of the conjunctiva, urticaria, including chronic idiopathic urticaria;
Itchy dermatoses;
Allergic reactions to insect bites;
Pseudo-allergy.
Contraindications
Absolute:
lactose intolerance, lactase deficiency, glucose-galactose malabsorption;
pregnancy and lactation;
children under 3 years old;
hypersensitivity to loratadine and (or) auxiliary components of the drug.
A relative contraindication for the appointment of LoraGEXAL is liver dysfunction.
Instructions for the use of LoraGEKSAL: method and dosage
The tablets are taken orally.
Recommended dosing regimen (daily dose with a frequency of taking 1 time per day):
Children 3-12 years old: 5 mg;
Children weighing 30 kg or more: 10 mg;
Children over 12 years of age and adults: 10 mg.
Side effects
While taking LoraGEXAL, the following disorders may develop:
Rarely: allergic reactions, increased fatigue, tachycardia, nausea, dry mouth, gastritis, vomiting, liver dysfunction, headache, irritability (in children), cough, dizziness;
In some cases: pathological hair loss (alopecia).
Overdose
Symptoms of LoraHEXAL overdose are heart palpitations, drowsiness and headache, often lasting for a long period of time. Loratadine has no specific antidote.
In case of an overdose, it is recommended to perform a gastric lavage and take any adsorbent (for example, activated carbon). Removal of loratadine from the body through hemodialysis is almost impossible. It is also unknown whether peritoneal dialysis is suitable for this purpose. After carrying out emergency therapy measures, constant medical monitoring of the patient's condition should be carried out.
special instructions
Against the background of functional disorders of the liver, due to the likelihood of impaired clearance of loratadine, the initial daily dose of LoraGEXAL should be reduced by 2 times (up to 5 mg).
Influence on the ability to drive vehicles and complex mechanisms
There is no information on the negative effect of LoraHEXAL when taken in therapeutic doses on the ability to drive vehicles or work with complex mechanisms. However, patients who exceed the dose of the drug or note non-standard reactions when taking it should be careful when engaging in potentially hazardous activities that require increased concentration and immediate psychomotor reactions.
In some patients, drowsiness is observed while taking loratadine, which can also affect the ability to drive transport and work with complex mechanisms.
Application during pregnancy and lactation
The safety of using LoraHEXAL during pregnancy has not been established, so its appointment during this period is not recommended.
Since loratadine is excreted in breast milk, breastfeeding should be discontinued if necessary to use the drug during lactation.
Pediatric use
According to the instructions, LoraGEXAL is contraindicated for the treatment of children under 3 years of age.
Drug interactions
Interaction with alcohol when using LoraHEXAL in therapeutic doses was not identified.
The concentration of the active substance (loratadine) in the blood plasma without clinical manifestations and influence on the electrocardiogram with combined use is increased by cimetidine, erythromycin and ketoconazole.
Analogs
Lorahexal's analogs are: Claritin, Loratadin-Teva, Loratadin-Akrikhin, Lomilan, Loratadin-Stada, Klarotadin, Claridol.
Terms and conditions of storage
Keep out of reach of children at temperatures up to 25 ° C.
The shelf life is 3 years.
Terms of dispensing from pharmacies
Available without a prescription.
Reviews about LoraGEXAL
Reviews of LoraGEXAL are quite contradictory: some patients notice an improvement in their condition already 2 days after the start of treatment, but in some cases even a full course of therapy does not give satisfactory results. It depends on the individual sensitivity of the patient, the course of the disease and the severity of symptoms. There are also reports of adverse reactions (dry mouth, apathy, drowsiness).
Doctors believe that LoraHEXAL, due to its wide spectrum of antiallergic action, can be prescribed for a wide variety of allergic diseases. It is effective for the treatment of allergic rhinitis, reduces the severity of bronchospasm, prevents bronchial obstruction in bronchial asthma, and also eliminates itching and rash with urticaria and atopic dermatitis.
The price of LoraGEXAL in pharmacies
On average, the price for LoraGEXAL in pharmacy chains is 43-59 rubles (per pack containing 10 tablets).
LoraGEXAL: prices in online pharmacies
Drug name
Price
Pharmacy
Lorahexal tablets 10mg 10 pcs.
42 RUB
Buy
LoraHeksal 10 mg tablets 10 pcs.
42 RUB
Buy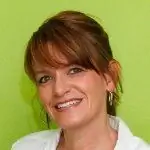 Maria Kulkes Medical journalist About the author
Education: First Moscow State Medical University named after I. M. Sechenov, specialty "General Medicine".
Information about the drug is generalized, provided for informational purposes only and does not replace the official instructions. Self-medication is hazardous to health!
Popular by topic