Table of contents: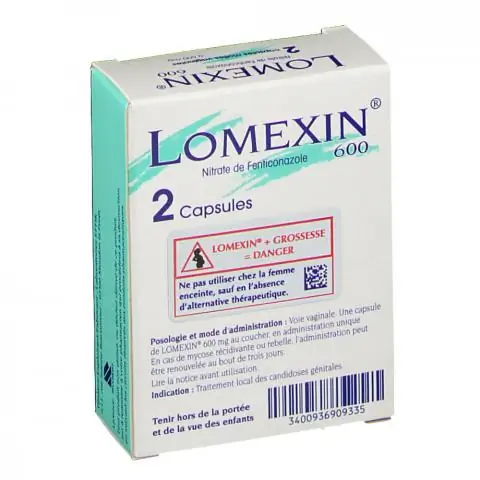 Video: Lomexin - Instructions For Use, Reviews, Price, Candles, Cream
Lomexin
Lomeksin: instructions for use and reviews
1. Release form and composition
2. Pharmacological properties
3. Indications for use
4. Contraindications
5. Method of application and dosage
6. Side effects
7. Overdose
8. Special instructions
9. Application during pregnancy and lactation
10. Use in childhood
11. Drug interactions
12. Analogs
13. Terms and conditions of storage
14. Terms of dispensing from pharmacies
15. Reviews
16. Price in pharmacies
Latin name: Lomexin
ATX code: G01AF12
Active ingredient: fenticonazole (fenticonazole)
Producer: Recordati Industria Chimica e Farmaceutica (Italy)
Description and photo update: 2019-20-08
Prices in pharmacies: from 439 rubles.
Buy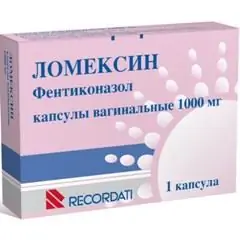 Lomexin is a local drug with antifungal action.
Release form and composition
Lomexin is available in the following dosage forms:
Vaginal capsules: shiny, yellowish, oval, soft; the contents of the capsules are a homogeneous, thick, oily white suspension (in blisters of 1-3, 6 pcs., 1 or 2 blisters in a cardboard box);
Vaginal cream 2%: homogeneous, white (in aluminum tubes of 30 or 78 g, 1 tube in a cardboard box, complete with a dispenser or without it).
The active ingredient is a part of 1 capsule: fenticonazole nitrate - 200, 600 and 1000 mg.
Auxiliary components:
200 mg: medium chain triglycerides - 390 mg, colloidal silicon dioxide - 10 mg;
600 and 100 mg (respectively): liquid paraffin - 435/725 mg, white petrolatum - 85/142 mg, soy lecithin - 8/13 mg.
The composition of the soft gelatinous shell (200/600/1000 mg, respectively): gelatin - 185/209/289 mg, glycerin - 90/102/141 mg, titanium dioxide - 3.8 / 4.8 / 6.6 mg, sodium methylhydroxybenzoate - 0.8 / 1 / 1.6 mg; sodium propyl hydroxybenzoate - 0.4 / 0.5 / 0.7 mg.
The 100 mg cream contains:
Active ingredient: fenticonazole nitrate - 2 mg;
Auxiliary components: glyceryl monostearate - 3 mg, disodium edetate - 0.5 mg, hydrogenated lanolin - 1 mg, fatty acid ester and macrogol - 15 mg, almond oil - 10 mg, propylene glycol - 5 mg, cetyl alcohol - 3 mg, purified water - 60.5 mg.
Pharmacological properties
Pharmacodynamics
The active component of Lomexin is fenticonazole, a synthetic derivative of imidazole (its racemic mixture in the form of the nitric acid salt of fenticonazole), an antifungal agent of a wide spectrum of influence. It has a local fungistatic and fungicidal effect. Also has antibacterial activity.
The mechanism of action of fenticonazole is explained by its ability to inhibit the synthesis of ergosterol, which regulates the permeability of the fungal cell membrane.
Active against Trichomonas vaginalis, yeast Candida spp. (including Candida albicans), gram-positive bacteria (Streptococcus spp., Staphylococcus aureus), dermatophytes Epidermophyton spp., Microsporum spp., P. ovale, Trichophyton spp. and Pityrosporum orbiculare.
Unlike most other commonly used azole compounds (eg, ketoconazole, miconazole, and econazole), fenticonazole inhibits the biosynthesis of Candida spp. Proteases. at concentrations below the minimum inhibitory concentration - 0.25-16 μg / ml. This effect does not depend on the level of antifungal activity and is due to the fact that the drug inhibits one of the stages of the formation of proteolytic enzymes by yeast-like fungi.
Pharmacokinetics
Considering the local method of application of fenticonazole, it practically does not undergo systemic absorption. The degree of absorption by the mucous membranes is extremely low. With prolonged use in the blood is not determined.
Indications for use
Vaginal trichomoniasis;
Vulvovaginal candidiasis.
Contraindications
Vaginal capsules
Childhood;
Pregnancy and lactation;
Hypersensitivity to drug components.
Vaginal cream
First trimester of pregnancy;
Hypersensitivity to drug components.
Do not use Lomexin cream during menstruation.
Instructions for the use of Lomexin: method and dosage
Lomexin (1 capsule or about 5 g of cream) is injected deep into the vagina once a day, preferably at bedtime, in the supine position.
200 mg capsules are used for 3 days, 600 or 1000 mg - once with repeated use after 3 days (if necessary). The drug in the form of a cream is usually prescribed for a course of 3-6 days.
In case of insufficient effectiveness, a second course can be carried out after 10 days.
Side effects
As a rule, Lomexin is well tolerated, side effects are transient and do not require discontinuation of the drug.
During the use of the drug, the following disorders may develop:
Local reactions: irritation, itching and burning at the site of application;
Allergic reactions: rash, urticaria, erythema.
Overdose
To date, no cases of overdose have been reported. Given the extremely low systemic absorption of fenticonazole, overdose is unlikely.
special instructions
With prolonged therapy, the development of sensitization is possible. In this case, you need to stop using Lomexin and seek medical advice.
If there is no effect for 3 weeks, therapy should be interrupted and the diagnosis clarified.
It is advisable to start treatment after menstruation.
To avoid reinfection, it is recommended to simultaneously treat the partner with Lomexin in the form of a cream, which should be applied to the foreskin and glans of the penis.
Influence on the ability to drive vehicles and complex mechanisms
There is no information on the negative effect of Lomeksin on the ability to concentrate, the speed of mental and physical reactions.
Application during pregnancy and lactation
The available data on the local use of fenticonazole during pregnancy and lactation is insufficient to assess the degree of its safety, therefore Lomexin is contraindicated in the first trimester of pregnancy, not recommended in the second and third trimesters, as well as during lactation.
Pediatric use
Lomeksin vaginal suppositories are contraindicated under the age of 18.
Drug interactions
There are no data on the interaction of Lomexin with other drugs.
Analogs
Lomexin's analogs are: Ginalgin, Ginofort, Zalain, Kandibene, Kandisan, Clotrimazole, Mikogal, Trichopol.
Terms and conditions of storage
Keep out of the reach of children. Store vaginal capsules at temperatures up to 30 ° C. Store vaginal cream at a temperature of 15-25 ° C.
The shelf life is 3 years.
Terms of dispensing from pharmacies
Dispensed by prescription.
Reviews about Lomeksin
Reviews about Lomeksin are mostly positive. Women note the high efficacy of the drug, the speed of its action and the short course of treatment.
The disadvantages include the relatively high price, as well as the lack of an applicator complete with Lomeksin vaginal suppositories.
Some negative reviews contain complaints about the development of side effects.
The price of Lomexin in pharmacies
Approximate prices of Lomeksin: vaginal cream 2% (78 g in a tube) - 417-542 rubles, vaginal capsules 600 mg each (2 pieces in a package) - 478-531 rubles, vaginal capsules 1000 mg (1 piece in a package) - 430-512 rubles.
Lomeksin: prices in online pharmacies
Drug name
Price
Pharmacy
Lomexin 2% vaginal cream 78 g 1 pc.
439 r
Buy
Lomexin 600 mg vaginal capsules 2 pcs.
445 RUB
Buy
Lomexin capsules vaginal. 600mg 2 pcs.
RUB 510
Buy
Lomexin 1000 mg vaginal capsules 1 pc.
RUB 514
Buy
Lomexin capsules vaginal. 1000mg
604 RUB
Buy
Lomexin cream vaginal. 2% 78g
RUB 618
Buy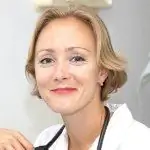 Anna Kozlova Medical journalist About the author
Education: Rostov State Medical University, specialty "General Medicine".
Information about the drug is generalized, provided for informational purposes only and does not replace the official instructions. Self-medication is hazardous to health!
Popular by topic