Table of contents: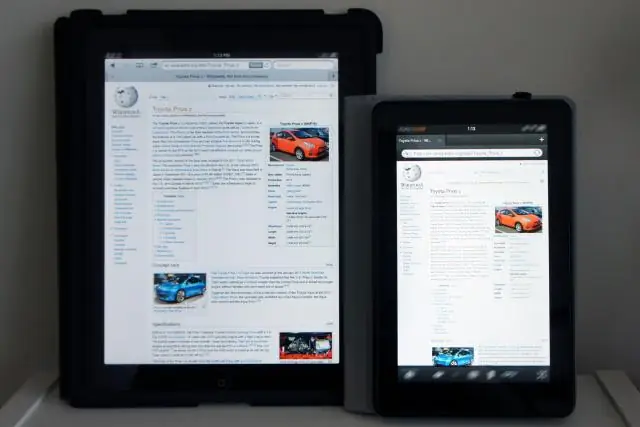 Video: Lizobakt - Instructions For The Use Of Tablets, Analogs, Reviews, Price
Lizobact
Lizobakt: instructions for use and reviews
1. Release form and composition
2. Pharmacological properties
3. Indications for use
4. Contraindications
5. Method of application and dosage
6. Side effects
7. Overdose
8. Special instructions
9. Application during pregnancy and lactation
10. Drug interactions
11. Analogs
12. Terms and conditions of storage
13. Terms of dispensing from pharmacies
14. Reviews
15. Price in pharmacies
Latin name: Lysobact
ATX code: R02AA20
Active ingredient: Lysozyme, Pyridoxine
Manufacturer: BOSNALEK d.d., Bosnia and Herzegovina
Description and photo update: 2019-07-08
Prices in pharmacies: from 201 rubles.
Buy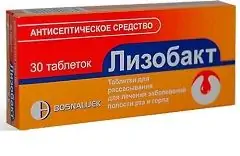 Lizobact is a drug for topical use in otolaryngology and dentistry, has an antiseptic effect.
Release form and composition
Dosage form - tablets for resorption: round shape with a dividing line on one side, white with a yellow or cream shade or white (10 pcs. In blisters, in a cardboard box 3 blisters).
Content of active ingredients in 1 tablet:
Pyridoxine hydrochloride - 0.01 g;
Lysozyme hydrochloride - 0.02 g.
Auxiliary components: vanillin, sodium saccharinate, tragacanth gum, lactose monohydrate, magnesium stearate.
Pharmacological properties
Pharmacodynamics
Lysozyme is a protein enzyme used as an antiseptic due to its direct effect on gram-positive and gram-negative microorganisms, as well as viruses and fungi. The substance is also involved in the regulation of local nonspecific immunity.
Pyridoxine has a protective effect on the oral mucosa (has an antiphthous effect). The compound does not alter the pharmacodynamic parameters of lysozyme.
Pharmacokinetics
The active ingredients of the drug are rapidly absorbed from the gastrointestinal tract, and its biologically active form is accumulated in the liver, muscles, central nervous system and other tissues of the body. Pyridoxine passes into breast milk, is metabolized in the liver and excreted through the kidneys, like lysozyme.
Indications for use
The use of Lizobact is indicated for the local therapy of diseases of the oral mucosa, gums, larynx of infectious and inflammatory etiology:
Inflammation of the mucous membrane of the upper respiratory tract;
Erosion of the oral mucosa of various origins;
Gingivitis;
Aphthous ulceration;
Complex therapy of herpetic lesions of the oral cavity;
Stomatitis.
Contraindications
Glucose-galactose malabsorption syndrome, lactose intolerance, lactase deficiency;
Age up to 3 years;
Hypersensitivity to drug components.
Instructions for the use of Lizobact: method and dosage
The tablets are taken buccally (without chewing, holding in the mouth until completely dissolved).
Recommended daily dosage:
Patients over 12 years old: 6-8 tablets;
Children 7-12 years old: 4 tablets;
Children 3-7 years old: 3 tablets.
The drug should be taken 3-4 times a day, the duration of treatment is 8 days.
Side effects
Against the background of the use of Lizobact, the development of allergic reactions is possible.
Overdose
Overdose cases are rarely observed after taking in doses significantly higher than recommended, and are expressed in loss of sensitivity, as well as tingling or numbness in the upper and lower extremities. In this case, the patient is prescribed forced diuresis (drinking plenty of fluids).
special instructions
During pregnancy and breastfeeding, the administration of the drug is allowed according to clinical indications.
The use of tablets should be discontinued if symptoms of allergic reactions appear.
Application during pregnancy and lactation
The appointment of Lizobact is allowed during pregnancy and the period of breastfeeding.
Drug interactions
The drug increases the therapeutic effect of chloramphenicol, penicillin, nitrofurantoin and other antibiotics.
The simultaneous use of Lizobact enhances the effect of diuretics, reduces the activity of levodopa.
An increase in renal excretion or an antagonistic effect of isoniazid, pyrazinamide, penicillamine, immunosuppressants, oral contraceptives and estrogens in relation to pyridoxine may necessitate an increase in its dose.
Analogs
Analogs of Lizobact are: Ajisept, Grammidin, Doritricin, Lizak, Laripront, Septefril, Septolete, Strepsils, Faringosept.
Terms and conditions of storage
Keep out of the reach of children. Store at a temperature of 10-30 ° C.
The shelf life is 5 years.
Terms of dispensing from pharmacies
Available without a prescription.
Reviews about Lizobact
The overall rating of the drug is 4.43 points out of 5. With a properly selected treatment regimen, patients note the high efficacy of the drug. Also, there are practically no side reactions.
According to reviews, when administered to children, Lizobact acts gently and quickly eliminates unpleasant symptoms of otolaryngological diseases. In the absence of allergic reactions in the child, the drug is well tolerated and completely safe.
Pregnant women may develop allergies during treatment. In this case, the drug is canceled.
The price of Lizobakt in pharmacies
The approximate price for Lizobakt is 290-330 rubles per pack, which includes 30 tablets.
Lizobakt: prices in online pharmacies
Drug name
Price
Pharmacy
Lizobact tablets for resorption 30 pcs.
201 RUB
Buy
Lizobact tablets for rassas. 30 pcs.
256 RUB
Buy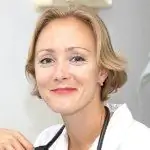 Anna Kozlova Medical journalist About the author
Education: Rostov State Medical University, specialty "General Medicine".
Information about the drug is generalized, provided for informational purposes only and does not replace the official instructions. Self-medication is hazardous to health!
Popular by topic