Table of contents: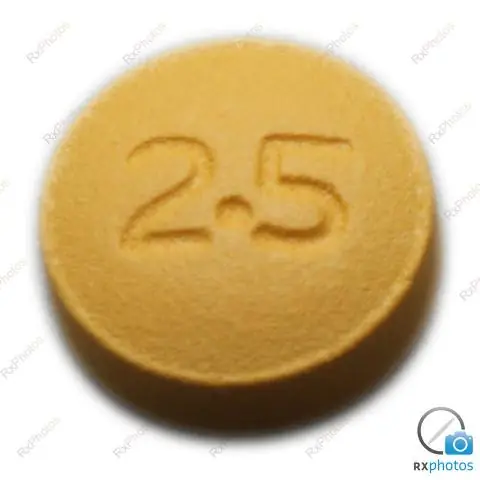 Video: Letrozole - Instructions For The Use Of Tablets, Price, Reviews, Analogues
Letrozole
Letrozole: instructions for use and reviews
1. Release form and composition
2. Pharmacological properties
3. Indications for use
4. Contraindications
5. Method of application and dosage
6. Side effects
7. Overdose
8. Special instructions
9. Application during pregnancy and lactation
10. Use in childhood
11. In case of impaired renal function
12. For violations of liver function
13. Use in the elderly
14. Drug interactions
15. Analogs
16. Terms and conditions of storage
17. Terms of dispensing from pharmacies
18. Reviews
19. Price in pharmacies
Latin name: Letrozole
ATX code: L02BG04
Active ingredient: letrozole (letrozole)
Manufacturer: Kern Pharma S. L. (Spain), Hetero Labs Limited (India), Biosynthesis Laboratories Private Limited (India), Novalek Pharmaceutical Pvt. Ltd (India), West Pharma Producers de Especialidesh Pharmaseuticash S. A. (Portugal), APF-TRADING CJSC (Russia), Drug Technology (Russia), R-Pharm CJSC (Russia), Pharmasintez-Nord JSC (Russia), PHARMAKTIV LLC (Russia)
Description and photo update: 2018-21-11
Prices in pharmacies: from 1493 rubles.
Buy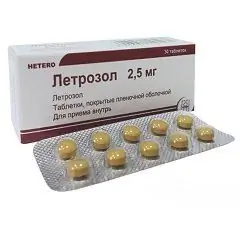 Letrozole is an inhibitor of estrogen synthesis, an antineoplastic agent.
Release form and composition
Dosage form - film-coated tablets: round, biconvex, yellow; the cross section shows a white or white-yellowish core (10 pcs. in blisters, in a cardboard box 1, 3, 6 or 10 packages; 14, 28, 30, 60 or 100 pcs. in polymer cans, in cardboard box 1 can).
Composition of 1 tablet:
active substance: letrozole - 2.5 mg;
additional components: microcrystalline cellulose, sodium carboxymethyl starch, pregelatinized corn starch, crospovidone, colloidal silicon dioxide, magnesium stearate, lactose monohydrate;
composition of the film shell: Opadray Y 1-7000 [macrogol (polyethylene glycol), titanium dioxide, hypromellose], iron oxide yellow dye.
Pharmacological properties
Pharmacodynamics
Letrozole is a drug that has an antiestrogenic effect, blocks the synthesis of estrogens (not only in peripheral, but also in tumor tissues), and also selectively inhibits aromatase (an enzyme of estrogen synthesis) by highly specific competitive binding with the subunit of this enzyme - cytochrome P450 heme.
In postmenopausal women, estrogens are formed mainly due to the participation of the aromatase enzyme, which converts androgens (primarily testosterone and androstenedione), synthesized in the adrenal glands into estradiol and estrone.
With a daily intake of the drug in a daily dose of 0.1–5 mg, there is a decrease in the plasma concentration of estrone, estradiol and estrone sulfate by 75–95% of the initial level. The suppression of estrogen synthesis is maintained throughout the period of use of Letrozole. At the same time, there is no violation of the synthesis of steroid hormones in the adrenal glands. The test with adrenocorticotropic hormone (ACTH) did not reveal any abnormalities in the synthesis of cortisol and aldosterone; therefore, additional administration of mineralocorticoids and glucocorticoids is not required.
Androgens, which are estrogen precursors, do not accumulate when estrogen biosynthesis is blocked. During the period of therapy, there were no changes in the lipid profile and function of the thyroid gland, the concentrations of follicle-stimulating and luteinizing hormones in the blood plasma, an increase in the frequency of strokes and myocardial infarctions.
Letrozole increases the incidence of osteoporosis to some extent. This figure is 6.9% compared to 5.5% in the placebo group. However, the incidence of fractures in patients receiving letrozole does not differ from that in healthy women of the same age.
Adjuvant therapy with letrozole for early-stage breast cancer reduces the risk of recurrence and the development of secondary tumors, and increases disease-free survival for 5 years.
Prolonged adjuvant therapy reduces the risk of relapse by 42%. It has been reliably established that in patients receiving letrozole, an advantage in disease-free survival was noted regardless of lymph node involvement. In women with lymph node involvement, mortality is reduced by 40%.
Pharmacokinetics
After oral administration, letrozole is rapidly and completely absorbed from the gastrointestinal tract. It is characterized by high bioavailability - about 99.9%. With food intake, the rate of absorption is slightly reduced.
On average, the maximum concentration is: when taken on an empty stomach - 129 ± 20.3 nmol / l, when taken with food - 98.7 ± 18.6 nmol / l, while the degree of absorption of letrozole (when evaluated by the area under the curve "concentration - time ") does not change.
The maximum concentration in the blood is reached on average within 1 hour if the drug is taken on an empty stomach, and 2 hours if taken with food. These small changes are regarded as having no clinical significance, therefore, the relationship between the time of taking Letrozole and the diet is not critical.
The connection with blood proteins is about 60%, of which about 55% is with albumin.
The concentration of the drug in erythrocytes is approximately 80% of the level in blood plasma.
The volume of distribution at steady state is about 1.87 ± 0.47 l / kg.
With a daily intake of a daily dose of 2.5 mg, the equilibrium concentration can be reached within 2-6 weeks. With long-term treatment, the accumulation of letrozole is not observed.
Letrozole is metabolized to a large extent with the participation of isoenzymes CYP2A6 and CYP3A4 of cytochrome P450, as a result of which a pharmacologically inactive carbinol compound is formed.
The drug is excreted in the form of metabolites mainly by the kidneys, to a lesser extent through the intestines. The final T 1/2 (half-life) is 48 hours.
The patient's age and the state of renal function do not affect the pharmacokinetic parameters of letrozole.
In moderately impaired liver function (class B according to the Child-Pugh scale), the mean area under the concentration-time curve (AUC) is 37% higher, but remains within the range of values observed in patients without hepatic impairment. In patients with severe hepatic impairment (class C on the Child-Pugh scale) and cirrhosis of the liver, AUC increases by 95%, the half-life is increased by 187%. Nevertheless, the drug is well tolerated even at high daily doses (5–10 mg), so there is no need for dose adjustment for these groups of patients.
Indications for use
first-line therapy for common hormone-dependent forms of breast cancer in postmenopausal women;
adjuvant therapy for early-stage breast cancer expressing estrogen receptors in postmenopausal women;
prolonged adjuvant therapy for early-stage breast cancer in postmenopausal women after completion of the course of standard adjuvant tamoxifen therapy;
treatment of common forms of breast cancer in postmenopausal women (including those caused artificially) after previous anti-estrogen therapy.
Contraindications
Absolute:
childhood;
During pregnancy and breastfeeding;
endocrine status characteristic of the reproductive period;
hypersensitivity to any component of Letrozole.
Relative (special care required):
glucose-galactose malabsorption;
lactase intolerance;
lactase deficiency;
creatinine clearance (CC) <30 ml / min.
Instructions for the use of Letrozole: method and dosage
Letrozole should be taken orally. There is no need to focus on meal time.
The recommended dose is 2.5 mg 1 time per day. The drug is used for a long time - for 5 years or until relapse.
Duration of taking Letrozole as an extended adjuvant therapy is 4 years (no more than 5 years).
If there are signs of disease progression, the drug is canceled.
Treatment of patients with late stage breast cancer or with a metastatic tumor continues until the progression of the tumor is expressed.
Side effects
Side effects are usually mild to moderate. They are mainly associated with the suppression of estrogen synthesis. They are classified as follows: very often -> 10%, often - 1-10%, sometimes - 0.1-1%, rarely - 0.01-0.1%, very rarely - <0.01%, including individual messages …
Possible adverse reactions:
on the part of the skin and skin appendages: often - skin rash (including erythematous and maculopapular, psoriasis-like rash, vesicular rash), excessive sweating, alopecia; sometimes - urticaria, dry skin, itchy skin; very rarely - anaphylactic reactions, angioedema;
on the part of the senses: sometimes - a violation of taste, eye irritation, blurred vision, cataract;
on the part of the hematopoietic organs: sometimes - leukopenia;
on the part of the cardiovascular system: sometimes - thromboembolism, thrombophlebitis of superficial and deep veins, tachycardia, increased blood pressure, palpitations, ischemic heart disease (angina pectoris, heart failure, myocardial infarction); rarely - arterial thrombosis, pulmonary embolism, stroke;
from the nervous system: often - dizziness, headache, depression; sometimes - memory impairment, impaired taste, irritability, insomnia, drowsiness, paresthesia, dysesthesia, hypesthesia, nervousness, anxiety, episodes of cerebrovascular accident;
from the musculoskeletal system: very often - arthralgia; often - bone pain, myalgia, osteoporosis, bone fractures, sometimes arthritis;
from the urinary system: sometimes - urinary tract infections, frequent urination;
from the reproductive system: sometimes - vaginal dryness, vaginal discharge, vaginal bleeding, pain in the mammary glands;
from the respiratory system: sometimes - shortness of breath, cough;
from the digestive system: often - constipation, diarrhea, dyspepsia, nausea, vomiting; sometimes - dry mouth, stomatitis, abdominal pain, increased activity of liver enzymes;
others: very often - hot flashes (hot flashes); often - increased appetite, weight gain, anorexia, peripheral edema, asthenia, increased fatigue, malaise, hypercholesterolemia; sometimes - thirst, dryness of mucous membranes, hyperthermia (pyrexia), generalized edema, weight loss, pain in tumor foci.
Overdose
Information on the consequences of overdose is very limited. The specific treatments and antidote are unknown. It is necessary to carry out symptomatic and supportive therapy. The elimination of letrozole from plasma can be accelerated by hemodialysis.
special instructions
Women in the perimenopausal and early postmenopausal period during treatment with Letrozole before establishing a stable postmenopausal hormonal status should use reliable methods of contraception, which is associated with the risk of pregnancy.
Influence on the ability to drive vehicles and complex mechanisms
In some cases, the drug causes side effects that can affect the patient's motor and mental functions (for example, dizziness or general weakness). In this regard, during treatment, it is recommended to be careful when performing potentially hazardous activities, including working with complex mechanisms and driving a car.
Application during pregnancy and lactation
According to the instructions, Letrozole is contraindicated for use during pregnancy and lactation.
Pediatric use
The drug is not used in pediatrics.
With impaired renal function
Due to the lack of data on the use of letrozole in the treatment of patients with CC <30 ml / min, the drug is prescribed only after a thorough assessment of the expected benefits and possible risks.
For violations of liver function
No dose adjustment is required for concomitant liver dysfunction. However, patients with severe impairment of hepatic function (class C on the Child-Pugh scale) during therapy should be under close medical supervision.
Use in the elderly
In old age, dose adjustment of Letrozole is not required.
Drug interactions
Letrozole does not enter into pharmacologically significant interactions with warfarin and cimetidine.
In the course of clinical studies, it was found that in vitro letrozole is able to inhibit the activity of cytochrome P450 isoenzymes, such as CYP2A6 and CYP2C19 (the latter is moderate). When deciding the importance of these data for the clinic, it should be borne in mind that CYP2A6 does not take a significant role in drug metabolism. According to the results of studies, letrozole in concentrations that are 100 times higher than the equilibrium plasma concentrations in vitro is not able to significantly inhibit the metabolism of diazepam, which is a substrate of the isoenzyme CYP2C19. Thus, we can conclude that there is a low probability of clinically significant interactions between letrozole and the isoenzyme CYP2C19. Nevertheless, it is recommended to exercise caution if it is necessary to use drugs during anticancer therapy,which are metabolized mainly with the participation of these isoenzymes and have a narrow therapeutic index.
There is no clinical experience with letrozole in combination with other antineoplastic agents.
Analogs
Letrozole's analogs are Letroza, Lestrodex, Letrozole-Teva, Letrotera, Letrosan, Estrolet, Oreta, Extraza, Femara, Nexazol, ETRUZIL.
Terms and conditions of storage
The shelf life is 5 years.
Store at temperatures up to 25 ° C out of reach of children, protected from light.
Terms of dispensing from pharmacies
Dispensed by prescription.
Reviews about Letrozole
Reviews of Letrozole on specialized medical forums are few, due to the specifics of the disease in which it is used. Among oncologists, letrozole is considered a generally recognized agent for the treatment of breast cancer, the effect of which has been proven in clinical studies and practical experience of use.
Price for Letrozole in pharmacies
The price of Letrozole, depending on the manufacturer, varies between 1390-2880 rubles. per pack of 30 tablets.
Letrozole: prices in online pharmacies
Drug name
Price
Pharmacy
Letrozole 2.5 mg film-coated tablets 30 pcs.
1493 RUB
Buy
Letrozole tablets p.p. 2.5mg 30 pcs.
2348 RUB
Buy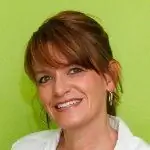 Maria Kulkes Medical journalist About the author
Education: First Moscow State Medical University named after I. M. Sechenov, specialty "General Medicine".
Information about the drug is generalized, provided for informational purposes only and does not replace the official instructions. Self-medication is hazardous to health!
Popular by topic