Table of contents: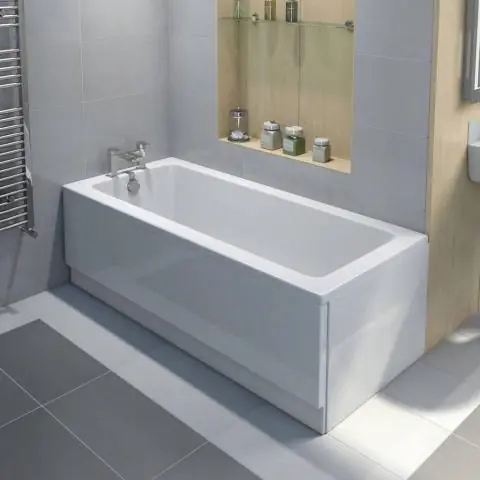 Video: Duovit For Women - Instructions For The Use Of Vitamins, Reviews, Price
Duovit for women
Duovit for women: instructions for use and reviews
1. Release form and composition
2. Indications for use
3. Contraindications
4. Method of application and dosage
5. Side effects
6. Overdose
7. Special instructions
8. Drug interactions
9. Analogs
10. Terms and conditions of storage
11. Terms of dispensing from pharmacies
12. Reviews
13. Price in pharmacies
Latin name: Duovit for women
ATX code: A11AA04
Active ingredient: multivitamins (Multivitamins) + minerals (Multimineral)
Manufacturer: KRKA, dd, Novo mesto, JSC (KRKA, dd, Novo mesto) (Slovenia)
Description and photo update: 2018-22-10
Prices in pharmacies: from 284 rubles.
Buy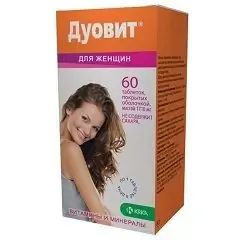 Duovit for women is a biologically active food supplement (BAA), an additional source of vitamins and minerals.
Release form and composition
The supplement is produced in the form of coated tablets: the weight of one tablet is 1710 mg (30 and 60 pcs. In polymer bottles, 1 bottle in a cardboard box and instructions for use of Duovit for women).
The content of vitamins and minerals in 1 tablet is:
Vitamin A (retinol) 0.8 mg
vitamin B 1 (thiamine): 1.4 mg;
Vitamin B 2 (Riboflavin): 2 mg
Vitamin B 3 (Niacin): 18 mg
vitamin B 5 (pantothenic acid): 5 mg;
vitamin B 6 (pyridoxine): 1.4 mg;
vitamin B 9 (folic acid): 0.2 mg;
vitamin B 12 (cobalamin): 0.001 mg;
vitamin D (calciferol): 0.005 mg;
Vitamin E (alpha-tocopherol): 10 mg
vitamin H (biotin): 0.03 mg;
vitamin C (ascorbic acid): 50 mg;
iron (as ferrous fumarate): 14 mg
iodine (potassium iodide 10%): 0.15 mg;
Calcium (as calcium hydrogen phosphate dihydrate): 450 mg
magnesium (magnesium oxide): 50 mg
zinc (zinc oxide): 15 mg
Additional components: white opadry (titanium dioxide, hypromellose, polydextrose, maltodextrin, fractional coconut oil, talc), microcrystalline cellulose, polyvinylpyrrolidone, magnesium stearate, polyvinylpolypyrrolidone, stearic acid, charming red dye, quinoline yellow dye.
Pharmacological properties
The targeted effect on the restoration and maintenance of metabolic processes in the body is realized thanks to the balanced composition of Duovit for women:
vitamin A: being the strongest antioxidant, it regulates the renewal of the skin epithelium and hair growth. Its deficiency in the body causes functional visual impairment (visual adaptation in the dark), damage to the epithelium of the mucous membranes, increased keratinization of the skin. A sufficient amount of the vitamin contributes to the acquisition of healthy skin, hair and nails. Deficiency of vitamin A in the first trimester of pregnancy can abnormally affect the development of the embryo and placental structures. Retinol helps to protect against infection of the mother and fetus, prevents various malformations, including the respiratory, cardiovascular, urogenital systems and fetal vision;
vitamin B 1: restores deoxyribonucleic acid (DNA) and participates in the metabolism of proteins, fats and carbohydrates, stress responses. Its deficiency during pregnancy increases the risk of developing fetal neural tube defects, gestosis, can cause premature birth, acute heart failure in newborns;
vitamin B 2: slows down the aging process, ensuring the neutralization of the negative effect of free radicals on DNA and cell membranes, prevents the development of cardiovascular diseases and tumors. Riboflavin improves the condition of the liver, nervous system, skin and mucous membranes. The appearance of symptoms of cerebral insufficiency (dizziness, general weakness, increased tendon reflexes, decreased tactile and pain sensitivity) is a manifestation of its deficiency;
vitamin B 3: regulator of the nervous system function. Stimulates inhibitory processes in the central nervous system, alleviating the manifestation of nervousness or hysteria. Its deficiency for a long time can manifest itself as occasional dizziness, sleep disturbances, headache, irritability, increased fatigue, mental disorders, including depression;
vitamin B 6 and B 12: provide the metabolism of carbohydrates, proteins and fats, the formation of red blood cells, have a beneficial effect on liver function. Possessing pronounced properties of antidepressants, they have a beneficial effect on the nervous system. Deficiency of vitamin B 6 is manifested by decreased appetite and nausea, irritability, lethargy, and symptoms of depression. A sufficient level of pyridoxine reduces the content of homocysteine, increases the likelihood of conception and successful gestation;
vitamin B 7: adequate intake of biotin with food normalizes the processes of energy and general metabolism, the function of the nervous system, helps to maintain the condition of the skin and mucous membranes, health of the hair;
vitamin B 9: taking folic acid preparations during pregnancy improves anthropometric data and blood parameters, has a positive effect on the health of the mother and fetus;
vitamin D: essential for the absorption of calcium, the normal functioning of the muscular system. In combination with good nutrition, physical activity, sufficient intake of calcium and magnesium, vitamin D ensures the formation and maintenance of the functional activity of bone tissue, slows down the processes of resorption. In the treatment of osteoporosis, the combination of vitamin D and calcium shortens the healing time of fractures and reduces the risk of re-fractures. Vitamin D 3helps to reduce the content of calcium in plasma. Plasma calcium intake and absorption provides strength and beauty to hair and nails. It is especially necessary during pregnancy, since a vitamin D deficiency in the mother leads to hypocalcemia and rickets in the fetus, the formation of congenital cataracts, negatively affects the functioning of the placenta, is necessary for multivitamin prevention of neural tube defects;
vitamin E: a powerful antioxidant that protects cells, tissues and organs from the harmful effects of free radicals. A sufficient intake of vitamin prevents the acceleration of aging processes, the development of various pathologies, including cardiovascular, cancer and conditions of inflammatory genesis, and lipid peroxidation;
vitamin C: provides the strength of the vascular walls by participating in the biosynthesis of connective tissues - collagen and elastin. Collagen is an important protein in blood vessels, skin, tendons, cartilage, and ligaments. When combined with other antioxidants, including vitamin E and beta-carotene, vitamin C has a protective function for vision, slowing down the deterioration of vision as we age. Promotes an increase in the bioavailability of iron and its recovery in chelate complexes. Ascorbic acid activates the absorption of iron preparations. Vitamin C is involved in the processes of tissue growth and regeneration, wound healing, restoration and maintenance of the integrity of bone tissue and teeth;
iron: an integral part of hemoglobin, takes part in the process of hematopoiesis and the transfer of oxygen by blood from the lungs to tissues. An important component of biological oxidation processes that provide the body with energy;
Calcium: Low intake of calcium increases the risk of osteoporosis. The optimal level of its intake into the body at a young age and full assimilation ensures the normal development of the skeleton, the achievement of a genetically predetermined density and mass. This is a reducing factor in the development of osteoporosis in the elderly and the degree of its severity;
magnesium: deficiency causes sleep disturbance, nervousness, convulsions, swelling in the second half of the menstrual cycle, the development of premenstrual syndrome, increased stress levels in the body;
zinc: antioxidant of reparative action, regulates carbohydrate metabolism. Adequate dietary zinc intake normalizes immune system functions, DNA synthesis and cell division, reproductive function and fertility. Helps maintain normal serum testosterone concentration, healthy skin, hair, nails, and bone health;
iodine: its deficiency in the first trimester of pregnancy leads to thyroid disorders, iodine cretinism, and mental retardation.
The complex of vitamins and minerals in Duovit for women protects the cells of the body from the negative effects of oxidative processes and their premature aging. Helps reduce the risk of osteoporosis and anemia and provides essential support for healthy hair, body skin and nails. Taking the drug helps in the successful bearing and birth of a healthy child. Protects against the development of iron deficiency anemia.
Indications for use
The use of Duovit for women is shown as an additional intake of vitamins and minerals in the body.
Contraindications
Individual hypersensitivity to product components.
Duovit for women, instructions for use: method and dosage
Duovit vitamins for women are taken orally with meals.
Recommended dosage for adults: 1 tablet once a day, course duration - 30 days.
Side effects
Data not provided by the manufacturer.
Overdose
Data not provided by the manufacturer.
special instructions
Duovit for women is not a drug.
It is recommended to start using it after prior consultation with a doctor.
Drug interactions
Data not provided by the manufacturer.
Analogs
Analogs of Duovit for women are ALFAVIT Mom's health vitamin and mineral complex, ANTISTRESS Lady's formula, Aviton - Skin-Nails-Hair, WOMAN 30 PLUS Lady's formula, Complivit Mama, Centrum Materna DHA from A to Zinc, etc.
Terms and conditions of storage
Keep out of the reach of children.
Store at temperatures up to 25 ° C, protected from moisture and light.
Shelf life is 2 years.
Terms of dispensing from pharmacies
Available without a prescription.
Reviews about Duovit for women
According to reviews, Duovit for women is a well-balanced vitamin and mineral complex with a moderate cost.
The majority of women who have chosen this dietary supplement as a vitamin supplement note an improvement in their well-being, an increase in vitality and performance, an improvement in the condition of hair and skin in a short time. There are practically no reports of the development of adverse reactions. Most often, the large tablet size is considered the main disadvantage of Duovit vitamins for women.
The price of Duovit for women in pharmacies
The approximate price for Duovit for women (30 tablets) is 352–451 rubles.
Duovit for women: prices in online pharmacies
Drug name
Price
Pharmacy
Duovit for women 1710 mg film-coated tablets 30 pcs.
284 r
Buy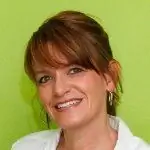 Maria Kulkes Medical journalist About the author
Education: First Moscow State Medical University named after I. M. Sechenov, specialty "General Medicine".
Information about the drug is generalized, provided for informational purposes only and does not replace the official instructions. Self-medication is hazardous to health!
Recommended: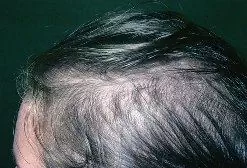 Alopecia is a disease that leads to complete baldness of a person. It appears due to an abnormally high content of the hormone testorone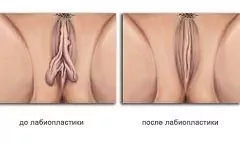 Intimate plastic is a type of plastic surgery, the purpose of which is to correct defects and eliminate physical defects of the genitals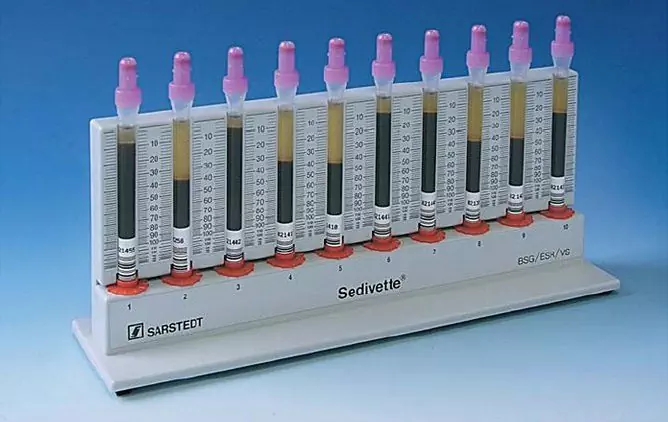 What is ESR in a blood test? This is one of the indicators that allows you to detect pathology in the body, most often of an infectious nature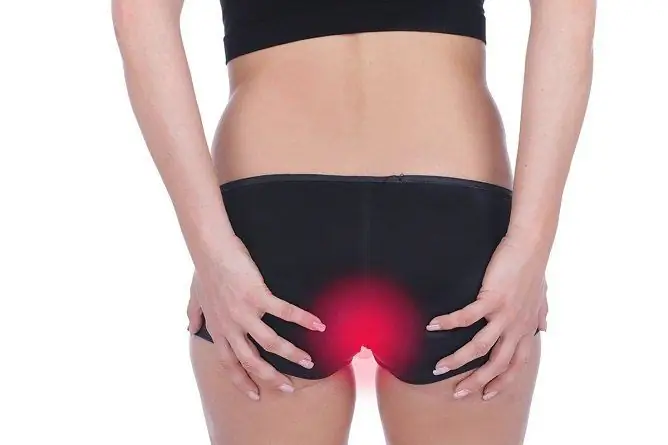 Treatment of hemorrhoids in women at home is a very relevant issue, since it develops in most during pregnancy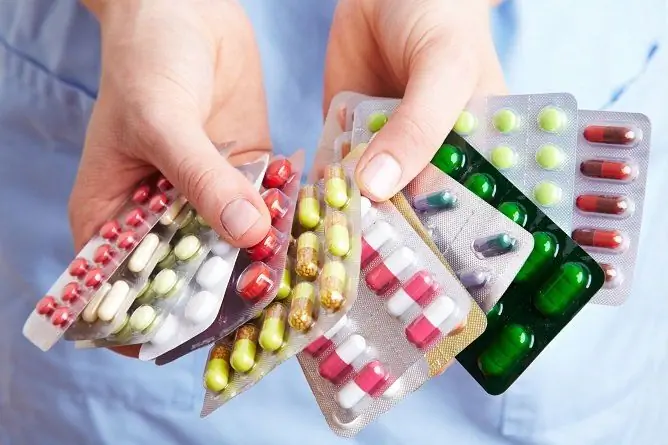 Medical treatment of ovarian cysts is carried out under the supervision of the attending physician and in some cases can help to avoid surgery