Table of contents: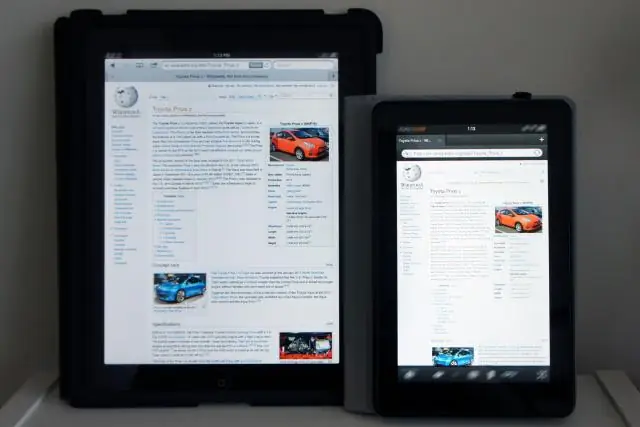 Video: Allerway - Instructions For The Use Of Tablets, Price, Reviews, Analogues
Allerway
Allerway: instructions for use and reviews
1. Release form and composition
2. Pharmacological properties
3. Indications for use
4. Contraindications
5. Method of application and dosage
6. Side effects
7. Overdose
8. Special instructions
9. Application during pregnancy and lactation
10. Use in childhood
11. In case of impaired renal function
12. For violations of liver function
13. Use in the elderly
14. Drug interactions
15. Analogs
16. Terms and conditions of storage
17. Terms of dispensing from pharmacies
18. Reviews
19. Price in pharmacies
Latin name: Allervey
ATX code: R06AE09
Active ingredient: levocetirizine (Levocetirizine)
Manufacturer: Dr. Reddy`s Laboratories, Ltd. (Dr. Reddy's Laboratories Ltd.) (India)
Description and photo update: 2019-10-07
Prices in pharmacies: from 202 rubles.
Buy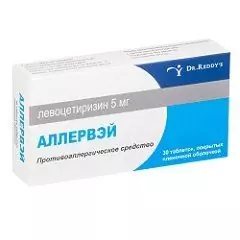 Allerway is an anti-allergic agent.
Release form and composition
Dosage form - film-coated tablets: oval, biconvex, almost white or white, engraved with "R 5" on one side; the cross section shows the core from almost white to white color and the film sheath (7 or 10 pieces in foil blisters, in a cardboard box 1-3 blisters and instructions for use of Allerway).
Composition of 1 tablet:
active substance: levocetirizine dihydrochloride - 5 mg;
auxiliary components: colloidal silicon dioxide, lactose monohydrate, magnesium stearate, microcrystalline cellulose;
film casing: Opadrai white OY-58900 [macrogol-400, titanium dioxide (E171), hypromellose (5 cP)].
Pharmacological properties
Pharmacodynamics
Levocetirizine is the (R) -enantiomer of cetirizine, an inhibitor of peripheral H 1 -histamine receptors. It has a pronounced antihistamine and antiallergic effect. Affects the histamine-dependent phase of an allergic reaction, reduces the permeability of the vascular wall, reduces the migration of eosinophils, and limits the release of inflammatory mediators.
Allerway prevents the development and facilitates the course of allergic reactions, eliminates itching, has an anti-exudative effect.
In therapeutic doses, levocetirizine does not have a sedative effect. Does not affect serotonin and cholinergic receptors.
Pharmacokinetics
The pharmacokinetics of levocetirizine changes linearly.
After oral administration from the gastrointestinal tract, the drug is absorbed quickly and completely. Simultaneous food intake does not affect the amount of absorption, however, it somewhat reduces its rate.
After a single dose of a therapeutic dose (5 mg) in an adult patient, the maximum plasma concentration (C max) is reached within 0.9 hours and is 270 ng / ml, after repeated prima Allerway at the same dose - 308 ng / ml. Equilibrium plasma concentration (C ss) is observed after 2 days.
Plasma protein binding is 90%, bioavailability is up to 100%, volume of distribution (V d) is 0.4 l / kg.
Less than 14% of the drug is metabolized by N- and O-dealkylation in the body (in contrast to other antagonists of H 1 -histamine receptors, which are metabolized in the liver with the participation of the cytochrome system), as a result of which pharmacologically inactive metabolites are formed. Due to the lack of metabolic inhibitory activity and limited metabolism, the interaction of levocetirizine with other substances at the metabolic level is unlikely.
In adults, the half-life (T ½) of levocetirizine is 7.9 ± 1.9 hours, the total clearance is 0.63 ml / min / kg.
Approximately 85.4% of the received dose of the drug is excreted unchanged by the kidneys by tubular secretion and glomerular filtration. Approximately 12.9% is excreted through the intestines.
In patients with renal insufficiency [creatinine clearance (CC) <40 ml / min], the clearance of levocetirizine decreases and its T ½ is lengthened.
In patients receiving hemodialysis, the total clearance of the drug decreases by 80%, which requires a decrease in the Allerway dose. Less than 10% of the dose is removed during a 4-hour hemodialysis procedure.
Indications for use
hives;
pollinosis (hay fever);
allergic conjunctivitis and allergic rhinitis, including seasonal (intermittent) and year-round (persistent), manifested by lacrimation, conjunctival hyperemia, rhinorrhea, nasal congestion, itching and sneezing;
other allergic dermatoses, accompanied by rashes and itching.
Contraindications
Absolute:
end stage renal failure (CC <10 ml / min);
glucose-galactose malabsorption, lactose intolerance, lactase deficiency;
children under 6 years old;
hypersensitivity to any component of Allerway tablets, hydroxyzine, cetirizine or any piperazine derivative.
Relative (caution required):
chronic renal failure;
spinal cord injury, prostatic hyperplasia, or the presence of other factors that predispose to urinary retention;
pregnancy;
lactation period;
elderly age;
simultaneous consumption of alcohol.
Allerway, instructions for use: method and dosage
Allerway is indicated for oral administration. The tablets should be swallowed whole (without chewing or breaking) and washed down with a sufficient amount of liquid. Meal time does not matter.
Adults and children from 6 years old are prescribed 1 tablet 1 time per day.
For seasonal allergic rhinitis (symptoms less than 4 days a week or their total duration of less than 4 weeks), treatment is carried out depending on the duration of the symptoms. Allerway can be discontinued as soon as symptoms disappear and resumed when they reappear.
With year-round allergic rhinitis (symptoms are more than 4 days a week and their total duration is more than 4 weeks), treatment can be continued during the entire period of exposure to the allergen.
With pollinosis, the course of therapy is determined by the doctor.
There is clinical experience of continuous treatment of adults for a period of up to 6 months.
If you miss the next dose, you should not double the dose, you need to take the Allerway pill at the usual time.
For patients with renal insufficiency, the dosage regimen of the drug is determined depending on the CC:
CC 50–79 ml / min - there is no need to adjust the dose;
CC 30–49 ml / min - 5 mg every other day;
CC 10-29 ml / min - 5 mg 1 time in 3 days.
Side effects
In clinical studies, the following side effects were observed in male and female patients aged 12 to 71 years:
often (from ≥ 1/100 to <1/10): dry mouth, drowsiness, increased fatigue, headache;
infrequently (from ≥ 1/1000 to <1/100): abdominal pain, asthenia.
In children 6–12 years of age, drowsiness and headache were most often (≥ 1%) observed in clinical trials.
Allerway's side effects recorded during post-marketing studies (due to insufficient data, the frequency of their occurrence has not been established):
from the respiratory system: increased symptoms of rhinitis, shortness of breath;
from the organ of hearing: vertigo;
on the part of the organ of vision: inflammatory manifestations, blurred vision, visual impairment;
from the nervous system: dizziness, paresthesia, dysgeusia, tremor, fainting, sinus thrombosis of the dura mater, convulsions;
on the part of the psyche: insomnia, agitation, anxiety, hallucinations, depression, aggression, suicidal thoughts;
from the gastrointestinal tract: diarrhea, nausea, vomiting;
from the side of metabolism: increased appetite;
from the kidneys and urinary system: urinary retention, dysuria;
from the liver and biliary tract: changes in liver function tests, hepatitis;
from the side of the cardiovascular system: palpitations, tachycardia, angina pectoris, jugular vein thrombosis;
from the musculoskeletal system: muscle pain, arthralgia;
from the skin, subcutaneous tissues, immune system: itching, hypotrichosis, photosensitivity, rash, cracks, urticaria, persistent drug erythema, angioedema, hypersensitivity reactions, including anaphylaxis;
others: cross-reactivity, weight gain, peripheral edema.
Overdose
In adults, an overdose of the drug is usually manifested by drowsiness, in children - anxiety and agitation, which are replaced by drowsiness.
After taking an excessive dose of Allerway, if a little time has passed, you should do a gastric lavage and take activated charcoal. Levocetirizine has no specific antidote. Hemodialysis is ineffective. Treatment is symptomatic and supportive.
special instructions
Allerway may increase the likelihood of urinary retention, so it should be used with caution in patients with factors predisposing to urinary retention, for example, in patients with prostatic hyperplasia and spinal cord injuries.
It is recommended to observe caution when drinking alcohol at the same time.
Clinical data on the effect of levocetirizine on fertility are not available.
Influence on the ability to drive vehicles and complex mechanisms
Allerway can cause increased drowsiness, therefore, during the period of treatment, it is recommended to refrain from driving a car and performing work that requires speed of reactions and increased attention.
Application during pregnancy and lactation
Clinical data on the safety of levocetirizine use in pregnant women are very limited (less than 300 cases). However, cetirizine and levocetirizine racemate did not adversely affect the course of pregnancy, intrauterine formation and fetal development. Animal studies have not revealed a direct or indirect negative effect of the drug on pregnancy, childbirth, embryonic, fetal and postnatal development. Allerway is recommended to be taken with caution during pregnancy.
Cetirizine (levocetirizine racemate) passes into breast milk. It is expected that levocetirizine is excreted in the mother's milk, therefore, the development of Allerway's side effects in an infant is possible. Treatment during lactation should be done with caution.
Pediatric use
Due to the lack of data on the safety and efficacy of levocetirizine in young children, Allerway is not prescribed to children under 6 years of age.
With impaired renal function
Patients with renal insufficiency (CC> 10 ml / min) should use the drug with caution. Correction of the dosage regimen is required (increasing the intervals between doses).
In end-stage renal disease (CC <10 ml / min), Allerway is contraindicated.
For violations of liver function
Patients with isolated liver dysfunction do not need to change the Allerway regimen.
Use in the elderly
In the absence of impaired renal function in the elderly, the dose of Allerway is not reduced.
Drug interactions
The interaction of levocetirizine with other drugs has not been studied.
In the study of the cetirizine racemate, no significant interaction reactions were detected with the simultaneous use of the following drugs: erythromycin, antipyrine, ketoconazole, glipizide, cimetidine, phenazone, pseudoephedrine, diazepam, azithromycin.
Theophylline (in a daily dose of 400 mg) reduces the total clearance of cetirizine by 16%. However, its pharmacokinetics does not change.
In studies of the simultaneous use of cetirizine (in a daily dose of 10 mg) and ritonavir (600 mg twice a day), the exposure of the former increased by 40%, and the latter decreased by 11%.
In some cases, when ethanol or drugs that have an inhibitory effect on the central nervous system are taken together, lethargy and deterioration in working capacity may develop.
Analogs
Allerway's analogs are: Alestamine, Allegra, Visallergol, Gistafen, Glenzet, Desloratadin, Dinox, Zodak, Ksizal, Levocetirizine, Lordestin, Nixar, Parlazin, Pipolfen, Tavegil, Fenistil, Fenkarol, Chlorinastirinopyramine, Elenzipramine.
Terms and conditions of storage
Store at a temperature not exceeding 25 ° C out of reach of children.
Shelf life is 2 years.
Terms of dispensing from pharmacies
Available without a prescription.
Reviews about Allerway
According to reviews, Allerway is an inexpensive but good antiallergic agent that quickly and effectively relieves allergy symptoms. Additional benefits include good tolerance, lack of hypnotic effects, and over-the-counter sale.
There are isolated reports of the insufficiency of the Allerway effect and the development of such undesirable reactions as drowsiness and increased appetite.
The price of Allerway in pharmacies
Depending on the pharmacy chain selling the drug, the price of Allerway for a pack of 10 tablets can be 218-261 rubles, for a pack of 30 tablets - about 447-498 rubles.
Allerway: prices in online pharmacies
Drug name
Price
Pharmacy
Allerway 5 mg film-coated tablets 10 pcs.
202 RUB
Buy
Allerway tablets p.p. 5mg 10 pcs.
212 r
Buy
Allerway 5 mg film-coated tablets 30 pcs.
RUB 300
Buy
Maria Kulkes Medical journalist About the author
Education: First Moscow State Medical University named after I. M. Sechenov, specialty "General Medicine".
Information about the drug is generalized, provided for informational purposes only and does not replace the official instructions. Self-medication is hazardous to health!
Recommended: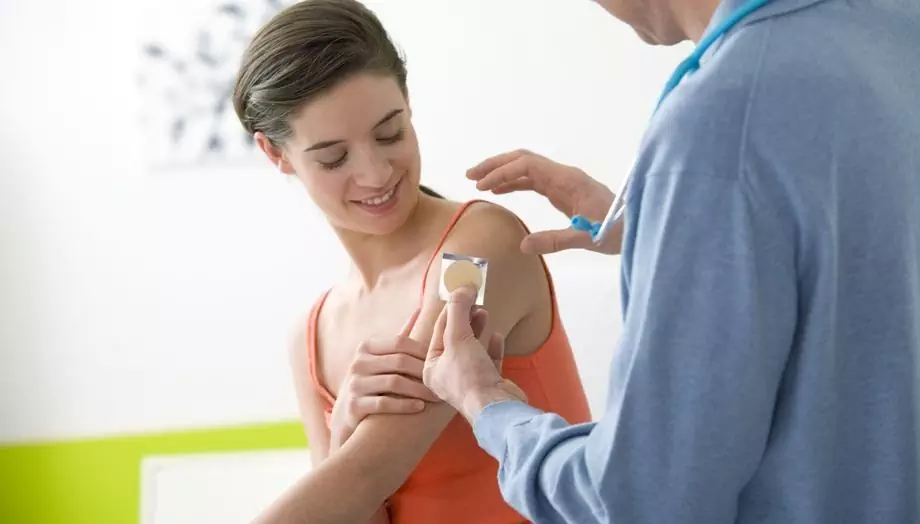 Nicotine patch is an effective remedy for weaning from nicotine addiction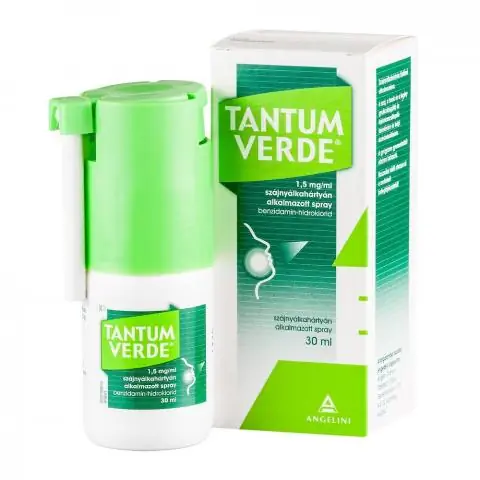 Instructions for use Tantum Verde in the form of a spray, tablets and solution. Information on doses for children, contraindications, reviews, analogues and the price of the drug in pharmacies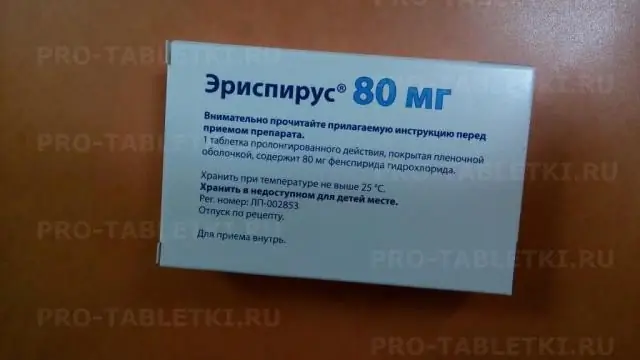 Instructions for use Erispirus tablets and syrup. Information on the dosage for children, contraindications, reviews, analogues and the price of the drug in pharmacies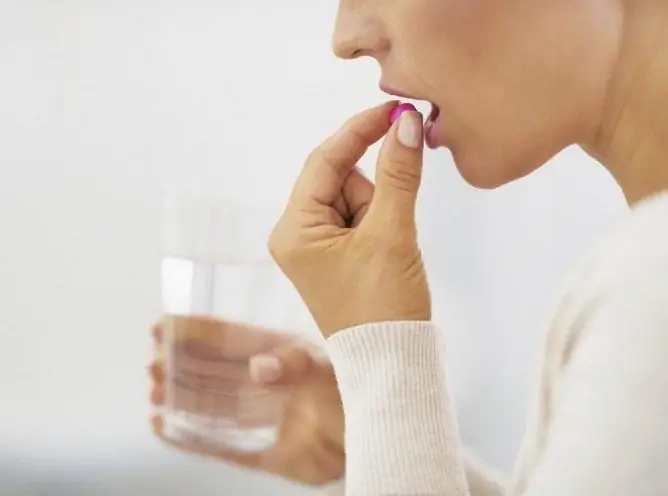 Sinusitis requires an integrated approach to treatment. The leading role in therapy belongs to antibiotics, which prevent the development of serious complications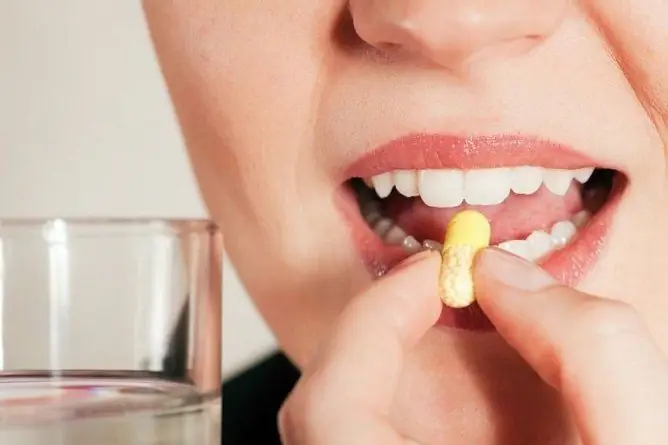 Treatment of angina with antibiotics in adults occupies a leading place in the bacterial form of the disease. The drugs are prescribed in the form of tablets, powder, solution for injection