Table of contents: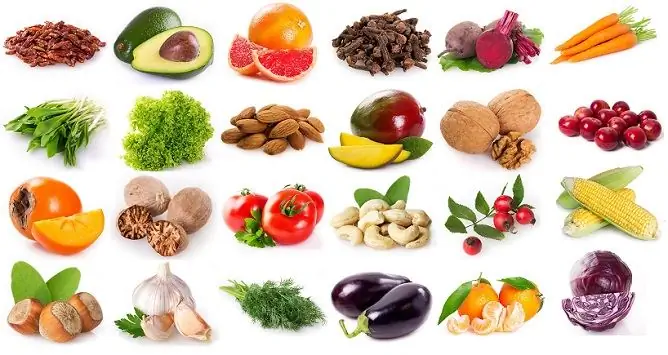 Video: What Foods Lower Blood Sugar: List, Recommendations
What foods lower blood sugar: a list with explanations
The content of the article:
Vegetables

White cabbage
Broccoli
Cauliflower
Zucchini
Onion
Asparagus
Jerusalem artichoke
Artichoke
Avocado

Fruits and berries

Grapefruit

Cereals, legumes, nuts

Oatmeal
Walnuts

Saltwater fish and seafood
Meat
Dairy
Spices and herbs
Foods that lower blood sugar are an integral part of the diet of patients with hyperglycemia and diabetes. However, it is important to know about them even if there is a predisposition to impairment of glucose absorption. Even a single increase in blood sugar levels is an alarming signal that you need to protect yourself from possible health problems. This indicator directly depends on physical activity, hereditary factors and daily diet.
Controlling blood sugar is generally recommended for people with pre-diabetes, diabetes, metabolic syndrome, and those looking to lose weight. Moreover, such monitoring is necessary during pregnancy.
In most cases, blood sugar rises due to poor nutrition. The first thing to do is to revise your diet, limit your intake of refined carbohydrates, and follow a low-carb diet. Such a diet can stop prediabetes, prevent its transformation into type 2 diabetes.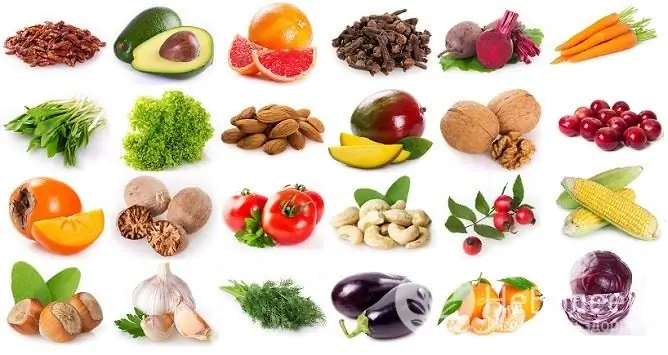 Low carbohydrate diet recommended for diabetes and pre-diabetic conditions
The basic rule of drawing up a diet is that it should include different groups of products that reduce sugar: vegetables, sea fish and seafood, fruits, spices. To speed up the metabolism and avoid overeating, it is recommended to eat 5-6 times a day in small portions.
When developing a sugar-lowering diet, the easiest way is to look at the table of glycemic indices - indicators of how quickly certain carbohydrate-containing foods affect blood sugar levels. Foods with a high glycemic index are able to quickly break down in the body to glucose, causing a sharp rise in sugar levels. When you eat foods with a low glycemic index, the glucose level rises more slowly, glucose enters the bloodstream gradually, in small portions, and is completely consumed to provide the body with energy.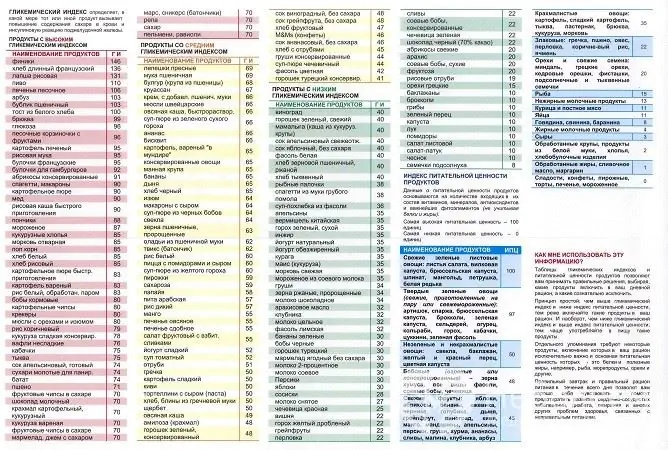 Vegetables
The combination of vitamins, minerals, slow carbohydrates, amino acids makes vegetables an irreplaceable product. Most vegetables have a low glycemic index, rich in vegetable fiber, which inhibits the process of glucose utilization. Preference should be given to green vegetables - cabbage, zucchini, onions, asparagus, cucumbers, parsley, spinach, etc.
White cabbage
Number one on the list of foods that lower blood sugar. It has a unique chemical composition that can normalize metabolic processes in the body, accelerate the processes of cell and tissue regeneration, lower blood sugar levels, and cleanse the body of excess cholesterol and toxins.
Broccoli
Sulforaphane, an organic plant compound found in broccoli, enhances the secretion of enzymes that protect the blood vessels and helps reduce the risk of cardiovascular effects of diabetes. The alcohols of this vegetable are able to maintain normal glycemic levels. Chromium regulates blood pressure, stabilizes blood sugar concentration.
Cauliflower
Vitamin C, fiber and other beneficial substances contained in cauliflower improve metabolism, normalize the synthesis of insulin by the pancreas, have a beneficial effect on the entire cardiovascular system, and normalize the intestinal microflora.
Zucchini
Pectins, which are rich in zucchini, reduce the concentration of sugar in the blood, get rid of toxins, and help reduce the level of bad cholesterol in the body. Pectins remove sodium salts and excess cholesterol from the liver, and then remove them through the intestines. The vacated space is occupied by alkaline salts, which give the liver energy to fight toxins. The tartronic acid contained in zucchini strengthens the walls of blood vessels and prevents them from narrowing.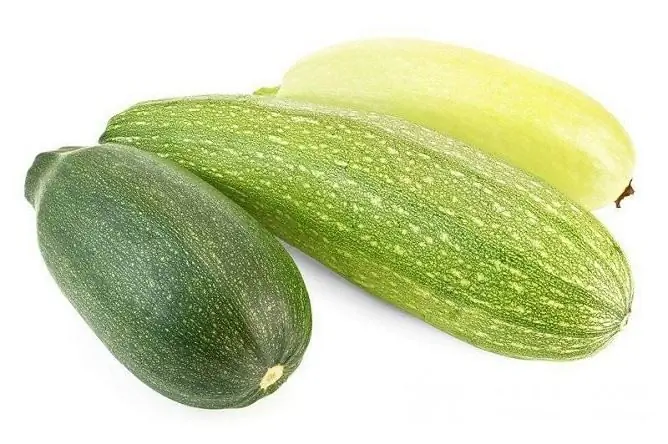 Zucchini is an essential food for a diet aimed at lowering blood sugar
By the way, stewed and even canned zucchini retain their beneficial properties, but we must not forget that after heat treatment, the glycemic index of the product increases significantly. However, in zucchini it is initially so small that this does not change their properties.
Onion
Onions have a unique chemical composition that can store additional insulin. Onions contain a lot of chromium, due to which they increase the sensitivity of cells and facilitate the absorption of sugar. A healing mixture of essential oils, vitamins, organic acids and mineral salts effectively restores the insulin-producing functions of the pancreas.
Asparagus
The substances contained in asparagus asparagine (has filtration and anti-aging properties) and saponin (enters into the fight against free radicals) are able to neutralize carcinogens, increase the rate of metabolic processes in the body. Coumarin stimulates the activity of the heart muscle, helps to cleanse the blood and its clotting. Amino acids normalize insulin production, and vitamin B6 maintains sugar levels within normal limits.
Jerusalem artichoke
Getting into the blood, fructose contained in Jerusalem artichoke transforms into glucose. However, due to the complex carbohydrate inulin contained in Jerusalem artichoke, the conversion process occurs slowly, while maintaining a constant blood sugar level. Inulin also helps to reduce blood cholesterol levels, activates the motor-evacuation function of the intestine.
Artichoke
The plant is rich in vitamins C, B1, B2, B3, P, carotene. The high inulin content makes it useful for diabetics. The artichoke is well absorbed and is recommended as a starch substitute for those for whom starch is contraindicated.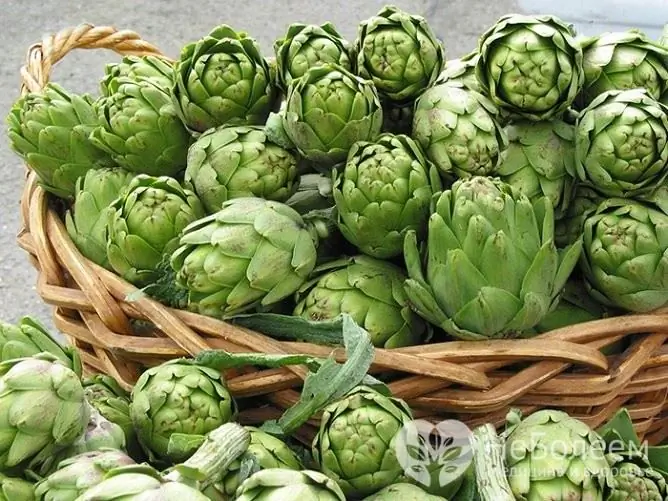 Artichoke is an indispensable product for diabetics, as it contains a large amount of inulin
With the help of substances that convert cholesterol into bile acids, artichoke cleanses the liver and blood vessels.
Avocado
Due to the presence of a substance such as mannoheptulose, avocado stabilizes the chemical balance in the body. The beneficial properties of mannoheptulose are used in the treatment of diabetes mellitus: it inhibits the action of enzymes necessary for the absorption of glucose, has a positive effect on glycemia. In addition, avocado is a source of vegetable protein, contains potassium and copper, vitamins B6, A, E.
Fruits and berries
From fruits, it is recommended to give preference to those in which the fiber content is high and the glucose content is minimal. Grapefruits, lemons, pineapples, tangerines, and oranges are high in vitamin C and limonene. These two components effectively regulate glucose levels in the body. Apples eaten with the skin stabilize the blood sugar level. Vitamins A, C, E and B group, potassium, trace elements (calcium, magnesium, phosphorus, iron and others) and nitrogenous compounds are also able to regulate metabolic processes in the body. …
Grapefruit
Grapefruit is a whole factory of substances necessary for the body. Grapefruit fruits have a low glycemic index and contain dietary fiber, essential oils, iron, potassium, vitamins C and A. All these substances help get rid of excess blood sugar, have antimicrobial and general strengthening effect on the stomach walls, and also improve digestion. It is recommended to eat no more than two fruits a day due to the high content of potential allergens in them.
Cereals, legumes, nuts
Foods that lower blood sugar are nuts, grains and legumes due to their high amounts of fiber and amino acids.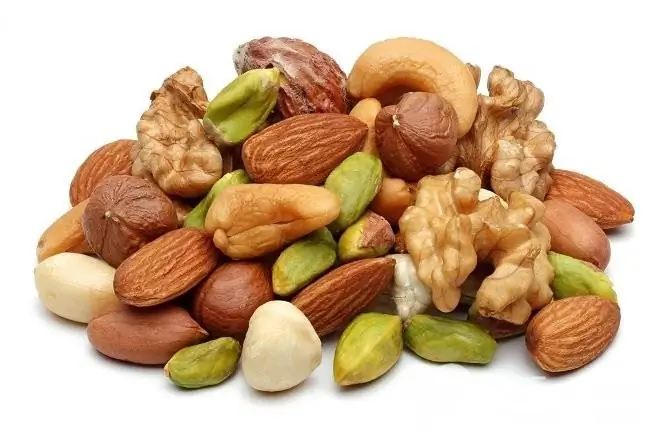 Nuts are a valuable food product that has a beneficial effect on metabolism
Cereals with a low glycemic index and load include oatmeal, barley, buckwheat, wheat, barley porridge, rice (brown, black, unpeeled). Fresh legumes also have a low glycemic index and have a significant effect on lowering blood sugar levels.
Oatmeal
Oatmeal contains polyphenols - biologically active substances that can oxidize fats, reduce cholesterol levels, and remove toxins. Without their help, nicotinic acid and toxins slow down liver function and reduce its defenses. The high fiber content slows down the absorption of glucose.
Walnuts
Nuts rich in fiber and alfalinoleic acid prevent the appearance and development of atherosclerosis, improve memory. Magnesium and zinc contained in nuts can lower blood sugar levels, lecithin - improve cerebral circulation, dilate blood vessels, and eliminate the causes of strokes. In the process of metabolism, lecithin turns into the neurotransmitter acetylcholine, the main function of which is to transfer information from the senses to the brain. Also, walnuts contain substances that normalize the acidic environment in the stomach, helping to avoid fatty liver.
Saltwater fish and seafood
The essential fatty amino acids omega-3 and omega-6 are not synthesized in the body on their own; they are found in sea fish and seafood. With regular use, it improves the condition of the cardiovascular system, helps to reduce inflammation, and prevents the formation of free radicals. Due to the rich content of easily digestible proteins and the almost complete absence of carbohydrates, seafood helps to fight overweight, helps to maintain normal blood sugar.
Meat
Poultry contains taurine, which is essential for hypoglycemia. It is quickly absorbed, does not contain much fat, and is rich in iron and niucin, a vitamin that promotes the restoration of cells of the nervous system.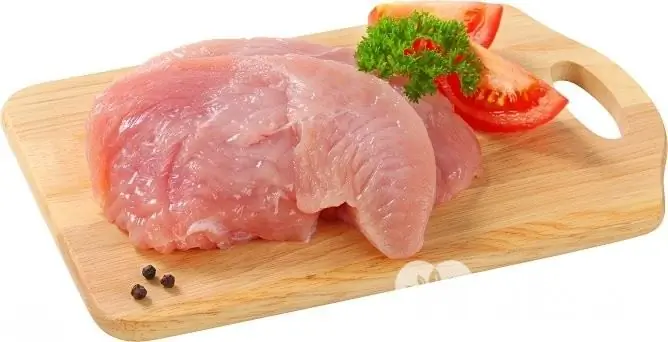 Lean meats are an important part of a low-carb diet
When following a low-carb diet, preference should also be given to lean beef and pork, which contain iron, amino acids, phosphorus and vitamins. Rabbit meat has a high content of complete protein, promotes the normalization of fat metabolism, and has a high dietary index.
Dairy
Dairy products that lower blood sugar include hard cheeses, thick natural yoghurts without additives, and butter. Despite their rather high fat content, it is not recommended to abandon them in favor of low-fat dairy products - in moderation they have a beneficial effect on metabolism. Due to the large amount of B vitamins contained in them, they contribute to the normalization of metabolism: B1 participates in the metabolism of glucose, B2 and B6 help in the breakdown of complex carbohydrates from fats.
Spices and herbs
All kinds of spices and seasonings will also be useful: mustard, garlic, ginger, herbs, vinegar, cinnamon. The combination of magnesium, flavonoids and polyphenols helps to reduce glucose, cholesterol and triglyceride levels, has an antioxidant anti-inflammatory, antihistamine effect, and also activates metabolic processes.
YouTube video related to the article: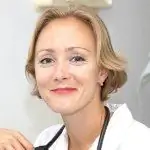 Anna Kozlova Medical journalist About the author
Education: Rostov State Medical University, specialty "General Medicine".
Found a mistake in the text? Select it and press Ctrl + Enter.
Recommended: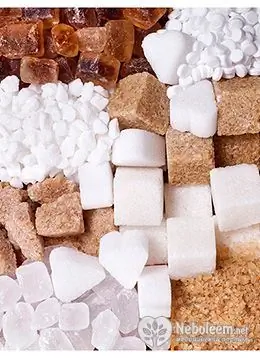 The high calorie content of sugar explains why this product is practically excluded from all diets, for the same reason it is recommended to replace sugar with fruits and berries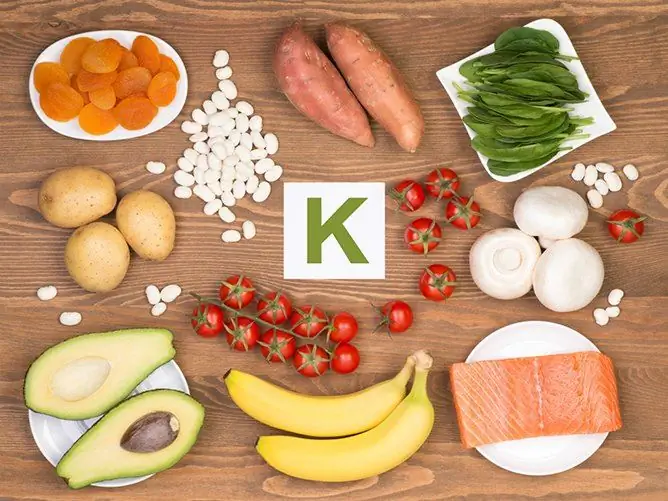 Products that lower blood pressure must be included in the diet of patients with hypertension - diet therapy is an important component of comprehensive treatment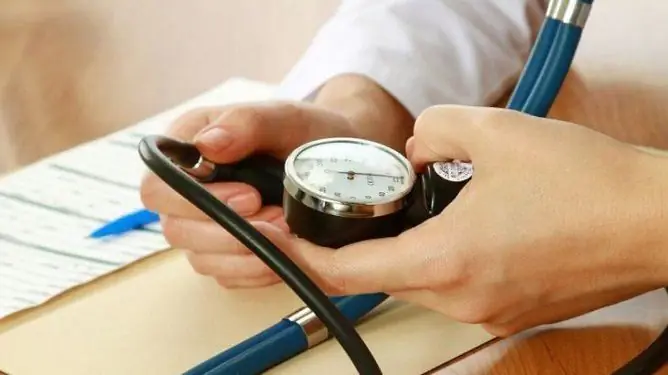 With diastolic hypertension, it is important to correct the pressure in a timely manner, otherwise it leads to a deterioration in the state of blood vessels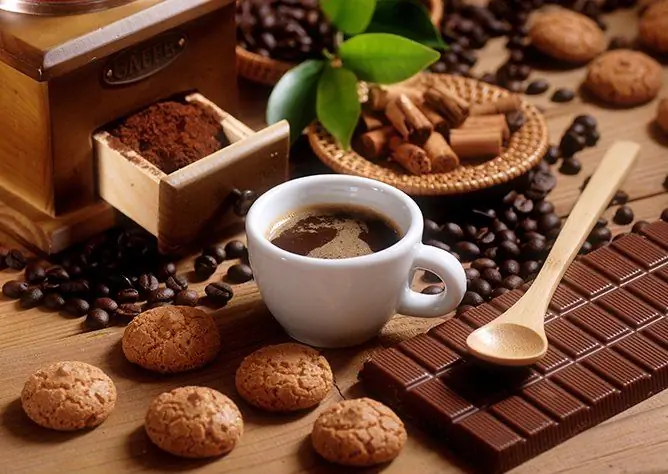 Foods that increase blood pressure include coffee, tea, chocolate, salty foods, high-calorie foods, some fruits and berries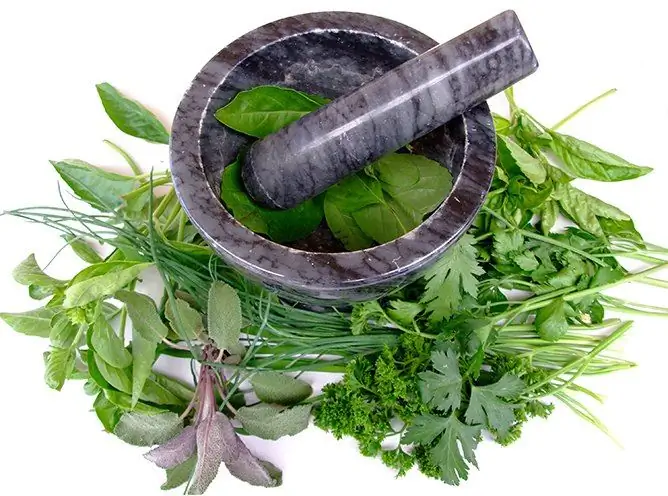 Medicinal herbs for high blood pressure can be included in antihypertensive therapy, and in some cases they can replace pharmaceutical drugs