Table of contents: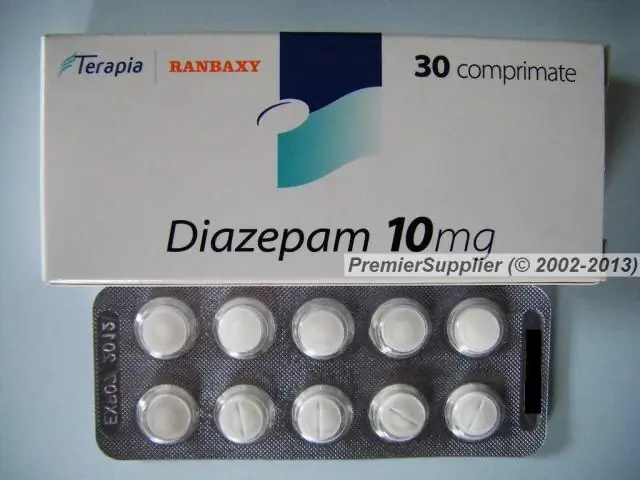 Video: Rudotel - Instructions For Use, Price, Tablet Analogs, Reviews
Rudotel
Rudotel: instructions for use and reviews
1. Release form and composition
2. Pharmacological properties
3. Indications for use
4. Contraindications
5. Method of application and dosage
6. Side effects
7. Overdose
8. Special instructions
9. Application during pregnancy and lactation
10. Use in childhood
11. In case of impaired renal function
12. For violations of liver function
13. Use in the elderly
14. Drug interactions
15. Analogs
16. Terms and conditions of storage
17. Terms of dispensing from pharmacies
18. Reviews
19. Price in pharmacies
Latin name: Rudotel
ATX code: N05BA03
Active ingredient: medazepam (medazepamum)
Manufacturer: AWD Pharma GmbH & Co. KG (Germany)
Description and photo update: 2018-21-11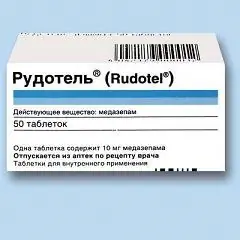 Rudotel is an anxiolytic agent (tranquilizer).
Release form and composition
Rudotel is produced in the form of tablets: flat, round, pale yellow, with smooth surfaces, with a risk on one side and with beveled intact edges (50 pcs. In dark glass bottles, 1 bottle in a cardboard box).
Composition of 1 tablet:
active substance: medazepam - 10 mg;
additional components: potato starch, lactose monohydrate, magnesium stearate, talc, gelatin, sikovit yellow-orange 85 (E110).
Pharmacological properties
Pharmacodynamics
The active ingredient of the drug Rudotel is medazepam, an anxiolytic (tranquilizer), which is part of the benzodiazepine group. It has anxiolytic and less pronounced muscle relaxant, hypnotic and anticonvulsant effect, and also exhibits a slight thymoleptic effect. Since medazepam has weaker hypnotic properties when compared with typical benzodiazepine tranquilizers, Rudotel is included in the group of daytime tranquilizers.
Medazepam interacts with benzodiazepine receptors in the limbic system and the ascending activating formation of the brainstem. The substance provides the opening of chlorine channels, leading to an increase in the inhibitory effect of gamma-aminobutyric acid (GABA) in the central nervous system (CNS).
Medazepam helps to eliminate psychoneurotic stress, fear, general motor arousal, excessive fussiness. Thanks to its action, the state of the autonomic nervous system is stabilized, the emotional background is normalized, the ability to critically assess one's own disease is restored.
Pharmacokinetics
When taken orally, medazepam is characterized by rapid absorption, its absorption can vary from 49 to 75%. The maximum concentration (Cmax) in the blood is observed after 1–2 hours; medazepam binds to plasma proteins almost completely - 99.8%.
The process of metabolic transformation occurs in the liver through N-demethylation, hydroxylation and oxidation with the formation of such active metabolites as desmethyldiazepam, diazepam, desmethylmedazepam (nordiazepam) and oxazepam (7.1% of the dose). Desmethylmedazepam has a long half-life (T 1/2), accumulates in the body and demonstrates a pronounced sedative effect.
Metabolites associated with glucuronic acid are excreted by the kidneys (63–85%) and through the intestines (15–37%), T 1/2 can range from 20 to 176 hours. Within 3-14 days after stopping the administration of Rudotel, significant concentrations of its metabolites are detected in plasma due to their prolonged T 1/2.
Indications for use
neurotic disorders, accompanied by anxiety, anxiety, fear;
psychovegetative and psychosomatic disorders, including migraine, sleep disturbances, functional disorders of the cardiovascular system and gastrointestinal tract (GIT);
climacteric syndrome.
Contraindications
Absolute:
acute liver and / or kidney disease;
alcohol and drug addiction;
sleep apnea;
severe myasthenia gravis;
age up to 10 years;
pregnancy (I trimester) and the period of breastfeeding;
hypersensitivity to the constituents of the anxiolytic agent.
Relative (use Rudotel with extreme caution):
renal and / or hepatic impairment;
organic lesions of the central nervous system;
chronic respiratory failure of the obstructive type;
spinal and cerebellar ataxia;
intraocular hypertension;
elderly age;
II – III trimesters of pregnancy;
severe general condition.
Instructions for use of Rudotel: method and dosage
Rudotel tablets are taken orally, on an empty stomach, with a sufficient amount of liquid.
The daily dose for adults is 10-30 mg (1-3 tablets) taken in 2-3 doses or 1 time in the evening (before meals, 30 minutes before bedtime). The maximum daily dose, if necessary, can be increased on an outpatient basis to 40 mg (4 tablets), and in a hospital setting - up to 60 mg (6 tablets). The duration of therapy is set by the attending physician, taking into account the indications and the patient's individual response to the drug.
In the chronic form of the disease, the course should not exceed 4 weeks. In acute states of agitation, emotional stress or fear, the use of Rudotel is limited to several days of admission or single doses.
At the end of a long course (more than 1 week), in order to prevent the onset of withdrawal symptoms, the drug should be withdrawn gradually.
Children over 10 years of age are advised to take Rudotel at a daily dose of 0.5–1 mg / kg, while the maximum allowable dose should not exceed 1 mg / kg per day.
For elderly patients, the drug is prescribed at a dose of 10–20 mg per day.
Side effects
cardiovascular system: a sharp drop in blood pressure (BP), tachycardia, bradycardia;
nervous system and sensory organs: fatigue, drowsiness, lethargy, headache, dizziness, slowing down of reactivity, confusion, anterograde amnesia, ataxia; rarely - uncertainty of gait and movements, articulation disorders, visual disturbances, depression, hallucinations, respiratory depression, paradoxical reactions (sleep disturbances, agitation, bouts of increased aggressiveness, fear, convulsions of various muscle groups, suicidal thoughts);
genitourinary system: rarely - decreased libido, decreased potency, urinary retention, menstrual irregularities;
respiratory system: rarely - laryngospasm, chest pain, depression of the respiratory center (with brain damage or airway obstruction), alveolar hypoventilation (while taking high doses in patients with chronic obstructive pulmonary disease);
digestive system: rarely - pain in the epigastric region, diarrhea, vomiting, constipation, nausea, dry mouth, jaundice;
allergic reactions: rarely - exanthema, redness, itching;
others: withdrawal syndrome, drug dependence (mainly with prolonged use).
Overdose
Symptoms of a medazepam overdose may include the following disorders: drowsiness, confusion, a sharp drop in blood pressure, dysarthria, muscle weakness, ataxia; in severe cases - loss of consciousness, cyanosis, respiratory and cardiac arrest.
In this condition, gastric lavage and the introduction of flumazenil are prescribed.
special instructions
It is necessary to avoid uncontrolled long-term use (over 4 weeks) of Rudotel due to the increased risk of addiction and drug dependence.
During the period of therapy, alcohol is prohibited.
On the background of treatment with benzodiazepines, the presence of difficulty in learning and inhibition of memorization processes was established.
Influence on the ability to drive vehicles and complex mechanisms
During treatment with the drug, it is not recommended to drive vehicles and carry out any other potentially dangerous activities.
Application during pregnancy and lactation
Long-term use of the drug during pregnancy can provoke the development of withdrawal symptoms in a newborn. In the first trimester of pregnancy, taking Rudotel is contraindicated, in the II – III trimesters - it is allowed only on strict indications.
During the period of breastfeeding, the use of a tranquilizer is contraindicated.
Pediatric use
It is contraindicated for children under 10 years old to use Rudotel; over the age of 10 years, the drug should be used only under strict indications.
With impaired renal function
In the presence of acute kidney disease, the drug is contraindicated.
Patients with renal insufficiency are advised to take Rudotel with caution.
For violations of liver function
In the presence of acute liver disease, the drug is contraindicated.
Patients with hepatic impairment are advised to take Rudotel with caution.
Use in the elderly
According to the instructions, Rudotel should be used with extreme caution in the elderly.
Drug interactions
muscle relaxants, opioid analgesics, drugs for anesthesia, ethanol: the threat of an increase in the depressing effect on the central nervous system is aggravated;
phenytoin, barbiturates: the effectiveness of medazepam decreases;
beta-blockers, antihypertensive agents of central action, anticoagulants: it is impossible to predict the nature and results of the interaction (care should be taken);
cimetidine, disulfiram, omeprazole: it is possible to increase the intensity and duration of medazepam action;
phenytoin: its biotransformation is inhibited and its effectiveness increases;
oral contraceptives: it is possible to suppress the metabolism of medazepam, and, as a result, to increase its effect;
levodopa: its effectiveness decreases.
Analogs
Rudotel's analogues are: Nobrium, Mezapam, Medazepam, Nobretem, etc.
Terms and conditions of storage
Store in a place protected from light, out of the reach of children, at a temperature not exceeding 30 ° C.
The shelf life is 5 years.
Terms of dispensing from pharmacies
Dispensed by prescription.
Reviews about Rudotel
The few reviews about Rudotel are mostly positive. Patients note the mild sedative effect of the drug, due to which nervous tension is relieved, sleep improves, anxiety, anxiety and fear decrease.
The disadvantages of anxiolytic include the possible development of addiction and withdrawal syndrome. Many patients also note that Rudotel cannot be purchased in the pharmacy chain.
Price for Rudotel in pharmacies
There is no information on the price of Rudotel, since the drug is currently not available for sale.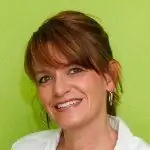 Maria Kulkes Medical journalist About the author
Education: First Moscow State Medical University named after I. M. Sechenov, specialty "General Medicine".
Information about the drug is generalized, provided for informational purposes only and does not replace the official instructions. Self-medication is hazardous to health!
Popular by topic