Table of contents: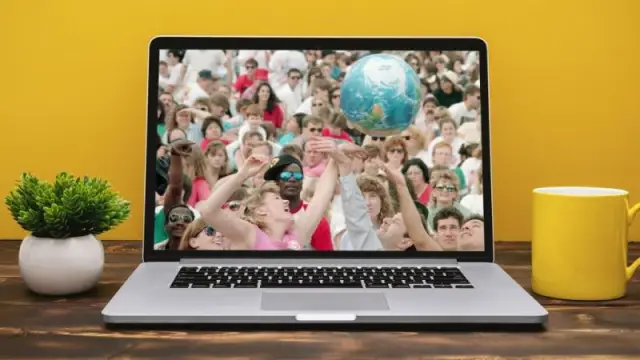 Video: Hartman's Solution - Instructions For Use, Price, Reviews, Analogues
Hartman's solution
Hartman's solution: instructions for use and reviews
1. Release form and composition
2. Pharmacological properties
3. Indications for use
4. Contraindications
5. Method of application and dosage
6. Side effects
7. Overdose
8. Special instructions
9. Application during pregnancy and lactation
10. In case of impaired renal function
11. For violations of liver function
12. Drug interactions
13. Analogs
14. Terms and conditions of storage
15. Terms of dispensing from pharmacies
16. Reviews
17. Price in pharmacies
Latin name: Hartmann's Solution
ATX code: B05BB01
Active ingredient: Sodium lactate solution complex (Potassium chloride + Calcium chloride + Sodium chloride + Sodium lactate) [Compound solution of sodium lactate (Potassium chloride + Calcium chloride + Sodium chloride + Sodium lactate)]
Manufacturer: Hemofarm (Serbia), BIOCHIMIK, JSC (Russia)
Description and photo updated: 12.07.2018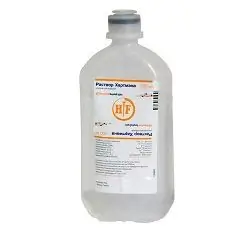 Hartman's solution is a drug with a plasma-substituting effect.
Release form and composition
Dosage form of release - solution for infusion: colorless, transparent (100, 200 or 400 ml in glass bottles for blood, in a cardboard box 1 bottle; 100, 200, 250, 400, 500 or 1000 ml in polyolefin bags; 500 each ml in polyethylene bottles with a built-in holder for a dropper, in a cardboard box 10 bottles).
Active ingredients in 1 liter of solution:
calcium chloride - 0.294 g;
sodium chloride - 6.02 g;
potassium chloride - 0.373 g;
sodium lactate solution - 6.276 g.
Additional components: hydrochloric acid - up to pH 5.5–6.3; water for injection - up to 1 ml.
The content of active substances in the solution corresponds to:
sodium (Na +) - 131 mmol / l;
potassium (K +) - 5 mmol / l;
calcium (Ca 2+) - 2 mmol / l;
chloride (Cl -) - 112 mmol / l;
lactate - 28 mmol / l.
The theoretical osmolarity of Hartmann's solution is 278 mOsm / L.
Pharmacological properties
Pharmacodynamics
In terms of osmolarity and composition, Hartmann's solution corresponds to the extracellular fluid, due to which it is used to replace electrolytes and extracellular fluid, as well as to regulate acid-base balance.
Theoretically, Hartman's solution in its properties (ensuring the replacement of three important cations in the extracellular fluid - Na +, Ca 2+ and K +) is better than an isotonic sodium chloride infusion solution. Lactate is metabolized to bicarbonate, and therefore the solution has an alkalizing effect.
Indications for use
hypovolemia and severe dehydration against the background of a normal acid-base state or mild acidosis, including in order to compensate for electrolyte and water deficiency associated with severe vomiting and diarrhea, extensive burns, peritonitis, severe infections;
the need to maintain the volume of extracellular fluid during / after surgical interventions, which makes it possible to temporarily delay blood transfusion;
significant blood loss, shock, trauma (initial stage of therapy).
Contraindications
Absolute:
hyperchloremia;
hypervolemia;
hypertensive dehydration;
hypernatremia;
hyperkalemia;
arterial hypertension;
hepatic, renal and heart failure;
hyperlactacidemia;
alkalosis;
lactation period;
individual intolerance to any component of the drug.
Relative (Hartman's solution is prescribed after assessing the benefit / risk ratio):
respiratory failure;
dehydration in an acute course;
hypoproteinemia;
combined use with corticotropin and glucocorticosteroids;
pregnancy.
Instructions for use of Hartman's solution: method and dosage
Hartman's solution is administered as an intravenous infusion, the average rate is 60 drops / minute (2.5 ml / kg / hour), the rate of infusion in emergency conditions can be increased to 100 drops / minute.
The total amount of solution is determined by the clinical condition of the patient.
The average daily dose for children is 20–30 ml / kg, for an adult - 1000 ml.
The maximum is 2500 ml per day.
During the first 24 hours, the daily need for fluid and half of the deficit should be provided, during the next two days - 25% of the part of the fluid deficit. The general fluid deficit is thus compensated for within 72 hours. When replacing previously lost fluid, you need to consider the ongoing loss and replace it.
Side effects
Possible side reactions: thrombophlebitis, allergic reactions, anxiety, hypervolemia, hyperchloremia, hyperhydration.
Overdose
There is no data on overdose.
In cases of overdose, it is usually sufficient to stop the administration of the solution.
special instructions
According to the instructions, Hartman's solution is used in emergency conditions in order to maintain the plasma volume within physiological limits.
The drug should not be used in case of severe deficiency of K +, Na + and Ca 2+.
In cases where large volumes are used, it is necessary to monitor the acid-base state.
In renal failure, hemodialysis can be used with continuous monitoring of the acid-base state.
You can use only a clear solution in undamaged vials.
Application during pregnancy and lactation
pregnancy: the appointment of Hartman's solution is possible after assessing the benefit / risk ratio;
lactation period: therapy is contraindicated.
With impaired renal function
Contraindication: renal failure.
For violations of liver function
Contraindication: liver failure (associated with a decrease in the formation of bicarbonate from lactate).
Drug interactions
Hartmann's solution inhibits the excretion of drugs with an alkaline reaction and alkalizes urine. Accelerates the release of salicylates and Li +.
Other possible interactions:
non-steroidal anti-inflammatory drugs, androgens, anabolic hormones, estrogens, corticotropin, mineralocorticoids, vasodilators, ganglion blockers: increased sodium retention in the body;
cardiac glycosides: an increase in the likelihood of their toxic effects;
potassium-sparing diuretics, angiotensin-converting enzyme inhibitors and potassium preparations: increased likelihood of hyperkalemia.
Analogs
Analogs of Hartman's solution are Ringer lactate and Ringer Lactate Viaflo.
Terms and conditions of storage
Store at 15-25 ° C. Keep out of the reach of children.
The shelf life is 3 years.
Terms of dispensing from pharmacies
Released for hospitals.
Reviews about Hartman's solution
Reviews of Hartman's solution are few, since the drug is used in stationary conditions to replace electrolytes and extracellular fluid.
Price for Hartman's solution in pharmacies
The approximate price for Hartman's solution 500 ml for 1 or 10 bottles is 29 rubles. or 360-380 rubles. respectively.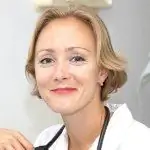 Anna Kozlova Medical journalist About the author
Education: Rostov State Medical University, specialty "General Medicine".
Information about the drug is generalized, provided for informational purposes only and does not replace the official instructions. Self-medication is hazardous to health!
Popular by topic