Table of contents: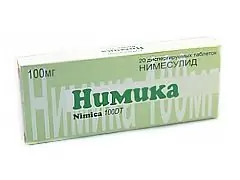 Video: Nimika - Instructions For Use, Indications, Doses, Analogues
Nimica
Instructions for use:
1. Release form and composition
2. Indications for use
3. Contraindications
4. Method of application and dosage
5. Side effects
6. Special instructions
7. Drug interactions
8. Analogs
9. Terms and conditions of storage
10. Terms of dispensing from pharmacies
Prices in online pharmacies:
from 129 rub.
Buy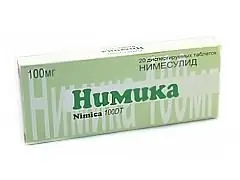 Nimica is a non-steroidal anti-inflammatory drug (NSAID) from the sulfonanilide class with analgesic and antipyretic effects.
Release form and composition
Dispersible tablets: flat, round, with beveled edges, yellow, on one side there is a dividing line (10 pcs. In blisters, 2 or 10 blisters in a cardboard box);
Suspension for oral administration: homogeneous, yellow (30 ml in dark glass vials, 1 vial complete with a measuring cap in a cardboard box).
The active substance is nimesulide, its content:
1 tablet - 50 or 100 mg;
5 ml of suspension - 50 mg.
Tablet excipients: aspartame, citric acid monohydrate, microcrystalline cellulose, sodium starch glycolate, purified talc, gelatinized starch, starch, magnesium stearate, colloidal silicon dioxide, purified water, flavoring (in tablets 50 mg tablets - 100 mg - banana fruit).
Suspension excipients: sorbitol, xanthan gum, propylparaben, citric acid monohydrate, colloidal silicon dioxide, sucrose, polysorbate-80, glycerin, methylparaben, purified water, fruit essence, "Quinolin" yellow dye.
Indications for use
Fever due to upper respiratory tract infections of bacterial or viral etiology;
Pain syndrome of various origins, including in the postoperative period;
Soft tissue injuries;
Damage to the musculoskeletal system.
Contraindications
Absolute:
Children under 12 years of age;
Peptic ulcer and 12 duodenal ulcer in the acute phase;
Bleeding from the gastrointestinal tract;
Aspirin asthma;
Severe renal and / or liver dysfunction;
During pregnancy and breastfeeding;
Hypersensitivity to any component of the drug, acetylsalicylic acid or other NSAIDs.
Relative:
Mild to moderate renal impairment;
Arterial hypertension;
Heart failure;
Type 2 diabetes mellitus;
Visual impairment.
Method of administration and dosage
Nimik should be taken orally after meals.
The tablets must be suspended immediately before taking: dissolve in 1 tsp. (5 ml) water.
Recommended dosage regimens:
Adults - 100 mg 2 times a day;
Children - 1.5 mg / kg 2-3 times a day, but not more than 5 mg / kg per day.
Side effects
Nimic is generally well tolerated.
In rare cases, the following side effects may develop:
Digestive system: ulceration of the mucous membrane of the gastrointestinal tract, stomach pain, nausea, diarrhea, vomiting, increased activity of hepatic transaminases;
Metabolism: fluid retention;
Central nervous system: drowsiness, dizziness;
Hematopoietic system: anemia, leukopenia, agranulocytosis, thrombocytopenia, hematuria, prolonged bleeding time;
Allergic reactions: skin rash, itching, anaphylactic shock.
special instructions
In some cases, Nimika can cause dizziness and drowsiness. This should be taken into account by vehicle drivers and people employed in potentially hazardous industries that require high reaction speed and increased attention.
If any adverse reactions occur, you need to cancel the drug and consult your doctor.
Drug interactions
Care should be taken if it is necessary to simultaneously use nimesulide with the following drugs (you need to control their concentration in blood plasma):
Other NSAIDs;
Oral antidiabetic drugs;
Antihypertensive drugs;
Diuretics
Anticoagulants;
Methotrexate;
Lithium preparations;
Phenytoin;
Digoxin;
Cyclosporine.
Analogs
Analogs of the drug Nimik are: Nimesil, Actasulid, Aponil, Nimulid, Aulin, Sulaidin, Mesulid, Coxtral, Nise, Nimegesik, Nemulex, Nimesan, Nimesulid, Ameolin, Nimesulid-Teva, Prolid, Novolid, Flolid.
Terms and conditions of storage
Store at temperatures up to 25 ºС in a place out of reach of children, protected from moisture and sunlight.
Shelf life is 2 years.
Terms of dispensing from pharmacies
Available without a prescription.
Nimika: prices in online pharmacies
Drug name
Price
Pharmacy
Nimica 50 mg dispersible tablets 20 pcs.
129 RUB
Buy
Nimica 100 mg dispersible tablets 20 pcs.
184 r
Buy
Nimica tablets dispersg 100mg 20 pcs.
189 r
Buy
Information about the drug is generalized, provided for informational purposes only and does not replace the official instructions. Self-medication is hazardous to health!
Popular by topic