Table of contents:
Video: Neotigazon - Instructions For Use, Price, Reviews, Analogues
Neotigazon
Neotigazon: instructions for use and reviews
1. Release form and composition
2. Pharmacological properties
3. Indications for use
4. Contraindications
5. Method of application and dosage
6. Side effects
7. Overdose
8. Special instructions
9. Application during pregnancy and lactation
10. Use in childhood
11. For violations of liver function
12. Use in the elderly
13. Drug interactions
14. Analogs
15. Terms and conditions of storage
16. Terms of dispensing from pharmacies
17. Reviews
18. Price in pharmacies
Latin name: Neotigason
ATX code: D05BB02
Active ingredient: Acitretin (Acitretin)
Manufacturer: Patheon Inc. (Canada)
Description and photo update: 2018-25-10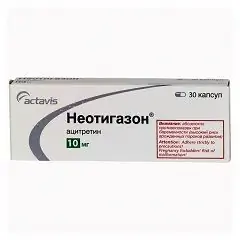 Neotigazone is a tissue repair stimulator.
Release form and composition
Dosage form of Neotigazone - gelatin capsules:
10 mg: size 4, with an opaque white or slightly yellowish body and an opaque brown lid. The cap of the capsule has a black inscription "actavis", on the case - "10";
25 mg: size no. 1, with a yellow opaque body and a brown opaque lid. The cap of the capsule has a black inscription "actavis", on the case - "25".
The contents of the capsule are powder with compact lumps from pale yellow to yellow.
Packing of capsules: blisters - 5 and 10 pcs., In a cardboard box 6, 10 or 20 blisters of 5 capsules or 3, 5 or 10 blisters of 10 capsules.
Composition of 1 capsule:
active substance: acitretin - 10 or 25 mg (in the form of a dry spray * containing 25% of the active substance);
auxiliary component: microcrystalline cellulose - 125 mg.
* 1 g of dry spray contains: maltodextrin - 410 mg, gelatin - 270 mg, acitretin - 250 mg, sodium ascorbate - 70 mg.
Pharmacological properties
Pharmacodynamics
Neotigazone is a systemic retinoid.
The active ingredient of the drug - acitretin - is an aromatic analogue of retinoic acid.
The mechanism of action of acitretin is unknown. In the course of clinical studies, it was found that in case of keratinization and psoriasis disorders, the drug normalizes the processes of differentiation, proliferation and keratinization of epidermal cells. Neotigazone has a symptomatic effect.
In studies on the tolerability of acitretin, neither a carcinogenic nor a mutagenic effect has been established. There were also no indications of direct hepatotoxicity. Acitretin had a pronounced teratogenic effect on animals.
Pharmacokinetics
The bioavailability of a single dose of acitretin is about 60%, but it can vary significantly depending on individual characteristics and circumstances - in the range from 36 to 95%.
The maximum concentration of the drug in the blood plasma is observed 1–4 hours after its administration. The best bioavailability is achieved when Neotigazone is taken with meals.
It is characterized by a high bond with plasma proteins - not less than 99%. Easily penetrates tissue. In animal studies, it has been established that acitretin is able to cross the placental barrier in quantities that can cause fetal malformations. It has a pronounced lipophilicity, which suggests that it can pass into breast milk in large doses.
It is metabolized by the formation of glucuronides and cleavage of the side chain, as well as by isomerization with the formation of the main metabolite of the 13-cis isomer (cis-acitretin), which is teratogenic.
The half-life (T ½) of acitretin is about 50 hours, cis-acitretin is 60 hours.
The longest duration of T ½ acitretin is 96 hours, cis-acitretin is 123 hours. Considering these data and linear kinetics, it is assumed that more than 99% of the drug is excreted from the body within 36 days after the cessation of long-term therapy. In addition, within 36 days after discontinuation of the drug, the concentrations of the active substance Neotygazone and its main metabolite decreased below the sensitivity limit of the method (<6 ng / ml).
It is excreted by the biliary tract and kidneys in the form of metabolites.
Indications for use
severe dyskeratosis, including congenital ichthyosis;
severe forms of psoriasis, including localized and generalized pustular psoriasis, psoriatic erythroderma;
Daria's disease;
red hair lichen;
other severe keratinization disorders resistant to standard therapies.
Contraindications
glucose-galactose malabsorption;
severe hepatic / renal impairment;
severe chronic hyperlipidemia;
simultaneous use of tetracyclines, methotrexate, vitamin A and other retinoids;
period of pregnancy and lactation;
hypersensitivity to any component of the drug or other retinoids.
Neotigazone has a pronounced teratogenic property, therefore it should not be prescribed to women of childbearing age who do not use reliable methods of contraception.
Instructions for the use of Neotigazon: method and dosage
Neotigazone is indicated for oral administration. It is recommended to take capsules 1 time per day with meals or with milk.
The dose is selected individually, taking into account the differences in absorption and metabolic rate of acitretin in each patient.
Below are indicative recommendations.
For adults, the initial daily dose is 25 mg (1 capsule at a dose of 25 mg) or 30 mg (3 capsules of 10 mg each). The course of treatment is 2-4 weeks. Then the therapy is continued for about 6-8 weeks in a maintenance dose, which depends on the clinical efficacy of the drug and its tolerance and, as a rule, is 25-50 mg. In some cases, an increase in the daily dose to 75 mg (3 capsules of 25 mg) is required. Treatment is discontinued after sufficient regression of psoriatic lesions. With dyskeratosis, maintenance therapy is carried out in the minimum effective doses, no more than 50 mg.
For children, Neotigazone is prescribed only if all other available treatment methods have been ineffective. The daily dose is approximately 0.5 mg per kilogram of body weight. In some cases, higher doses are prescribed for a limited time - up to 1 mg / kg, but not more than 35 mg per day. The lowest effective dose is recommended for maintenance therapy. If long-term treatment is necessary, the expected therapeutic effect should be weighed against the possible risks of severe side effects.
Combination therapy
If Neotigazon is prescribed as part of a complex therapy, its dose should be reduced, taking into account the individual patient's response.
If necessary, you can continue with the usual external treatment, it does not affect the action of acitretin.
Side effects
Side effects occur in most patients undergoing Neotigazone therapy. They usually disappear after reducing the dose of the drug or after its withdrawal. At the beginning of treatment, the symptoms of the underlying disease may worsen.
The most common adverse reaction is hypervitaminosis A. Its first symptom is usually dry lips (this can be eliminated with a greasy cream).
Possible side effects of Neotigazone:
on the part of the skin and subcutaneous tissues: very often (> 10%) - cheilitis, alopecia, itching, peeling of the skin all over the body (especially on the soles and palms); often (from> 1% to 0.1% to <1%) - photosensitization reactions, bullous dermatitis, cracks in the skin; frequency unknown - urticaria, madarosis (loss of eyelashes, and sometimes eyebrows), pyogenic granuloma, angioedema;
from the liver and biliary tract: infrequently - hepatitis; very rarely (<0.01%) - jaundice;
on the part of the organ of vision: very often - dryness and inflammation of the mucous membrane of the eyes (including xerophthalmia and conjunctivitis), which can lead to intolerance to contact lenses; infrequently - decreased vision clarity; very rarely - corneal ulcers, hemeralopia (night blindness);
on the part of the organ of hearing: the frequency is unknown - tinnitus, hearing impairment;
from the nervous system: often - headache; infrequently - vertigo; rarely, peripheral neuropathy; very rarely - increased intracranial pressure;
from the immune system: the frequency is unknown - hypersensitivity reactions;
from the gastrointestinal tract: very often - thirst, dryness of the oral mucosa; often - abdominal pain, stomatitis, vomiting, nausea, diarrhea; infrequently - gingivitis; frequency unknown - rectal bleeding, impaired taste;
from the side of the vessels: the frequency is unknown - flushing of the face;
from the respiratory system: very often - inflammation and dryness of the mucous membrane (for example, rhinitis, epistaxis);
infectious and parasitic diseases: frequency unknown - vulvovaginitis caused by Candida albicans;
on the part of musculoskeletal and connective tissue: often - myalgia, arthralgia; very rarely - bone pain, hyperostosis (with maintenance therapy, it is possible to increase existing hyperostosis of the spine or the appearance of new ones, the development of soft tissue calcification);
laboratory and instrumental data: very often - a reversible increase in alkaline phosphatase and aminotransferase activity, a reversible increase in serum cholesterol and triglycerides, especially with long-term treatment and in high-risk patients. If these disorders persist, a high risk of atherogenesis (formation of an atherosclerotic plaque) cannot be ruled out;
others: often - peripheral edema; in patients with diabetes mellitus - deterioration or improvement of glucose tolerance.
In children with long-term treatment, there is a possibility of changes in bone tissue, including premature closure of the epiphyses, extraosseous calcification, hyperostosis of the skeleton.
Overdose
Overdose symptoms are identical to those of acute hypervitaminosis A: dry lips, pruritus, drowsiness, headache, dizziness, irritability, nausea, vomiting.
In case of an acute overdose, you should immediately stop taking the drug. The acute toxicity of Neotigazone is low, so no special treatment is required.
special instructions
Neotigazone should be prescribed only by a physician who has experience in treating systemic retinoids and understands the risk of their teratogenic effects.
The doctor must provide each patient with complete information about the properties of the drug and measures to prevent pregnancy.
Before taking the drug, you should examine the liver function and monitor its functional state during treatment: during the first two months - every 1-2 weeks, then - once every 3 months. If the analysis reveals liver pathology, control should be carried out once a week. If in the course of treatment the hepatic function does not return to normal or worsens, Neotigazone should be canceled and the condition monitored for at least 3 months.
During the period of therapy, careful monitoring of vision for possible disorders is required.
There are isolated cases of the development of benign intracranial hypertension during treatment with retinoids. If the patient is worried about visual impairments, severe headaches, nausea, vomiting, Neotigazone should be discontinued immediately and a neurologist should be consulted.
When taking retinoids, the effect of ultraviolet radiation on the body increases, and therefore it is recommended to avoid excessive exposure to sunlight and ultraviolet lamps (for example, in a tanning bed). If necessary, sunscreens with a high protection factor (SPF at least 15) should be used.
In high doses, acitretin can cause mood changes such as irritability, depression, aggression.
Given the possible risks of complications while taking the drug, Neotigazone should not be passed on to other patients. Expired or unused capsules must be disposed of in accordance with applicable laws.
Risk groups among patients
In patients with obesity, diabetes mellitus, impaired lipid metabolism, alcoholism, the level of triglycerides, cholesterol and / or glucose in serum on an empty stomach should be systematically monitored: before starting the drug, during the first month of treatment, then every 3 months.
In diabetes mellitus, Neotigazone can change glucose tolerance (both improve and worsen), therefore, at the initial stage of therapy, more frequent monitoring of blood glucose concentration is required.
Patients with risk factors for the cardiovascular system should be monitored for symptoms that may indicate the development of complications (for example, regularly measure blood pressure).
If the patient has disorders of the cardiovascular system, and during treatment they do not normalize or worsen, the dose of Neotigazone should be reduced or canceled altogether.
For adult patients, especially the elderly, with prolonged treatment, regular appropriate examinations are shown in connection with the risk of developing ossification anomalies. In the event of such complications, the decision to continue therapy should be made on an individual basis, after assessing the benefits and risks.
It is important to monitor bone development and growth parameters in children receiving Neotigazone. To date, not all the consequences of the use of systemic retinoids are known, which can occur during a lifetime with prolonged use of these drugs.
The capsules contain glucose, therefore, the drug is contraindicated in patients with glucose-galactose malabsorption.
Women of reproductive age
According to the instructions, Neotigazon is contraindicated in any woman of childbearing age, except in cases where at least one of the following conditions is met:
the patient suffers from severe keratinization disorders resistant to traditional therapies;
there is confidence that the woman understands and will accurately follow the doctor's instructions, including regularly, without fail, to use the contraceptives recommended for her.
It is absolutely imperative that every woman of reproductive age regularly use effective methods of contraception (preferably two at the same time) for 4 weeks before starting taking Neotigazone, during treatment and for 2 years after it ends. The main method of protection is taking a combined oral contraceptive or using intrauterine contraceptives. The second method is to use a condom or diaphragm. It is advised to refrain from taking low-dose monopreparations containing progesterone (mini-pills), since acitretin can weaken its effect.
Neotigazone should be started no earlier than the second or third day of the next full menstrual cycle. In this case, three days before taking the drug, a pregnancy test should be done (with a minimum sensitivity of 25 mIU / ml) to exclude its presence.
During the entire treatment period, repeated pregnancy tests should be performed every 28 days.
Re-admission can only be started in case of a negative test result, which should be done no earlier than 3 days before the next visit to the doctor.
After acitretin therapy ends, pregnancy tests should be performed every 1–3 months for an additional two years.
When prescribing Neotigazone, the doctor should inform the woman in detail about the necessary precautions, the risk of developing very severe fetal malformations and other possible consequences in case of pregnancy while taking the drug and within 2 years after its cancellation.
The described contraceptive measures must be strictly observed when re-prescribing Neotigazone, regardless of the dose and duration of its administration, and also within 2 years after the end of repeated therapeutic courses.
If you suspect pregnancy, a woman should immediately consult a doctor.
If pregnancy occurs, there is a high risk of spontaneous abortion or severe fetal malformations, such as a hernia of the brain, malformations of the central nervous system, heart and blood vessels, thymus and skeleton. The risk is especially high if pregnancy occurs while taking acitretin and within 2 months after termination. Within 2 years, this risk gradually decreases, especially in women who did not take alcohol during the period of therapy. Nevertheless, the possibility of complications cannot be completely ruled out.
Women of reproductive age should not receive blood transfusions from patients receiving Neotigazone. Accordingly, blood donation is also prohibited for 2 years after the end of therapy.
According to the available data on the degree of influence on the frequency of birth defects during fertilization of women with semen and sperm of male patients receiving acitretin, it can be concluded that the risk of developing a teratogenic effect is minimal.
Influence on the ability to drive vehicles and complex mechanisms
At dusk, at night and in low light conditions in patients undergoing Neotigazone therapy, visual impairment is possible. Therefore, care must be taken when driving and performing potentially hazardous activities in poor lighting conditions.
Application during pregnancy and lactation
Neotigazone has a pronounced teratogenic property, therefore, it is contraindicated not only for pregnant women, but also for women who may become pregnant during treatment and / or within 2 years after its completion. The likelihood of having a baby with birth defects is especially high in cases where the drug was used before or during pregnancy. In this case, the dose taken and the duration of therapy do not matter.
Neotigazone is contraindicated in nursing women.
Pediatric use
The drug should be used with caution when treating patients under the age of 18 years.
For violations of liver function
In case of impaired liver function, Neotigazone should be used with caution, monitoring once a week. If the condition worsens, the drug is canceled.
Use in the elderly
The drug should be used with caution in old age.
Drug interactions
In order to avoid the development of hypervitaminosis A, other retinoids and preparations containing vitamin A should not be taken simultaneously with Neotigazone.
Acitretin is contraindicated in combination with tetracyclines, since a significant increase in intracranial pressure is possible.
The combined use of Neotigazone with methotrexate is prohibited, since this combination increases the risk of developing hepatitis.
Acitretin can reduce the contraceptive effect of low-dose progesterone mono-drugs (mini-pills).
Neotigazone somewhat reduces the degree of phenytoin binding to proteins, which should be taken into account when prescribing them simultaneously.
Acitretin does not affect the binding of coumarin anticoagulants (eg, warfarin) to proteins.
Other interactions of acitretin with other drugs (for example, combined oral estrogen / progestogen contraceptives, cimetidine, digoxin) were not detected.
In an in vitro study and in healthy volunteers, it was found that even a single dose of acitretin with ethyl alcohol leads to the formation of etretinate. In recent studies, the formation of etretinate was found in some patients who received Neotigazone. Until a complete explanation of this phenomenon is established, the pharmacokinetic features of etretinate should be considered. Its T ½ is about 120 days, which is why reliable methods of contraception should be used within 2 years after the end of the course of therapy.
Analogs
Neotigazon has no structural analogs. The following drugs have a similar mechanism of action: Beroxan, Ammifurin, Psoralen, Psoberan, Oxoralen.
Terms and conditions of storage
Shelf life - no more than 3 years, subject to the storage conditions recommended by the manufacturer: protected from light and moisture, temperature up to 25 ° C.
Terms of dispensing from pharmacies
Dispensed by prescription.
Reviews about Neotigazone
Due to the high cost, this drug is not in great demand.
Reviews of Neotigazone from patients who used it to treat severe psoriasis are mostly positive. A significant improvement in the external symptoms of the disease is described. However, it is observed only for a certain time, usually from 6 months to 2 years. Moreover, this interval is reduced in the treatment of relapses of psoriasis.
There are no reports of severe side effects. Most often, patients complain of dry lips, thinning of the skin on the palms and soles.
Separately, mention should be made of the teratogenic property of Neotigazone, which is why most women refuse to use it.
Price for Neotigazon in pharmacies
Approximate prices for Neotigazone: for 30 capsules of 10 mg - 1630-1950 rubles, for 30 capsules of 25 mg - 2895-3450 rubles.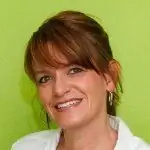 Maria Kulkes Medical journalist About the author
Education: First Moscow State Medical University named after I. M. Sechenov, specialty "General Medicine".
Information about the drug is generalized, provided for informational purposes only and does not replace the official instructions. Self-medication is hazardous to health!
Popular by topic