Table of contents: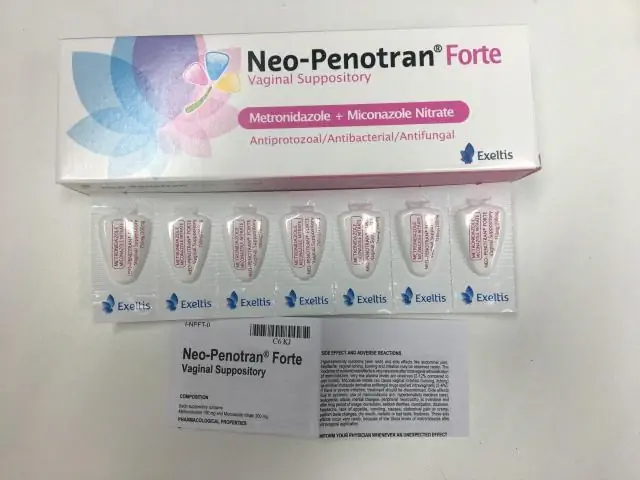 Video: Neo-Penotran Forte - Instructions For Use, Price, Analogues, Reviews
Neo-Penotran Forte
Neo-Penotran Forte: instructions for use and reviews
1. Form of release and composition
2. Pharmacological properties
3. Indications for use
4. Contraindications
5. Method of application and dosage
6. Side effects
7. Overdose
8. Special instructions
9. Application during pregnancy and lactation
10. Use in childhood
11. For violations of liver function
12. Drug interactions
13. Analogs
14. Terms and conditions of storage
15. Terms of dispensing from pharmacies
16. Reviews
17. Price in pharmacies
Latin name: Neo-Penotran Forte
ATX code: G01AF20
Active ingredient: metronidazole + miconazole (Metronidazolum + Miconazolum)
Manufacturer: Embil Pharmaceutical Co. Ltd. (Turkey)
Description and photo update: 2018-22-10
Prices in pharmacies: from 802 rubles.
Buy
Neo-Penotran Forte is a combined drug with antimicrobial, antiprotozoal and antibacterial action.
Form of release and composition
Dosage form Neo-Penotran Forte - vaginal suppositories, representing a flat body with a rounded end, almost white or white (7 pieces in a plastic blister, 1 blister in a cardboard box).
Active ingredients in 1 suppository:
metronidazole (micronized) - 750 mg;
miconazole nitrate (micronized) - 200 mg
Witepsol S 55 is used as an auxiliary component (in 1 suppository - 1550 mg).
Pharmacological properties
Pharmacodynamics
Neo-Penotran Forte is a combined preparation containing two substances as active ingredients: metronidazole with antibacterial and anti-trichomonas action and miconazole nitrate with antifungal effect.
Metronidazole is an antibacterial and antiprotozoal agent that is active against Gardnerella vaginalis and anaerobic bacteria, including anaerobic streptococcus and Trichomonas vaginalis.
Miconazole is a broad-spectrum antifungal agent that is particularly active against pathogenic fungi, including Candida albicans (the causative agent of candidiasis). It is also effective against gram-positive bacteria.
Pharmacokinetics
With intravaginal use, the bioavailability of metronidazole is about 20% when compared with oral administration of the drug. Upon reaching an equilibrium state, the concentration of metronidazole in plasma is 1.6-7.2 μg / ml.
Considering the method of administration of Neo-Penotran Forte, the systemic absorption of the substance is very low - about 1.4% of the administered dose.
Miconazole is not detected in plasma.
Metronidazole is metabolized in the liver to form an active hydroxyl metabolite. The half-life is from 6 to 11 hours. About 20% of the administered dose is excreted by the kidneys unchanged.
Indications for use
bacterial vaginosis;
vaginal candidiasis;
vaginitis caused by mixed infections;
Trichomonas vaginitis.
Contraindications
severe liver dysfunction;
epilepsy;
porphyria;
I trimester of pregnancy;
virginity;
age up to 18 years;
hypersensitivity to the active ingredients of Neo-Penotran Forte or their derivatives.
Instructions for use of Neo-Penotran Forte: method and dosage
Suppositories are used intravaginally: they must be inserted deep into the vagina, 1 pc. per day, preferably at night.
The course of treatment is 7 days. In case of recurrent or vaginitis resistant to other types of treatment, the duration of therapy is increased to 14 days.
Side effects
In rare cases, individual allergic reactions to Neo-Penotran Forte (for example, skin rash), as well as headache and abdominal pain, are noted.
Miconazole, like other intravaginal antifungals, can irritate the vagina (itching and burning). In case of severe irritation, it is recommended to interrupt the treatment.
Systemic side effects are extremely rare, since metronidazole is characterized by a very low degree of absorption. Possible systemic symptoms:
headache, dizziness, increased fatigue, mental changes (mood lability, anxiety), ataxia, convulsions;
loss of appetite, metallic / bad taste or dry mouth, change in taste, abdominal pain or cramps, nausea, diarrhea, constipation, vomiting;
leukopenia;
allergic reactions.
Overdose
There have been no reports of an overdose of metronidazole with intravaginal use. Nevertheless, the likelihood of developing systemic effects, such as darkening of the urine, ataxia (movement disorders), paresthesia, dizziness, generalized itching, diarrhea, nausea, metallic taste in the mouth, abdominal pain, vomiting, leukopenia, convulsions, peripheral neuropathy (including after prolonged use of the drug in high doses).
Signs of miconazole nitrate overdose were not identified.
If symptoms of an overdose of Neo-Penotran Forte appear, symptomatic and supportive therapy is recommended. In case of accidental intake of suppositories inside, if necessary, gastric lavage should be performed. There is no special antidote for the drug.
special instructions
Suppositories Neo-Penotran Forte are intended for intravaginal use. Do not use them in any other way, including swallowing.
According to preclinical studies, the drug is not characterized by specific risks to human health, which is based on the results of standard studies of pharmacology, safety, carcinogenic potential, hepatotoxicity, repeated dose toxicity, and toxicity to the reproductive system.
During treatment and at least 1–2 days after its completion, one should refrain from drinking alcoholic beverages, since there is a possibility of disulfiram-like reactions developing.
Witepsol S 55, which is the main vaginal suppository, can damage latex contraceptive diaphragms and condoms, which should be taken into account by women who prefer these types of contraception.
In the case of Trichomonas vaginitis, both sexual partners must undergo treatment.
Neo-Penotran Forte may interfere with the test results when determining blood levels of liver enzymes, procainamide, theophylline, glucose (hexokinase method).
Influence on the ability to drive vehicles and complex mechanisms
Neo-Penotran Forte does not affect the speed of mental and physical reactions, and therefore cannot affect the ability to control complex mechanisms and vehicles.
Application during pregnancy and lactation
Neo-Penotran Forte is contraindicated in the first trimester of pregnancy. In the II and III trimesters, the drug can be used if there are strict indications, under close control of the condition and provided that the expected benefit to the woman outweighs the possible risks to the fetus.
With regard to the lactation period, it is recommended to stop breastfeeding for the period of treatment. Breastfeeding can be resumed 1-2 days after the end of therapy.
Pediatric use
According to the instructions, Neo-Penotran Forte is contraindicated under the age of 18.
For violations of liver function
Severe liver dysfunctions are contraindications to this drug.
Drug interactions
Phenobarbital and phenytoin reduce the concentration of metronidazole in the blood when used simultaneously. In contrast, cimetidine can increase the concentration of metronidazole in the blood, which increases the risk of developing neurological side effects.
Neo-Penotran Forte, when used together, enhances the effect of oral anticoagulants, increases the toxicity of lithium, inhibits the metabolism of astemizole and terfenadine and increases their plasma concentrations.
When interacting with ethanol, disulfiram-like reactions may develop.
In the case of the simultaneous use of disulfiram, side effects from the central nervous system (psychotic reactions) may develop.
Analogs
The analogues of Neo-Penotran Forte are Ginocaps, Klion-100 D, Metromicon-Neo, Neo-Penotran.
Terms and conditions of storage
Store for no more than 2 years out of the reach of children at temperatures up to 25 ° C. It can be stored in a refrigerator (at a temperature of 2–8 ° C), but must not be frozen.
Terms of dispensing from pharmacies
Dispensed by prescription.
Reviews about Neo-Penotran Forte
Most of the reviews about Neo-Penotran Forte from patients who used it according to indications characterize the drug as effective, but quite expensive and often causing side effects, especially discomfort, burning and itching in the vagina.
Price for Neo-Penotran Forte in pharmacies
The price for Neo-Penotran Forte is 845-1120 rubles for a pack of 7 suppositories.
Neo-Penotran Forte: prices in online pharmacies
Drug name
Price
Pharmacy
Neo-Penotran Forte 750 mg + 200 mg vaginal suppositories 7 pcs.
802 RUB
Buy
Neo-Penotran Forte L 100 mg + 750 mg + 200 mg vaginal suppositories 7 pcs.
RUB 817
Buy
Neo-Penotran Forte vaginal suppositories. 7 pcs.
822 RUB
Buy
Neo-Penotran Forte L, vaginal suppositories. 100mg + 750mg + 200mg 7 pcs.
865 RUB
Buy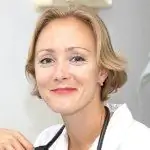 Anna Kozlova Medical journalist About the author
Education: Rostov State Medical University, specialty "General Medicine".
Information about the drug is generalized, provided for informational purposes only and does not replace the official instructions. Self-medication is hazardous to health!
Popular by topic