Table of contents: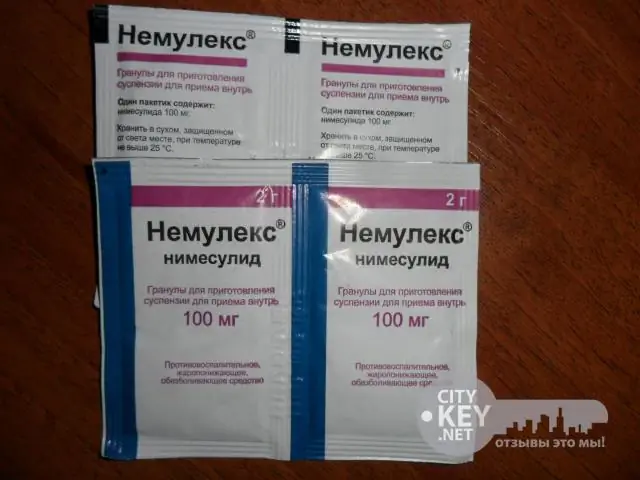 Video: Nemuleks - Instructions For Use, Price, Reviews, Analogues
Nemulex
Nemuleks: instructions for use and reviews
1. Release form and composition
2. Pharmacological properties
3. Indications for use
4. Contraindications
5. Method of application and dosage
6. Side effects
7. Overdose
8. Special instructions
9. Application during pregnancy and lactation
10. Use in childhood
11. In case of impaired renal function
12. For violations of liver function
13. Use in the elderly
14. Drug interactions
15. Analogs
16. Terms and conditions of storage
17. Terms of dispensing from pharmacies
18. Reviews
19. Price in pharmacies
Latin name: Nemulex
ATX code: M01AX17
Active ingredient: nimesulide (nimesulide)
Manufacturer: K. O. Rompharm Company S. R. L. (Romania)
Description and photo updated: 20.11.2018
Prices in pharmacies: from 80 rubles.
Buy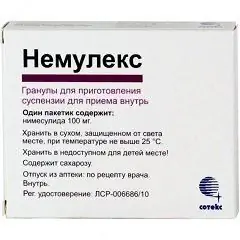 Nemulex is a non-steroidal anti-inflammatory drug (NSAID); selective inhibitor of COX-2.
Release form and composition
Nemulex is produced in the form of granules for the preparation of a suspension for oral administration: yellowish; the resulting suspension is pale yellow in color (2 g in a laminated single or double sachet of three-layer or four-layer foil, in a cardboard box 2, 4, 6, 10, 20 or 30 sachets).
Contents of 1 sachet:
active substance: nimesulide - 100 mg;
additional components: colloidal silicon dioxide (aerosil), macrogol cetostearate (Cremophor A25), sucrose, anhydrous citric acid, orange flavor.
Pharmacological properties
Pharmacodynamics
Nemulex - NSAIDs, analgesic, antipyretic, anti-inflammatory and antiplatelet action; belongs to the class of sulfonamides. The drug, in contrast to non-selective NSAIDs, mainly inhibits cyclooxygenase-2 (COX-2), blocks the production of prostaglandins (Pg) in the inflammation zone and has a mild suppressive effect on COX-1 (less often leads to the appearance of side effects due to inhibition of Pg production in healthy tissues).
Pharmacokinetics
Nimesulide (the active substance of Nemulex) when taken orally is characterized by high absorption. Food intake reduces the rate of absorption, but does not affect its degree. The maximum concentration (C max) of a substance in the blood plasma is 3.5–6.5 mg / l, the time to reach it (TC max) is 1.5–2.5 hours.
95% binds to plasma proteins, 1% to lipoproteins, 2% to erythrocytes, and 1% to acid alpha 1- glycoprotein. The degree of binding is not dose-dependent, the volume of distribution (V d) is 0.19–0.35 l / kg. Nimesulide penetrates well into the synovial fluid and the acidic environment of the inflammation focus (43 and 40%, respectively), easily enough passes through any histohematological barriers.
The process of metabolic transformation occurs in the liver with the active participation of tissue monooxygenases, resulting in the formation of 4-hydroxynimesulide (25%) - the main metabolite of nimesulide. This biotransformation product of the substance has a similar pharmacological activity, but due to a decrease in the size of the molecules, it can quickly diffuse along the hydrophobic channel of COX-2 to the active binding site of the methyl group. Since 4-hydroxynimesulide belongs to water-soluble compounds, glutathione and the second phase of metabolism conjugation reactions (sulfation, glucuronidation, etc.) are not required for its elimination. Half-life (T ½) nimesulide is 1.56-4.95 hours, its main metabolite - 2.89-4.78 hours, the latter is excreted in the bile (35%) and kidneys (65%), undergoes enterohepatic recirculation.
In patients with mild to moderate renal failure, as well as in elderly patients, there was no change in the pharmacokinetic profile of nimesulide when using single and multiple / repeated doses. According to the results of studies in patients with mild to moderate renal failure [creatinine clearance (CC) 30–80 ml / min] C max of 4-hydroxynimesulide and nimesulide did not exceed those in healthy volunteers. The area under the concentration-time curve (AUC) and T ½ were greater by 50%, but did not go beyond the values observed in healthy volunteers. With repeated administration, the cumulation of nimesulide was not detected.
Indications for use
osteoarthritis;
rheumatoid arthritis;
arthritis of various origins;
myalgia;
arthralgia;
tendinitis;
bursitis;
post-traumatic and postoperative pain;
toothache and headache;
algodismenorrhea.
According to the instructions, Nemulex is recommended for use for symptomatic therapy, relieving pain and reducing inflammation at the time of its use. The drug has no effect on the progression of the disease.
Contraindications
Absolute:
severe heart failure;
the period after the operation of coronary artery bypass grafting;
complete or incomplete combination of recurrent polyposis rhinosinusitis, bronchial asthma and intolerance to acetylsalicylic acid or other NSAIDs (including a history of indications);
hepatotoxic reactions against the background of a history of nimesulide use;
a period of exacerbation of inflammatory bowel diseases in a chronic form (ulcerative colitis, Crohn's disease);
erosive and ulcerative lesions of the gastrointestinal tract (GIT), peptic ulcer of the stomach or 12 duodenal ulcer in the acute phase, active gastrointestinal bleeding;
drug addiction, alcoholism;
diseases with increased bleeding, including a history of cerebrovascular bleeding;
blood clotting disorders, including hemophilia;
any active liver disease or liver failure;
progressive kidney disease;
severe renal failure (CC <30 ml / min), confirmed hyperkalemia;
combination with other potentially hepatotoxic drugs (including other NSAIDs);
suspicion of acute surgical pathology;
febrile syndrome against the background of colds and acute respiratory viral infections (ARVI);
glucose-galactose malabsorption syndrome, sucrase-isomaltase deficiency, hereditary fructose intolerance;
age up to 12 years;
pregnancy and lactation;
hypersensitivity to any of the constituents of Nemulex.
Relative (use nimesulide with extreme caution):
cardiac ischemia;
compensated heart failure;
arterial hypertension;
peripheral arterial lesions;
diabetes;
cerebrovascular diseases;
hemorrhagic diathesis;
dyslipidemia / hyperlipidemia;
renal failure (CC 30-60 ml / min);
severe somatic diseases;
an infection caused by Helicobacter pylori (including a history);
a history of indication of gastrointestinal ulceration;
smoking;
long-term previous use of NSAIDs;
elderly age;
combined use with the following drugs (due to an increased risk of gastrointestinal ulceration or bleeding from it): antiplatelet agents (clopidogrel, acetylsalicylic acid), anticoagulants (warfarin), oral glucocorticosteroids (GCS) (prednisolone), selective serum serotonin reuptake inhibitors (SIOs) (fluoxetine, sertraline, citalopram, paroxetine).
Instructions for the use of Nemulex: method and dosage
Nemulex is taken orally.
The contents of 1 sachet are dissolved in 100 ml of warm water, the resulting suspension is used immediately after preparation.
Adults over 12 years old and adults are recommended to take 1 sachet (100 mg) 2 times a day after meals, the maximum daily dose is 200 mg, the maximum duration of drug therapy is 15 days.
To reduce the risk of adverse reactions, the lowest effective dose of Nemulex should be taken in the shortest possible course. In chronic renal failure, the daily dose should be reduced to 100 mg.
Side effects
hematopoietic system and lymphatic system: rarely - eosinophilia, anemia, hemorrhages; extremely rare - pancytopenia, thrombocytopenia, thrombocytopenic purpura;
cardiovascular system: infrequently - arterial hypertension; rarely - a feeling of palpitations, tachycardia, rush of blood to the skin of the face, lability of blood pressure;
immune system: rarely - hypersensitivity reactions; extremely rare - anaphylactoid reactions;
Gastrointestinal tract: often - nausea, diarrhea, vomiting; infrequently - gastritis, flatulence, constipation, gastrointestinal bleeding and / or perforation of the stomach or duodenum; extremely rare - stomatitis, dyspepsia, abdominal pain, tarry stools;
liver and biliary tract: often - increased activity of liver enzymes; extremely rarely - cholestasis, jaundice, hepatitis, fulminant (fulminant) hepatitis (with a possible fatal outcome);
mental disorders: rarely - nervousness, fear, nightmares;
nervous system: infrequently - dizziness; extremely rarely - drowsiness, headache, encephalopathy (Reye's syndrome);
respiratory system: infrequently - shortness of breath; extremely rare - bronchospasm, exacerbation of bronchial asthma;
water and electrolyte metabolism: rarely - hyperkalemia;
urinary system: rarely - urinary retention, hematuria, dysuria; extremely rare - oliguria, renal failure, interstitial nephritis;
skin and subcutaneous tissues: infrequently - increased sweating, skin rash, itching; rarely - dermatitis, erythema; extremely rare - swelling of the face, urticaria, angioedema, erythema polymorphism, toxic epidermal necrolysis (Lyell's syndrome), Stevens-Johnson syndrome;
sense organs: rarely - blurred vision; extremely rare - vertigo, visual impairment;
others: infrequently - peripheral edema; rarely - asthenia, malaise; extremely rare - hypothermia.
Overdose
Symptoms of an overdose of Nemulex can be: drowsiness, apathy, pain in the epigastric region, nausea, vomiting. These disorders are usually reversible with supportive and symptomatic treatment. In case of a significant overdose, there may also be observed: increased blood pressure, gastrointestinal bleeding, respiratory depression, acute renal failure, anaphylactoid reactions, coma.
In this condition, supportive and symptomatic therapy is prescribed, there is no specific antidote. If a very large dose of the drug has been taken within the last 4 hours, gastric lavage, the appointment of activated charcoal (60-100 mg for an adult) and / or an osmotic laxative are recommended. Regular monitoring of the activity of the liver and kidneys is required. Hemodialysis, forced diuresis, hemoperfusion and urinary alkalization are ineffective due to the high degree of protein binding of nimesulide.
special instructions
In the case when, against the background of treatment, the patient's condition does not improve, or there is an increase in body temperature or the appearance of flu-like symptoms, it is required to stop using Nemulex.
If, during the period of therapy, the drug develops symptoms similar to signs of liver damage, such as nausea, abdominal pain, vomiting, anorexia, itching, dark urine, yellowing of the skin, increased activity of hepatic transaminases, it is necessary to stop taking Nemulex and seek advice to the doctor. In the future, these patients should also not take the drug.
The threat of gastrointestinal bleeding, ulcers / perforation of the stomach or duodenum is aggravated in patients with a history of ulcerative lesions of the gastrointestinal tract, as well as in the elderly. Therefore, patients from this risk group should start taking Nemulex with the lowest possible dose. Such patients, as well as those receiving low doses of acetylsalicylic acid or other drugs that increase the risk of undesirable gastrointestinal effects, should additionally use gastroprotective agents (proton pump blockers or misoprostol).
In case of development of bleeding or ulcerative lesions of the gastrointestinal tract during the period of therapy with Nemulex, its intake must be stopped immediately. You should also discontinue the drug if visual impairment or deterioration in renal function occurs.
If the agent is used for more than 14 days, it is necessary to monitor the indicators of liver function.
In the presence of liver cirrhosis or renal failure with hypo- or hyperbilirubinemia, the binding of nimesulide decreases.
Elderly patients during the period of use of the drug require regular medical supervision due to the high probability of adverse reactions to NSAIDs, including gastrointestinal bleeding, perforation, severe dysfunctions of the heart, kidneys and liver.
Patients with diabetes mellitus and patients on a low-calorie diet should take into account that Nemulex contains sucrose (0.15 bread units in one bag).
Influence on the ability to drive vehicles and complex mechanisms
Since the effect of Nemulex on the ability to drive complex mechanisms and vehicles has not been studied, patients who drive a car or perform other complex and potentially dangerous types of work should be careful.
Application during pregnancy and lactation
Nimesulide, like other NSAIDs that suppress Pg production, can have a negative effect on pregnancy and / or embryo development. Taking the drug during pregnancy can provoke premature closure of the ductus arteriosus, hypertension in the pulmonary artery system of the fetus, impaired renal function with a further threat of renal failure with oliguria in the fetus, increased risk of bleeding, the occurrence of peripheral edema and a decrease in uterine contractility in the mother.
In the process of epidemiological studies, data were obtained that indicate a possible aggravation of the threat of spontaneous abortion, the development of heart disease and gastroschisis when using drugs that block Pg production in early pregnancy. The absolute risk of cardiovascular abnormalities increases from approximately 1% to 1.5%. It is assumed that the risk is exacerbated with increasing dose and duration of drug use.
It is not known whether nimesulide penetrates into breast milk.
During pregnancy and lactation, Nemulex is contraindicated.
Since nimesulide can adversely affect female fertility, its use is not recommended for women planning a pregnancy.
Pediatric use
Nemulex is contraindicated in children under 12 years of age.
With impaired renal function
In the presence of severe renal failure (CC <30 ml / min), the use of Nemulex is contraindicated, in case of mild to moderate (CC 30-60 ml / min), the drug should be taken with caution.
For violations of liver function
Nemulex is contraindicated in patients with any active liver disease or liver failure.
Use in the elderly
When treating elderly patients, the need to change the daily dose of nimesulide is determined by the attending physician, taking into account the possible interaction of Nemulex with other drugs received by patients.
Drug interactions
diuretics - perhaps weakening of their action;
furosemide - the bioavailability of this drug decreases (with combined use, caution is required in patients with heart / renal failure);
antihypertensive drugs - it is possible to reduce their effect;
inhibitors of angiotensin-converting enzyme (ACE) and antagonists of angiotensin II receptors (ARA II), agents that suppress the COX system (NSAIDs, antiplatelet agents) - possible deterioration of renal function and the development of acute renal failure in patients with mild to moderate renal failure (careful monitoring of renal functions);
drugs that are substrates of the isoenzyme CYP2C9 - the concentration of these drugs in plasma increases;
methotrexate - a significant increase in its free fractions is possible and, as a result, an increase in toxic effects;
lithium - the clearance of this substance decreases, which leads to an increase in its plasma concentration in the blood and toxicity (the level of lithium in the blood should be regularly monitored);
digitoxin, cimetidine, glibenclamide, theophylline, antacids - no clinically significant interactions were observed;
cyclosporins - an increase in their nephrotoxicity is possible.
Analogs
Analogs of Nemulex are: Nimulid, Nimesan, Aponil, Prolid, Nimesil, Nise, Nimesulid Canon, Nimesulid, Nimika, Nimesulid-Teva, Sulaidin.
Terms and conditions of storage
Keep out of the reach of children at a temperature not exceeding 25 ° C.
Shelf life is 4 years.
Terms of dispensing from pharmacies
Dispensed by prescription.
Reviews about Nemulex
According to reviews, Nemulex is an inexpensive drug that effectively relieves fever and inflammation and has a rapid analgesic effect. The drug, according to the patients who took it, has proven itself well in the treatment of toothache, pain in joints and muscles, as well as pain syndrome after injuries and surgical interventions.
The disadvantages of Nemulex, patients include a significant number of its contraindications and possible side effects, especially from the digestive system. Since the drug is an NSAID, almost all patients recommend taking it with caution, not exceeding the prescribed dosage and for the shortest possible course.
Price for Nemulex in pharmacies
The price of Nemulex for a package containing 10 sachets of 2 g of granules can be approximately 170–210 rubles, a package with 30 sachets can be purchased for 515–545 rubles.
Nemulex: prices in online pharmacies
Drug name
Price
Pharmacy
Nemulex 100 mg granules for the preparation of a suspension for oral administration 2 g 4 pcs.
RUB 80
Buy
Nemulex granules for prig suspension. for internal approx. 100 mg / 2g pack. 4 things.
107 RUB
Buy
Nemulex 100 mg granules for the preparation of a suspension for oral administration 2 g 10 pcs.
179 r
Buy
Nemulex granules for prig suspension. for internal approx. 100mg 2g 10 pcs.
207 r
Buy
Nemulex 100 mg granules for preparation of oral suspension 2 g 30 pcs.
419 RUB
Buy
Nemulex granules for prig suspension. for internal approx. 100mg 2g 30 pcs.
576 r
Buy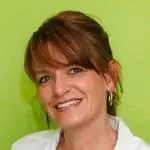 Maria Kulkes Medical journalist About the author
Education: First Moscow State Medical University named after I. M. Sechenov, specialty "General Medicine".
Information about the drug is generalized, provided for informational purposes only and does not replace the official instructions. Self-medication is hazardous to health!
Popular by topic