Table of contents: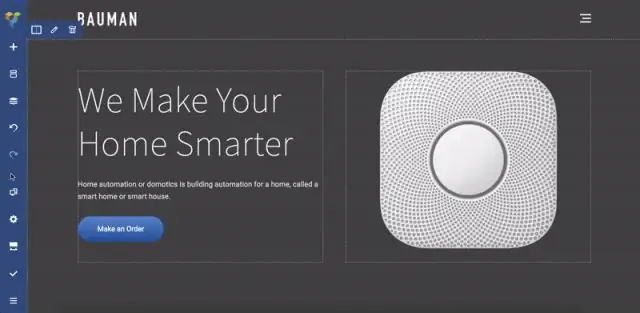 Video: Next - Instructions For The Use Of Tablets, Price, Reviews, Analogues
Next
Next: instructions for use and reviews
1. Release form and composition
2. Pharmacological properties
3. Indications for use
4. Contraindications
5. Method of application and dosage
6. Side effects
7. Overdose
8. Special instructions
9. Application during pregnancy and lactation
10. Use in childhood
11. In case of impaired renal function
12. For violations of liver function
13. Drug interactions
14. Analogs
15. Terms and conditions of storage
16. Terms of dispensing from pharmacies
17. Reviews
18. Price in pharmacies
Latin name: Next
ATX code: M01AE51
Active ingredient: Ibuprofen (Ibuprofen), Paracetamol (Paracetamol)
Manufacturer: OTISIPHARM PAO (Russia)
Description and photo update: 19.10.2018
Prices in pharmacies: from 80 rubles.
Buy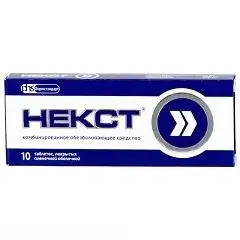 Next is a combined drug with analgesic, antipyretic and anti-inflammatory effects.
Release form and composition
Dosage form of release - film-coated tablets: red, biconvex, oval, scored; the core on a cross section is white or almost white (2, 6, 10 or 12 pieces per pack, in a cardboard box 1 or 2 packs).
Active ingredients in 1 tablet:
ibuprofen - 400 mg;
paracetamol - 200 mg.
Auxiliary components:
core: colloidal silicon dioxide - 2.5 mg; microcrystalline cellulose - 64.5 mg; calcium hydrogen phosphate - 80 mg; croscarmellose sodium - 24.3 mg; talc - 12.1 mg; hyprolosis - 19.3 mg; magnesium stearate - 7.3 mg;
shell: Opadry 20A250004 Red (titanium dioxide - 2.5 mg; hyprolose - 8.1 mg; hypromellose - 13.1 mg; talc - 6.4 mg; crimson dye E124 - 0.9 mg; dye sunset yellow E110 - 0.5 mg) - 31.5 mg; Opadry II 85F19250 Clear (talc - 0.6 mg; macrogol - 0.3 mg; polysorbate 80 - 0.1 mg; polyvinyl alcohol - 1 mg) - 2 mg.
Pharmacological properties
Pharmacodynamics
Next is one of the combined drugs that have analgesic, antipyretic and anti-inflammatory effects.
Properties of the active components of the drug:
paracetamol is a non-narcotic analgesic with antipyretic and analgesic effects, which is due to the blockade of COX in the central nervous system and the effect on the centers of thermoregulation and pain;
ibuprofen is a non-steroidal anti-inflammatory drug with analgesic, anti-inflammatory and antipyretic effects.
Acting in a complex manner, active substances influence the central and peripheral mechanisms of pain syndrome formation. Due to the targeted, complementary action of the components, a pronounced analgesic and rapid therapeutic effect is observed.
Pharmacokinetics
paracetamol: has a high absorption, penetrates the blood-brain barrier (BBB), the maximum plasma concentration of the substance is in the range of 5-20 μg / ml, the time to reach the maximum concentration of the substance (Tmax) is 0.5-2 hours; binding to plasma proteins - 15%. The metabolic process occurs in the liver with the formation of inactive and active metabolites. The half-life is between 1 and 4 hours; predominantly excreted in the form of metabolites (sulfates and glucuronides) by the kidneys, unchanged - 3%;
ibuprofen: well absorbed from the gastrointestinal tract, when taken on an empty stomach, Tmax is 45 minutes, after meals - from 1.5 to 2.5 hours. Plasma protein binding - 90%. The concentration of ibuprofen in the synovial fluid is higher than the plasma concentration. The substance undergoes pre- and post-systemic metabolism in the liver. The half-life is 2–2.5 hours, has a two-phase elimination kinetics, is excreted mainly by the kidneys (unchanged - no more than 1%), to a lesser extent - with bile.
Indications for use
neuralgia;
myalgia;
pain with fractures, dislocations, bruises, sprains;
joint pain, pain syndrome in degenerative and inflammatory diseases of the musculoskeletal system;
headache, including migraine;
back pain;
algodismenorrhea;
toothache;
febrile conditions, including accompanying flu and colds;
postoperative and post-traumatic pain syndrome.
Contraindications
Absolute:
diagnosed hyperkalemia;
bleeding disorders, including hemophilia, prolonged bleeding time, hemorrhagic diathesis, a tendency to develop bleeding;
deficiency of glucose-6-phosphate dehydrogenase;
gastrointestinal bleeding, erosive and ulcerative diseases of the gastrointestinal tract (with exacerbation);
severe hepatic / renal failure;
condition after coronary artery bypass grafting;
bronchial asthma, recurrent polyposis of the paranasal sinuses and nose and intolerance to acetylsalicylic acid or other non-steroidal anti-inflammatory drugs (complete / incomplete combination, including a burdened history);
III trimester of pregnancy and lactation period;
children under 12 years old;
individual intolerance to the components of the drug.
Relative (diseases / conditions in the presence of which caution is required):
enteritis, gastritis, colitis;
benign hyperbilirubinemia;
viral hepatitis;
renal / hepatic impairment, mild / moderate;
alcoholic liver damage;
nephrotic syndrome, liver cirrhosis with portal hypertension;
bronchospasm, bronchial asthma;
burdened history of gastric ulcer and duodenal ulcer;
chronic heart failure;
diabetes;
peripheral arterial disease;
I – II trimesters of pregnancy;
elderly age.
Instructions for the use of Neksta: method and dosage
Next tablets are taken orally, preferably after meals.
Single dose - 1 tablet.
Recommended frequency of application:
adults: 3 times a day (maximum 3 tablets a day);
children from 12 years old (weighing 40 kg): 2 times a day.
Duration of use: as an antipyretic agent - 3 days, as an anesthetic - 5 days. Longer term use requires medical advice.
Side effects
urinary system: nephrotic syndrome, acute renal failure, cystitis, polyuria;
hematopoietic system: leukopenia, anemia, thrombocytopenic purpura, thrombocytopenia, agranulocytosis, eosinophilia;
nervous system: anxiety, headache, sleep disturbances, dizziness, depression;
cardiovascular system: heart failure, tachycardia, increased blood pressure;
digestive system: flatulence, pancreatitis, aphthous stomatitis, abdominal pain, nausea, heartburn, vomiting, decreased appetite, diarrhea or constipation, ulceration of the gum mucosa;
respiratory system: bronchospasm, shortness of breath;
sensory organs: hearing impairment, noise / ringing in the ears, visual impairment, diplopia or blurred vision, irritation / dryness of the eyes;
allergic reactions: pruritus / rash, allergic rhinitis, angioedema, exudative erythema multiforme, toxic epidermal necrolysis.
With prolonged use of the drug in high doses, the development of hepatotoxic / nephrotoxic effects (manifested in the form of hepatitis, interstitial nephritis and papillary necrosis), pancytopenia, methemoglobinemia, hemolytic / aplastic anemia is possible.
Overdose
The main symptoms: increased prothrombin time, abdominal pain, vomiting, nausea, lethargy or agitation, confusion, drowsiness, tachycardia, frequent urination, arrhythmia, acute renal failure, metabolic acidosis, hyperthermia, headache, increased liver transaminase activity, muscle twitching or tremors.
Therapy: gastric lavage, intake of activated charcoal, forced diuresis, alkaline drinking, symptomatic treatment.
In cases of suspicion of an overdose, you should immediately seek medical help.
special instructions
The combined use of Neksta with medicinal products also containing paracetamol and with non-steroidal anti-inflammatory drugs should be avoided.
In cases of need for longer use, the functional state of the liver and peripheral blood parameters should be monitored.
When symptoms of gastropathy associated with the use of non-steroidal anti-inflammatory drugs appear, it is recommended to carefully monitor the patient's condition, including esophagogastroduodenoscopy, blood test with determination of hematocrit and hemoglobin, fecal occult blood test.
It should be taken into account that paracetamol distorts the results of laboratory studies of plasma uric acid and blood glucose.
It is not recommended to drink alcohol during the treatment course.
If it is necessary to determine the 17-ketosteroids, Next should be canceled 48 hours before the study.
Influence on the ability to drive vehicles and complex mechanisms
During the period of Nekst's reception, it is recommended to refuse to drive.
Application during pregnancy and lactation
The third trimester of pregnancy and the period of breastfeeding are contraindications to the use of the drug.
During the I – II trimester, Next tablets can be used with caution - as prescribed by a doctor, after assessing the benefit / risk ratio.
Pediatric use
According to the instructions, Next is not prescribed for children under 12 years old.
With impaired renal function
Patients with mild / moderate renal failure and nephrotic syndrome should use the drug with caution.
For violations of liver function
In the presence of the following diseases / conditions, the drug should be used with caution: benign hyperbilirubinemia (Gilbert, Rotor and Dubin-Johnson syndromes), alcoholic liver damage, liver cirrhosis with portal hypertension, viral hepatitis, mild / moderate liver failure.
Drug interactions
Possible interactions:
inhibitors of microsomal oxidation, including cimetidine: the risk of hepatotoxic action is reduced;
ethanol: the likelihood of acute pancreatitis increases;
ethanol, glucocorticosteroids: the likelihood of erosive and ulcerative lesions of the gastrointestinal tract increases;
indirect anticoagulants: their effect is enhanced;
tricyclic antidepressants, phenylbutazone, phenytoin, ethanol, flumecinol, barbiturates, rifampicin and other inducers of microsomal oxidation in the liver: the production of hydroxylated active metabolites increases, which, in case of an overdose, can cause severe intoxication;
myelotoxic drugs: nekst's hematotoxicity increases;
uricosuric drugs: their effectiveness decreases;
barbiturates (with prolonged use): the effectiveness of paracetamol decreases;
diflunisal: the plasma concentration of paracetamol increases significantly, which leads to an increase in the likelihood of hepatotoxicity;
vasodilators: their hypotensive activity decreases;
cholestyramine, antacids: absorption of ibuprofen decreases;
furosemide, hydrochlorothiazide: their natriuretic and diuretic activity decreases;
digoxin, lithium preparations, methotrexate: their concentration in the blood increases;
hypoglycemic agents for oral administration, insulin: their effect is enhanced;
valproic acid, cefamandol, cefotetan, cephaperazone, plikamycin: the incidence of hypoprothrombinemia increases;
acetylsalicylic acid: its antiplatelet and anti-inflammatory effect is reduced.
Analogs
Nekst's analogues are: Brustan, Brufika Plus, Ibuklin Junior, Ibuklin, Nurofen Long, Khairumat, etc.
Terms and conditions of storage
Store at temperatures up to 25 ° C. Keep out of the reach of children.
Shelf life is 2 years.
Terms of dispensing from pharmacies
Available without a prescription.
Reviews about Next
According to reviews, Next is a fast and effective pain reliever, especially effective in relieving toothache and headache. It is noted that before taking it, it is necessary to take into account possible side reactions, as well as the fact that during the period of therapy one should refrain from driving.
Price for Next in pharmacies
The approximate price for Next (6, 10 or 20 tablets per pack) is 125, 165 or 225-240 rubles.
Next: prices in online pharmacies
Drug name
Price
Pharmacy
Next 400 mg + 200 mg film-coated tablets 6 pcs.
RUB 80
Buy
Next Uno Express 200 mg capsules 10 pcs.
119 RUB
Buy
Reviews Next Uno Express
119 RUB
Buy
Next 400 mg + 200 mg film-coated tablets 10 pcs.
126 RUB
Buy
Next tablets p.p. 400mg + 200mg 6 pcs.
127 RUB
Buy
Next Uno Express 200 mg capsules 20 pcs.
147 RUB
Buy
Reviews Next Uno Express
147 RUB
Buy
Next tablets p.p. 400mg + 200mg 10 pcs.
RUB 160
Buy
Next 400 mg + 200 mg film-coated tablets 20 pcs.
212 r
Buy
Next tablets p.p. 400mg + 200mg 20 pcs.
266 r
Buy
Next activegel gel for outside approx. 5% + 3% 50 g tube
272 r
Buy
Next Activegel 5% + 3% gel for external use 50 g 1 pc.
272 r
Buy
Reviews Next Activegel
272 r
Buy
See all offers from pharmacies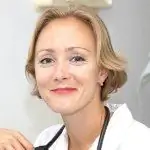 Anna Kozlova Medical journalist About the author
Education: Rostov State Medical University, specialty "General Medicine".
Information about the drug is generalized, provided for informational purposes only and does not replace the official instructions. Self-medication is hazardous to health!
Popular by topic