Table of contents:

Video: Neurolipon - Instructions For Use, Price, Reviews, Analogues
Neurolipon
Neurolipon: instructions for use and reviews
1. Release form and composition
2. Pharmacological properties
3. Indications for use
4. Contraindications
5. Instructions for the use of Neurolipon: method and dosage
6. Side effects
7. Overdose
8. Special instructions
9. Application during pregnancy and lactation
10. Use in childhood
11. Drug interactions
12. Analogs
13. Terms and conditions of storage
14. Terms of dispensing from pharmacies
15. Reviews of Neurolipone
16. The price of Neurolipon in pharmacies
Latin name: Neurolipon
ATX code: A16AX01
Active ingredient: thioctic acid
Producer: FARMAK, PJSC (Ukraine)
Description and photo update: 2018-24-10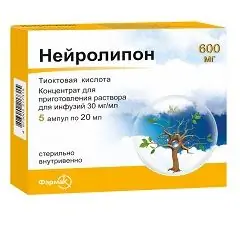 Neurolipon is a drug to improve hepatic metabolism, which lowers plasma glucose concentrations and normalizes liver function.
Release form and composition
Dosage forms of the drug Neurolipon:
capsules: gelatinous hard, size No. 0, pale yellow; capsule filler - yellow powdery mixture of granules (10 pcs. in blisters, in a carton pack 3 or 6 blisters);
concentrate for preparation of solution for infusion: transparent yellow liquid (10 or 20 ml each in brown glass ampoules, equipped with a dot or break ring; in a cardboard box with corrugated inserts 5 or 10 ampoules with a black plastic bag or without it; in blisters made of PVC film of 5 ampoules, in a cardboard box 1 or 2 blisters with or without a black plastic bag).
1 capsule contains:
active substance: thioctic acid - 0.3 g;
auxiliary components: microcrystalline cellulose, anhydrous colloidal silicon dioxide, lactose monohydrate, hypromellose, magnesium stearate;
capsule shell: gelatin, titanium dioxide, iron oxide yellow dye.
1 ml of solution contains:
active substance: thioctic acid (in the form of meglumine thioctate) - 0.03 g;
auxiliary components: meglumine (N-methylglucamine), macrogol 300, water for injection.
Pharmacological properties
Pharmacodynamics
The active component of Neurolipon, thioctic acid, is synthesized directly in the body and acts as a coenzyme in the oxidative decarboxylation of α-ketonic acids. Thioctic acid plays an important role in the energy metabolism of the cell. In the form of lipoamide, the acid acts as an essential cofactor of multienzyme complexes that catalyze the decarboxylation of α-keto acids of the Krebs cycle.
Neurolipon has antitoxic and antioxidant properties, in addition, thioctic acid can restore other antioxidants, for example, in diabetes mellitus, reducing insulin resistance and slowing down the development of peripheral neuropathy.
Thioctic acid helps to reduce plasma glucose levels and accumulate glycogen in the liver. It affects cholesterol metabolism, participates in the regulation of the metabolism of fats and carbohydrates, improves liver function due to hepatoprotective, antioxidant and detoxification effectiveness.
Pharmacokinetics
Pharmacokinetic characteristics depending on the route of administration:
oral administration: absorption occurs in the gastrointestinal tract (gastrointestinal tract) quickly and completely, while taking Neurolipon with food, absorption decreases. Bioavailability ranges from 30 to 60%, the substance is metabolized before entering the systemic circulation when passing through the gastrointestinal tract wall and liver (first pass effect). The time to reach a maximum concentration (T max) of 4 μg / ml is about 30 minutes. Metabolism in the liver occurs by side chain oxidation and conjugation. Thioctic acid is excreted in the urine through the kidneys: in the form of metabolites - 80-90%, unchanged - a small amount. T 1/2 (half-life) is 25 minutes;
parenteral administration: bioavailability is ~ 30%; metabolism takes place in the liver by side chain oxidation and conjugation. T 1/2 - 20-50 minutes; total clearance is ~ 694 ml / min; the volume of distribution is 12.7 liters. After a single injection of thioctic acid intravenously, its excretion by the kidneys in the first 3–6 hours is up to 93–97% in the form of an unchanged substance or derivatives.
Indications for use
According to the instructions, Neurolipon is recommended for the treatment of diabetic and alcoholic polyneuropathies.
Contraindications
Neurolipon in any form of release is contraindicated for pregnant and lactating women, children and adolescents under the age of 18, as well as with identified hypersensitivity to any of the components.
It is forbidden to take capsules to patients with hereditary galactose intolerance, lactase deficiency or glucose-galactose malabsorption.
Instructions for use Neurolipon: method and dosage
Capsules
Neurolipon in capsule form is taken orally on an empty stomach (half an hour before a meal), without chewing and drinking a little water or other neutral liquid.
Recommended dosage: 300-600 mg once a day. For the treatment of severe diabetic polyneuropathy, parenteral administration of thioctic acid is desirable at the beginning.
The doctor determines the duration of the course of therapy individually.
Concentrate for solution for infusion
A solution prepared from Neurolipon concentrate is administered by slow intravenous infusion (≤ 50 mg thioctic acid per minute).
Recommended dosage: 600 mg once a day, in severe cases, up to 1200 mg is allowed.
To prepare the infusion solution, use a 0.9% NaCl solution in an amount of 50–250 ml per 600 mg of thioctic acid.
The duration of the course of therapy is 2-4 weeks, after which they switch to supportive treatment with thioctic acid in the form of oral preparations (dose 300-600 mg per day) for 1-3 months.
In order to consolidate the effect of Neurolipon, it is recommended to repeat courses with a frequency of 2 times a year.
Side effects
When using Neurolipon in any of the release forms, hypoglycemia may develop as a result of improved glucose utilization.
The following negative side effects may result from the use of Neurolipon inside:
allergic reactions - urticaria, pruritus, erythema, systemic hypersensitivity reactions, including anaphylactic shock;
dyspeptic symptoms (in some cases) - nausea, heartburn, vomiting, abdominal pain, diarrhea.
With the introduction of the Neurolipon infusion solution, the high speed of intravenous injection can sometimes cause nausea, vomiting, a feeling of heaviness in the head, difficulty breathing; development of such hypersensitivity reactions as urticaria, skin itching, in rare cases - anaphylactic shock is possible. Due to intravenous administration, in some cases, diplopia, convulsions, petechial rash, hemorrhagic rash (purpura), thrombocytopathy, thrombophlebitis may develop; hypoglycemia is possible as a result of improved glucose utilization.
Overdose
Symptoms of an overdose of thioctic acid when taken orally may be headache, nausea, vomiting, generalized convulsions, severe acid-base balance disorders with lactic acidosis, hypoglycemic coma, severe blood clotting pathologies up to death.
For the treatment of the condition, you should immediately stop taking the drug, perform a gastric lavage, then take activated charcoal and carry out supportive treatment.
Symptoms of parenteral thioctic acid overdose are unknown.
If you suspect an overdose or serious side effects, you need to interrupt the infusion, then, without removing the injection needle, slowly introduce through the system 0.9% isotonic NaCl solution. The drug does not have a specific antidote, it is recommended that treatment be symptomatic.
special instructions
Infusion solutions containing thioctic acid should be protected from light by covering containers with light shields.
When treating patients with diabetes mellitus, frequent monitoring of blood glucose levels is required, in some cases, if necessary, correction of doses of hypoglycemic agents in order to prevent the development of hypoglycemia.
During treatment with Neurolipon, one should refrain from drinking alcoholic beverages, since ethanol inhibits its therapeutic activity.
Influence on the ability to drive vehicles and complex mechanisms
There are no data on the negative effect of Neurolipon therapy on the ability to drive vehicles and other complex mechanisms. However, when performing potentially hazardous types of work, the possibility of developing side effects such as convulsions, diplopia, etc. should be taken into account.
Application during pregnancy and lactation
The use of the drug during pregnancy and lactation (breastfeeding) is contraindicated.
If necessary, breastfeeding should be discontinued while using Neurolipon.
Pediatric use
The use of Neurolipon in any form of release is contraindicated in pediatric practice due to insufficient data on the efficacy and safety of treatment in children and adolescents under 18 years of age.
Drug interactions
glucocorticosteroids: thioctic acid enhances their anti-inflammatory efficacy;
cisplatin: there is a decrease in its therapeutic effect;
medicinal products containing metals (iron, magnesium, calcium preparations): thioctic acid binds metals, therefore, their simultaneous administration should be avoided, it is required to maintain an interval between medications of at least 2 hours;
insulin or oral hypoglycemic agents: thioctic acid can potentiate their action;
ethanol and its metabolites: inhibit the effect of thioctic acid.
The infusion solution of Neurolipon forms heavily soluble complex compounds with sugars, therefore it is incompatible with Ringer's, glucose, fructose solutions. It is also incompatible with solutions of compounds that react with SH-groups or disulfide bridges and preparations containing ethanol.
Analogs
Neurolipon analogs are: Berlition 300, Berlition 600, Lipothioxon, Lipoic acid, Oktolipen, Polyion, Thioctacid 600 T, Thioctacid BV, Thiogamma, Thioctic acid, Thiolipon, Thiolepta, Espa-Lipon, etc.
Terms and conditions of storage
Store out of the reach of children and protected from light at a temperature not exceeding 25 ° C.
Shelf life: capsules - 2 years, concentrate for solution for infusion - 5 years.
Terms of dispensing from pharmacies
Dispensed by prescription.
Reviews about Neurolipon
Reviews about Neurolipon are quite contradictory. For some patients, the drug is not suitable, they speak of it as an ineffective remedy, slightly relieving the symptoms of the disease and causing severe side reactions.
In a number of other reviews, Neurolipon is noted as the drug of choice due to the absence of adverse reactions and high efficiency.
The price of Neurolipon in pharmacies
Estimated price for Neurolipon:
concentrate for the preparation of a solution for infusion (5 ampoules in a cardboard box): in 10 ml ampoules - 170 rubles, in 20 ml ampoules - 360 rubles;
capsules (10 pcs. in blisters, 3 blisters in a cardboard box) - 250 rubles.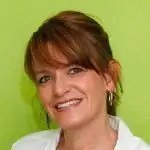 Maria Kulkes Medical journalist About the author
Education: First Moscow State Medical University named after I. M. Sechenov, specialty "General Medicine".
Information about the drug is generalized, provided for informational purposes only and does not replace the official instructions. Self-medication is hazardous to health!
Popular by topic