Table of contents: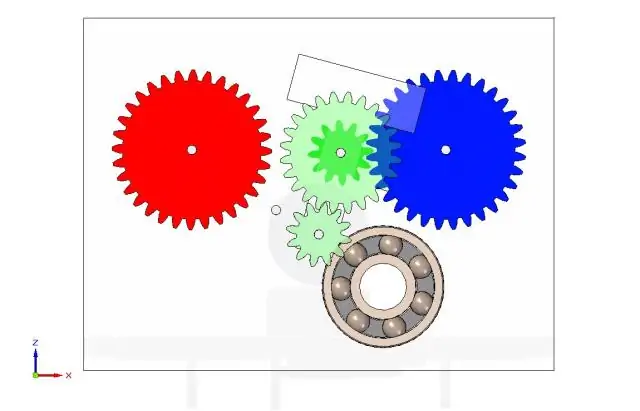 Video: Curantil 25 - Instructions, Use During Pregnancy, Price, Analogues
Curantil 25
Curantil 25: instructions for use and reviews
1. Release form and composition
2. Pharmacological properties
3. Indications for use
4. Contraindications
5. Method of application and dosage
6. Side effects
7. Overdose
8. Special instructions
9. Application during pregnancy and lactation
10. Use in childhood
11. In case of impaired renal function
12. For violations of liver function
13. Drug interactions
14. Analogs
15. Terms and conditions of storage
16. Terms of dispensing from pharmacies
17. Reviews
18. Price in pharmacies
Latin name: Curantyl 25
ATX code: B01AC07
Active ingredient: Dipyridamole (Dipyridamole)
Producer: BERLIN-PHARMA CJSC (Russia)
Description and photo update: 19.10.2018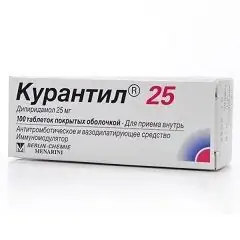 Curantil 25 is a vasodilating agent.
Release form and composition
Dosage form Curantila 25 - film-coated tablets: round, with a smooth uniform surface, from yellow to yellow-greenish color (packed in 100 pieces in flasks of colorless glass and sealed with a polyethylene stopper, 1 bottle is packed in a cardboard box).
Composition of 1 tablet:
active substance: dipyridamole - 25 mg;
additional components: magnesium stearate (1.25 mg), lactose monohydrate (11 mg), corn starch (11.75 mg), colloidal silicon dioxide (0.5 mg), gelatin (1 mg), talc (0.5 mg));
shell: dye quinoline yellow E 104 (0.006 mg), macrogol 6000 (1.536 mg), sucrose (24.314 mg), titanium dioxide (1.024 mg), magnesium hydroxycarbonate (1.322 mg), calcium carbonate (3.796 mg), carnauba wax (0.011 mg), povidone K25 (0.213 mg), liquid dextrose (dry weight) (1.456 mg), talc (1.322 mg).
Pharmacological properties
Pharmacodynamics
The active substance of Curantila 25 - dipyridamole - is an antagonist of endogenous ADP (adenosine diphosphate aggregate), which inhibits phosphodiesterase, as a result of which the release of aggregation activators (including ADP, thromboxane and serotonin) is reduced, and the synthesis of prostacyclin PgI2 by the endothelium is prevented platelet aggregation. It also stabilizes blood flow in the ischemic focus and reduces the adhesion of platelets, preventing the formation of blood clots in the vessels.
The drug lengthens (dose-dependently) pathologically shortened platelet life. Improves angiogenesis, microcirculation in the renal glomeruli and retina. Has a vasodilating property. Normalizes venous outflow, reduces the risk of deep vein thrombosis after surgery. Reduces the tone of cerebral vessels, has a beneficial effect in dynamic disorders of cerebral circulation.
Dipyridamole is a pyrimidine derivative and an interferon inducer, which has a modulating effect on the functional activity of the interferon system and increases the decreased production of interferons alpha and gamma by blood leukocytes in vitro. The drug increases non-specific antiviral resistance to viral infections.
In obstetric practice, dipyridamole is used to correct placental blood flow and prevent dystrophic changes in the placenta. It eliminates fetal tissue hypoxia and promotes the accumulation of glycogen in them.
Pharmacokinetics
After oral administration, the drug is rapidly absorbed: most of it is in the stomach, the smaller part is in the small intestine. Peak concentration reaches within 1 hour. It binds almost completely to plasma proteins. It accumulates in large quantities in erythrocytes and heart.
It is metabolized in the liver with the formation of a monoglucuronide metabolite, which is excreted in the bile.
The period T 1/2 (half-life) is 20-30 minutes.
Indications for use
prevention and treatment of cerebrovascular accidents by ischemic type;
complex therapy of any microcirculation disorders;
treatment of discirculatory encephalopathy;
prevention of venous and arterial thrombosis and their complications, as well as thromboembolism after heart valve replacement surgery;
prevention of ARVI (acute respiratory viral infections) and influenza.
Contraindications
arterial hypotension, collapse;
subaortic stenosis;
unstable angina pectoris, acute myocardial infarction, widespread stenosing atherosclerosis of the coronary arteries;
severe arrhythmias;
severe arterial hypertension;
decompensated heart failure;
hepatic and / or renal failure;
diseases with a tendency to bleeding (for example, gastric ulcer and 12 duodenal ulcer);
hemorrhagic diathesis;
chronic obstructive pulmonary disease;
deficiency of sucrase / isomaltose or lactase, fructose or lactose intolerance, glucose-galactose malabsorption;
children under 12 years old;
hypersensitivity to drug components.
Instructions for the use of Curantil 25: method and dosage
Curantil 25 tablets are taken orally on an empty stomach, swallowing whole with a sufficient amount of liquid.
Unless otherwise prescribed by the doctor, the following dosing regimens are used:
reduction of platelet aggregation: in a daily dose of 75-225 mg in several doses, in severe cases, the daily dose can be increased to 600 mg;
prevention of placental insufficiency: 25 mg 3 times a day, if necessary, the dose is increased to 225 mg / day.
The duration of treatment and the possibility of repeated courses are determined by the doctor individually.
For the prevention of ARVI and influenza, 50 mg is prescribed every 7 days for 4-5 weeks (during epidemics).
The recommended regimen for the prevention of relapses in people who often suffer from respiratory infections: 100 mg (50 mg 2 times with an interval of 2 hours) 1 time in 7 days for 8-10 weeks.
Side effects
In therapeutic doses, Curantil 25 usually does not cause pronounced side effects. The emerging phenomena, as a rule, are transient and disappear with the continuation of therapy.
Distribution of adverse reactions by frequency of occurrence: often - from> 1% to 0.1% to 0.01% to <0.1%, very rarely - <0.01%, including individual messages.
Curantil 25 can cause:
from the digestive system: infrequently - epigastric pain, diarrhea, nausea, vomiting;
on the part of the cardiovascular system: infrequently - a decrease in blood pressure, flushing of the face, tachycardia, palpitations, bradycardia; when taking daily doses of more than 225 mg - coronary steal syndrome;
on the part of the blood and homeostatic system: infrequently - changes in the functional properties of platelets, thrombocytopenia; rarely - bleeding; very rarely - increased bleeding;
others: rarely - myalgia, arthritis, allergic reactions, dizziness, weakness, hyperemia of the skin of the face, headache, noise in the head, feeling of ear congestion, rhinitis.
Overdose
Symptoms of a dipyridamole overdose: facial flushing, weakness, angina pectoris, dizziness, tachycardia, general vasodilation, accompanied by hypotension.
In case of overdose, induce vomiting and wash out the stomach. Further treatment is aimed at eliminating symptoms. The dilating effect of the drug can be stopped by slow (within 60 seconds) intravenous administration of aminophylline at a dose of 50-100 mg. If angina symptoms still persist, nitroglycerin may be taken sublingually.
special instructions
Tea and coffee can reduce the effectiveness of dipyridamole, so during treatment, you should refrain from using these drinks if possible.
Influence on the ability to drive vehicles and complex mechanisms
Curantil 25 can lower blood pressure, cause dizziness and weakness, which affects the speed of reactions and the ability to concentrate. With this in mind, during the course of therapy, it is recommended to be careful when driving a car and engaging in activities with potentially dangerous consequences.
Application during pregnancy and lactation
Curantil 25 during pregnancy and lactation can be used according to the doctor's prescription, who will first assess the ratio of the expected benefits and possible risks.
Pediatric use
Curantil 25 tablets are not prescribed for children under 12 years of age, since there is no data on the safety of its use in this age group of patients.
With impaired renal function
The drug should not be used in case of renal failure.
For violations of liver function
Curantil 25 is contraindicated in liver failure.
Drug interactions
Dipyridamole can enhance the antithrombotic effect of anticoagulants and acetylsalicylic acid, resulting in an increased risk of hemorrhagic complications.
According to the instructions, Curantil 25 enhances the effect of antihypertensive drugs. Weakens the anticholinergic effects of cholinesterase inhibitors.
Xanthine derivatives, when taken simultaneously, reduce the vasodilating effect of dipyridamole, antacids - its maximum concentration.
With the combined use of cephalosporin antibiotics (cefotetan, cefamandole, cefoperazone), antiplatelet effects may be enhanced.
Analogs
Analogues of Curantil 25 are: Dipyridamole, Dipyridamole-FPO, Curantil N25, Curantil N75.
Terms and conditions of storage
The shelf life is 5 years.
Storage conditions: protected from light, place inaccessible to children, temperature up to 25 ° С.
Terms of dispensing from pharmacies
Dispensed by prescription.
Reviews about Curantile 25
Doctors speak positively about the drug. Many neurologists consider it one of the best means for the secondary prevention of ischemic stroke, since dipyridamole has a stable antiplatelet effect (without causing drug resistance, like aspirin) and has a direct myotropic vasoconstrictor effect.
Most often, Curantil 25 is prescribed during pregnancy to prevent placental insufficiency. Young mothers respond ambiguously about the drug. Some confirm its high efficiency and argue that after the course of treatment, blood coagulation rates returned to normal. According to other reviews of Curantile 25, there was no effect from the admission. Many women note that the drug helps to lower blood pressure, which is undesirable for patients who already have it low. Other side effects that are most commonly mentioned are headache, flushing and palpitations.
Price for Curantil 25 in pharmacies
The price for Curantil 25 varies from 550 to 650 rubles per pack containing 100 tablets.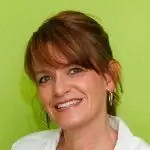 Maria Kulkes Medical journalist About the author
Education: First Moscow State Medical University named after I. M. Sechenov, specialty "General Medicine".
Information about the drug is generalized, provided for informational purposes only and does not replace the official instructions. Self-medication is hazardous to health!
Popular by topic