Table of contents: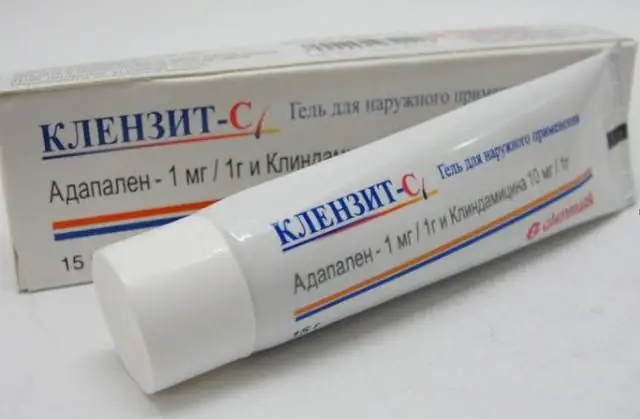 Video: Kudesan For Children - Instructions For The Use Of Tablets, Reviews, Price, Analogues
Kudesan for children
Kudesan for children: instructions for use and reviews
1. Release form and composition
2. Pharmacological properties
3. Indications for use
4. Contraindications
5. Method of application and dosage
6. Side effects
7. Overdose
8. Special instructions
9. Application during pregnancy and lactation
10. Use in childhood
11. Drug interactions
12. Analogs
13. Terms and conditions of storage
14. Terms of dispensing from pharmacies
15. Reviews
16. Price in pharmacies
Latin name: Kudesan for children
ATX code: C01EB09
Active ingredient: Ubidecarenone (Ubidecarenone)
Manufacturer: Vneshtorg Pharma (Russia)
Description and photo update: 2018-25-10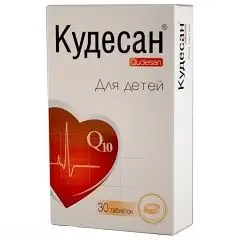 Kudesan for children is a drug with an antioxidant effect, it is an additional source of coenzyme Q10.
Release form and composition
Dosage form of release of Kudesan for children - chewable tablets: flat-cylindrical, white with a cream shade interspersed with orange color (10, 12 or 15 pieces in blisters, in a cardboard box 1-4 packs).
Composition of 1 tablet:
active substance: ubidecarenone (coenzyme Q10) - 7.5 mg;
auxiliary components: colloidal silicon dioxide - 15 mg; dextrose monohydrate - 856 mg; talc - 20 mg; magnesium stearate - 10 mg; povidone - 10 mg; croscarmellose sodium - 10 mg; creamy flavor - 4 mg.
Pharmacological properties
Pharmacodynamics
Ubidecarenone (ubiquinone, coenzyme Q10) is a natural substance (vitamin-like coenzyme). Provides clinically significant antioxidant effects.
Ubidecarenone is an endogenous substrate that participates in the transport chain of redox processes accompanied by electron transfer, energy exchange, oxidative phosphorylation reactions in the respiratory chain of cell mitochondria, and cellular respiration (increases the synthesis of adenosine triphosphoric acid).
The main effects of Kudesan for children:
protection of lipids of cell membranes from peroxidation;
reduction of the zone of myocardial damage in conditions of reperfusion and ischemia;
preventing the lengthening of the QT interval;
improving exercise tolerance.
Full satisfaction of the body's need for coenzyme Q10 due to endogenous synthesis occurs only until the age of 20. Endogenous synthesis of coenzyme Q10 decreases in the presence of various diseases in children and adults, including the elderly.
Indications for use
Kudesan for children in combination with other medicines is prescribed for children from 3 years old for the treatment of the following diseases / conditions:
dilated cardiomyopathy, chronic heart failure, arrhythmias;
neurocirculatory dystonia, migraine, hereditary neurodegenerative diseases (tuberous sclerosis, mitochondrial encephalomyopathy);
chronic gastroduodenitis;
congenital myopathies, muscular dystrophies, diseases associated with metabolic disorders (recovery period after surgery and serious illness, asthenic syndrome);
metabolic nephropathy, chronic pyelonephritis.
Also, the drug is used for the following indications:
deficiency of coenzyme Q10 (replenishment and prevention);
deterioration in adaptation to increased physical activity (in athletes);
preparation period for heart surgery (acquired / congenital defects).
Contraindications
exacerbation of gastric ulcer and duodenal ulcer;
acute glomerulonephritis;
age up to 3 years;
pregnancy and lactation;
individual intolerance to any component of the drug.
For patients with arterial hypotension, Kudesan for children is prescribed under medical supervision.
Instructions for the use of Kudesan for children: method and dosage
Kudesan for children is taken orally, preferably in the morning during meals.
Frequency rate of admission - 1 time per day.
Recommended dosage regimen for prophylactic / therapeutic purposes, depending on age:
3-7 years: 1 piece / 2-3 pieces;
7-12 years old: 1-2 pcs. / 3-4 pcs.;
from 12 years old and adults: 2-4 pcs. / not assigned (it is recommended to use drops / solution for oral administration of Kudesan).
The duration of the course is from 2 to 3 months. The doctor may prescribe refresher courses.
Side effects
Possible side effects: allergic reactions, in very rare cases - diarrhea, nausea.
Overdose
Overdose data are not provided.
special instructions
There is no information.
Application during pregnancy and lactation
According to the instructions, Kudesan for children is not prescribed to women during pregnancy / lactation (due to the lack of data on the safety of the drug).
Pediatric use
For patients under 3 years of age, therapy is contraindicated.
Drug interactions
Possible interactions:
hypolipidemic agents (fibrates, statins), beta-blockers (metoprolol, atenolol, propranolol), tricyclic antidepressants: a decrease in the plasma concentration of ubidecarenone in the blood;
warfarin: a decrease in its action;
nitrates: potentiation of their action;
diltiazem, metoprolol: enhancement of their antihypertensive action.
Analogs
The analogues of Kudesan for children are: Kudesan, Kudevita, Valeokor-Q10.
Terms and conditions of storage
Store in a place protected from light at a temperature of 4-25 ° C. Keep out of the reach of children.
Shelf life is 2 years.
Terms of dispensing from pharmacies
Available without a prescription.
Reviews about Kudesan for children
According to reviews, Kudesan for children is an effective drug usually used in pediatrics in the treatment of heart pathologies. They note that it is easy to use and helps to cope with increased loads.
Price for Kudesan for children in pharmacies
The price of Kudesan for children is unknown as it is not available in pharmacies. The approximate price for its analogue, Kudesan oral solution, is 270–284 rubles.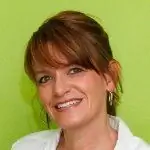 Maria Kulkes Medical journalist About the author
Education: First Moscow State Medical University named after I. M. Sechenov, specialty "General Medicine".
Information about the drug is generalized, provided for informational purposes only and does not replace the official instructions. Self-medication is hazardous to health!
Popular by topic