Table of contents: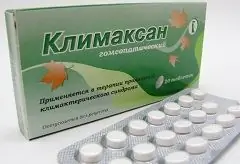 Video: Climaxan Homeopathic - Instructions For Use, Indications, Doses, Analogues
Climaxan homeopathic
Instructions for use:
1. Release form and composition
2. Indications for use
3. Contraindications
4. Method of application and dosage
5. Side effects
6. Special instructions
7. Drug interactions
8. Analogs
9. Terms and conditions of storage
10. Terms of dispensing from pharmacies
Prices in online pharmacies:
from 105 rub.
Buy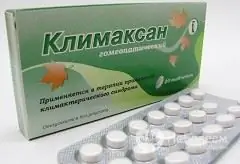 Homeopathic climaxan is a complex homeopathic medicine used for menopausal syndrome in women.
Release form and composition
Climaxan homeopathic is produced in two dosage forms:
Homeopathic granules: from almost white to white, homogeneous, spherical, odorless (in sachets from a combined material of 10 g, 1 sachet in a cardboard box);
Homeopathic lozenges: almost white or white, flat-cylindrical, with a bevel (in blisters of 20 pcs., 1 or 2 packs in a cardboard box; in polymer cans of 20, 30, 50 pcs., 1 can in each cardboard box).
The composition of 100 g of granules and 1 lozenge contains active substances:
Cimicifuga, Cimicifuga racemosa (Cimicifuga, Cimicifuga racemosa) C200;
Lachesis, Lachesis mutus C50;
Apis, Apis mellifica C200.
Auxiliary components:
Granules: sugar granules;
Lozenges: microcrystalline cellulose, lactose, magnesium stearate.
Indications for use
Climaxan homeopathic is prescribed as a symptomatic remedy for climacteric syndrome, manifested in the form of headache, irritability, sleep disturbances, emotional lability, palpitations, dizziness, sweating and hot flashes.
Contraindications
Climaxan homeopathic in any dosage form is contraindicated in the presence of hypersensitivity to the components of the drug.
Method of administration and dosage
The drug is taken orally, holding in the mouth (without swallowing or chewing) until completely dissolved, at least 15 minutes before meals.
Single dose - 5 granules or 1 tablet. Frequency rate of admission - 2 times a day (in the morning and evening). If necessary, it is possible to increase the frequency of application of the drug up to 3-4 times a day.
The duration of treatment can vary from 1 to 6 months. By medical prescription, it is possible to carry out repeated therapeutic courses.
Side effects
When using Climaxan homeopathic, allergic reactions may occur.
special instructions
The tablets contain lactose, and therefore should not be used for malabsorption syndrome of galactose or glucose, congenital galactosemia or congenital lactase deficiency.
During the use of the drug, at least 1 time in 2 months, it is recommended to consult with the doctor who prescribed the treatment for a possible correction of the course.
Drug interactions
Until now, cases of incompatibility of homeopathic Climaxan with other drugs have not been registered.
Analogs
Homeopathic Climaxan analogues are: Klimadinon, Tsi-Klim.
Terms and conditions of storage
Store in a dark, dry place out of reach of children at temperatures up to 25 ° C.
The shelf life is 3 years.
Terms of dispensing from pharmacies
Available without a prescription.
Climaxan homeopathic: prices in online pharmacies
Drug name
Price
Pharmacy
Climaxan homeopathic granules homeopathic 10 g 1 pc.
RUB 105
Buy
Climaxan homeopathic homeopathic resorption tablets 40 pcs.
118 RUB
Buy
Climaxan homeopathic tablets for resorption homeopathic 20 pcs.
129 RUB
Buy
Information about the drug is generalized, provided for informational purposes only and does not replace the official instructions. Self-medication is hazardous to health!
Popular by topic