Table of contents: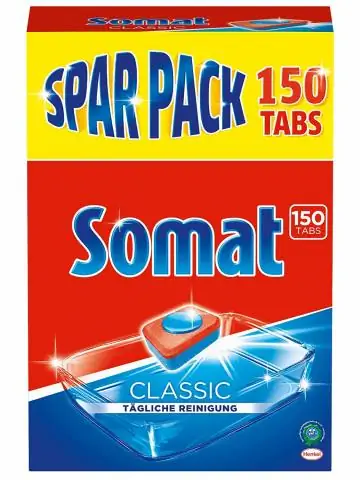 Video: Multi-tabs Classic - Instructions For The Use Of Vitamins, Reviews, Price
Multi-tabs Classic
Multi-tabs Classic: instructions for use and reviews
1. Release form and composition
2. Pharmacological properties
3. Indications for use
4. Contraindications
5. Method of application and dosage
6. Side effects
7. Overdose
8. Special instructions
9. Application during pregnancy and lactation
10. Drug interactions
11. Analogs
12. Terms and conditions of storage
13. Terms of dispensing from pharmacies
14. Reviews
15. Price in pharmacies
Latin name: Multi-tabs Classic
ATX code: A11AA04
Active ingredient: Multivitamins + Minerals (Multivitamins + Multimineral)
Manufacturer: Ferrosan (Denmark)
Description and photo update: 2019-13-08
Prices in pharmacies: from 346 rubles.
Buy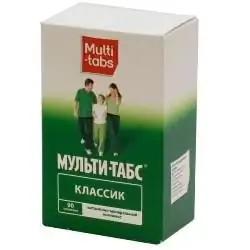 Multi-tabs Classic is a vitamin and mineral complex.
Release form and composition
Multi-tabs Classic is available in the form of coated tablets: round, biconvex, light yellow (15 pcs. In blisters, 2, 4 or 6 blisters in a cardboard box; 30 or 100 pcs. In plastic cans, each 1 can in a cardboard box).
The composition of 1 tablet contains active ingredients:
Vitamin A (as Retinol Acetate) 0.8 mg (2666 IU (International Units))
Vitamin B1 (as thiamine nitrate) 1.4 mg
Vitamin B2 (as riboflavin) 1.6 mg
Vitamin B5 (as pantothenic acid (calcium pantothenate)) - 6 mg;
Vitamin B6 (as pyridoxine hydrochloride) 2 mg
Vitamin Bc (as folic acid) 0.2 mg
Vitamin B12 (as cyanocobalamin) 0.001 mg
Vitamin C (as ascorbic acid) 60 mg
Vitamin D3 (as colecalciferol) 0.005 mg (200 IU)
Vitamin E (as D-α-Tocopherol Acetate) 10 mg (14.9 IU)
Vitamin PP (as nicotinamide) - 18 mg;
Magnesium (as oxide) 75 mg
Iron (in the form of fumarate) - 14 mg;
Copper (as sulfate) 2 mg
Zinc (as oxide) 15 mg
Manganese (as sulfate) 2.5 mg
Iodine (in the form of potassium iodide) - 0.15 mg;
Selenium (as sodium selenate) 0.05 mg
Chromium (as chloride) 0.05 mg
Auxiliary components: anhydrous colloidal silicon dioxide, microcrystalline cellulose, corn starch, calcium hydrogen phosphate dihydrate, croscarmellose sodium, 85% glycerol, ascorbic acid, magnesium stearate, stearic acid, gelatin, purified water.
Inactive components that make up the active ingredients: sodium citrate, sucrose, sodium aluminosilicate, gelatin, starch, butylhydroxytoluene, corn starch, hypromellose, triglycerides, maltodextrin, citric acid, purified water.
Shell composition: yellow iron oxide, hypromellose 15, hypromellose 3, talc, 85% glycerol, titanium dioxide.
Pharmacological properties
Multi-tabs Classic contains various components that strengthen the body's immunity and ensure its normal development and functioning:
vitamin A: ensures full growth and development of the body, strengthens the immune system, increases resistance to pathogens, has a beneficial effect on vision and is an antioxidant;
vitamin B1: participates in the processes of carbohydrate metabolism, normalizes the metabolism of fats and proteins, is responsible for conducting signals of nervous excitement in synapses;
vitamin B2: directly involved in almost all metabolic processes, as well as in the production of hemoglobin, improves the functions and structure of mucous membranes, accelerates regeneration in case of skin damage and normalizes its condition;
vitamin B6: takes a direct part in the production of neurotransmitters, which ensures the smooth functioning of the central nervous system, contributes to a lesser severity of symptoms of premenstrual syndrome;
vitamin C: increases resistance to various infections, provides the synthesis of certain hormonal compounds, improves lipid metabolism, normalizes cholesterol levels, is an effective immunomodulator and antioxidant;
vitamin D: prevents the development of osteoporosis, provides resistance to tuberculosis pathogens, and also prevents bone fractures;
vitamin E: enhances immunity, plays the role of an antioxidant, slowing down the aging process, prevents the occurrence of cataracts, improves physical endurance and muscle condition;
nicotinamide: reduces the concentration of cholesterol in the body, has a positive effect on the functions of the central nervous system and the state of the gastrointestinal tract;
iodine: promotes the production of thyroid hormones;
pantothenic acid: is responsible for the oxidation and acetylation processes in the body, participates in metabolic processes, promotes faster wound healing, neutralizes the harmful effects of antibiotics when taken together with Multi-Tabs Classic;
selenium: minimizes the negative effects of free radicals;
folic acid: is an integral part of the synthesis of hemoglobin, is also involved in the reproduction of genetic material;
chromium: is one of the components of insulin synthesis, reducing pronounced fluctuations in blood sugar;
magnesium: regulates the work of the cardiovascular system and the contractile function of the myocardium, helps to get rid of the effects of stress and depression;
copper: refers to an important element of metabolic processes;
zinc: promotes the synthesis of erythrocytes and other blood components, as well as sex hormones, improves the functioning of the immune system;
iron: participates in the processes of hematopoiesis, increases local and cellular immunity.
Pharmacodynamics
Pharmacodynamics of Multi-Tabs Classic due to the multicomponent composition has not been sufficiently studied.
Pharmacokinetics
The pharmacokinetic parameters of a multicomponent drug have not been sufficiently studied at the moment.
Indications for use
Lack of vitamins and minerals (treatment and prevention);
Increased stress (physical and mental);
Unbalanced and inadequate nutrition, dieting;
The recovery period (convalescence) after the past illnesses.
Also vitamins Multi-Tabs Classic are prescribed in order to normalize metabolic processes in the body.
Contraindications
A contraindication to the use of the drug is hypersensitivity to the components that make up its composition.
Children are prescribed a complex from 11 years old.
Instructions for use Multi-tabs Classic: method and dosage
Multi-Tabs Classic is taken orally, preferably during or immediately after a meal.
The daily dose of the drug is 1 tablet.
Side effects
During therapy, in rare cases, side effects may develop, manifested in the form of allergic reactions.
Overdose
There are practically no data on cases of overdose of Multi-Tabs Classic. When taking the drug in too high doses, it is recommended to rinse the stomach and take activated charcoal.
special instructions
Do not exceed the daily dose indicated in the instructions.
Application during pregnancy and lactation
The drug is approved for use during pregnancy and lactation, but it is strictly forbidden to exceed the dose recommended by the doctor.
Drug interactions
According to the instructions, Multi-Tabs Classic is not recommended to be used simultaneously with other multivitamin complexes in order to avoid overdose.
Analogs
Analogs of Multi-Tabs Classic are: Vitrum Baby, Centrum, Oligovit, Vitamax, Pangeksavit, Synergit, Kudesan, Alvitol.
Terms and conditions of storage
Keep out of reach of children at temperatures up to 25 ° C.
The shelf life is 3 years.
Terms of dispensing from pharmacies
Available without a prescription.
Reviews about Multi-Tabs Classic
Reviews of Multi-Tabs Classic are rather ambiguous. Some patients claim that this vitamin complex had a significant restorative effect on their body. The drug allows you to improve the condition of teeth, skin, internal organs. After a course of treatment with vitamins Multi-Tabs Classic, many people note an increase in physical endurance and performance. However, some users report that the vitamin complex was useless in their case.
Price for Multi-tabs Classic in pharmacies
The approximate price for Multi-Tabs Classic is 372–476 rubles (for a pack of 30 tablets) or 665–845 rubles (for a pack of 90 tablets).
Multi-tabs Classic: prices in online pharmacies
Drug name
Price
Pharmacy
Multi-tabs Classic Plus film-coated tablets 30 pcs.
346 r
Buy
Multi-tabs Classic Plus vitamins for adults 30 pcs.
491 r
Buy
Multi-tabs Classic Plus film-coated tablets 90 pcs.
RUB 699
Buy
Multi-tabs Classic Plus 650 mg film-coated tablets 90 pcs.
RUB 782
Buy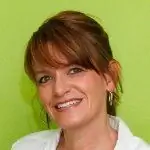 Maria Kulkes Medical journalist About the author
Education: First Moscow State Medical University named after I. M. Sechenov, specialty "General Medicine".
Information about the drug is generalized, provided for informational purposes only and does not replace the official instructions. Self-medication is hazardous to health!
Popular by topic