Table of contents: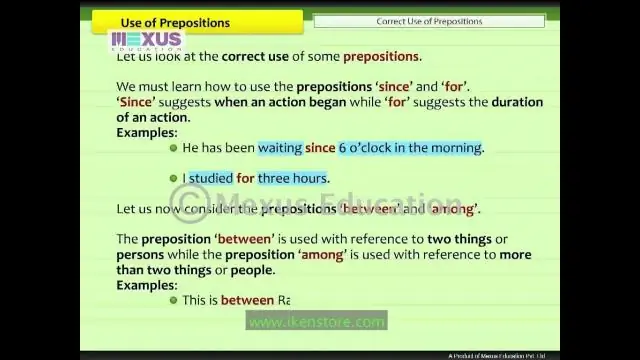 Mirapex PD
Mirapex PD: instructions for use and reviews
1. Release form and composition
2. Pharmacological properties
3. Indications for use
4. Contraindications
5. Method of application and dosage
6. Side effects
7. Overdose
8. Special instructions
9. Application during pregnancy and lactation
10. Use in childhood
11. In case of impaired renal function
12. For violations of liver function
13. Drug interactions
14. Analogs
15. Terms and conditions of storage
16. Terms of dispensing from pharmacies
17. Reviews
18. Price in pharmacies
Latin name: Mirapex ER
ATX code: N04BC05
Active ingredient: pramipexole (Pramipexole)
Producer: Boehringer Ingelheim International, GmbH (Germany)
Description and photo updated: 2018-29-11
Prices in pharmacies: from 83 rubles.
Buy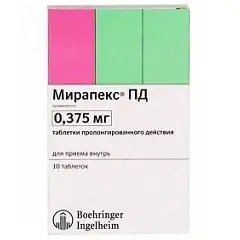 Mirapex PD is an antiparkinsonian drug, a stimulant of dopaminergic transmission in the central nervous system (CNS).
Release form and composition
The drug is produced in the form of prolonged-release tablets: round with beveled edges (0.375 and 0.75 mg) or oval (1.5; 3 and 4.5 mg), biconvex, almost white or white, on one side with an engraved company logo, on the other - with engraving "P1", "P2", "P3", "P4" and "P5" for a dosage of 0.375; 0.75; 1.5; 3 and 4.5 mg, respectively (10 pcs. In a blister, in a cardboard box 1 or 3 blisters and instructions for the use of Mirapex PD).
1 tablet contains:
active substance: pramipexole dihydrochloride monohydrate - 0.375 / 0.75 / 1.5 / 3 / 4.5 mg (equivalent to pramipexole base in an amount of 0.26 / 0.52 / 1.05 / 2.1 / 3.15 mg);
additional components: carbomer 941, corn starch, hypromellose 2208, magnesium stearate, colloidal silicon dioxide.
Pharmacological properties
Pharmacodynamics
Pramipexole is a dopamine receptor agonist that has the ability to bind with high selectivity and specificity to the D 2 subtype of dopamine receptors, of which the highest affinity for D 3 receptors is shown. The active component of Mirapex PD, as a result of stimulation of dopamine receptors located in the striatum, in parkinsonism reduces the lack of motor activity, suppresses the production, release and metabolism of dopamine. The active substance in vitro counteracts the degeneration of dopamine neurons in the presence of ischemia or methamphetamine neurotoxicity, and also protects neurons from the neurotoxicity of levodopa. Pramipexole dose-dependently reduces the production of prolactin.
In clinical trials involving healthy volunteers in whom the dose of Mirapex PD was increased at a faster rate than it should have (every 3 days), up to a maximum daily dose of 4.5 mg, an increase in blood pressure (BP) and heart rate (HR) was noted). In the course of studies on patients, this effect was not recorded.
To study the clinical efficacy and safety of Mirapex PD in the treatment of Parkinson's disease, placebo-controlled studies were carried out involving nearly 1800 patients with stages I to V of the disease on the Hen and Yaru scale, of which approximately 1000 patients were in the late stages of the lesion, had movement disorders and were treated levodopa. In the treatment of both early and late stages of Parkinson's disease with the drug, its effectiveness was noted for about half a year of ongoing studies. In the open phase of studies, lasting over 3 years, there were also no signs of a decrease in the effectiveness of pramipexole.
In the course of a two-year double-blind clinical study, primary therapy with Mirapex PD significantly slowed down the development of movement disorders and decreased their frequency when compared with primary treatment with levodopa. Although the use of pramipexole leads to a later onset of movement disorders, therapy with levodopa provides a more pronounced improvement in motor function - a change in the mean value on the UPDRS (Unified Parkinson's Disease Rating Scale), therefore, a balance must be struck between the characteristics of these drugs. Despite the fact that the overall incidence of drowsiness and hallucinations was higher during the dose escalation period in the pramipexole group, there were no significant differences during the maintenance treatment phase. These facts should be taken into account when initially prescribing the drug to persons suffering from Parkinson's disease.
To assess the safety and efficacy of Mirapex PD in the treatment of Parkinson's disease, three randomized controlled trials were carried out, two of which were conducted in patients in the early stages of the lesion and one in the late stages. In a double-blind, placebo-controlled study, which included 539 patients in the early stages of the disease, after 18 weeks of treatment, the superiority of the drug over placebo was noted according to the primary (the result according to II + III parts of the UPDRS scale) and secondary [response rate according to CGI-I criteria (Clinical Overall Impression Scale) and PGI-I (Overall Patient Impression Scale) - Improvement] key efficacy endpoints. In patients who took Mirapex PD prolonged-release tablets for 33 weeks, efficacy was demonstrated at 33 weeks,not less than when using Mirapex immediate-release tablets based on the results of assessment according to II + III parts of the UPDRS scale.
In a study of 517 patients with advanced lesions, when combined with levodopa after 18 weeks of therapy, Mirapex PD was superior to placebo for the primary (result on II + III parts of the UPDRS scale) and secondary (off period) key endpoints efficiency.
In a double-blind study in the early stage of Parkinson's disease, the tolerance and efficacy of the overnight transition from pramipexole in the form of immediate-release tablets to extended-release tablets was assessed while maintaining the daily dose. After switching to taking Mirapex PD, the effectiveness of this drug was noted in 87 of 103 study participants. In 82.8% of these 87 patients, the dose was not adjusted, in 13.8% it was increased, and in 3.4% it was reduced. In 8 of 16 patients who did not retain the effectiveness of pramipexole, the changes compared to baseline were not clinically significant. In 1 patient who switched to taking prolonged-release tablets, the development of an undesirable phenomenon was observed,caused by therapy with Mirapex PD and entailing the termination of the latter.
Pharmacokinetics
After oral administration, pramipexole in full is rapidly absorbed from the gastrointestinal tract (GIT). The absolute bioavailability of the active substance is more than 90%, in plasma the maximum concentration (C max) is observed after about 6 hours. Stationary concentration (C ss) of the active substance in the blood is reached no later than after 5 days of regular use of Mirapex PD. Simultaneous intake with food, as a rule, does not affect the bioavailability of the drug. After eating a food rich in fat, an increase in C max is recorded with the use of a single dose and multiple doses by approximately 24 and 20%, respectively, and a slowdown in the time to reach C maxfor about 2 hours. These effects are not clinically relevant.
The area under the pharmacokinetic curve (AUC) is independent of food intake. Pramipexole is characterized by linear kinetics and relatively small variability in plasma levels between patients, regardless of the pharmaceutical form of the drug. In accordance with the results of the phase I study, the values of the maximum and minimum plasma concentrations (C max, C min) and AUC were equivalent for the same daily doses of pramipexole in the form of prolonged-release tablets, taken 1 time per day, and immediate-release tablets, taken 3 times a day.
The use of Mirapex PD once a day avoids frequent fluctuations in the plasma concentration of pramipexole in the blood during the day when compared with taking Mirapex 3 times a day.
Body weight does not affect AUC, but it was found that it affects the volume of distribution (V d), and as a result, C max. A decrease in body weight by 30 kg causes an increase in C max by 45%. At the same time, in patients with Parkinson's disease during phase III studies, no significant influence of body weight on the effect and tolerability of Mirapex PD therapy was found.
The ability to bind to plasma proteins in pramipexole is very low (less than 20%), the Vd of the drug is quite large - 400 liters. In preclinical studies in animals, high concentrations of the drug in the brain tissues (approximately 8 times higher than the plasma level) were detected. In humans, pramipexole is biotransformed to a small extent.
Approximately 90% of the administered dose is excreted by the kidneys (of which about 80% unchanged) and less than 2% through the intestines. The total clearance of pramipexole is approximately 500 ml / min, and the renal clearance is approximately 400 ml / min. The half-life (T ½) can range from 8 hours in young patients and up to 12 hours in the elderly.
Indications for use
Mirapex PD is recommended for the symptomatic treatment of idiopathic Parkinson's disease in adults as a monotherapy drug (without levodopa) or in combination with levodopa, that is, at all stages of the disease, including late, at which the effect of levodopa therapy decreases or becomes unstable, and its fluctuations (the phenomenon of "wear" of the end of the dose and the phenomenon of "on-off").
Contraindications
Absolute:
age up to 18 years;
lactation;
hypersensitivity to any component of the drug.
Relative (it is necessary to use Mirapex PDs tablets with extreme caution):
cardiovascular lesions;
arterial hypotension;
renal failure;
psychotic disorders;
combined use with sedatives, dopamine receptor antagonists, ethanol;
pregnancy (use is allowed only if the benefits to the mother exceed the possible risk to the health of the fetus).
Mirapex PD, instructions for use: method and dosage
Mirapex PD is taken orally once a day, at about the same time, regardless of food intake. The tablets should be swallowed whole with water, without chewing, breaking or crushing.
If a dose of pramipexole is missed, if no more than 12 hours have passed since the usual time of administration, this dose must be taken. If more than 12 hours have passed, do not take the missed dose, and use the next one the next day at the usual time.
The transfer of the patient to taking the prolonged-release tablets Mirapex PD from taking the tablets Mirapex can be carried out throughout the day, in the same dose.
During the initial therapy, the dose should be increased gradually, starting with a daily dose of 0.375 mg, and then increase every 5-7 days. To achieve the maximum therapeutic effect, in order to prevent side effects, dose titration is required.
Recommended daily doses of Mirapex PD during the first three weeks of the course:
I week - 0.375 mg;
II week - 0.75 mg;
III week - 1.5 mg.
In the case when a further increase in the daily dose is required, it is increased at weekly intervals by 0.75 mg to a maximum dose of 4.5 mg per day.
During maintenance treatment, daily individual doses can range from 0.375 mg to a maximum allowable dose of 4.5 mg. In the course of the main studies, with an increase in the dose in patients in the initial and advanced stages of the disease, the therapeutic effect was noted from the beginning of taking Mirapex PD at a dose of 1.5 mg. At the same time, in some patients, the use of daily doses exceeding 1.5 mg can lead to an additional effect of therapy, mainly in the late stage of the lesion, when a decrease in the dose of levodopa is recommended.
Against the background of a sharp cessation of dopaminergic drugs, a malignant neuroleptic syndrome may develop, as a result, upon completion of treatment, the dose of Mirapex PD must be gradually reduced by 0.75 mg per day until a dose of 0.75 mg is reached, and then reduced by 0.375 mg per day.
With the combined use of Mirapex PD with levodopa, as the doses of pramipexole increase, as well as during maintenance treatment, it is recommended to reduce the dose of levodopa in order to prevent excessive dopaminergic stimulation.
Side effects
infections and invasions: infrequently - pneumonia;
endocrine system: infrequently - a violation of the production of antidiuretic hormone¹;
nervous system: very often - drowsiness, dizziness, dyskinesia; often - headache; infrequently - sudden falling asleep, amnesia, fainting, hyperkinesia; with unknown frequency ² - antecollis;
psychotic disorders: often - insomnia, confusion, abnormal dreams, hallucinations (mainly visual), abnormal behavior (symptoms of compulsive and impulsive actions); infrequently - anxiety, tendency to overeat, hypersexuality, increase / decrease in libido, pathological shopping, pathological craving for gambling, paranoia, hyperphagia¹, delirium, delirium; rarely - mania (with the development of these effects, it is necessary to resolve the issue of reducing the dose or gradual completion of drug therapy);
cardiovascular system: often - lowering blood pressure; infrequently - heart failure¹;
digestive tract: very often - nausea; often - vomiting, constipation;
respiratory system: infrequently - hiccups, shortness of breath;
skin and subcutaneous tissue: infrequently - rash, itching, hypersensitivity reactions;
organ of vision: often - visual impairment, including decreased visual acuity and clarity of perception, diplopia;
general disorders: often - weakness, peripheral edema;
reactions found in special studies: often - weight loss, loss of appetite; infrequently - an increase in body weight.
¹ An adverse reaction was recorded in post-registration observations, the frequency category with a 95% probability does not exceed "infrequently", but may be lower. Since this disorder is not included in the clinical trial database, it is impossible to make an accurate estimate of the frequency category.
² The frequency of this side effect cannot be established as it has not been reported in clinical trials as an adverse event.
Most of the above violations were mild to moderate. As a rule, adverse reactions occurred at the beginning of the course and passed during the continuation of therapy.
In individuals with Parkinson's disease, when using pramipexole, the most common adverse effects (≥ 5%) compared with placebo were the following: dyskinesia, nausea, constipation, decreased blood pressure, drowsiness / insomnia, dizziness, headache, weakness, hallucination. With the combined administration of Mirapex PD with levodopa, especially at the initial stage of dose setting, the most common violation was dyskinesia, with the development of which the dose of levodopa was reduced. Also, at the beginning of treatment, with too rapid titration of the dose of pramipexole, the risk of lowering blood pressure was aggravated.
Overdose
There are no descriptions of cases of severe overdose of Mirapex PD. Expected symptoms when taking excessively high doses, characteristic of the pharmacodynamic profile of dopamine receptor agonists, may be vomiting, nausea, hyperkinesia, agitation, hallucinations, and decreased blood pressure.
There is no known antidote; if an overdose is suspected, gastric lavage, intravenous fluid infusion, intake of activated charcoal, symptomatic treatment, monitoring of an electrocardiogram (ECG) are prescribed. In case of signs of CNS excitation, it is possible to administer neuroleptics. Hemodialysis is ineffective.
special instructions
The development of hallucinations is most often recorded when taking Mirapex PD in combination with levodopa in patients with progressive Parkinson's disease.
In the presence of severe cardiovascular disease while taking Mirapex PD, caution should be exercised. Due to the increased risk of orthostatic hypotension in such patients, it is necessary to control blood pressure, especially at the beginning of the course.
Against the background of drug treatment at regular intervals or with existing visual impairments immediately after the start of the course, it is recommended to carry out ophthalmological monitoring.
Patients with Parkinson's disease may develop a disorder such as axial dystonia, manifested as camptocormia, antecollis, or pleurototonus (Leaning Tower of Pisa syndrome). Isolated cases of the development of dystonia after the initiation of therapy with dopamine receptor agonists (including pramipexole) have been recorded, but a clear causal relationship between taking these drugs and this complication has not been determined. The onset of dystonia can also be observed several months later after taking the above funds or adjusting their dosage regimen. With the development of dystonia, the mode of use of dopaminergic drugs should be reviewed and, if necessary, adjusted.
Patients should be informed about the possible sedative effect of Mirapex PD, including those observed during treatment with drowsiness and sudden falling asleep during daytime activities. Episodes of sudden sleep attacks during daytime activity, sometimes without the appearance of any antecedent signs, were infrequent. These side effects need to be taken into account by patients driving vehicles and other complex equipment. In this case, the possibility of reducing the dose of the drug or stopping it should be considered.
According to the results of epidemiological studies, patients with Parkinson's disease are at increased risk of developing melanoma compared to the general population. However, it has not been established whether this increased threat is a consequence of the disease or is associated with other factors, for example, the use of drugs to treat Parkinson's disease.
Some patients recorded the presence of residues in the feces, resembling whole tablets of Mirapex PD. In case of receipt of such complaints, it is required to re-evaluate the patient's response to therapy.
Influence on the ability to drive vehicles and complex mechanisms
Pramipexole is capable of causing hallucinations or drowsiness, thereby significantly affecting the ability to drive vehicles or operate complex mechanisms.
In case of increased drowsiness or cases of sudden falling asleep during the daytime activity (while eating, talking, etc.), which can occur at any time during therapy, patients should refuse to drive vehicles or engage in other activities in which as their vigilance is weakened, they may endanger their lives as well as the lives of others. Patients can drive a car and other complex equipment only after removing these symptoms.
Application during pregnancy and lactation
Studies of the effect of therapy with Mirapex PD on pregnancy and lactation in humans have not been conducted.
In experiments on animals, when studying the possible effect of pramipexole on reproductive function, it was found that the active substance does not demonstrate teratogenicity in rats and rabbits. At the same time, when using doses toxic to pregnant females, the drug was embryotoxic in rats.
During pregnancy, an antiparkinsonian drug is recommended only if the expected benefits of the treatment to the mother far outweigh the potential risks to the health of the fetus.
In women, the excretion of the drug in breast milk has not been studied. In preclinical studies, the level of the drug in rat milk was higher than in plasma. Since pramipexole inhibits human prolactin production, it is thought to suppress lactation as well. During lactation, due to the lack of relevant data, drug treatment should not be carried out.
The effect of using the product on human fertility has not been studied. According to the results of animal studies, no direct or indirect signs of the negative effect of Mirapex PD on fertility were found in males.
Pediatric use
Due to the lack of data confirming the safety and efficacy of taking Mirapex PD in children and adolescents, its use in patients under 18 years of age is contraindicated.
With impaired renal function
In the presence of renal failure, Mirapex PD should be taken with caution, since the excretion of pramipexole from the body depends on the activity of the kidneys.
When creatinine clearance (CC) is below 30 ml / min, drug therapy is not recommended, due to the lack of data on the safety of its administration in patients of this group. Such patients are advised to consider the feasibility of treatment with pramipexole in the form of immediate-release tablets.
Patients with CC 30-50 ml / min should start therapy with a dose of 0.375 mg every other day. 1 week after the start of the course, the daily dose of Mirapex PD should be increased with caution and after a thorough assessment of the response to treatment and its tolerance. If in the future it is necessary to increase the daily dose, it should be increased at weekly intervals by 0.375 mg until a maximum dose of 2.25 mg per day is reached.
With CC above 50 ml / min, it is not necessary to reduce the daily dose or frequency of administration. If kidney function deteriorates during maintenance treatment, the recommendations above should be followed.
For violations of liver function
In the presence of liver failure, there is no need to reduce the dose of Mirapex PD.
Drug interactions
Pramipexole has a weak ability to bind to plasma proteins and insignificant biotransformation, as a result of which its interaction with other drugs that affect the binding of the drug to plasma proteins or excretion as a result of biotransformation is unlikely.
Possible interaction reactions that can be observed when Mirapex PD is combined with other drugs / agents:
selegiline, levodopa: no pharmacokinetic interaction;
anticholinergics: the interaction has not been studied, since these drugs are mainly excreted through biotransformation and with pramipexole, a possible interaction is unlikely;
amantadine, zidovudine, mexiletine, quinine, cisplatin, procainamide (drugs that suppress the metabolic pathway of active excretion of pramipexole by the kidneys, or are excreted in this way): interaction with pramipexole is possible, and, as a consequence, a decrease in the clearance of the latter; a dose reduction of Mirapex PD may be required;
antipsychotic drugs: this combination is not recommended, for example, in the case of a possible dopamine antagonistic effect;
sedatives, alcohol: additive effects are possible (caution should be exercised);
levodopa: a decrease in the dose of this substance is required with an increase in the dose of pramipexole (the doses of other antiparkinsonian drugs should be maintained at a constant level).
Analogs
The analogues of Mirapex PD are: Mirapex, Pramipexol Orion, Pramipexol-Teva, Mipexol, Miraxol, Pramipexol, etc.
Terms and conditions of storage
Store in a place protected from moisture, out of the reach of children, at a temperature not exceeding 25 ° C.
The shelf life is 3 years.
Terms of dispensing from pharmacies
Dispensed by prescription.
Reviews about Mirapex PD
Reviews of Mirapex PD by specialists and patients on medical forums are mostly positive. Patients note that the prolonged form of pramipexole is much more convenient for daily long-term use when compared with standard forms of this drug. The drug, according to reviews, provides effective control of the clinical symptoms of Parkinson's disease for 24 hours, helps to normalize the daily sleep cycle, reduce limb muscle stiffness, and improve self-care.
Experts believe that when using Mirapex PD, the level of compliance of patients increases, with Parkinson's disease, the possibilities of performing constant dopaminergic stimulation expand.
Price for Mirapex PD in pharmacies
The price for Mirapex PD, prolonged-release tablets, can be:
dosage 0.375 mg: 120-140 rubles. for 10 pcs. packaged;
dosage of 1.5 mg: 1500–1600 rubles. for 30 pcs. packaged;
dosage 3 mg: 2950-3050 rubles. for 30 pcs. packaged.
Mirapex PD: prices in online pharmacies
Drug name
Price
Pharmacy
Mirapex PD 0.375 mg extended-release tablets 10 pcs.
83 rbl.
Buy
Mirapex PD prolonged action tablets 0.375mg 10 pcs.
141 r
Buy
Mirapex PD 1.5 mg prolonged-release tablets 30 pcs.
1364 RUB
Buy
Mirapex PD prolonged action tablets 1.5mg 30 pcs.
1552 RUB
Buy
Mirapex PD 3 mg prolonged release tablets 30 pcs.
2641 RUB
Buy
Mirapex PD prolonged action tablets 3mg 30 pcs.
RUB 3103
Buy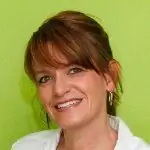 Maria Kulkes Medical journalist About the author
Education: First Moscow State Medical University named after I. M. Sechenov, specialty "General Medicine".
Information about the drug is generalized, provided for informational purposes only and does not replace the official instructions. Self-medication is hazardous to health!
Recommended: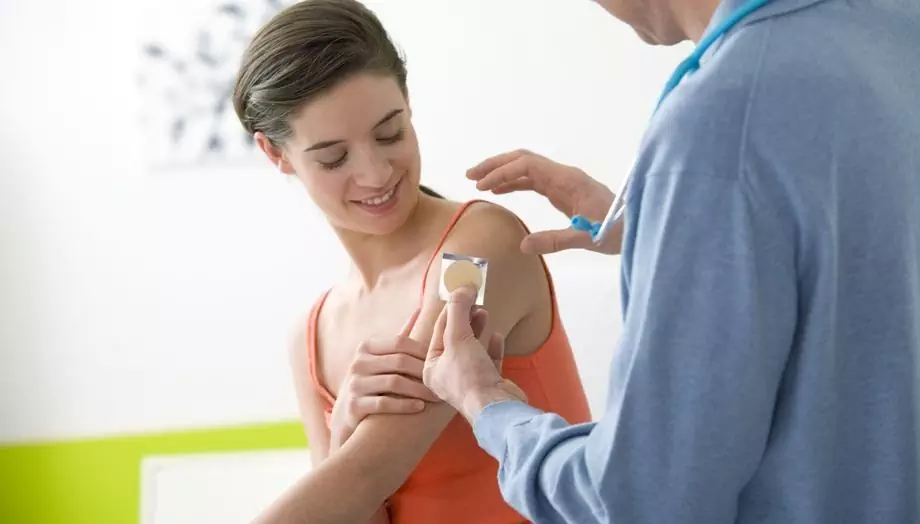 Nicotine patch is an effective remedy for weaning from nicotine addiction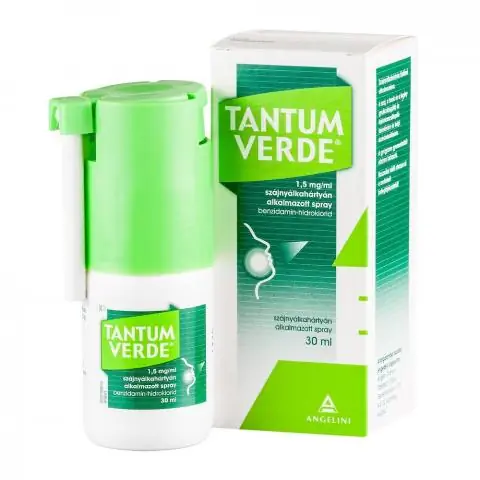 Instructions for use Tantum Verde in the form of a spray, tablets and solution. Information on doses for children, contraindications, reviews, analogues and the price of the drug in pharmacies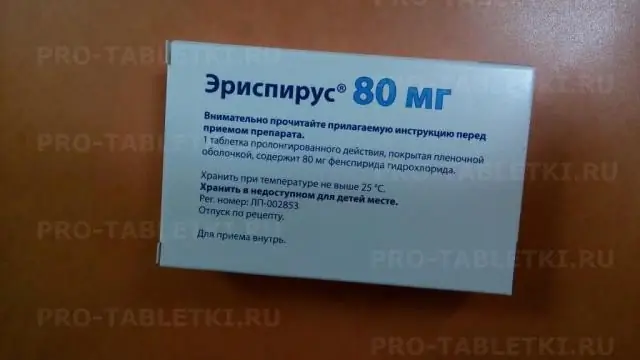 Instructions for use Erispirus tablets and syrup. Information on the dosage for children, contraindications, reviews, analogues and the price of the drug in pharmacies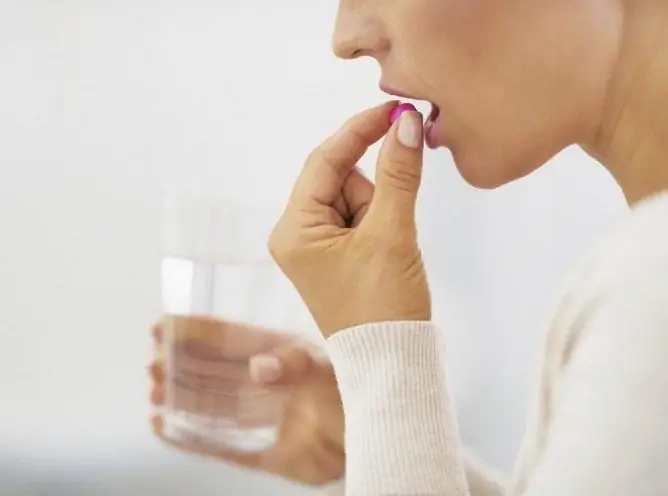 Sinusitis requires an integrated approach to treatment. The leading role in therapy belongs to antibiotics, which prevent the development of serious complications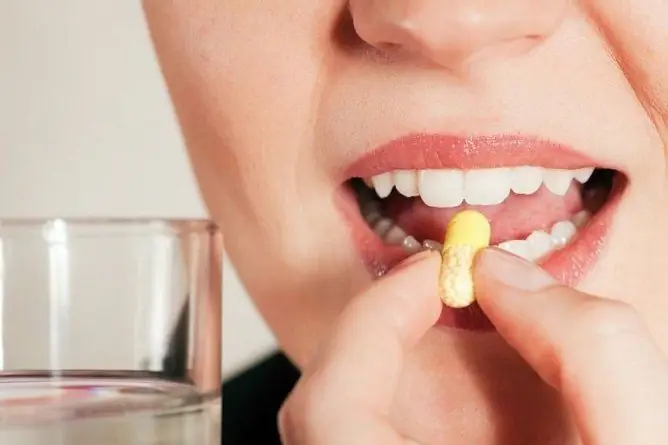 Treatment of angina with antibiotics in adults occupies a leading place in the bacterial form of the disease. The drugs are prescribed in the form of tablets, powder, solution for injection