Table of contents: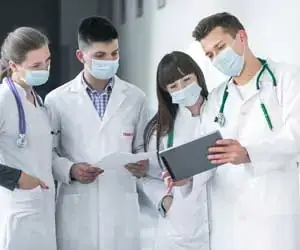 Video: Mipexol - Instructions For Use, Price, Reviews, Analogs Of Tablets
Mipexol
Mipexol: instructions for use and reviews
1. Release form and composition
2. Pharmacological properties
3. Indications for use
4. Contraindications
5. Method of application and dosage
6. Side effects
7. Overdose
8. Special instructions
9. Application during pregnancy and lactation
10. Use in childhood
11. In case of impaired renal function
12. For violations of liver function
13. Drug interactions
14. Analogs
15. Terms and conditions of storage
16. Terms of dispensing from pharmacies
17. Reviews
18. Price in pharmacies
Latin name: Mipexole
ATX code: N04BC05
Active ingredient: pramipexole (Pramipexole)
Manufacturer: JSC "Pharmaceutical Enterprise" Obolenskoe "(Russia)
Description and photo update: 2020-20-08
Prices in pharmacies: from 230 rubles.
Buy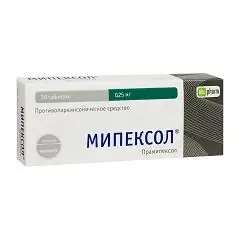 Mipexol is an antiparkinsonian drug; dopaminomimetic.
Release form and composition
The drug is produced in the form of tablets: almost white or white; dosage 0.25 mg - oblong, biconvex, with rounded ends, with a risk; dosage of 1 mg - flat-cylindrical, round, with a chamfer and a risk (10 pcs. in a blister strip; in a cardboard box 1 or 3 packages and instructions for use of Mipexol).
1 tablet contains:
active substance: pramipexole dihydrochloride monohydrate - 0.25 or 1 mg;
additional components: colloidal silicon dioxide (aerosil), corn starch, mannitol, magnesium stearate, povidone K-30.
Pharmacological properties
Pharmacodynamics
The active component of Mipexol - pramipexole, belongs to dopamine receptor agonists; is distinguished by its ability to interact with the D2 subtype of dopamine receptors, exhibiting high selectivity and specificity, with the highest affinity for the D3 receptors of this subtype.
By stimulating dopamine receptors in the striatum, pramipexole in Parkinson's disease reduces the deficit of motor activity. It blocks the synthesis, release and metabolism of dopamine, in vitro prevents the degeneration of dopamine neurons, resulting from ischemia or methamphetamine neurotoxicity.
In the treatment of restless legs syndrome (RLS), the exact mechanism of action of Mipexol has not been determined at present. Although the pathophysiology of RLS has not been thoroughly studied, neuropharmacological evidence has been obtained that the dopaminergic system is primarily involved in the process. In the course of studies carried out with the use of positron emission tomography (PET) studies, it was found that moderate impairment of presynaptic regulation of dopaminergic function in the striatum may be involved in the pathogenesis of RLS.
Mipexol helps to protect neurons from the neurotoxicity of levodopa. Reduces the secretion of prolactin in a dose-dependent manner.
When pramipexole therapy was carried out for more than 3 years, in patients with idiopathic parkinsonism syndrome, signs of weakening of the drug's effectiveness were not recorded. When using the drug for 1 year in patients with RLS, the preservation of the effectiveness of Mipexol was also noted.
Pharmacokinetics
After oral administration, pramipexole is completely and intensively absorbed. Simultaneous food intake reduces the rate of absorption of the drug, but does not affect its total volume. The absolute bioavailability of the active substance is more than 90%, in plasma the maximum concentration (C max) can be observed on average after 1-3 hours. Pramipexole is characterized by relatively low variability in concentration between patients, as well as linear kinetics.
The volume of distribution (Vd) is 400 liters, the connection with plasma proteins is less than 20%.
Pramipexole is biotransformed to an insignificant extent, eliminated by the kidneys about 90% of the administered dose (unchanged - about 80%) and through the intestines - less than 2%. The total drug clearance is on average 500 ml / min, and the renal clearance is 400 ml / min. The value of the half-life (T 1/2) can range from 8 hours in young patients to 12 hours in the elderly.
Indications for use
Mipexol is recommended for the symptomatic treatment of the following diseases:
idiopathic Parkinson's disease, as a monotherapy drug or as part of a combination treatment with levodopa, when the effect of the latter is weakened or becomes unstable and fluctuations in the therapeutic effect occur (on-off);
idiopathic RLS.
Contraindications
Absolute:
children and adolescents up to 18 years old;
hypersensitivity to any component of the drug.
Relative (it is required to use Mipexol with extreme caution due to the increased risk of undesirable effects):
cardiovascular diseases;
arterial hypotension;
renal and / or hepatic impairment;
combined administration with sedatives, dopamine receptor agonists, ethanol, cimetidine, amantadine.
Mipexol, instructions for use: method and dosage
Mipexol tablets are taken orally with water, regardless of the time of the meal.
Symptomatic therapy for Parkinson's disease
For the symptomatic treatment of Parkinson's disease, the initial daily dose is 0.375 mg, then it should be increased at intervals of 5-7 days until the maximum therapeutic effect is achieved. The prescribed dose should be evenly divided into 3 doses per day.
Recommended daily doses of Mipexol during the first 3 weeks of treatment:
I week: 0.375 mg - 0.125 mg × 3;
II week: 0.75 mg - 0.25 mg × 3;
III week: 1.5 mg - 0.5 mg × 3.
If it is necessary to further increase the dose of Mipexol, it is increased at weekly intervals by 0.75 mg. In this case, the maximum allowable dose should not be more than 4.5 mg / day.
When carrying out a maintenance course of treatment, the individual daily dose can vary from 0.375 mg / day to 4.5 mg / day. In patients at the initial and advanced stages of the disease, the effectiveness of using Mipexol at a dose of 1.5 mg / day was established. However, it is possible that, in some cases, taking a dopaminomimetic in doses exceeding 1.5 mg / day may contribute to the achievement of an additional therapeutic effect, especially in the late stages of the disease, when a decrease in the dose of levodopa is required.
The course of taking Mipexol should be completed gradually, reducing the dose over several days by 0.75 mg per day, until it reaches 0.75 mg, and then decreasing the dose by 0.375 mg per day.
When carrying out combination therapy with levodopa, against the background of increasing doses of pramipexole, and during a maintenance course of treatment, in order to avoid an excessive increase in dopaminergic stimulation, it is recommended to lower the dose of levodopa.
Symptomatic therapy for idiopathic RLS
For the symptomatic treatment of idiopathic RLS, at the beginning of the course, Mipexol should be taken 2-3 hours before bedtime in a daily dose of 0.125 mg. If it is necessary to increase the dose, it can be increased at intervals of 4-7 days to the maximum permissible daily dose of 0.75 mg.
The recommended dose escalation regimen (steps for increasing and the dose taken 1 time / day before bedtime are indicated):
I step - 0.125 mg;
II * step - 0.25 mg;
III * step - 0.5 mg;
IV * step - 0.75 mg.
* an increase in the dose is carried out if necessary to further reduce the symptoms.
When prescribing Mipexol for maintenance therapy, the dose is determined individually and can vary from 0.125 to 0.75 mg / day.
Since, according to the research results, abrupt withdrawal of Mipexol in only 10% of RLS patients aggravated the severity of symptoms, the treatment course can be completed without a gradual dose reduction. This effect was seen at any dosage.
Side effects
The following are the most common adverse events reported with the drug in patients with RLS and Parkinson's disease. The overwhelming majority of adverse reactions were mild or moderate and, as a rule, developed in the early stages of treatment, and then passed in the process of further use of Mipexol:
endocrine system: infrequently - impaired secretion of antidiuretic hormone 1;
infectious and parasitic diseases: infrequently - pneumonia;
mental disorders: often - insomnia, abnormal dreams; additionally with Parkinson's disease - sleep disturbance, behavior disturbance, hallucinations, confusion; infrequently - binge eating 2, anxiety, paranoia 3, delirium 3, sexual desire disorders, hypersexuality, hyperphagia 1, compulsive shopping, pathological gambling 3 (patients and caregivers should be informed about the possible occurrence of such abnormal behavior; with the development of these effects, the dose should be reduced or the issue of gradual withdrawal of Mipexol should be resolved);
organ of vision: often with Parkinson's disease / infrequently with RLS - decreased clarity of perception and visual acuity; visual impairment, including diplopia (in the event of such phenomena, vision should be monitored at regular intervals or immediately after the start of the course in case of previously existing disorders);
nervous system: very often with Parkinson's disease / often with RLS - drowsiness, dizziness, dyskinesia (infrequently with RLS); often - headache; infrequently - sudden falling asleep, amnesia, hyperkinesia, fainting;
respiratory system: infrequently - hiccups, shortness of breath;
cardiovascular system: infrequently - heart failure 1; lowering blood pressure (BP) (with Parkinson's disease - often);
skin and subcutaneous tissue: infrequently - rash, itching and other signs of hypersensitivity;
digestive tract: very often - nausea; often - vomiting, constipation;
general disorders and disorders at the injection site: often - fatigue; often with Parkinson's disease / infrequently with RLS - decreased appetite, weight loss, peripheral edema; infrequently - weight gain.
Undesirable effects of Mipexol, noted during post-registration observation (the frequency category does not exceed "infrequently" with a probability of 95%, but may be lower).
¹ - in patients with Parkinson's disease and RLS.
² - in patients with Parkinson's disease.
³ - in patients with RLS.
Overdose
There are no data on severe overdose of Mipexol. The main possible symptoms characteristic of the pharmacodynamic profile of dopamine receptor agonists may be the following disorders: vomiting and nausea, hyperkinesia, agitation, hallucinations, and decreased blood pressure.
There is no specific antidote. Gastric lavage, symptomatic treatment and dynamic monitoring of the condition are recommended. If signs of excitation of the central nervous system are detected, antipsychotics may be prescribed. Hemodialysis is ineffective.
special instructions
Confusion and hallucinations are the most common side effects of dopamine agonist and levodopa combination therapy. With the combined use of Mipexol with levodopa in the late stages of the disease, the development of hallucinations (mainly visual) was recorded more often than with the use of pramipexole in monotherapy at an early stage of the disease.
Care should be taken to treat patients with severe cardiovascular lesions. Due to the increased risk of orthostatic hypotension when using Mipexol, blood pressure should be monitored, especially at the beginning of the course.
During treatment, it is necessary to remember about the possible sedative effect of the antiparkinsonian drug. There have been reports of cases of drowsiness and sudden falling asleep of patients while carrying out daily activities during any period of therapy.
In the case of a sharp cessation of taking Mipexol with parkinsonism, a symptom complex may develop, according to manifestations similar to a neuroleptic malignant syndrome.
The use of dopaminergic drugs for the treatment of RLS can cause an increase in the latter, which is an earlier manifestation of symptoms in the evening or even in the afternoon, aggravation of these effects and their spread to other extremities. In addition, according to the results of a clinical study, there was no significant difference in the increase in the severity of symptoms between the pramipexole group and the placebo group.
Influence on the ability to drive vehicles and complex mechanisms
Due to the possible development of hallucinations and sedative effects during therapy, including drowsiness and episodes of falling asleep, patients receiving Mipexol should refuse to drive and perform other potentially hazardous activities.
Application during pregnancy and lactation
The effect of Mipexol therapy on pregnancy and lactation in humans has not been studied.
When studying the possible effect of the drug on reproductive function in experiments on animals, it was found that it is not teratogenic for rats and rabbits. At the same time, when administered with doses toxic to pregnant females, pramipexole was embryotoxic in rats.
During pregnancy, an antiparkinsonian agent should be used only if the intended benefit of therapy for the woman greatly outweighs the potential threat to the health of the fetus.
The excretion of the drug in breast milk has not been studied. Due to the fact that the dopaminomimetic inhibits prolactin production, it is assumed that it also inhibits lactation. As a result, Mipexol should not be used during breastfeeding.
Pediatric use
For persons under 18 years of age, therapy with Mipexol is contraindicated, since the safety profile of pramipexole has not been studied in this category of patients.
With impaired renal function
In the presence of impaired renal function, Mipexol tablets should be taken with caution, since the excretion of pramipexole depends on renal function.
During the initial therapy of Parkinson's disease in patients with creatinine clearance (CC)> 50 ml / min, it is not required to reduce the daily dose or the frequency of administration of Mipexol. If the QC is 20-50 ml / min, it is recommended to start taking with a daily dose of 0.25 mg - 0.125 mg 2 times / day, while the maximum allowable dose should not exceed 2.25 mg / day. If CC is <20 ml / min, Mipexol is taken 1 time / day, starting with a dose of 0.125 mg, while the maximum dose should be no more than 1.5 mg / day. In case of deterioration of renal function during maintenance therapy, the daily dose should be reduced by the same percentage by which the CC decreases (if CC decreases by 30%, then the dose, respectively, also by 30%). If CC is 20-50 ml / min, the daily dose can be divided into 2 doses, if CC is <20 ml / min, the drug is taken 1 time per day.
In patients with CC> 20 ml / min, a decrease in the daily dose of Mipexol is not required for symptomatic therapy of idiopathic RLS. The use of a dopaminergic agent in patients with this syndrome and impaired renal function has not been studied.
For violations of liver function
When treating patients with functional disorders of the liver, there is no need for dose adjustment.
Drug interactions
drugs that affect the connection of Mipexole with plasma proteins, or its elimination due to biotransformation: such interactions are unlikely, since pramipexole is characterized by a weak ability to bind to plasma proteins and a slight biotransformation;
levodopa, selegiline: there are no changes in the pharmacokinetics of pramipexole, as well as the effect of the latter on the absorption / elimination of levodopa; the C max of levodopa increases by 40% and the period of its achievement decreases from 2.5 to 0.5 hours; in case of an increase in the dose of pramipexole, the dose of levodopa should be reduced, however, the doses of other antiparkinsonian drugs should remain at a constant level;
cimetidine (inhibitors of active secretion of cationic drugs in the renal tubules), as well as drugs eliminated as a result of active secretion through the renal tubules: there may be an interaction with pramipexole, manifested in a decrease in the clearance of one or both agents; when implementing such a combination (including with amantadine), it is necessary to monitor for possible symptoms of excessive dopamine stimulation, including agitation, dyskinesia, hallucinations; if such effects are detected, the dose of pramipexole must be reduced;
sedatives, ethanol; drugs that increase the plasma level of pramipexole (cimetidine): care must be taken with these combinations, due to possible additive effects;
antipsychotics: this combination must be avoided due to the possible antagonistic effect; in the presence of psychotic disorders, the simultaneous use of these drugs with pramipexole is allowed only if the expected benefit significantly outweighs the possible threat;
anticholinergics: these drugs are metabolized in most cases, so their interaction with pramipexole is unlikely.
Analogs
Mipexol's analogues are Mirapex, Mirapex PD, Oprimeya, PraMipexol, PraMipexol-Teva.
Terms and conditions of storage
Store out of the reach of children at a temperature not exceeding 25 ° C.
The shelf life is 3 years.
Terms of dispensing from pharmacies
Dispensed by prescription.
Reviews of Mipexol
Currently, there are no reviews on Mipexol on specialized sites, therefore it is not possible to objectively assess the effectiveness and disadvantages of using an antiparkinsonian drug.
The price of Mipexol in pharmacies
The price of Mipexol, in the form of tablets, for 30 pcs. in the package can be: dosage 0.25 mg - 230 rubles; dosage of 1 mg - 820 rubles.
Mipexol: prices in online pharmacies
Drug name
Price
Pharmacy
Mipexol tablets 0.25mg 30 pcs.
230 RUB
Buy
Mipexol tablets 1mg 30 pcs.
815 RUB
Buy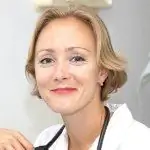 Anna Kozlova Medical journalist About the author
Education: Rostov State Medical University, specialty "General Medicine".
Information about the drug is generalized, provided for informational purposes only and does not replace the official instructions. Self-medication is hazardous to health!
Popular by topic