Table of contents:
Video: Mig 400 - Tablets, Composition, Instructions
Mig 400
Instructions for use:
1. Pharmacological action
2. Release form
3. Analogs
4. Indications for use
5. Contraindications
6. Method of application
7. Drug interactions
8. Side effects
9. Storage conditions
Prices in online pharmacies:
from 62 rub.
Buy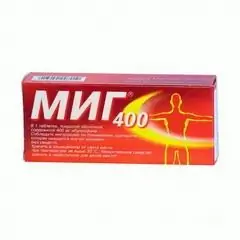 Mig 400 is a non-steroidal anti-inflammatory drug used for the symptomatic treatment of febrile conditions with flu and colds, as well as to reduce pain of various etiologies.
Pharmacological action Mig 400
Ibuprofen included in the Mig 400 is a propionic acid derivative that has antipyretic, analgesic and anti-inflammatory effects. Also, like other non-steroidal anti-inflammatory drugs, it has antiplatelet activity.
The analgesic effect of the active component of Mig 400 is most pronounced in case of pain of an inflammatory nature. In this case, the analgesic property of the drug does not belong to the narcotic type.
Release form Mig 400
Mig 400 is produced in the form of oval tablets with a double-sided line and embossed "E", in blisters of 10 pieces.
Mig 400 (1 tablet) contains 400 mg ibuprofen. In addition to the active component, the Mig 400 contains auxiliary substances: colloidal silicon dioxide, sodium carboxymethyl starch (type A), corn starch, magnesium stearate.
Analogs of Mig 400
The analogues of the Mig 400 in terms of the active ingredient are the medicines Advil, Bonifen, Burana, Ibuprom, Deblok, Ibufen, Nurofen, Solpaflex and Faspik.
By the mechanism of action, the following drugs are related to the Mig 400 analogues: Artrozilen, Artrum, Brustan, Naproxen, Ibuklin, Ketonal, Dexalgin, Ketoprofen, Nalgezin, Vimovo, Rakstan-Sanvel, Flamax and Next.
Indications for use of Mig 400
Medication Mig 400, according to the instructions, is prescribed for symptomatic treatment:
Migraine;
Headache;
Neuralgia;
Toothache;
Menstrual pain;
Muscle and joint pain;
Feverish conditions with flu and colds.
Contraindications
Mig 400 has a number of contraindications. The medication cannot be used for:
"Aspirin triad";
Erosive and ulcerative diseases, including gastric ulcer and 12 duodenal ulcer and Crohn's disease;
Bleeding of various etiologies;
Hemophilia and other blood clotting disorders, including hypocoagulation;
Diseases of the optic nerve;
Pregnancy and during breastfeeding;
Deficiency of glucose-6-phosphate dehydrogenase;
A history of hypersensitivity to nonsteroidal anti-inflammatory drugs and acetylsalicylic acid;
Hypersensitivity to the components that make up the Mig 400.
In pediatrics, Mig 400 tablets can be taken from the age of twelve.
Mig 400, instructions, should be taken with caution:
Against the background of heart failure;
In old age;
Against the background of liver cirrhosis with portal hypertension;
With arterial hypertension;
With nephrotic syndrome;
With gastritis, enteritis and colitis;
Against the background of hepatic and renal failure;
With gastric ulcer and 12 duodenal ulcer;
Against the background of hyperbilirubinemia;
Against the background of blood diseases of unknown etiology.
Method of application Mig 400
The initial dose of the drug Mig 400, according to the instructions, for adults and children not younger than twelve years of age is 800 mg, divided in equal doses for 3-4 doses.
In some cases, it is possible to increase the daily dosage up to three Mig 400 tablets, but it should be reduced to the usual one after the symptoms decrease.
Against the background of impaired renal, heart or liver function, the dose of Mig 400, according to the instructions, should be reduced.
According to the instructions, Mig 400 tablets should not be taken for more than seven days, as well as in higher dosages, as this can lead to an overdose, which manifests itself as:
Headache;
Stomach ache;
Acute renal failure;
Noise in ears;
Vomiting and nausea;
Bradycardia;
Metabolic acidosis;
Drowsiness and lethargy;
Stop breathing;
Depression;
Decrease in blood pressure;
Coma;
Atrial fibrillation;
Tachycardia.
Drug interactions
The effectiveness of thiazide diuretics and furosemide can be reduced when used simultaneously with Mig 400, which is associated with sodium retention.
Combined use of ibuprofen, which is part of Mig 400, with oral anticoagulants and acetylsalicylic acid is not recommended.
In addition, Mig 400 can reduce the effectiveness of antihypertensive drugs.
The risk of developing nephrotoxic effects increases with the combination therapy of Mig 400 with tacrolimus.
Side effects
Like other non-steroidal anti-inflammatory drugs, Mig 400 tablets can cause disturbances in various body systems.
Disorders of the digestive system can manifest themselves with various symptoms, among which the most likely development is vomiting, abdominal pain, flatulence, nausea, heartburn, diarrhea, and constipation. In rare cases, ulceration of the gastrointestinal tract mucosa, complicated by bleeding and perforation, may occur. If signs of bleeding in the gastrointestinal tract appear, Mig 400 should be canceled. In addition, disorders can manifest as:
Pain in the mouth;
Pancreatitis;
Irritation or dryness of the oral mucosa;
Aphthous stomatitis;
Ulceration of the gum mucosa;
Hepatitis.
Nervous system disorders when taking Mig 400 tablets most often manifest themselves in the form of:
Headache;
Nervousness and irritability;
Insomnia;
Dizziness;
Psychomotor agitation;
Anxiety;
Depression;
Drowsiness;
Hallucinations;
Confusion of consciousness.
Disorders of other body systems during therapy with the drug Mig 400, according to the instructions, include:
Bronchospasm and shortness of breath (respiratory system);
Tachycardia, heart failure, increased blood pressure (cardiovascular system);
Toxic damage to the optic nerve, hearing loss, blurred vision or double vision, ringing or noise in the ears (sense organs);
Anemia, agranulocytosis, thrombocytopenia and thrombocytopenic purpura (hematopoietic system);
Allergic nephritis, acute renal failure, polyuria, nephrotic syndrome, cystitis (urinary system).
Long-term use of Mig 400 tablets in high doses increases the risk of bleeding (gastrointestinal, uterine, gingival, hemorrhoidal) and visual impairment.
Against the background of treatment with the Mig 400 medication, the most likely allergic reactions are:
Bronchospasm or dyspnea;
Quincke's edema;
Eosinophilia;
Skin rash and itching;
Erythema multiforme exudative;
Anaphylactic shock;
Anaphylactoid reactions;
Fever;
Toxic epidermal necrolysis;
Allergic rhinitis.
Storage conditions
MiG 400 refers to non-steroidal anti-inflammatory drugs without a prescription with a shelf life of 36 months under standard storage conditions (at temperatures up to 30 ° C).
Mig 400: prices in online pharmacies
Drug name
Price
Pharmacy
MIG 400 400 mg film-coated tablets 10 pcs.
RUB 62
Buy
MIG 400 400 mg film-coated tablets 20 pcs.
122 RUB
Buy
Information about the drug is generalized, provided for informational purposes only and does not replace the official instructions. Self-medication is hazardous to health!
Popular by topic